The Surry Hills-based interior design firm recently completed the classy yet warm fitout of Redfern's affectionately termed 'local Chinese restaurant'.
Redbird is a hybrid Chinese-Australian restaurant and the newest addition to the culinary family of restaurant owners Hamish Ingham and Rebecca Lines. The Redfern locals also own Barangaroo-based Mexican restaurant Tequila Daisy.
They sought to create a local dwelling in Redbird that celebrates – through impeccable design – the Chinese cultural values of success, prosperity and happiness.
Ingham and Lines wanted a space that encourages a sense of connection within the community, and also responds to the diverse streetscape and increasing population of Redfern.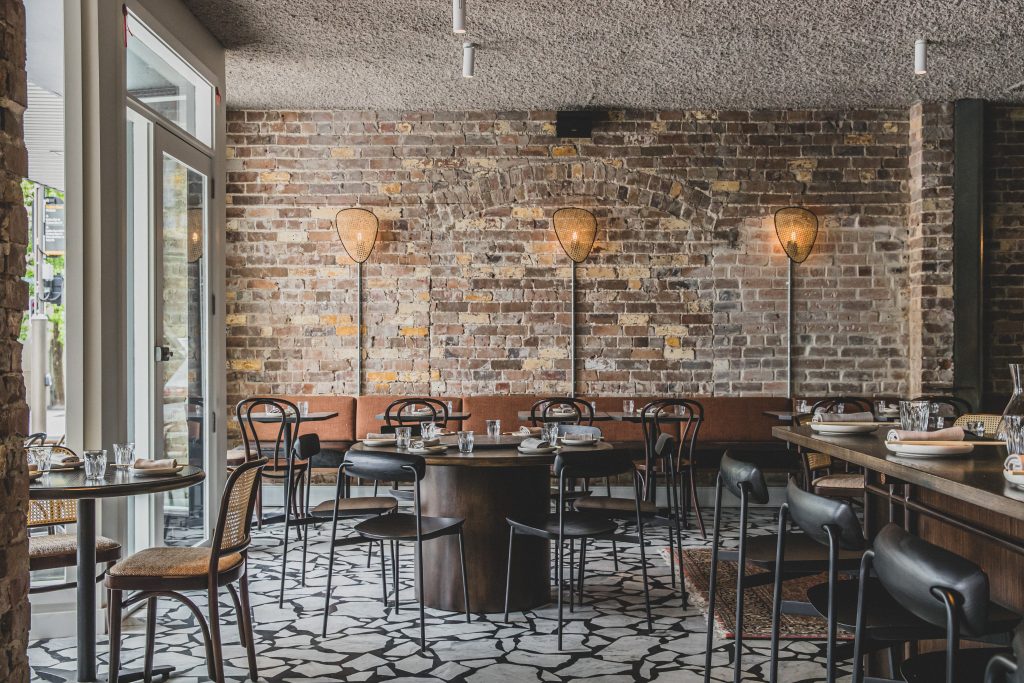 The Inner Sydney suburb hosts student accommodation and devoted locals who have lived in the area for years.
Luchetti Krelle director Stuart Krelle says that, drawing from the brief, it aimed to create a heartwarming yet sophisticated space that draws people in from the street.
"I think we always set out to make a space that is approachable," says Krelle.
The pairing of contrasting design elements such as a raw brick wall and sleek, dark timber chairs echoes how the space can be used for different purposes depending on the patrons.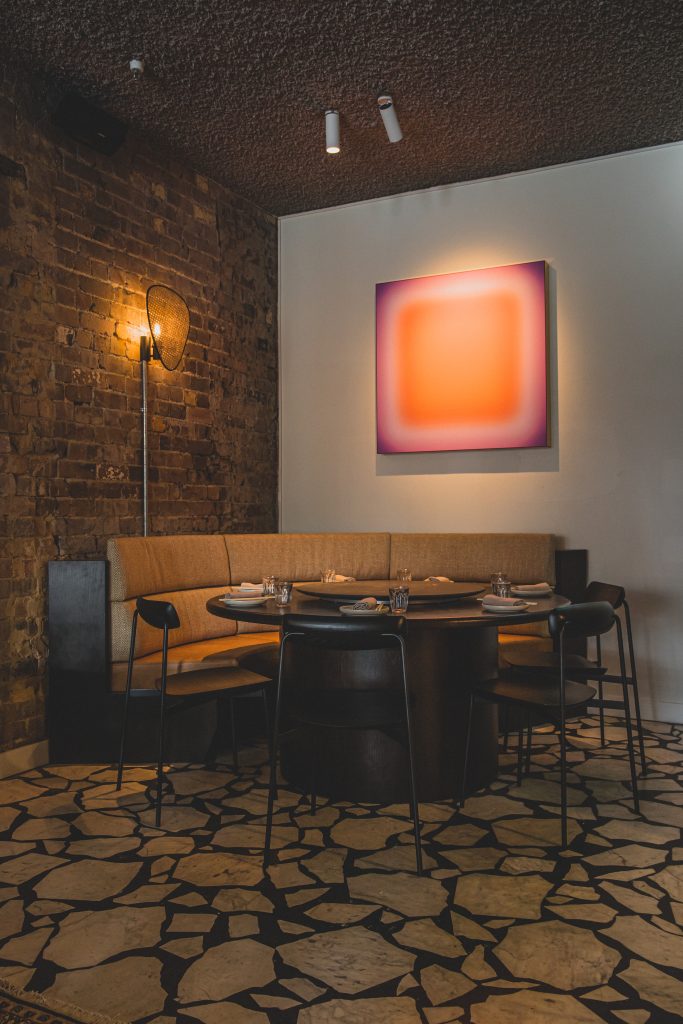 The space allows for an intimate date night at the bar, sipping one of the fantastic wines on offer, or a hearty meal with loved ones gathered around one of the circular American oak tables to eat, drink, and be merry – made easier by the judicious placement of the 'Lazy Susans'.
The cuisine reflects a meticulous attention to detail and is elevated in style, however the restaurant also offers a takeaway service to ensure local community contact.
Krelle explains how the aforementioned contrasting design elements contribute to the restaurant's resounding feeling of moodiness and serenity, yet also offer moments of delight and surprise.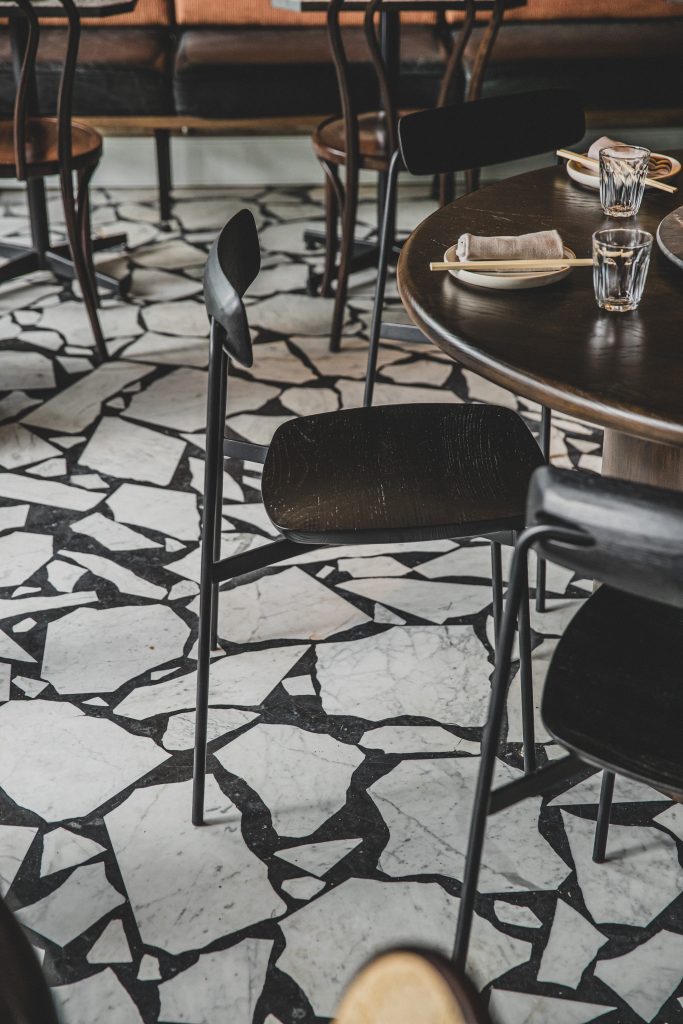 An overall juxtaposition of cleanliness and rusticity achieves a clean and sharp design effect, according to Krelle. The raw brick wall, natural fibre spray ceilings and homely rattan sconces harmoniously coexist with the dark chocolate timber of the bar and the vintage lacquered cabinet which serves as the maître d's desk.
"The tactility of the brick wall and impactful floor graphics balance against the elegant dark timber and warm toned palette," says Krelle.
The variation in chair styles is also a deliberate design choice to further achieve a dual effect of wholesomeness and sophistication. Modern, clean-lined bar stools contrast against the straw-lined dining chairs that exude the energy of a hustling and bustling local bistro.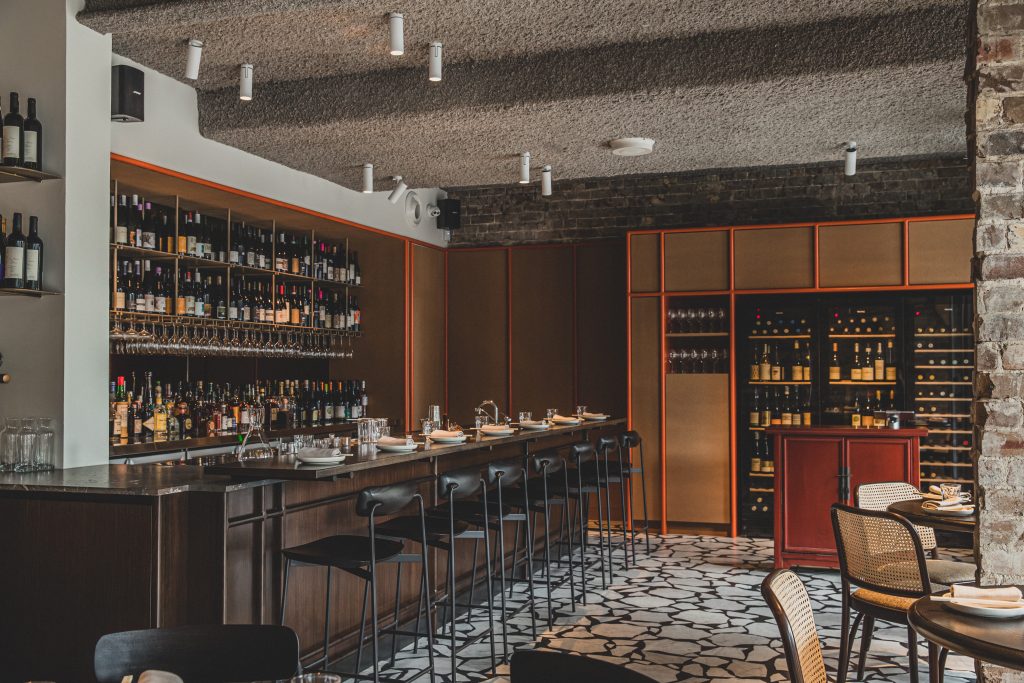 Skillful fusion of design elements also ensures certain architectural gestures generally encountered in Chinese restaurants were not crassly copied, yet referenced in a subtle and respectful manner, evident through the circular tables and banquet style straw chairs.
Luchetti Krelle – which is excitedly designing a new Urbn Surf park in Sydney's outer suburbs – recently entered celebrated its 15th year as a practice that mainly specialises in hospitality projects.
"We didn't necessarily set out to make hospitality projects our thing but we love it! It's very expressive," says Krelle.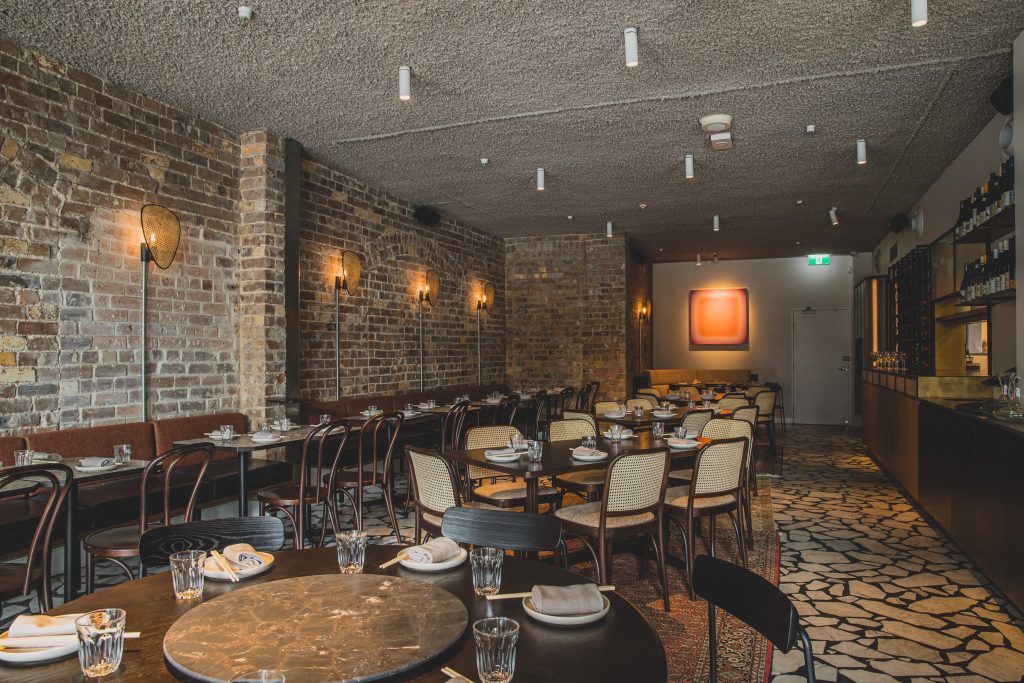 Krelle says the gratification of seeing people from all walks of life enjoy a hospitality venue designed by the firm never fades.
"Seeing people interact in a space and also sharing it with your loved ones is a major reward – however we do then pick things apart post-production and think of what we could have done better!" says Krelle.
But Krelle says that the accelerated pace of hospitality projects brings unavoidable obstacles and challenges.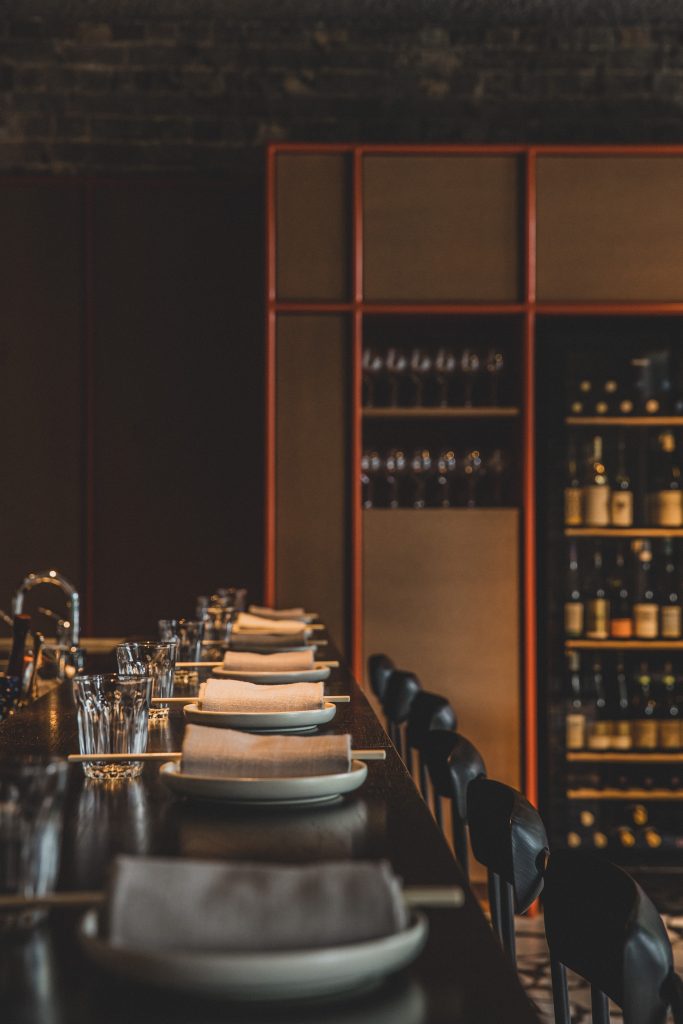 "We find the biggest challenge of hospitality projects is the pace – the deadline is the deadline!" says Krelle.
Redbird however was close to a dream run for the team, as it was uninterrupted by COVID, and the fact that it was an existing site ensured a quick turnaround.
Photography by Nikki To.
See how St George's Road Standing Room celebrates the warmth of Fitzroy North.