What do you get when you mix a love for timber, Italian inspirations, and an abundance of natural light? A family home that "feels like it's hugging you", says Timmins + Whyte Architecture and Interior Design co-founder Sally Timmins.
Receiving its namesake from the fruity, colourful Italian dessert, Casa Cassata is a home designed to be beautiful and functional any time of the day all year round.
The project represents a close collaboration between the Melbourne-based design studio and the returning clients, who are also close friends with Timmins.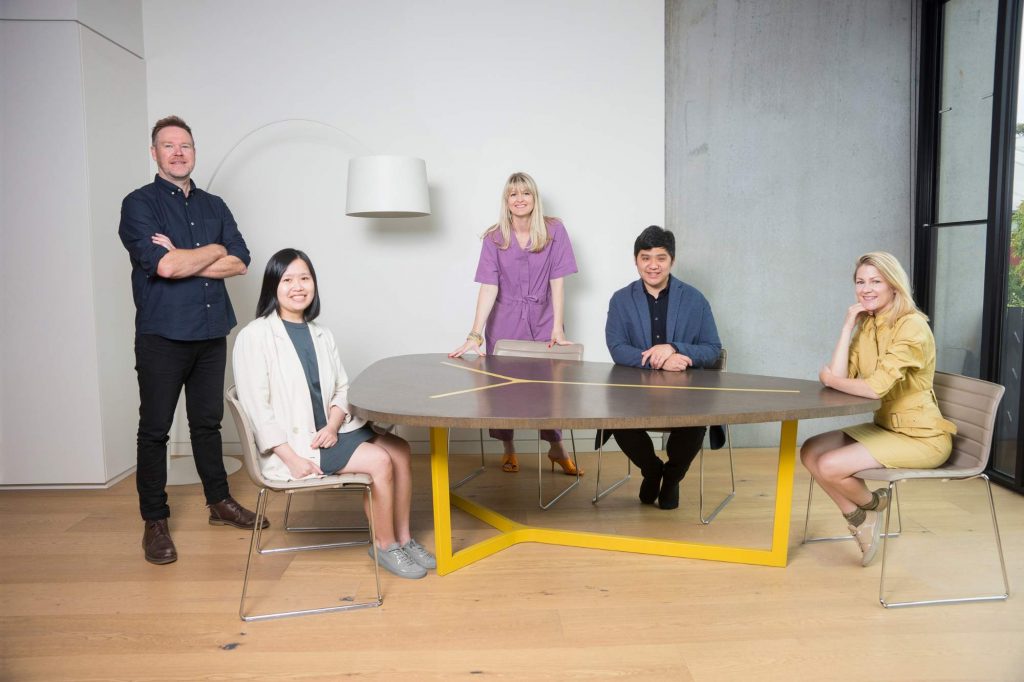 "The clients were previously living in an apartment nearby and purchased the double-fronted Edwardian property primarily for the garden and potential to embrace northern and eastern light," says Melbourne-based architect Timmins.
The original site's floorplan was typical of its era with four big rooms at the front and a cramped lean-to kitchen, bathroom and laundry further along. Not only was this not the most practical layout but views to the backyard were blocked, impacting overall circulation and light flow.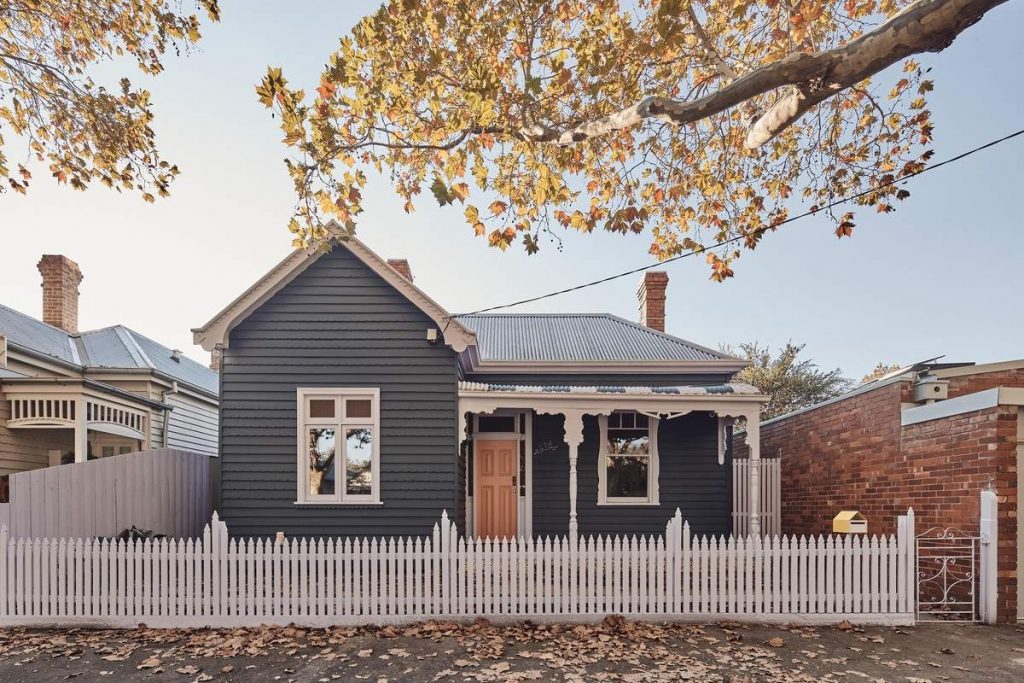 To add another constraint, the neighbouring homes were double-storey and built east and north of the site – once again compromising its ability to capture natural light.
With this in mind, Timmins' says she drew upon her time studying at the University of Tasmania to create a home that was sustainable, considerate of neighbours, timber-happy, and "all about light".
"My designs are influenced from my time in Tasmania to be very site-driven," she explains.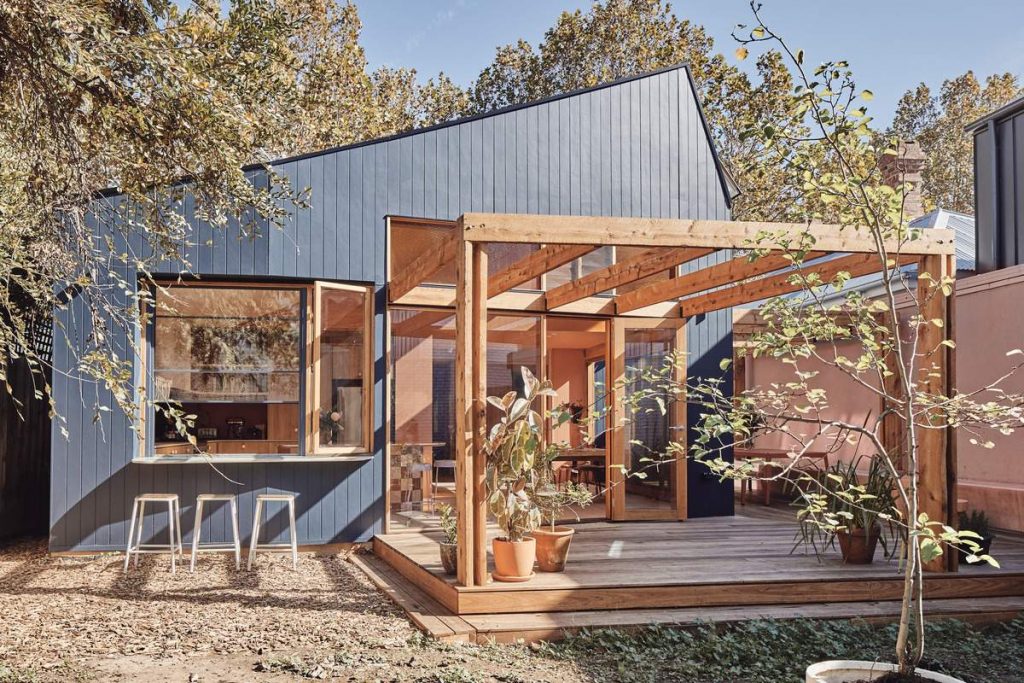 "I've lived in a lot of different places – share houses and apartments – and I think it's about getting light in a sustainable, cross-ventilated way with lots of passive design, which is very simple to implement.
"Doing straightforward things like that means you don't have to turn lights on until it's dark. Not only do you receive light that is seasonally beautiful but it also reduces bills."
To remedy the lack of light in Casa Cassata, Timmins installed openable skylights in the kitchen to angle up to the north and capture light in over the top of the two-storey neighbour. And when the front door or certain windows are open, the skylights can help promote cross ventilation to exhaust the heat and improve airflow.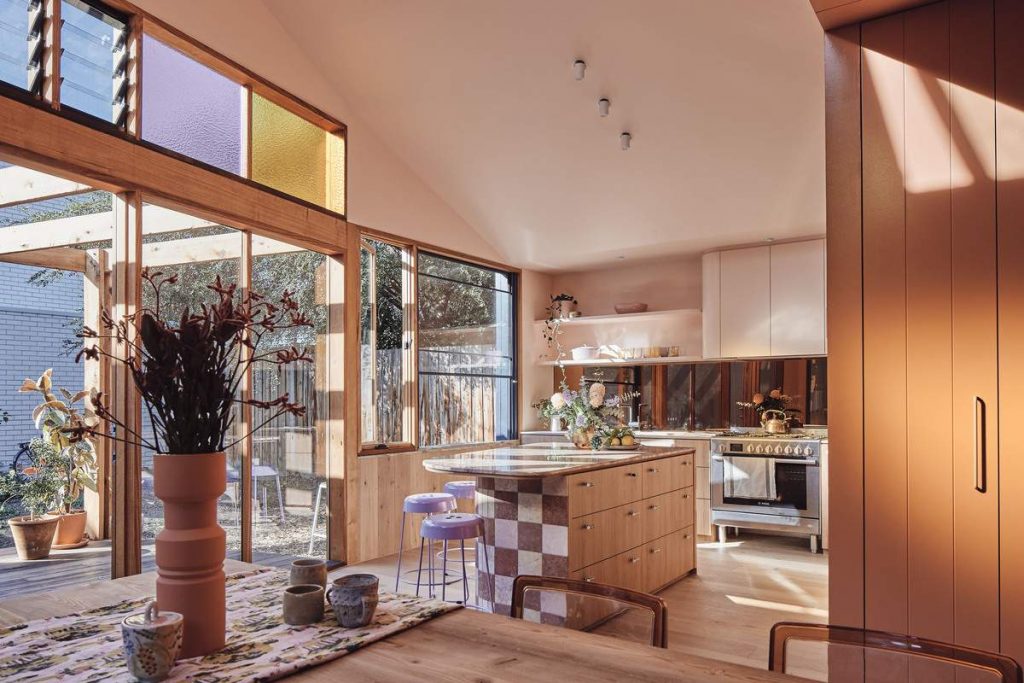 Sitting just below the skylight are coloured and textured glass windows that serve two purposes – to obscure the structure next door and add "warm, jewel-toned plays of moving light on the interior surfaces," adds Timmins.
Timmins says the fruity-coloured glasses are a nod to the original windows at the front of the Edwardian house but also to the client's Italian heritage. And counter-intuitively, coloured glasses work best on wintery days because the clouds act as a white canvas.
"On grey days, the glass colours become more vibrant. You get this beautiful colour coming through. But on brighter days, you get the afternoon glow."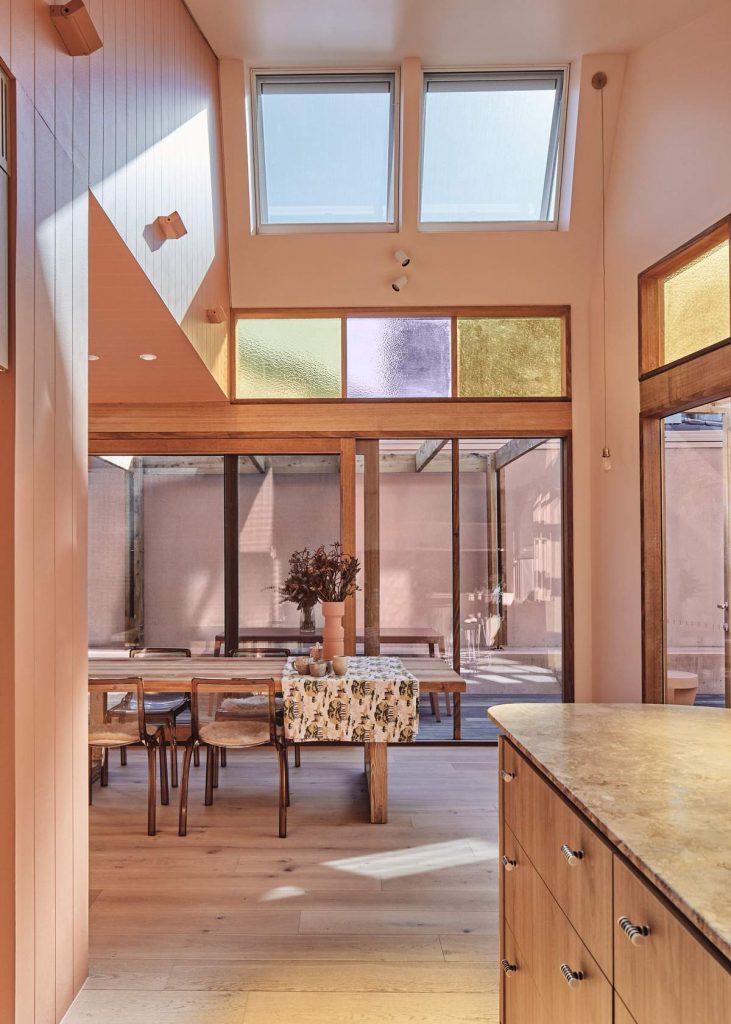 With coloured glass windows not often seen in modern builds, the decision to heavily feature them in Casa Cassata was very much intentional.
"In the 50s, a lot of Italians and Greeks lived in Fitzroy. Some of the extensions during that time did have coloured glass. I haven't really seen it happening for a while, but it just felt right for this project."
"And the clients are very vibrant people with a lot of personality, which is reflected in the house. The client spent time in Rome. So, this inspired the peachy-pink and terracotta walls. Finishes were also handpicked in collaboration with them to create a sweet, whimsical, colour-saturated and warm interior – much like the dessert."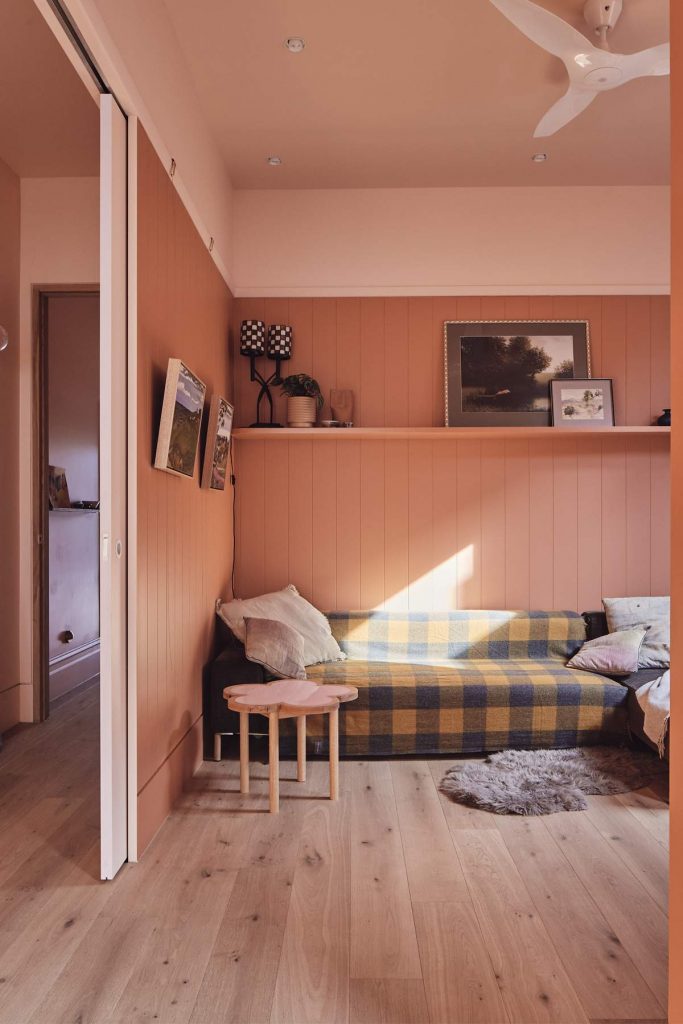 Taking centre stage in the kitchen is a pinky, chequered marble island bench made of natural stone. Once again showcasing an element of whimsy, Timmins says she was drawn to this pattern because "it had much more decorative shapes and pink hues".
"It adds to the dessert-like experience."
The Italian theme continues into the bedrooms. The colour palette is bold and helps bring the two remaining rooms back to life, after losing some charm in a '70s renovation.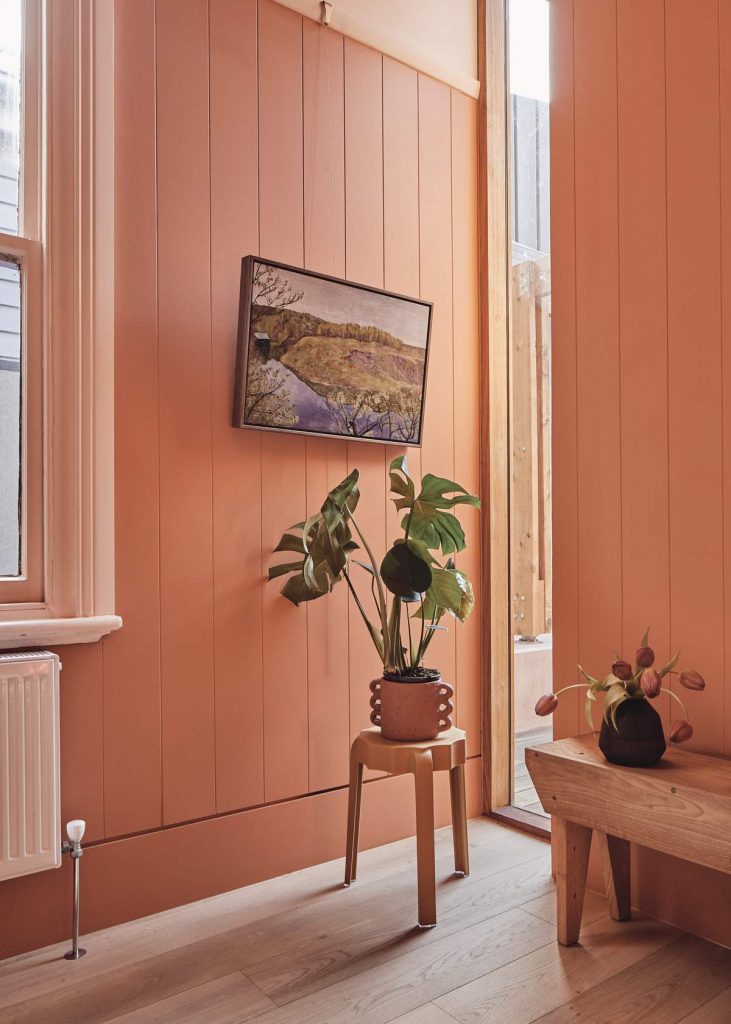 "The oversized cornices in the colour of the walls, contrasting ceiling colours, and new tile hearths bring a sense of the original design while contemporary insertions are true to the playfulness of the rest of the house," explains Timmins.
Delightfully homely, Casa Cassata "is not just a pretty face", says Timmins, but a house that "functions and breathes".
"The house's overriding impression is that of warmth, light and colour – a little Italian holiday every day. The sweetness of details such as the lilac accents, the coloured glass reminiscent of candied fruits and the almost confectionary-like colour palette are balanced by the abundant use of varying types of timber."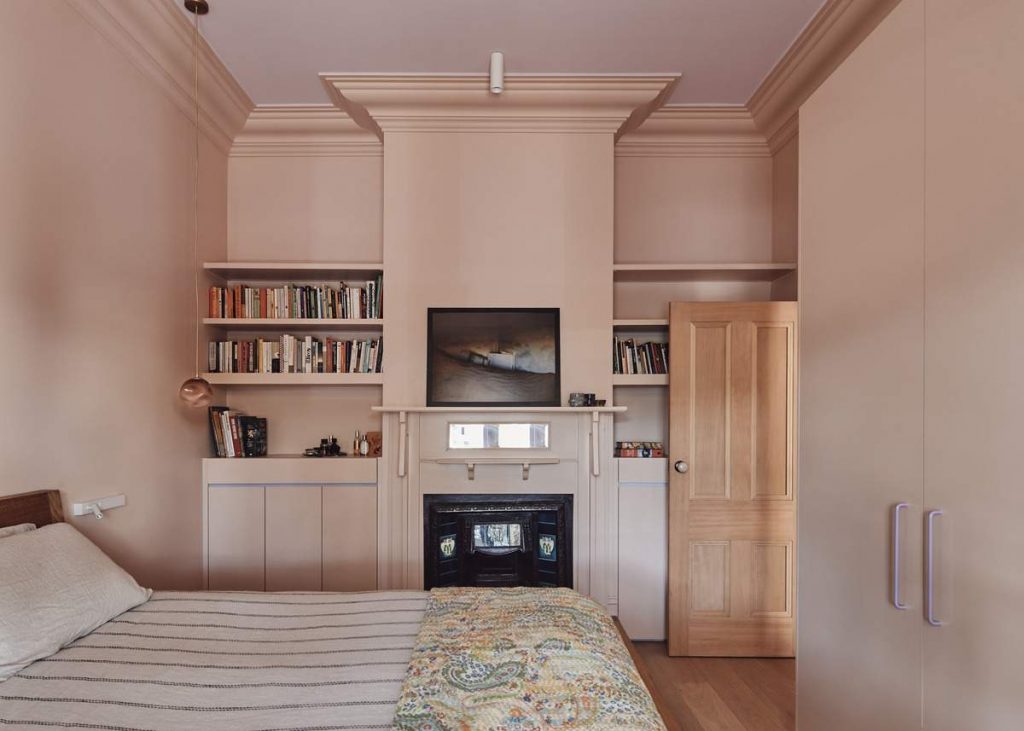 Photography by Peter Bennetts.
Launching in 2007 by co-founders Sally Timmins and David Whyte, Timmins + Whyte is a Melbourne-based design studio creating purpose-built spaces that are site-responsive, energy-efficient and robust – all that function, respond and reflect intelligently to suit their occupants.
Interested in more smart sustainable residential design? Take a look at Hütt 01: PassiveHouse by Melbourne Design Studios, which demonstrates how a modern, luxury lifestyle home does not need to be compromised for sustainability's sake.