Photography by Nicole England.
Mills Gorman's brief and challenge was to design a contemporary infill building within a heritage streetscape. The dwelling was to provide a flexible and sustainable environment for living, and working – part of which could be zoned off at times for family and guests to stay.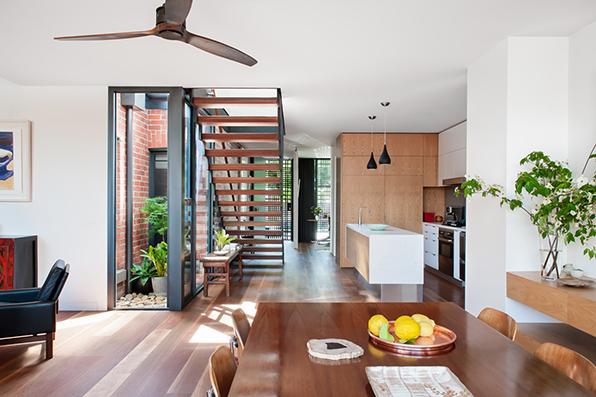 From Napier St, the built form responds to the proportions of the adjacent terraces. Finely detailed steelwork was adopted to acknowledge the scale and rhythm of the Victorian streetscape with bespoke woven steel strap screens creating familiar vertical window proportions when viewed from the street beyond. Muted tones and colours were deliberately selected so as not to overwhelm the Victorian streetscape and emphasise the simple proportions of the façade.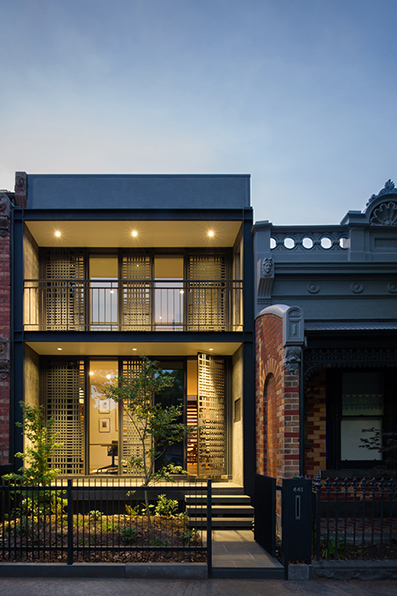 From each room occupants glimpse views – towards the courtyard garden, the central light court, the heritage streetscape, or the Fitzroy rooftops from the cantilevered rear deck. The intimacy and warmth of the interior, and the careful and subtle design is enhanced by the outdoor spaces it addresses, creating a sense of openness and light.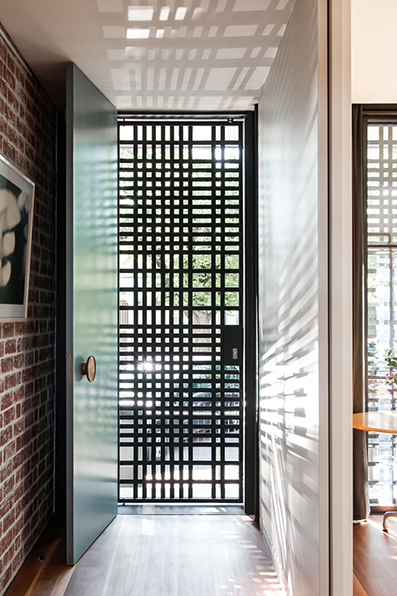 The interior and architectural concept melded through the use of 'real' materials – the original bricks form a feature spine through the house and the garden walls, set against a palette of warm solid timber floors and custom integrated joinery. Blackened steel, both structural and decorative, runs delicately through the home – from the garden, custom firebox, laser cut staircase and woven façade screens and framing, providing a sharp modern contrast and reference to a once industrial neighbourhood.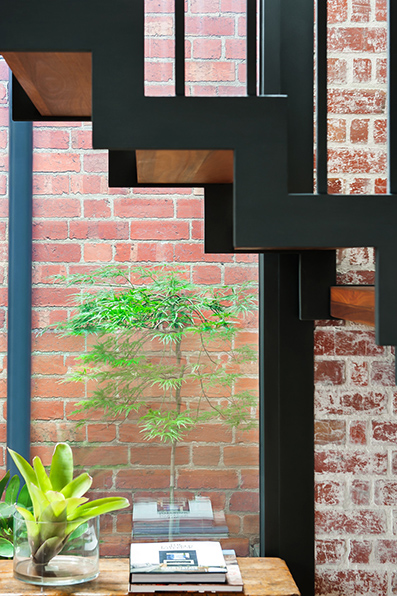 From the outset, the design was focused on efficiency and sustainability. Solar energy and hot water provision, an underground rainwater tank, low energy fixtures and fittings, low VOC and local materials and fittings were sourced by the whole team for a holistic solution.