Local Queensland practice Plus Architecture has designed six slender apartment towers in some of the Gold Coast's popular lifestyle-driven suburbs. Slated to be completed in the next five years, these projects signal a new wave of high-rise designs economising small land parcels.
With land at a premium in southeast Queensland suburbs, skinny apartment towers occupying a small footprint are increasingly attractive to developers seeking to bring to life small sites otherwise not suitable for high-density development.
Today, Plus Architecture principal Chrisney Formosa shares her thoughts on why "the slender tower concept is highly suited to luxury multi-residential projects".
"Very small sites present an opportunity for unique architectural solutions as they require an individualised design approach. In the high-end property market, being able to deliver a boutique design that is highly customised to the site is what helps a project truly stand out," says Formosa.
"Beyond that, skinny towers also easily allow for full floor or two-story apartments with 360-degree views, making them a prime solution for a luxury multi-residential coastal living – offering all the benefits of a standalone house and more."
Below are five Plus Architecure-designed slender tower projects that showcase Formosa's points.
Myst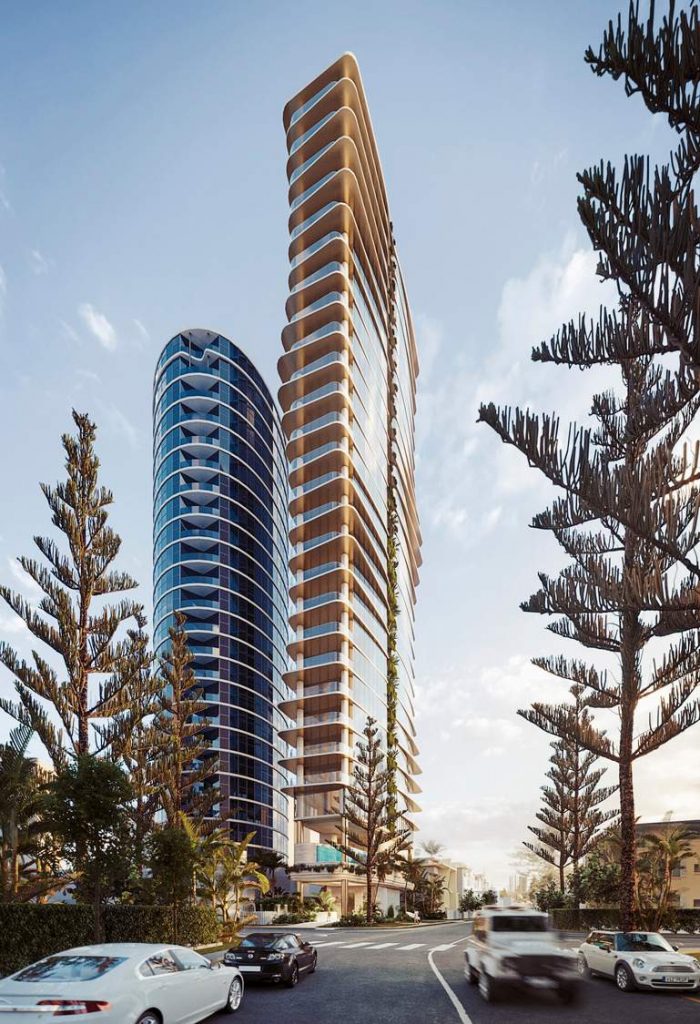 Formosa says it is often the constraints of a project that allow us to challenge ourselves to create unique solutions – and frequently these are the most beautiful.
"Located on a small 670-square-metre site on the Gold Coast's First Avenue, Myst was one of these opportunities and has been the evolution of a successful partnership between the developer Orenda and the Plus architectural team," she says.
A unique luxury residence with just 46 apartments across 33 storeys, plans for the bespoke tower include bedrooms to the south and living to the north, oriented to capture panoramic views of the coastline. The slender tower is topped with a four-bedroom penthouse featuring a private rooftop area and pool.
The ground floor podium will interweave with the street through a layering of landscape housing a large pool and recreation terrace and an open tropical garden lobby experience.
La Mer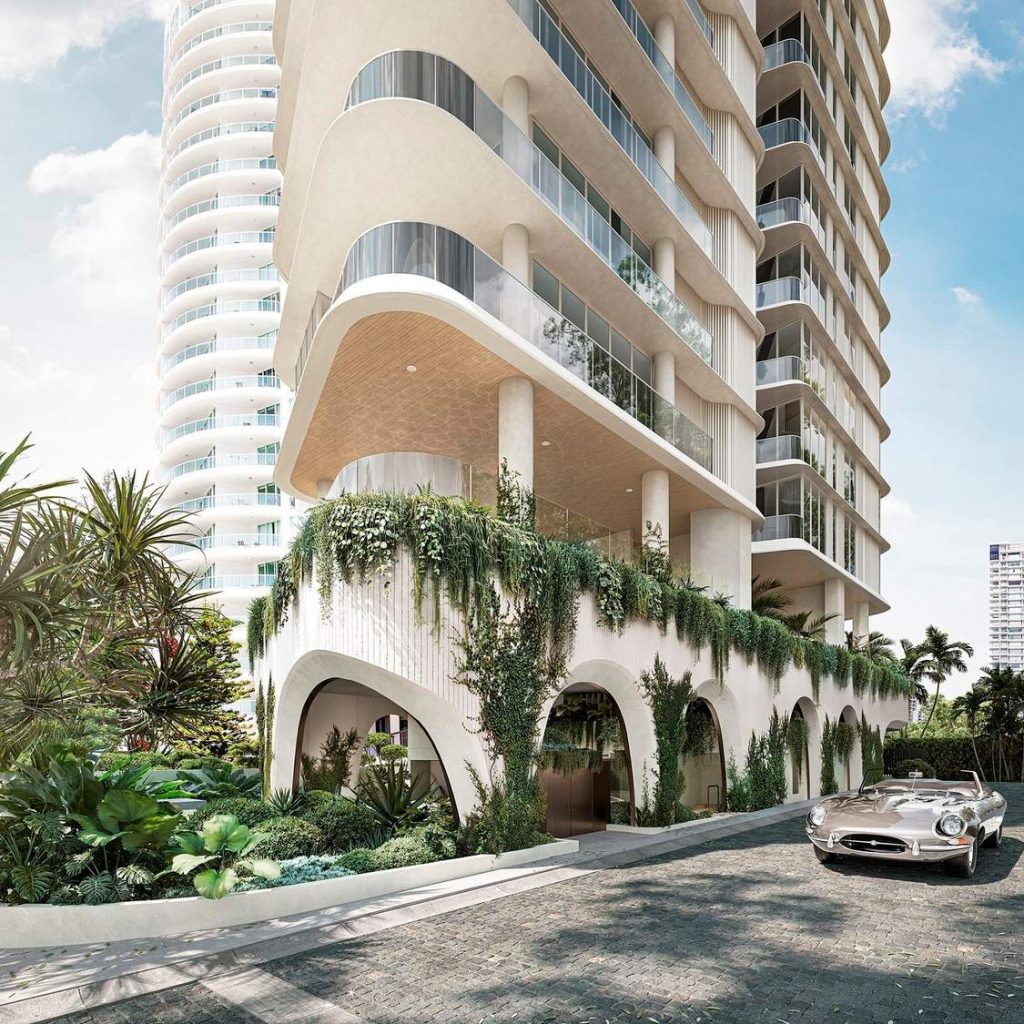 When it comes to boutique apartment tower design, we need to think out of the ordinary.
"That means exploring doing things differently – reimagining how we can use those smaller sites to their best potential to ensure they become a valuable addition to the urban streetscape. La Mer is a great example of this," says Formosa.
The boutique apartment tower is located in arguably one of the Gold Coast's most iconic locations – Main Beach, a small enclave of properties in an exclusive reserve surrounded by water.
Redesigned by Plus Architecture, La Mer features 20 apartments, including one of the largest penthouses in Main Beach, each oriented to capture ocean views.
"Unique to La Mer is that half the tower comprises double-storey, fully customisable sub penthouses, a boutique approach made possible by the slender design. More of a 'sky home' and less of an apartment, these vertical residences are elevated far above the typical apartment living experience."
Aurum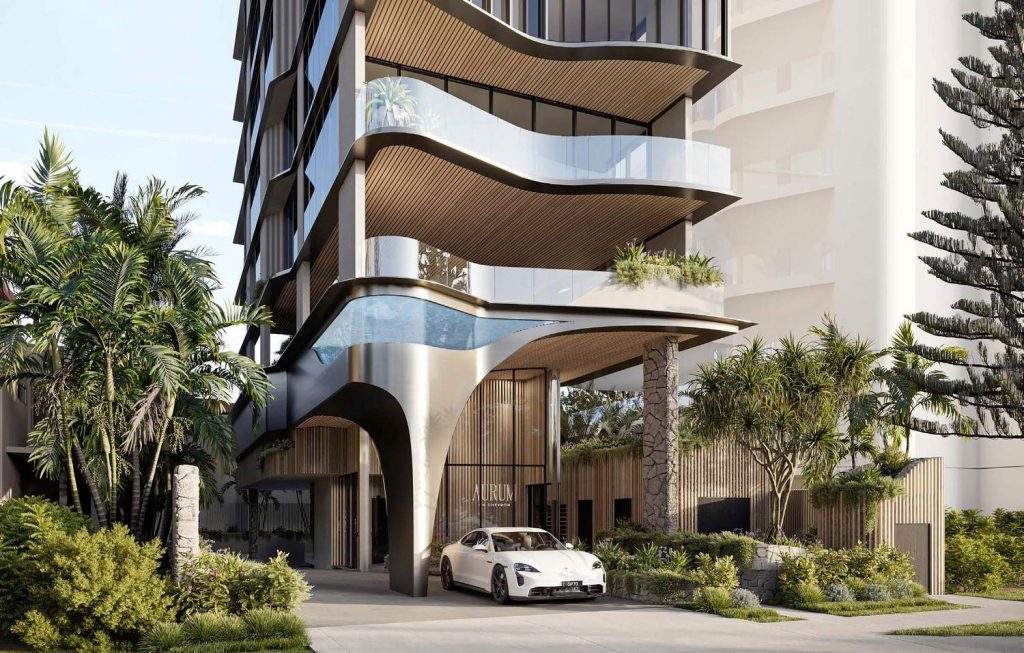 Skinny towers tend to have smaller floor plates suited to whole-floor apartments, says Formosa.
"With Aurum, we took this a step further by providing eight luxurious two-floor apartments spread across 16 levels, as well as with parking, recreational amenity and a private rooftop pool for the penthouse."
Designed for Vaun Developments, the 20-storey slender tower features a curvaceous design, reflecting the character of its location in the heart of Chevron Island on the Gold Coast. The project further features a double-height lobby and two floors of luxury amenities, including a wet deck with pool, spa, steam room and ice baths. There is also a dry deck with a gymnasium, yoga studio and plans for a Himalayan salt wall.
"With its rigorously refined architecture, Aurum is designed to turn heads," says Formosa.
20 Mary Avenue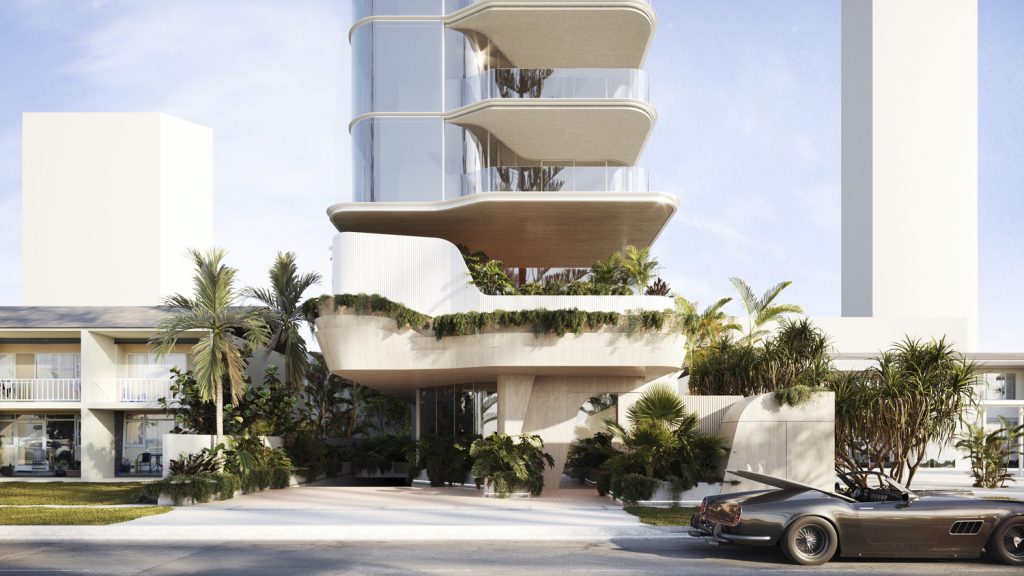 Taking cues from natural form and coastal lifestyle, Plus Architecture's plans for the 19-storey tower at 20 Mary Avenue – located on just 506 square metres of land – were designed to be beautiful, but considered, functional and lasting.
An exclusive collection of 17 full-floor apartments in the sought-after pocket of Broadbeach, the project's design concept blends seamlessly with the location of the site.
Formosa says skinny tower designs require smart design approaches in order to offer living spaces that are of exceptional quality with the most efficient service and traffic outcomes.
"By opening the lift straight into the apartment and keeping utility spaces compact, we can maximise living space and deliver a penthouse experience on every level."
Nineteen First Avenue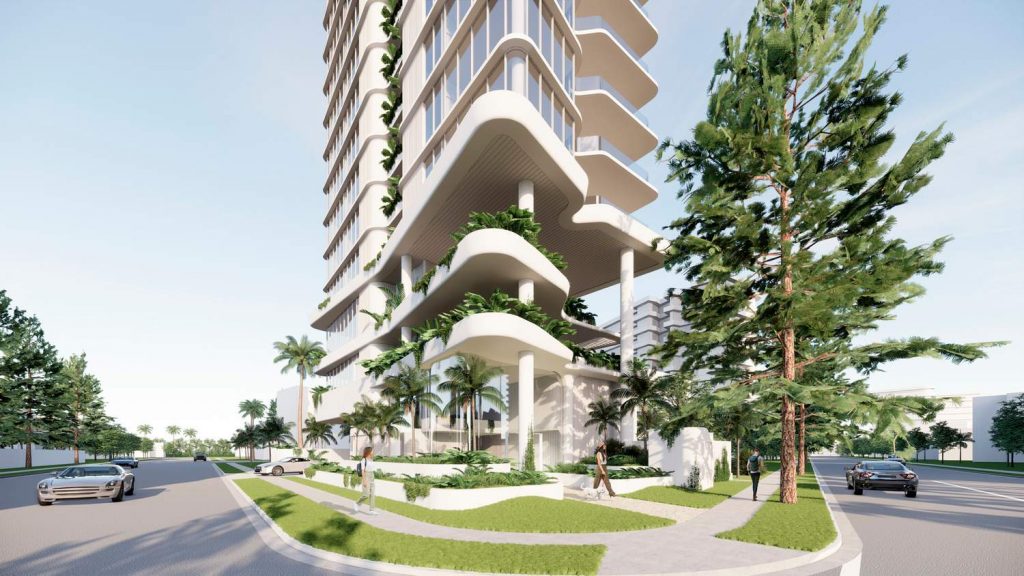 Located within the highly desirable beachside border precinct of Surfers Paradise and Broadbeach, Nineteen First Avenue is a finely crafted development of 35 apartments over 38 storeys.
In addition to featuring a pinched-in tower shape to maximise views and light, the slender tower offers balconies and living spaces oriented toward water views on the narrow site.
The tower's dynamic, overlapping rippled forms were inspired by the interaction of water, wind and sand. A design palette of soft textures, vertical aluminium screening, textured concrete, and a verdant landscaped ground floor entry combine to deliver a luxurious residential experience.
"Every part of the architecture has been finely crafted to maximise luxury – inspired by the dynamic yet graceful theatre of the ocean," adds Formosa.
Renders supplied by Plus Architecture.
In more multi-residential design, Tilt Industrial Design and Arcadia put urban design at the centre of their expertise and bring a new dimension to community design.