In accepting the MPavilion 2022 design commission, Bangkok's all(zone) forges permanence in favour of lightness, sustainability and, above all, joy.
"I always wonder why if it's sustainable, it has to be brown," Rachaporn Choochuey says from the office of her Bangkok studio.
"We live in a world where material scientists are doing incredible things with colour, and yet for some reason, sustainable projects always look like they're made from cardboard with their dull tones and touch of bamboo."
The design director and lead architect at all (zone) aren't here to slag off the work of her eco-friendly colleagues. Instead, she's trying to explain why her studio's design for MPavilion 2022 will be different and, besides, she still working through her own colour reservations.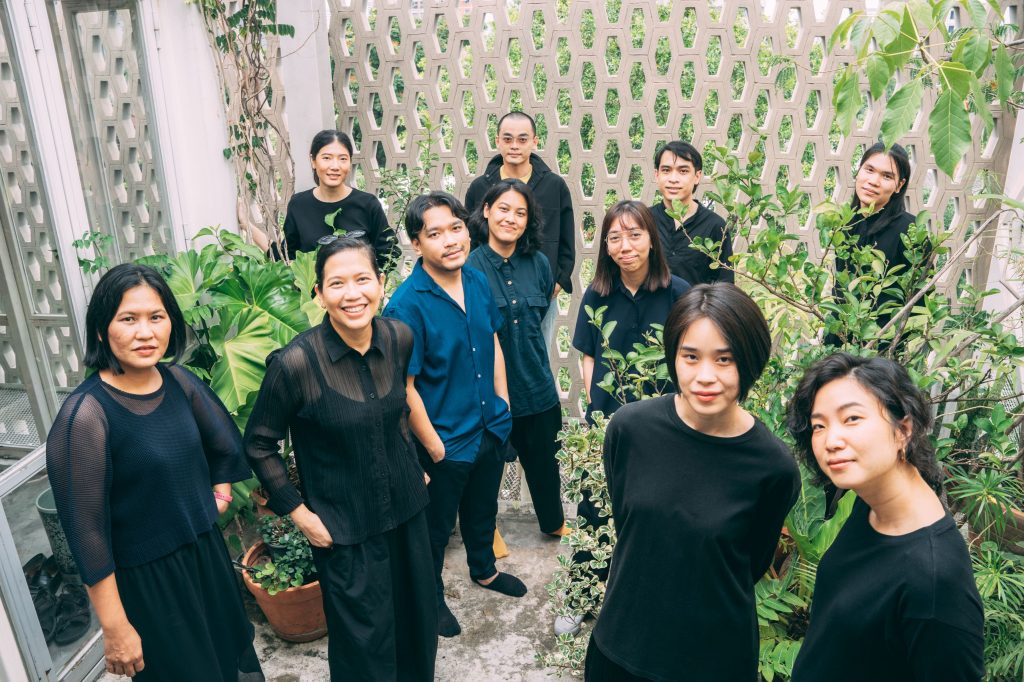 "I wear black because I can't match colours nicely," she explains, laughing. "It's too much to think about in the morning, so I just stick to black.
"It's the same with my architecture. Colour has always been a bit of a taboo in modern architecture, so I'm still a little uneasy when I use it. We're training ourselves by applying colour in temporary projects with the goal of slowly trying it out in more permanent buildings."
This year's MPavilion is set to be a bright, bold and joyful affair.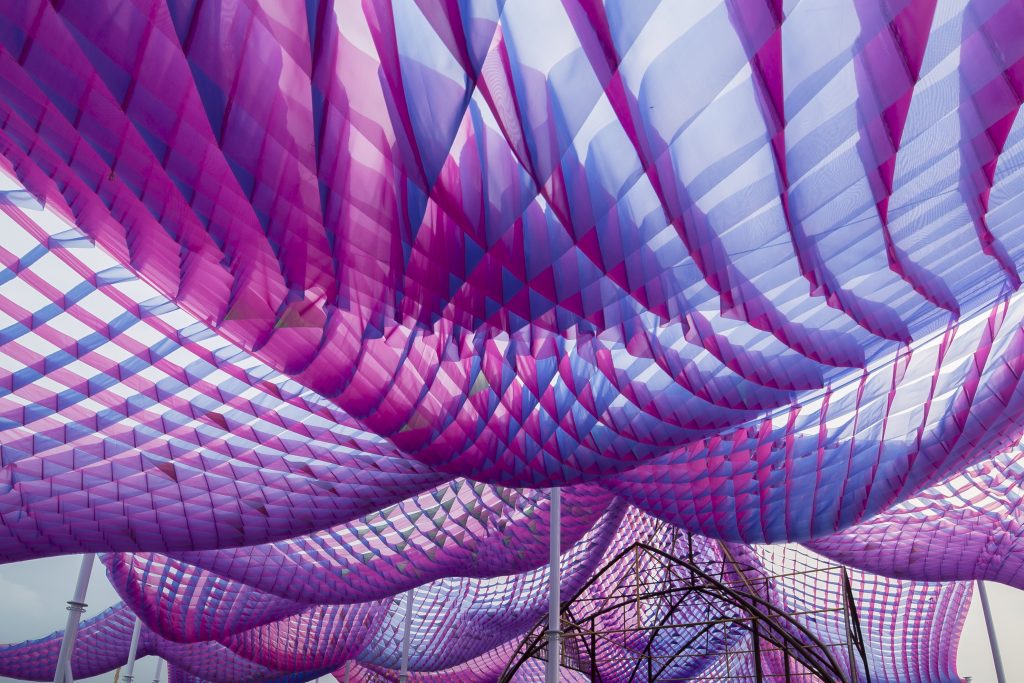 It will be made from layers of bespoke, fire-coloured nets and architectural fabrics with a waterproof membrane. Supplied by the French manufacturer Serge Ferrari, this membrane, which is as transparent as glass, but 10 times lighter, will be making its debut in Australia at MPavilion.
The fabric will help keep the structure weather-proof, while still allowing the light, wind and other elements of what will hopefully be a beautiful Melbourne summer into the pavilion.
all(zone) has been working on what it calls its 'platform' a little longer than past commissioned architects. Naomi Milgrom originally reached out to the studio in early 2020 after meeting Choochuey at Melbourne's Living Cities Forum the previous year.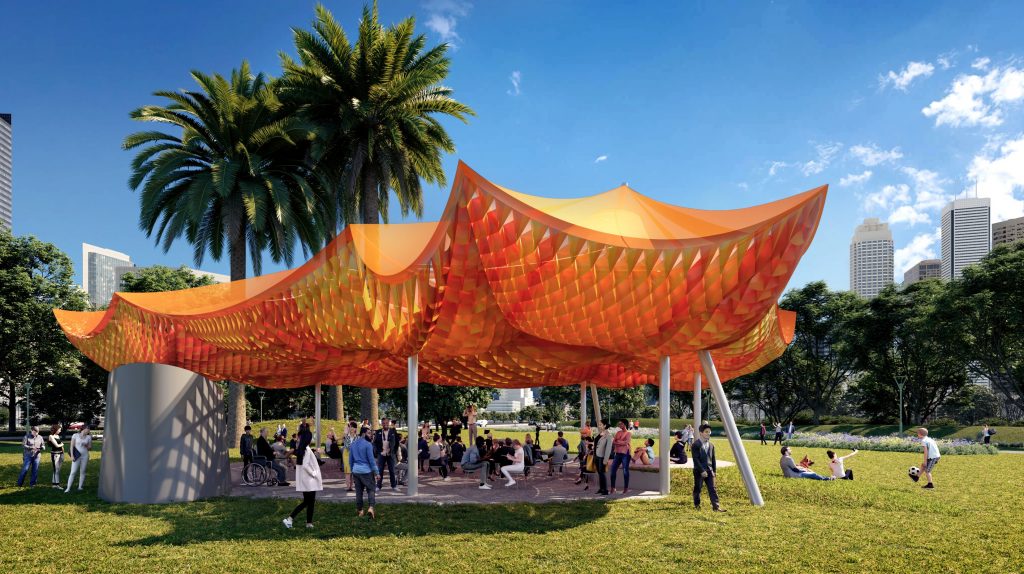 At that time, the COVID-19 pandemic was an unknown quantity and Choochuey remembers reassuring organisers that it could just blow over. It didn't and MPavilion 2020 went ahead without a new pavilion. The architecture practice originally promised the 2020 slot – the Venetian outfit MAP Studio – finally revealed its design in 2021 with all(zone) back on the books for 2022.
"When we were able to start designing [in September 2021], we were very excited. It signified global conditions were getting better. That was a joyful moment for us, even if things weren't so rosy in Thailand," says Choochuey.
"Actually, September in Thailand was super bad. A small portion of the population had been vaccinated and the news that people were dying without being able to see their families was depressing.
"We tried to put that out of our mind and design a place where people could get together with people they knew and people they didn't know. That was what we missed the most during the pandemic – seeing people we didn't know doing things that just looked normal in public."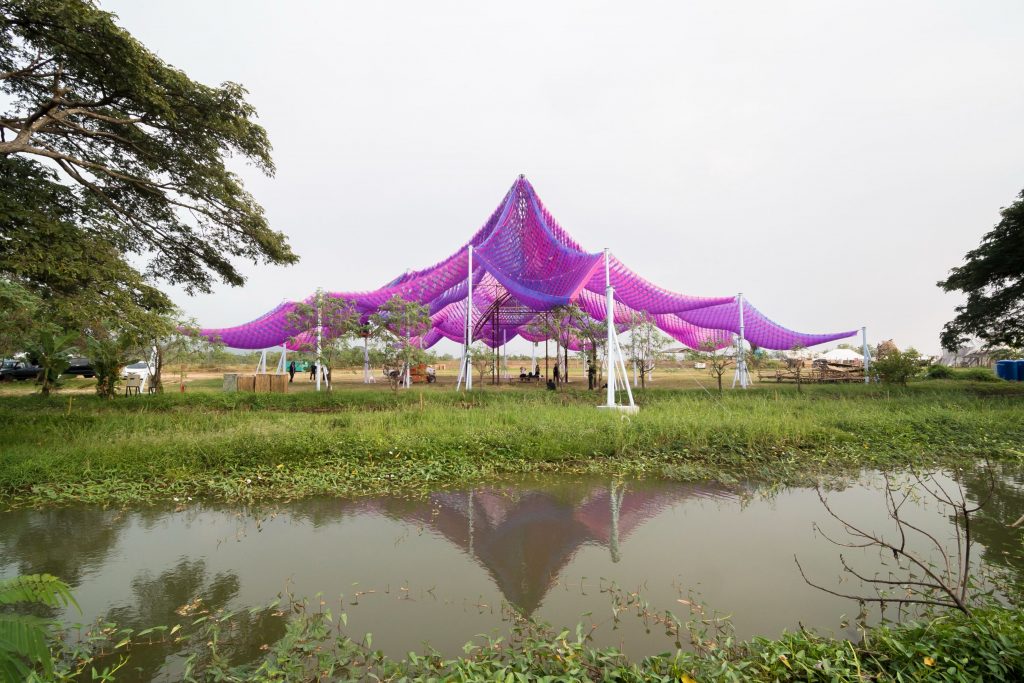 MPavilion 2022 isn't all(zone)'s first foray into temporary architecture. The studio has made a name for itself by designing playful platforms for people to convene, converse and celebrate, and Choochuey is constantly exploring how architects can build the lightest building, not just in terms of materials, structure or energy consumption, but also conditions.
"A hundred years ago, we were born and perhaps lived in the same place until we died, and the conditions of life were more or less the same," she explains.
"But that's no longer the case. Life changes all the time now and so do our social conditions. We may get a better job or need more space or maybe find a partner. Or there are other factors like the COVID-19 pandemic that affect us and our cities.
"Architecture can't really respond to this. It's not flexible enough to keep up. When you think of architecture, you think of something that lasts forever, but nothing really lasts forever."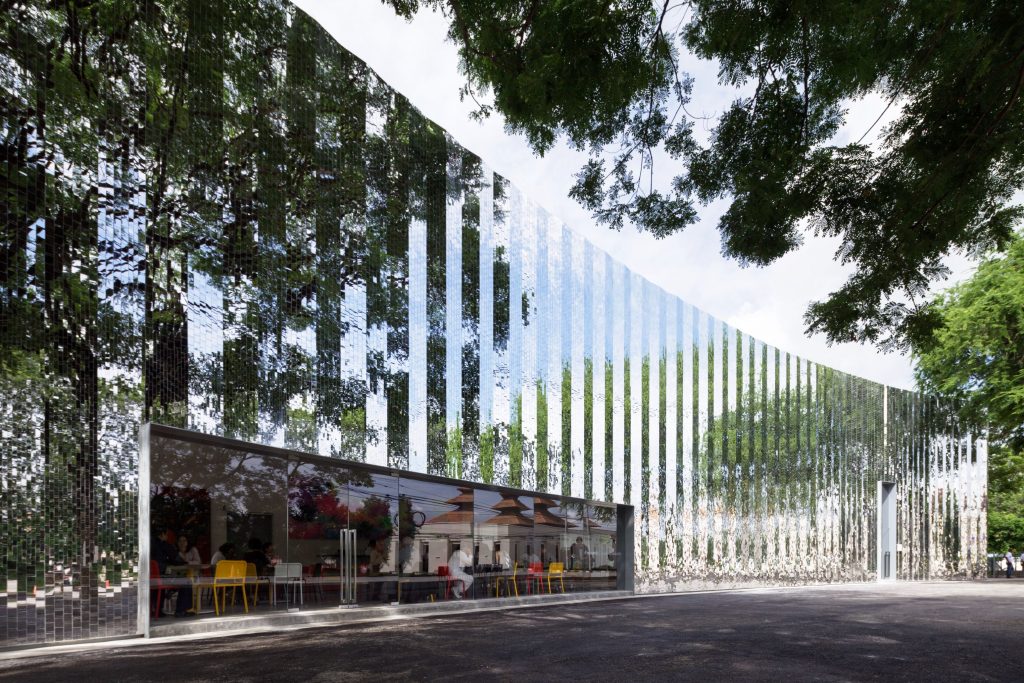 Part of this fascination is driven by climatic concerns. all(zone)'s 2016 MAIIAM Contemporary Art Museum in Chiang Mai and its participation in the 2019 Sharjah Architecture Triennial are examples of the studio's deft and ongoing study of sustainability and adaptive use, so too is POWWOWWOW, an eco-conscious lifestyle community in Bangkok's Sukhumvit district.
But Choochuey is also working with her surroundings – the tropical conditions of Thailand naturally produce buildings with a shorter life span. The perfect conditions in this environment, she tells me, is under a tree if it's not raining.
"We look to the local architecture. Houses in villages were made with light materials and would last 10, maybe 20, years. The generations before us spent a huge amount of energy trying not to make buildings that would last forever, but environments that would fit in their tropical climate.
"Nowadays we don't think as much because we have concrete and air-conditioning."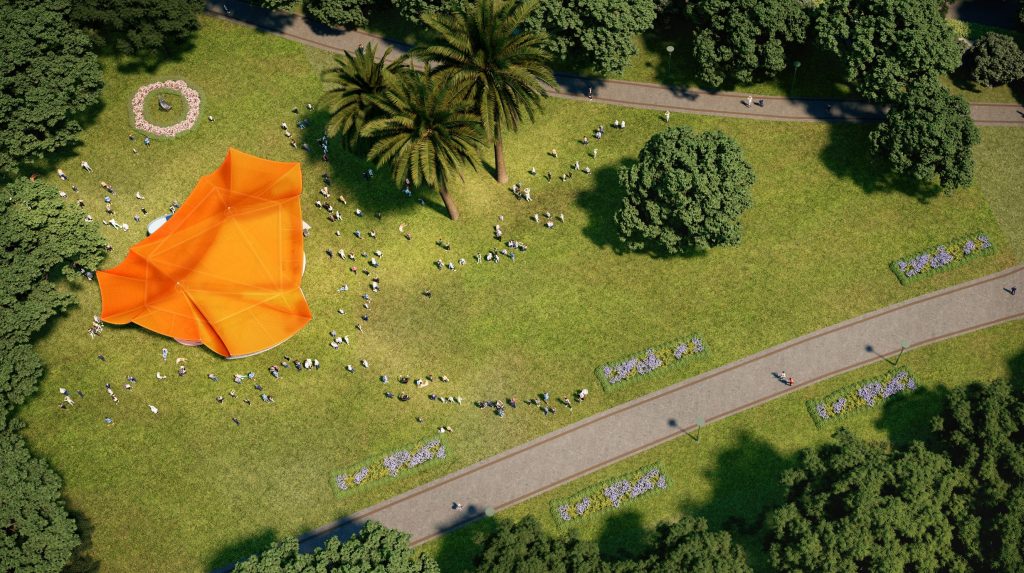 That's not to say all(zone) is advocating for a return to vernacular architecture. Choochuey is quick to say she has no desire to live in a mud hut. She needs her computer and her Netflix. She also enjoys discussing architecture with people who live thousands of kilometres away.
"Modern architecture has spread across the world for a reason. We need to house a lot of people, we need to consider regulations and there are the necessities of a contemporary world, but vernacular architecture can pave the way to a more refined solution.
"It would be too romantic to think it's the answer. It is instead one consideration of how we can make architecture better and more appropriate to conditions. And I don't just mean location because place and time are conditions too."
This article originally appeared in inside magazine, which is on newsstands and available online now!