The four teams set to compete in the final stage of the design competition for the new National Gallery of Victoria (NGV) were announced today.
Open to Australian teams, the competition kicked off in February 2021 and was described as an "unparalleled platform to showcase Australia's world-leading design".
The new gallery is set to be 10,000 square metres and will be part of a larger arts precinct in the works for Melbourne's Southbank.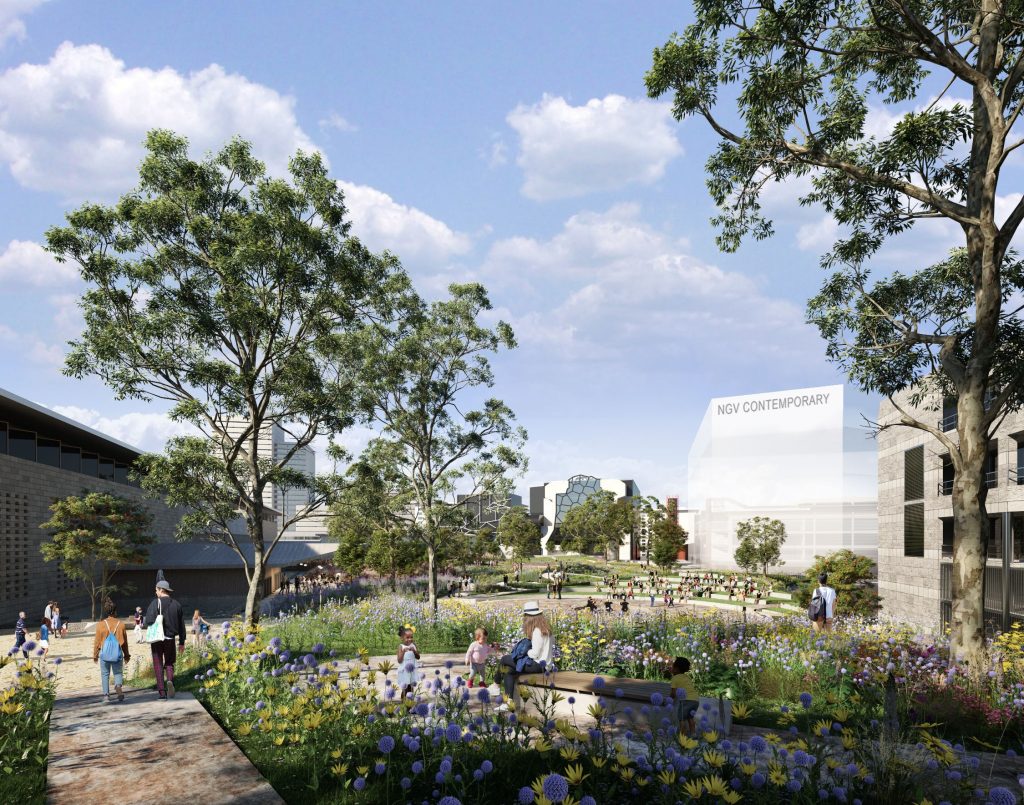 Rather than being designed by one studio, the new NGV will be penned by a team featuring multiple practices.
The first team of finalists, led by John Wardle Architects, features OCULUS, Pierce Widera, Searle x Waldron Architecture, Greenshoot Consulting, Hecker Guthrie, Hodyl & Co, Atelier Ten, WSP, Steensen Varming, Fabio Ongarato Design, Phillip Chun, L'Observatoire International and Mott MacDonald.
The second team, led by Angelo Candalepas and Associates, features ASPECT Studios, Carr Interiors, Andy Fergus Design Strategy, BoardGrove Architects, Richard Stampton Architects, Steensen Varming, Mott MacDonald, TTW, Affinity Fire Engineering, Freeman Ryan Design, AX Interactive and Art of Fact.
The third team, dubbed Open Weave, features Grimshaw, Winwood Mckenzie, Baracco Wright, McGregor Coxall Australia, Foolscap, Relative Projects, 20-20 Studio, Flux Consultants, AECOM, Eckersley O'Callaghan, 2X4 Inc and Paul Memmott.
While the fourth finalist, Field, features Architectus, Edition Office, Durbach Block Jaggers, Openwork, Daniel Browning, Karen Milward, Lovell Chen, WSP, Finding Infinity, Surface Design, Speirs Major and Art Processors.
In the final competition stage for what is set to be Australia's largest museum of contemporary art and design, teams will be invited to further develop their design concepts, with the winners announced in early 2022.
The last major architectural works carried out at the NGV was the redevelopment of its International building by Italian architect Mario Bellini in 2003.
The original building was designed by Sir Roy Grounds and opened in 1968.
Last week, ADR caught up with the 2021 NGV Architectural Commission designers Taylor Knights and James Carey to talk about their pavilion and the impact Grounds had on their design.
Lead image: Artist impression of the new NGV Contemporary viewed from the new public garden. HASSELL + SO-IL.