Planetary Redesign is the first major solo exhibition of LA-based Australian filmmaker and speculative architect, Liam Young, at the National Gallery of Victoria (NGV).
The exhibition includes the Australian premiere of Young's latest moving image work, The Great Endeavor, which presents an alternative future where humankind unites to reverse our carbon footprint.
Coming directly to Melbourne from its world premiere at the 2023 Venice Biennale of Architecture, The Great Endeavor, 2023, depicts the construction of infrastructure powered by renewable energy that removes huge quantities of greenhouse gases from the atmosphere.
Young recently sat down with Australian Design Review to share the journey that led to this exhibit at the NGV, the collaboration with renowned costume designer Ane Crabtree, and the inspiration behind his works.
Young also discusses his views on the role of technology in shaping our built world and the urgent need for hopeful and sustainable visions of the future.
Australian Design Review: Congratulations on your first major Australian solo exhibition. You must be absolutely thrilled.
Liam Young: Yes, it's exciting. I'm originally Australian, so it's a special moment to have a solo show in my home country and bring work back to the NGV, which commissioned 'Planet City' three years ago for the Melbourne Triennial.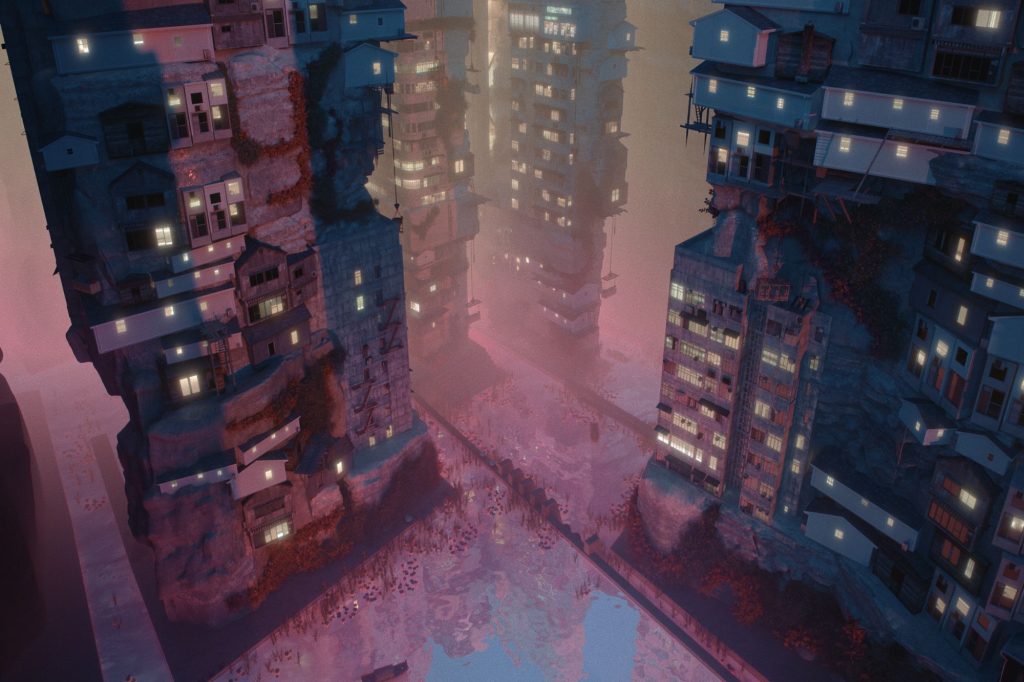 ADR: Can you share the journey that led to this exciting moment?
LY: Planet City started with the 2020 Melbourne Triennial and has been evolving since then. Then came The Great Endeavour, which is the second work that we'll be showing in this exhibition.
Planet City was our pandemic project, born out of the need for hopeful and aspirational futures amidst the crises we faced.
Until that time, my work was best described as counter narratives, that is to say that I think one critical role for designers and artists is to put out into the world other kinds of stories than the ones that exist in the dominant media narrative.
Essentially what both Planet City and The Great Endeavour are trying to do is talk to the need for a new, hopeful and sustainable, pragmatic, but also productive vision of the possible future.
ADR: You worked with Ane Crabtree, known for her work on The Handmaid's Tale. How did that collaboration come to be and did you take inspiration from each other?
LY: Ane was the costume designer on both Planet City and The Great Endeavour. We collaborated closely, exploring and imagining what the cultural life of this city might be, how citizens of this new city would have a cultural life, how they would dance, how they would celebrate, how they would act, [and] enact spirits of the past as a way of remembering the world that we once lived in.
We wanted to counter the dystopian images typically associated with science fiction and instead present a hopeful and rich future.
ADR: The BBC has named you "The Man Designing Our Futures". How do you feel about that title and what does the future of design look like – with AI potentially playing a pivotal role?
LY: The title suggests that I am a singular genius shaping the future, but I want to emphasise that world-building is a deeply collaborative process. Both my projects are a celebration of those collaborations with scientists, technologists, theorists and more.
The future of design involves creating viable images of planetary-scale action. Climate change is no longer just a technological issue – it's a cultural and political one.
It's not just me imagining the future as the BBC might suggest, but hopefully the show is an invitation and a way of enabling and providing a toolkit for audiences who might see it and start to make and shape their own images of the futures that they want to live in.
ADR: How did your background in architecture inspire your transition into other creative works, such as film?
LY: I approach filmmaking as an architect and designer. Ultimately, architecture, I think, is an act of making and shaping stories with and through space, and that for the most part is what I do.
In this exhibition you'll see not only the visualisation of an imaginary city and future infrastructure, but also the costumes and stories and characters that inhabit those worlds.
This allows me to explore the cultural implications of new technologies and envision better futures.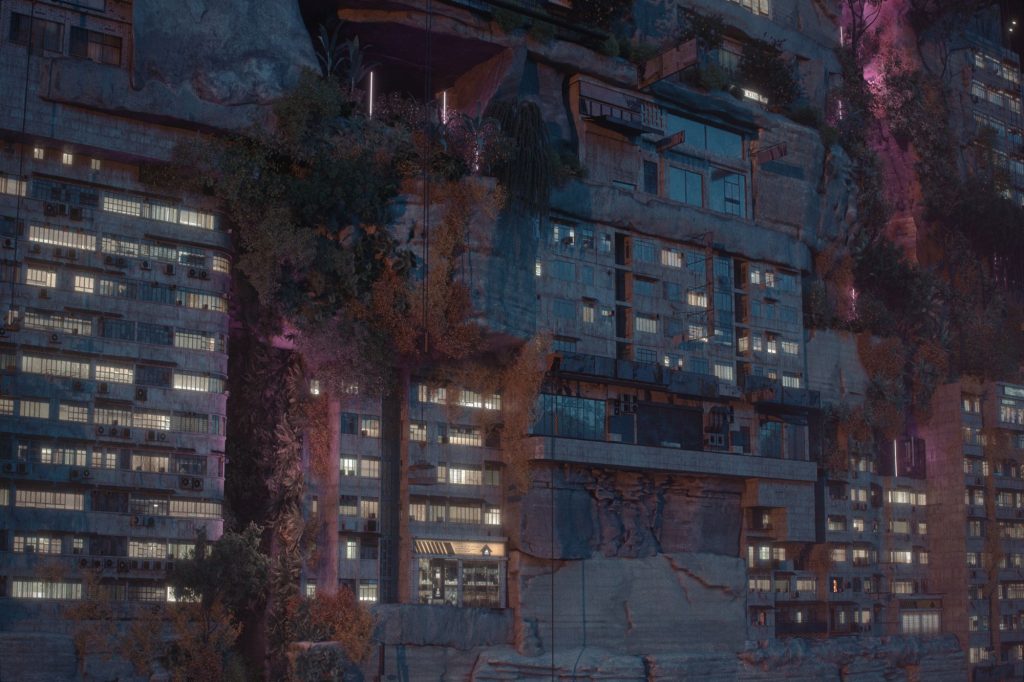 ADR: Where do you think technology is taking us in the built world, and how can we provide for a better future?
LY: Technology presents an opportunity for necessary densification and shrinking of urban forms. Planet City visualises a hyper-dense metropolis that retreats from existing cities, giving space back to nature.
The exhibition urges us to rethink our cities and embrace sustainable, pragmatic and hopeful visions for the future. We need cultural investment, and the willingness to change what we're doing, and live within a context that might be more dense, involve shared and communal resources, and that might involve renewable energies.
ADR: Congratulations on the recent premiere of The Great Endeavor at the Venice Biennale of Architecture. Could you tell us more about this project and what you hope it will achieve and inspire?
LY: Similarly to Planet City, the great endeavour is another re-imagining of what our world might look like if we truly embrace the potentials of some of the technologies we've created for ourselves.
Ultimately, the great endeavour is our generation's moon landing. Just like Planet City, we're trying to bring into the world two visions that might begin to start to be images of what our planet might look like if we really take on the challenge of climate change.
ADR: What do you hope individuals, whether in the design space or not, will take away from your exhibition?
LY: I hope the exhibition serves as a catalyst for thinking about the future.
Projects like Planet City and The Great Endeavour illuminate a sliver of the unknown landscape ahead.
The hope for the exhibition is to encourage people to start telling these stories, start thinking about and talking about the viable possible and reasonable futures that we all want to be sharing together.
Liam Young's exhibition showcases two visionary projects that challenge traditional notions of the future, embracing hopeful visions to address the urgent challenges of climate change and sustainable living. The exhibition will open at The Ian Potter Centre: NGV Australia on 19 August.
Photography supplied by the National Gallery of Victoria. 
Check out the NGV Triennial 2023 on display this December.