Possessing 30 years of experience, Bates Smart director and architect Kellie Payne is driven by design that puts people first.
Founded in 1853, Bates Smart is one of Australia's oldest architectural practices with a proud history of multidisciplinary design.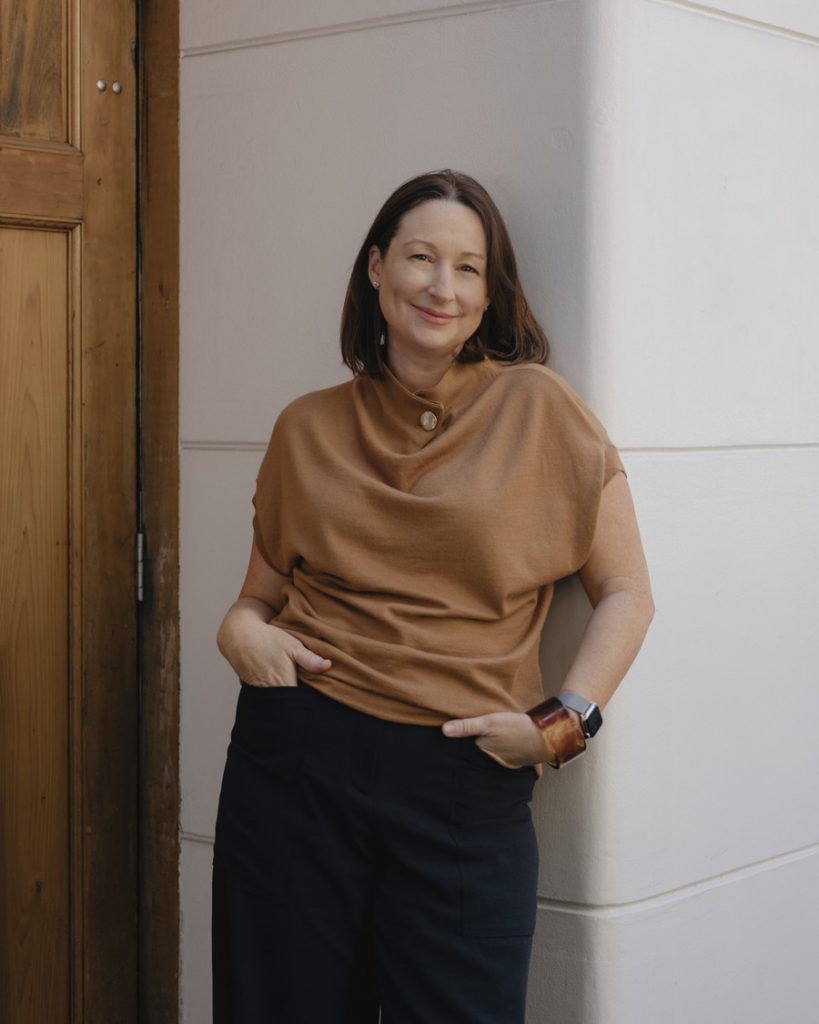 "At Bates Smart, we see ourselves as custodians of a history, not only a history of the practice, but a history of the cities," Paynes tells ADR.
"We feel like we've built and created cities to create spaces in which society thrives – it's very long term. It's a civic responsibility and generosity that we bring to design."
Concentrating on design strategy, Payne is all about how people occupy a space, especially in workplaces and office buildings. She is particularly concerned with placemaking and the crossover between sectors.
"We don't work as specialists at Bates Smart because we have a belief that design is the specialty and that cross-sector experience is really important.
"I often work on hospital projects because I can bring workplace knowledge as a hospital is a workplace for the medical professionals within it. Then, I learn about health and well-being through hospital design, which I bring back to workplace design."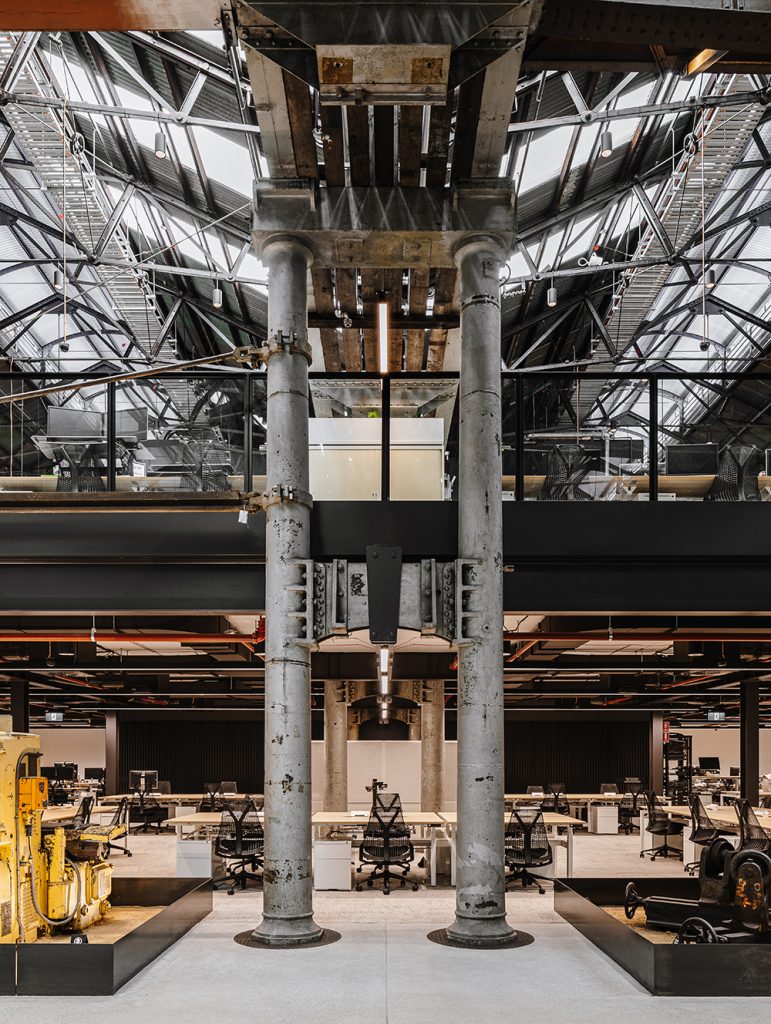 This approach can be found in Bates Smart's IDEA 2022 shortlisted project Quantium. Featured in the Workplace Over 1000 sqm category, the project is the home base for Quantium, a young rapidly-growing global leader in data innovations.
Seeking a workplace that reflected the culture and identity of the emerging IT Company, Quantium now calls the factory-like setting of the South Eveleigh Locomotive Workshop home.
The workshop is spread across Bays eight to 13 and celebrates the heritage and beauty of the original building, which now spans 12,000-square-metres over two floors – equal to eight floors in a standard office building.
"The site is the old sheds where the first trains and locomotives were built in Australia. It was built at the same time as all of the rail lines. It was a moment that changed our economy. The engineers connected markets and created distribution for Australian-made goods to grow our nation and economy. Our economic nation came from this one moment and these engineers created our future.
"Now, we are meeting Quantium – a leader in the data economy – who helps our markets develop in servicing consumer needs. Locomotives were at the face of the industrial revolution, and Quantium is the face of the tech revolution.
"The idea that these data engineers were standing on the shoulders of the giants that built the first locomotives – that was the pinpoint for us and the clients to see the possibilities of the impact we can have on the economy through the lens of the people who stood here before us and built great things."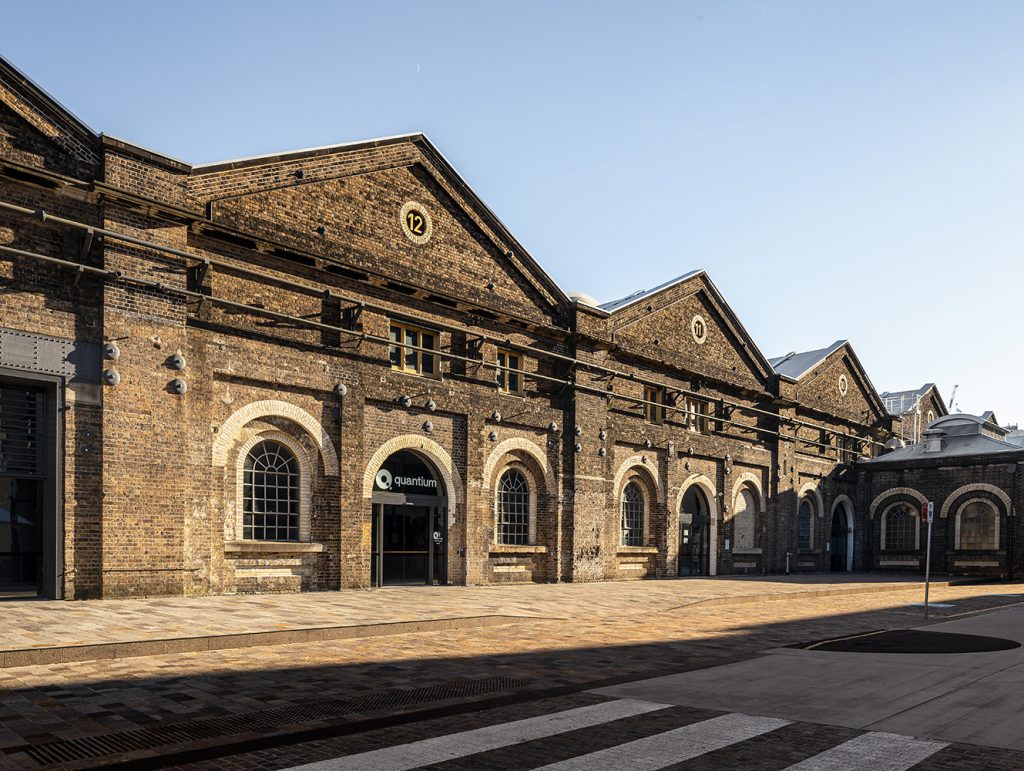 With this in-depth and sentimental brief in mind, Bates Smart created its design around the Heritage structure, which possesses "very strong geometry," adds Payne.
"There's a series of existing cast iron columns and they form a grid. It's a very linear building with each bay originally housing machinery."
With the bays working as zones, Bates Smart created social and quiet spaces in a "neighbourhood" for staff to feel "connected to something larger".
Bates Smart also paid homage to the site's legacy by creating double-height voids around key pieces of historical equipment in their original locations.
Situated near a social space, Bates Smart ensured people could come and interact with the machinery.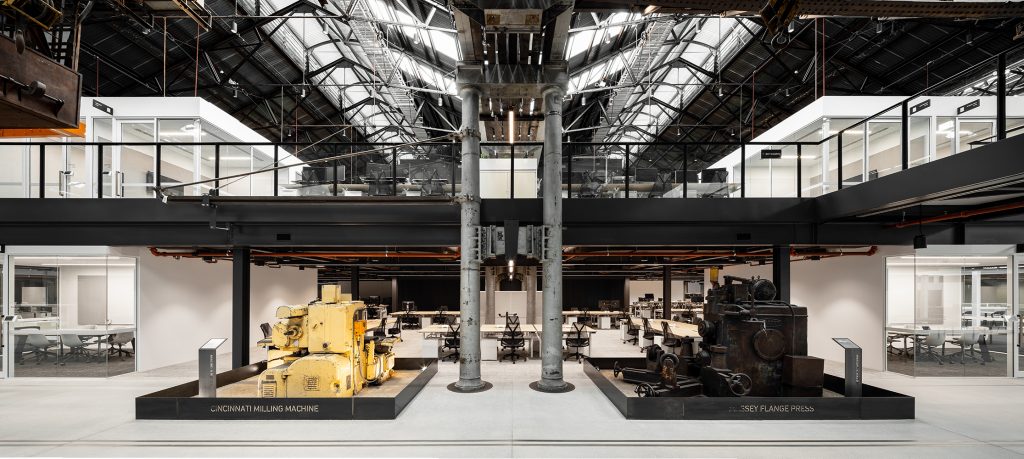 "The Heritage Council required that they had to be maintained on-site. And when it came to all of the negotiations around it, we said, look, this is the building and this is what it offers. You can see these as a constraint or you can see them as an opportunity to connect with history.
"I think that businesses that are emerging with new a culture gain strength through history. They want to touch something that's been there a long time to give them a sense of permanence. And we jumped at the chance."
Aesthetics aside, Quantium's workplace must also facilitate the company's high-level security operations seamlessly.
This consideration acted as a "starting premise" for Quantium's design, explains Payne.
"We wanted the space to feel welcoming but also highly secure and one of the key examples of that is the barista bar that also functions as the security point.
"When you enter, you're welcomed and offered a coffee but you can't travel any further as there are big security gates that swipe you through. Plus, all the meeting rooms have that ghosted smoke finish on them so you can't see inside.
"You need to make people feel open and comfortable, but they also should make you feel that if they're coming here, their data is secure. It's a balance of both."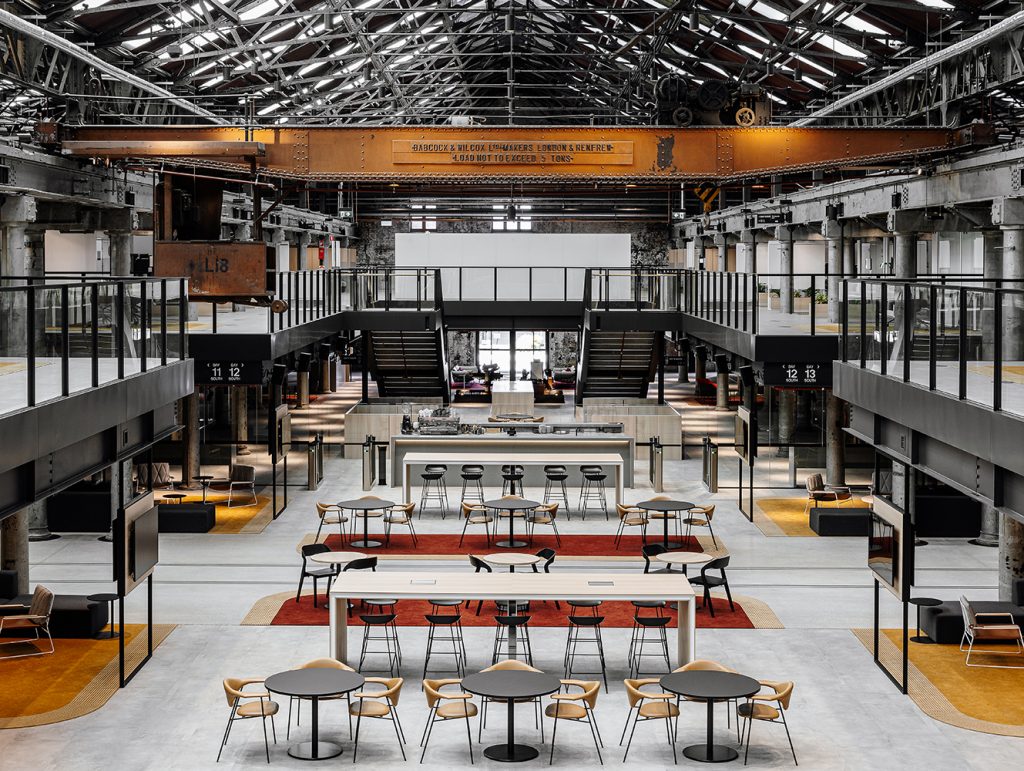 Home to a large portion of young professionals, Quantium wanted to guarantee the office 'earnt the commute' and provided an environment that attracted a young demographic.
"The staff at Quantium are a young and edgy crew who are super smart with bright futures. It's important to bring them somewhere that's unique as their first landing point in their career."
Reorienting to young creatives in the design industry, Payne believes emerging designers "get great opportunities", especially at Bates Smart.
"We value external collaboration. For example, we might enter a competition in collaboration with an emerging designer to design a singular building or design a master plan. That gives our work greater depth while also giving large-scale opportunities to emerging designers that might not have developers approach them with a project of that scale."
Payne also believes advanced technology has fostered "agile" upskilling for staff.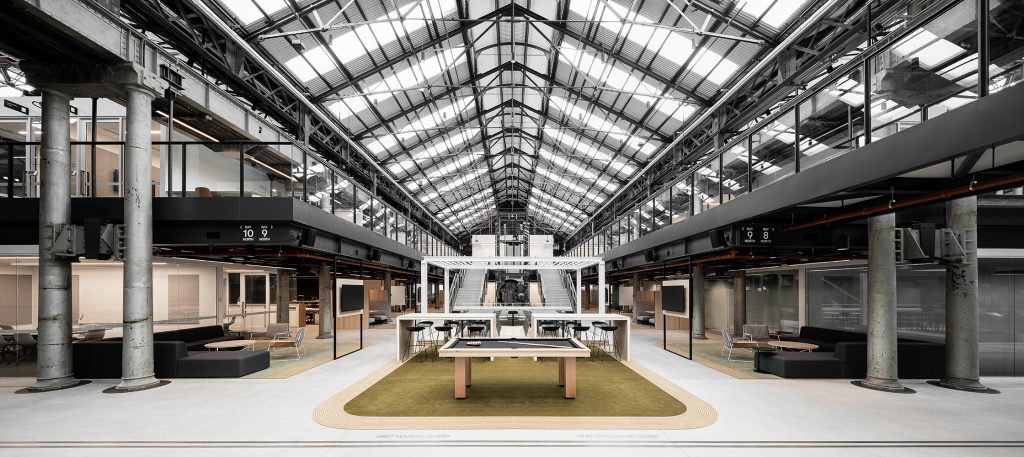 "Most of our lead designers would be under 30 or under 40. Their ability to design with a gaming engine instantly renders their work.
"As a result, they have agile skills in that space. And when you can get rapid growth in design skills early in your career, and then partner to leverage those on a significant project, I think that's a great mix to capture talent.
"I also don't think as much talent gets lost as perhaps it used to in smaller practices. You don't have to either work in a small practice on small work or work in a large practice on large work. You can do both."
With this in mind, Australian Design Review has created the 30UNDER30 program to celebrate young, talented Australians working across the design and architecture industry.
The 2022 inaugural program will focus on finding and bringing together a cohort of under 30s working in design, makers, researchers, planners and future industry leaders. Entries are open – start your submission now!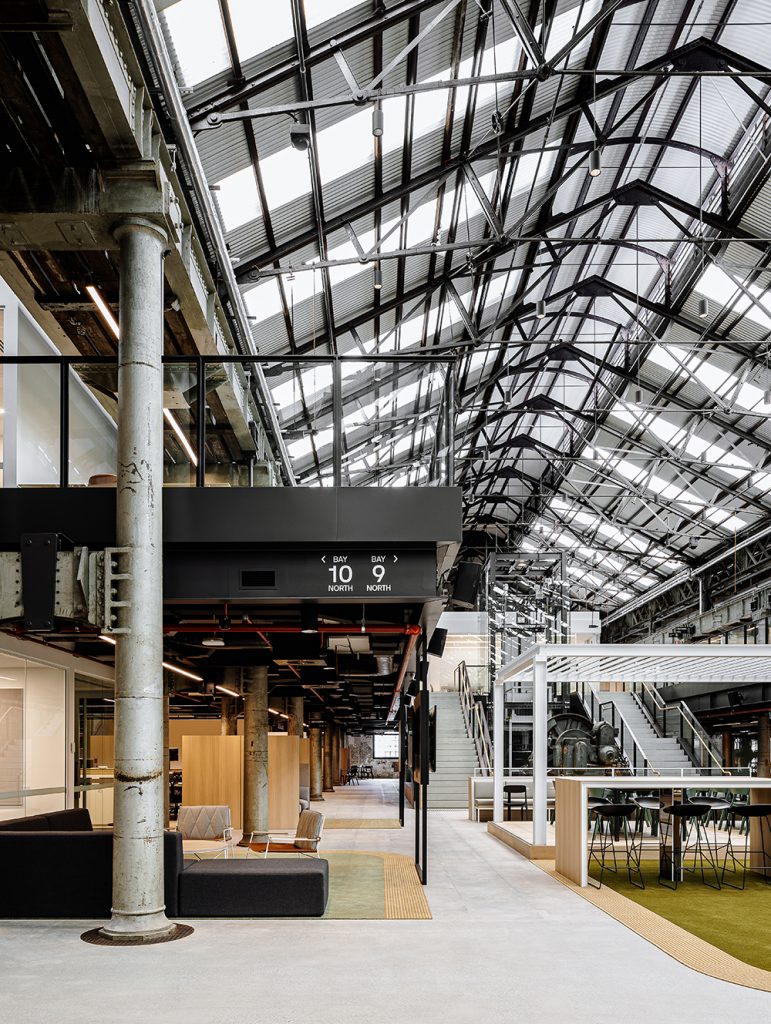 And what advice would she give to emerging designers at the beginning of their careers?
"When I look back on my career, I'd say the biggest roadblocks that I've faced are the moments of most growth.
"You need to find your own path but that doesn't have to be at the outset. You can feel in a great rush when you're young and be distracted by opportunities and salary. But simply completing something is extremely important and that can often be the hardest thing – actually sticking around.
"There were many times when I was working on a difficult project and I had an opportunity to move on or take a different path, but I stuck it out and finished the building and finished the project. Those are the moments when you learn the most – when you complete something and the rewards come later.
"I think the graft comes when you're young. But you've got to find joy in what you do."
Photography by Felix Mooneeram.
Bates Smart is also a Designer of the Year finalist with one project shortlisted in Residential Multi and Hospitality, and two more in Workplace Over 1000sqm. See more of the projects here!