Australian furniture designer Yellow Diva, known for its bold and inspired designs, is celebrating the release of a new stool collection that combines simplicity with a playful graphic injection of colour.
Known as the Staple Stool, the design sits comfortably within Yellow Diva's existing stool range, which includes the Milker and WB collections.
The Staple Stool mixes fun with function.
The timber top is cut from no nonsense film-finished FSC birch plywood for durability and ease of cleaning, while the colourful inlaid X details, which reference the form of the leg frame beneath, add a fun pop of colour. The stools draw on a sophisticated palette of eight fresh and contemporary nature-inspired colours and are available in a choice of three heights. The low stool can be stacked six high.  
Like the rest of Yellow Diva's range of furniture, the Staple is manufactured in Australia, which guarantees a competitive lead time and provides support to the local manufacturing industry.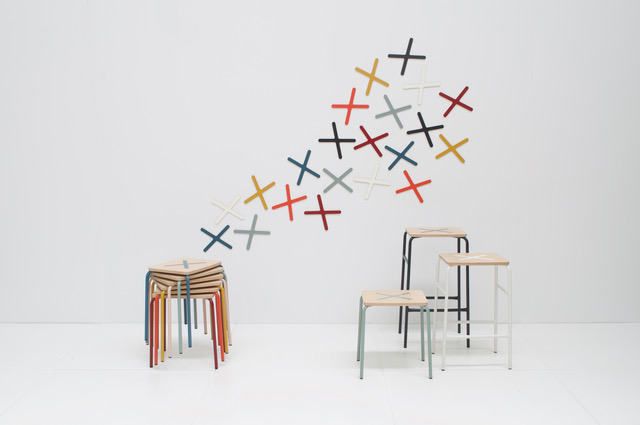 The release of the Staple stool range comes as Yellow Diva celebrates the 10 year anniversary of its hugely popular WB stool collection, which, on its release, became an instant hit with designers and architects.
The appeal of the Staple collection is attributable in part to the unique design credentials of Yellow Diva cofounder David Walley, who established the practice in London with architect James Davis. 
An industrial design graduate from Melbourne's RMIT, Walley began his working life as a set designer for ABC television, later travelling to the UK where he forged a successful career as a freelance art director at the BBC and in the British film industry. It was during his time in London that he met Davis and set up Yellow Diva.
The brand launched its inaugural range of sculptural upholstered furniture to critical acclaim at Milan's Salone del Mobile 1996. David returned to Australia with his young family in 2008 and Yellow Diva was reborn in Melbourne. 
With partner Felicity Joll as creative director, the brand diversified into hospitality furniture with the introduction of the WB Series for Zenith in 2009. The Yellow Diva collection encompasses robust, eye-catching and innovative commercial furniture, from workplace to residential, which is evident in the inherent versatility of the Staple stool range.