Global sintered stone specialist Neolith is all about showcasing beauty while opting for a natural look – Neolith looks are synonymous with taste and elegance in kitchens and bathrooms.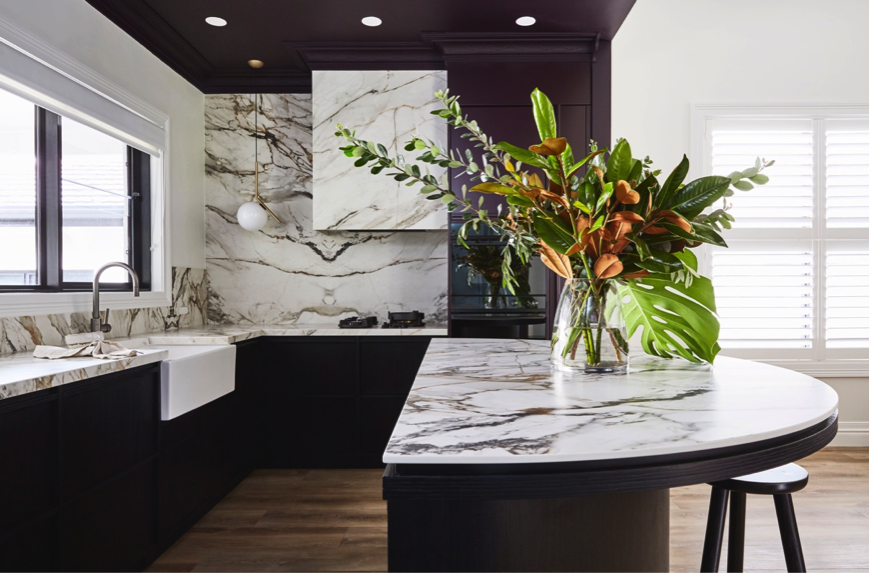 Particularly, when it comes to kitchens and bathrooms, choosing Neolith is always a safe bet.
With its diverse collection and extensive design knowledge, Neolith is an expert in incorporating statement stone surfaces into interiors.
Neolith's state-of-the-art sintered stone surfaces are considered among the best in the world.
Backed by cutting-edge technology, they have zero porosity and are heat-, chip-, stain- and UV-resistant, making them ideal for busy kitchens and bathrooms. They are a healthy and environmentally friendly option too, crafted from 100 percent natural materials, these luxurious, high-performance surfaces offer the show-stopping beauty of natural stone, without any of the maintenance or durability issues.
Inspired by nature and improved upon by modern technology, Neolith is the ultimate expression of natural beauty for a contemporary lifestyle.
The Spanish company has been setting the industry benchmark for architectural surfaces around the globe for more than a decade with their premium, technologically advanced stone for interior and exterior applications.
Neolith marketing manager Kate Deakin-Bell at Neolith believes sintered stones give bathrooms and kitchens a particular aesthetic – the kind that makes heads turn.
"Beautiful patterned and coloured stone brings unparalleled luxury and natural appeal to kitchens and bathrooms, and can be used in endlessly creative ways to bring depth and dimension to the hard-working spaces of our homes," she says.
"Cutting-edge features aside, the beauty of Neolith sintered stone is its versatility.
"Unlike natural stone, where you have to worry about porosity, staining and visible joints due to limited slab sizes, you can install super-size Neolith panels just about anywhere – inside and outside the home."
The importance of patterns and colours is not to be minimized, as they can dramatically change the look of your kitchens and bathrooms, particularly when used over a large expanse like a bench top, island or splashback.
"Use it to create a show-stopping kitchen island, add drama to a bathroom by running it from your vanity bench top to a splashback, create a one-of-a-kind dining table or credenza in your meals area, elevate your outdoor area, or transform your shower with a stunning feature wall," says Deakin-Bell.
"The options are endless."
Today, bold statements are all the rage – where low-key white and chrome were once the norm, designers and homeowners are becoming increasingly daring in their selections.
"Colour, pattern and texture will be huge in 2023 – think exotic stone veining, timber and coloured joinery, leather handles, and organic brass tapware that naturally patinates the more you touch it," adds Deakin-Bell.
"Combined, they create characterful kitchens and bathrooms with a luxurious, lived-in feel."
Here are a few tips provided by Neolith to enhance the look of your kitchens and bathrooms.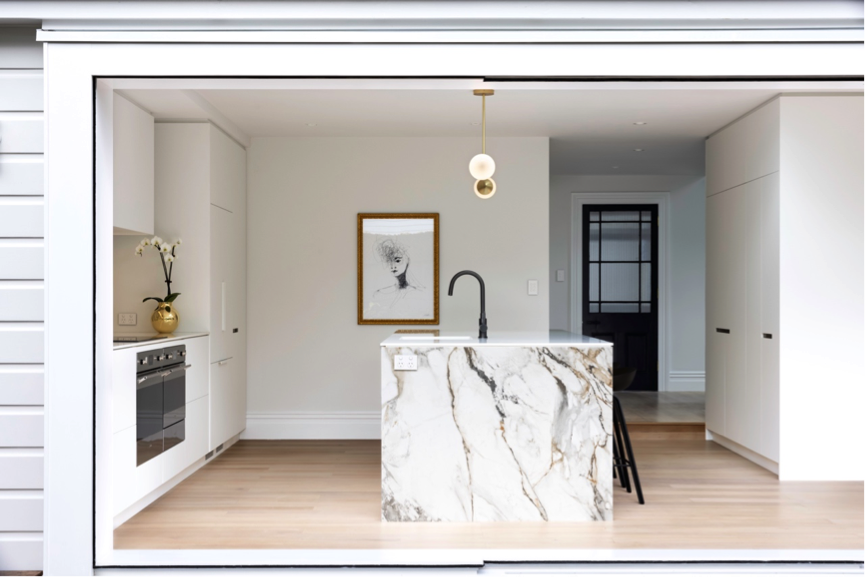 Neolith Calcatta Luxe
The timeless elegance of Calcatta marble, if incorporated in your kitchen or bathroom, will add softness to a bold choice. Choosing Neolith Calcatta Luxe is choosing subtle hints of brown and gold against a bright, white background, it pairs beautifully with charcoal or navy joinery, rich timbers like walnut or blackened oak, and brass hardware. Or keep it sleek and bright by pairing Neolith Calacatta Luxe with handle-free, white joinery, brushed gold light fixtures and tapware.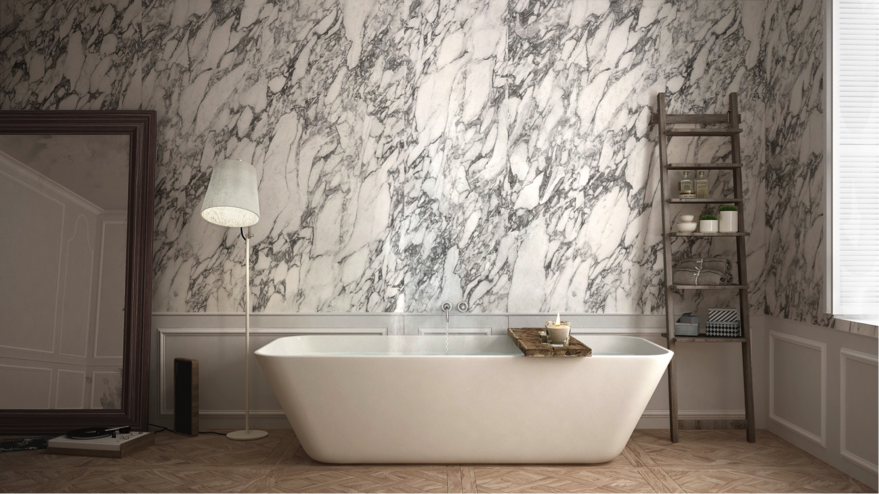 Neolith Arabesque
Riches and curves are the DNA of this breathtaking patterned material. Choosing Neolith Arabesque means adding art-like beauty to your bathroom with a dramatic feature wall, with the rich and curvaceous grey of Neolith Arabesque veining against a cool white background. Balance the intricate pattern out with simple bathroom fixtures and fixtures, such as a sculptural, freestanding bath, floor-mounted chrome tapware and timber flooring.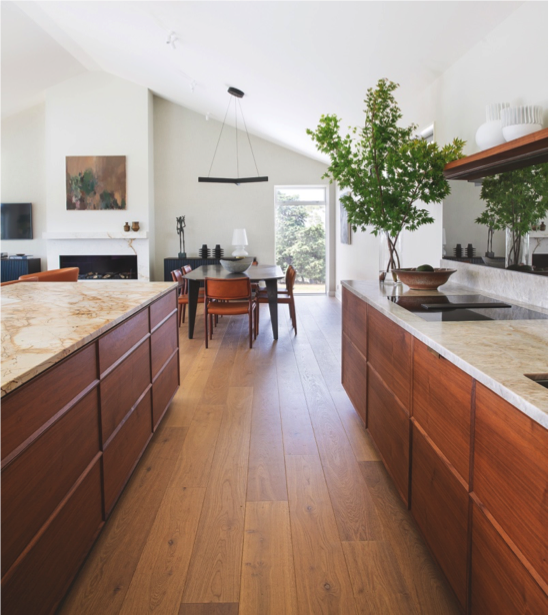 Neolith Abu Dhabi
If luxe mid-century vibes are what your heart desires, Neolith Abu Dhabi is the right option for you. Create a one-of-a-kind timeless elegance atmosphere by combining flat-panelled timber joinery with bench tops in luxurious Neolith Abu Dhabi, with its soft, golden veining and delicate flecks of flinty grey against a warm, white background. Complete the look with mid-tone timber floors and bronze or brass tapware and hardware. If you are after a more rugged expression of style, consider an etched, concrete-look finish such as Neolith Zaha on your island facing and splashback, paired with pale-grey bench tops, dark timber joinery and ribbed-glass light fixtures.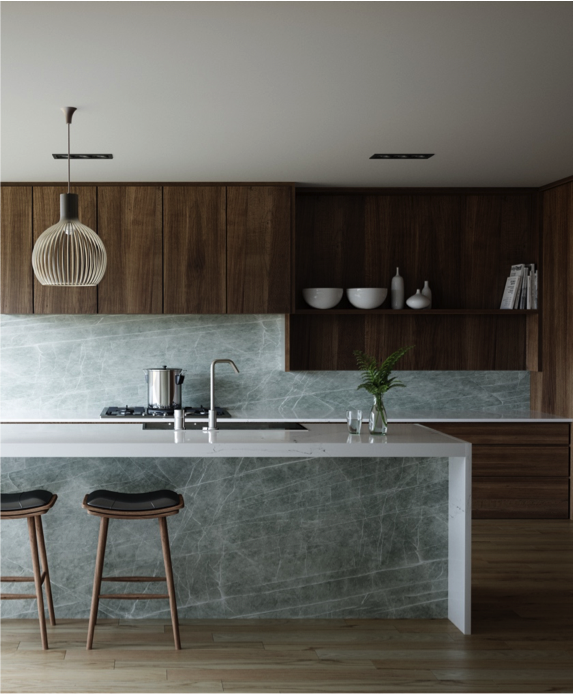 Product photography by Neolith.
Also, discover safe and sustainable surfacing solutions with Neolith's Six-S Collection.