It's easy to speak about architecture in terms of trends and design commonalities, but Karen McCartney, author of the recently published book, Twenty-One Australian Architects: Breaking New Ground, is on the hunt for diversity in design.
When searching for standout architectural projects, Karen McCartney has a keen eye for inventiveness. It's a quality that's evident in the contents of her book, Twenty-One Australian Architects, Breaking New Ground, which explores some of the most innovative residential homes being designed by Australian architects. From a house dramatically anchored into the side of a hill to one with an aged façade that conceals its inner beauty, the impetus for the book was to find cutting edge work that hasn't been seen before.
"The aim was almost not to find common strands because we wanted to show diversity and the range of work being produced," McCartney says. "Some are rural and are set very much in landscape, whereas others have the constricts of being on a suburban site, where architects have to work with different criteria to still deliver something beautiful."
Discovering the unseen effort behind all of the projects was a unique journey for McCartney. By immersing herself in the architect's vision and the context of each project, she was able to understand aspects of design that otherwise may have been overlooked. For example, one house is inspired by the ancient, overgrown temples in Siem Reap in Cambodia: the idea is that the garden will eventually envelop the building itself, but that final design is many years away.
"There are lots of commonalities in what architects say, but I want to know what are the things in each instance that set them apart," says McCartney. "What thinking is different from their contemporaries in the field and what is the essence of what they bring to a project? So it's my job to find that and amplify it in each instance."
With this in mind, Mezzanine asks her to choose three houses from the book that stand out for her, and explain why she finds them to be so compelling.
Double Life house by Breathe Architecture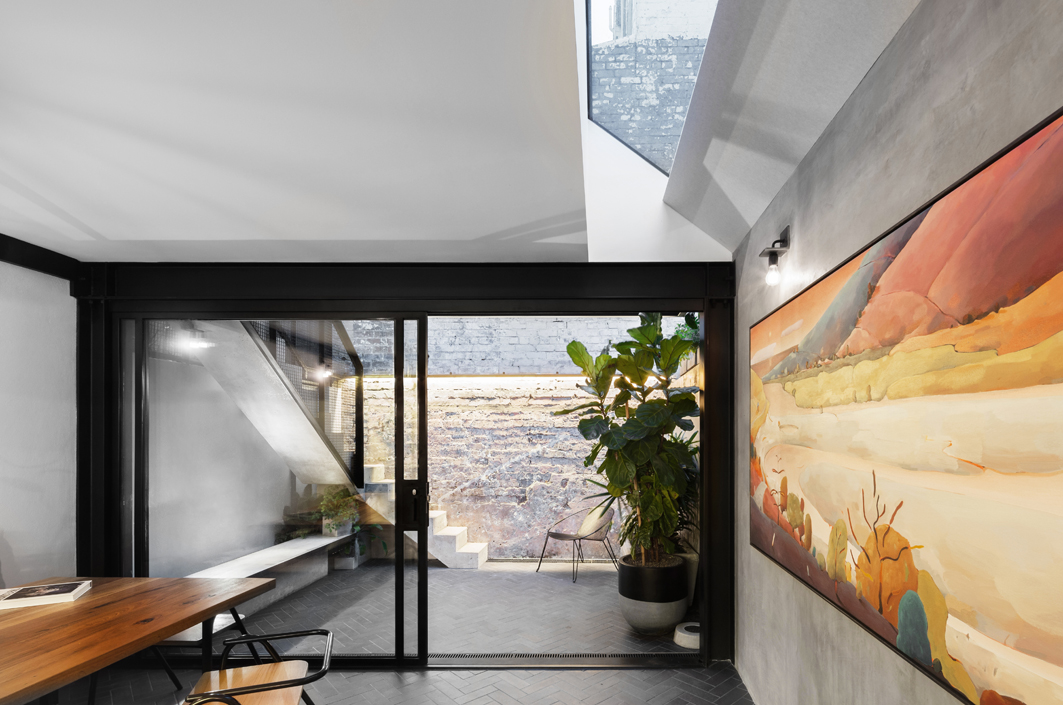 This newly renovated 100-year-old Sydney terrace has been dubbed the Double Life house for its deceiving exterior. Inside, says McCartney, the materiality is "robust and enduring and honest, but it also creates a kind of drama – it makes strong statements in a small space". The outcome is an intimate yet opened up space, where natural light streams in and leads you through the floor plan.
The bathroom is a particular standout. "It's got that lovely combination of leafy green and concrete and Crittall-style windows and timber, so the material palette is very enduring – it doesn't feel like flash in the pan architecture; it feels very thought through."
Country villa by Kerstin Thompson Architects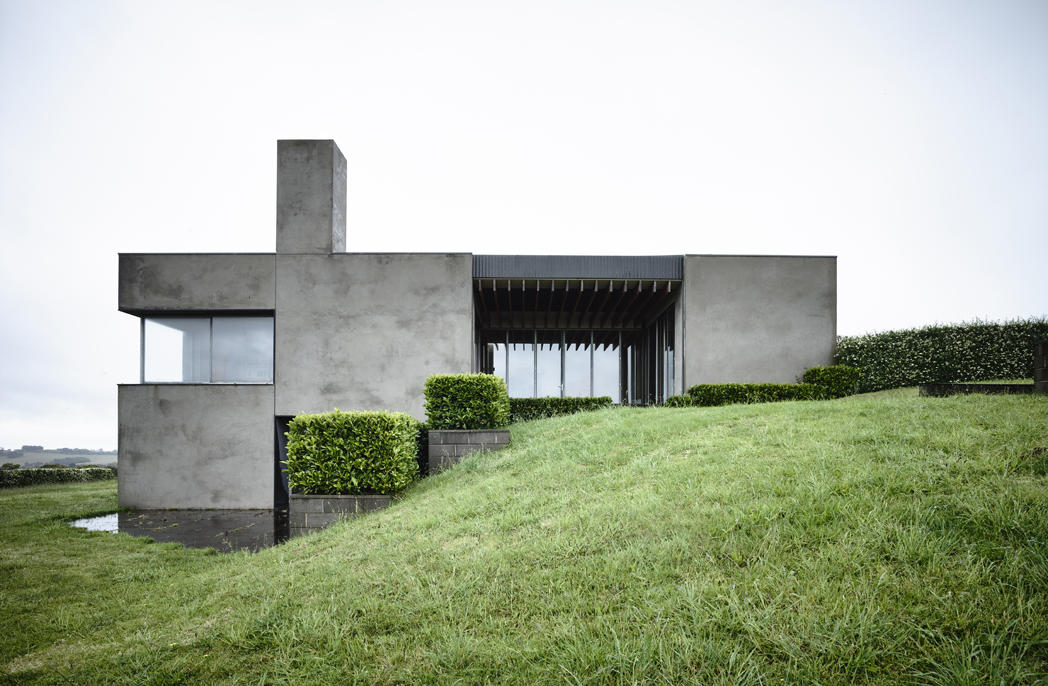 Having first listened to a description of this Mornington Peninsula house over the phone, McCartney was immediately drawn to it. Built into a hillside, the concrete and timber house sits within the confines of a large perimeter wall.
"It's got such a wonderful sense of constraint and calm," she says. "A lot of the time when people are working in landscape [you have to think] where is your boundary? How do you create boundaries? Where does the house sit? Where does the habitable land end and then where is the rural land? So I think there is this really wonderful sense of that containment and also the way the architect, Kerstin Thompson, frames the views. It feels really extraordinary."
Coastal Garden house by Neeson Murcutt Architects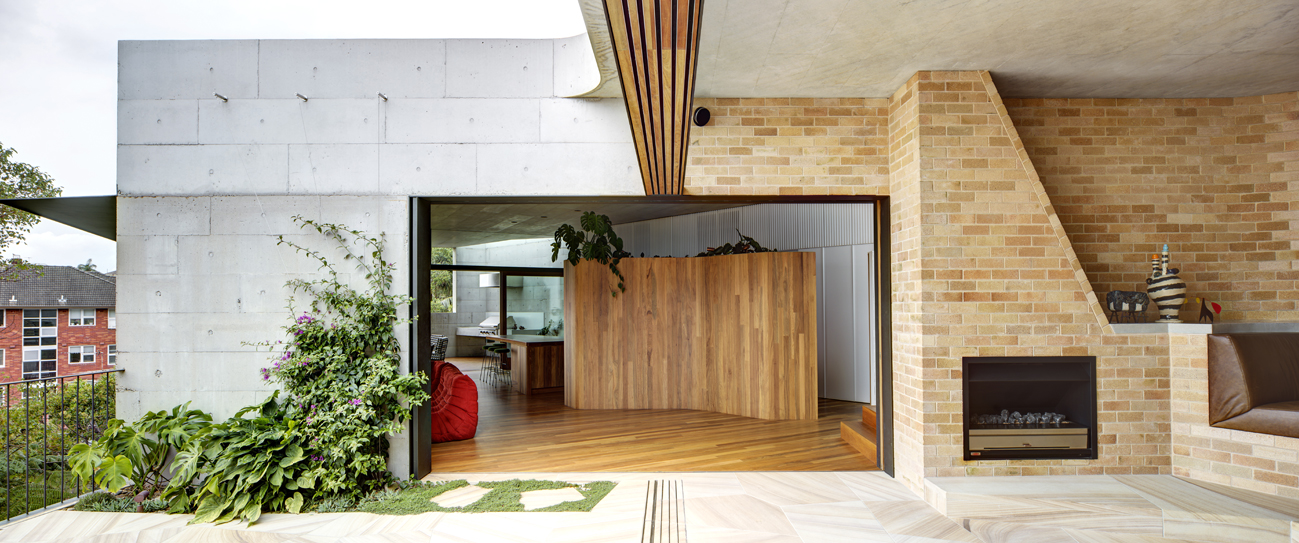 Despite being located in coastal Sydney, the surrounding area of this Siem Reap-inspired house is densely populated, meaning the architects had to carefully plan how to gain both views and privacy. An abundance of green plants adorn the exterior of the house, while inside quirky touches like genitalia-inspired bathroom tiles and hidden reading nooks are peppered around.
"There's quite a lot going on with the sandstone, the bricks and the formed timber and concrete, so it actually could go wrong easily if it was in less capable hands," explains McCartney. "But it comes across as a very beautiful, but crafted space. It's got these really lovely gestural shapes."
Twenty-One Australian Architects: Breaking New Ground by Karen McCartney is published by Bauer Books.
Photography by Katherine Lu and Derek Swalwell
This article originally appeared in Mezzanine Vol 12, which is available on newsstands now.