YSG has infused a Sydney penthouse apartment with rich colour gradations that evoke a "material take on the Northern Lights".
Featuring the "trifecta hues" of musk, lilac and plum, Dreamweaver sits atop of Engelen Moore's Altair apartments in Rushcutters Bay, overlooking the Sydney Harbour.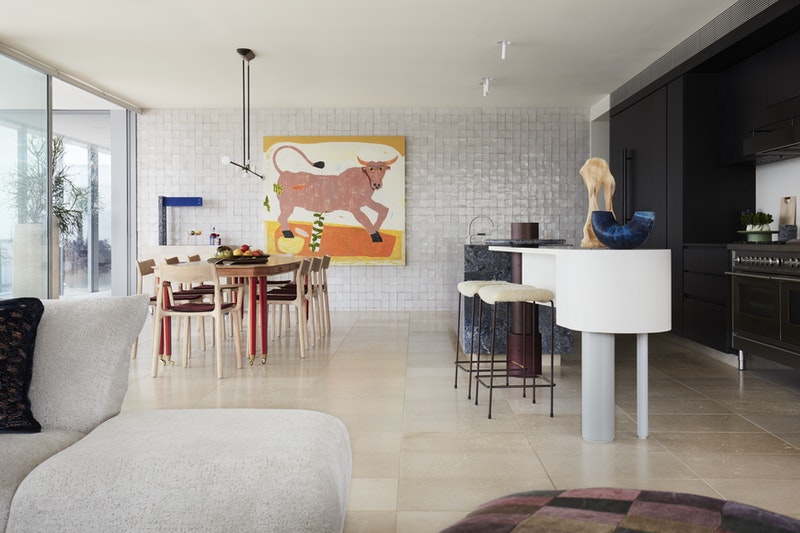 Home to empty nesters, the apartment's bold colour story acts, as YSG puts it, as a counterbalance to the sobriety of its "box-like" glass frame.
"We were inspired by Surrealism, contemporary Spanish tapas bars and their liberal use of tiling, plus the rich colour gradations of the Northern Lights," the Sydney studio's director Yasmine Ghoniem tells ADR.
"The mood is revelatory and futuristic with an upbeat dose of Pedro Almodóvar's cinematic eccentricity."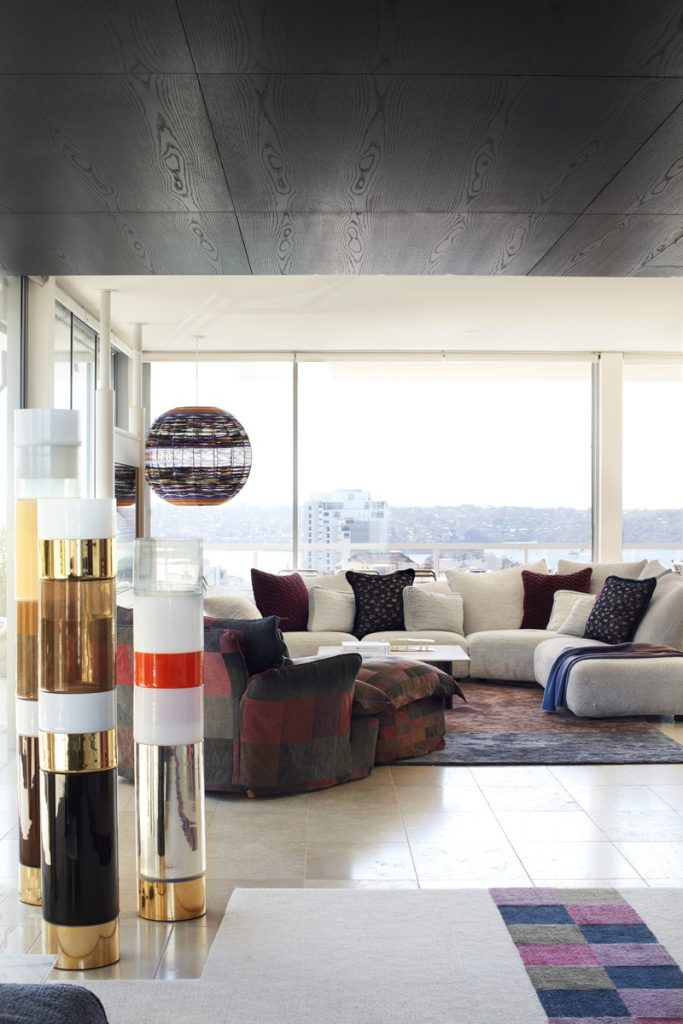 Dreamweaver opens into a spacious living room featuring stone tiles and a bronze and steel-shaded carpet supporting a lounge, patchwork armchair and foot stool.
White brackets suspended between the floor and ceiling house a television without disrupting the vista, while a woven Missoni sphere illuminates the space.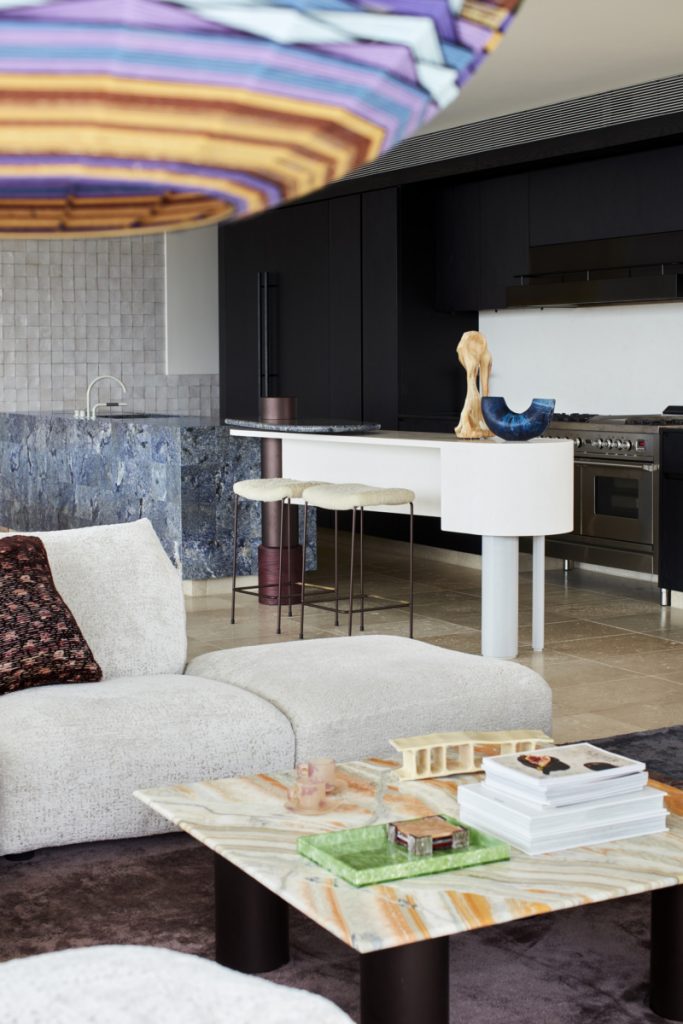 "Given the lack of any dividing walls within the expansive living area, we used rich colour to demarcate comfort zones via tonal concentrations," adds Ghoniem.
"Few wall surfaces were left bare, with gestural materials eliminating the need to embellish them with hung artwork."
In one corner of the living room, a dropped timber ceiling accommodates services.
Stained in black for a "cossetting appeal", this feature extends towards the lift lobby, where a mechanical sliding main entrance lit by striped Murano glass totems creates an "intimate vestibule-like" lounge/library.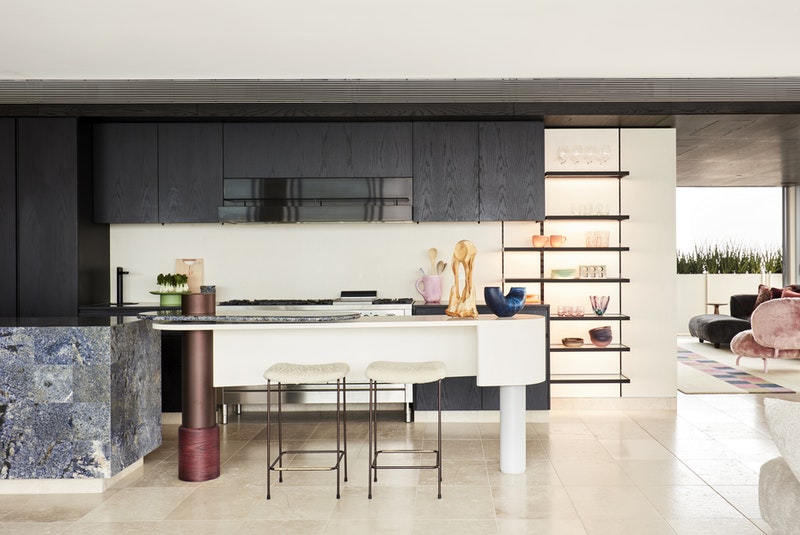 In the adjacent kitchen, a "ganache-rich wall" of kitchen joinery made from watermarked veneer is designed to respond to the "rippled surface" of the harbour outside.
Steel-framed glass shelving is attached to the wall to avoid a "heavy, blunt return", while integrated downlights match the floating units in the lounge/library vestibule.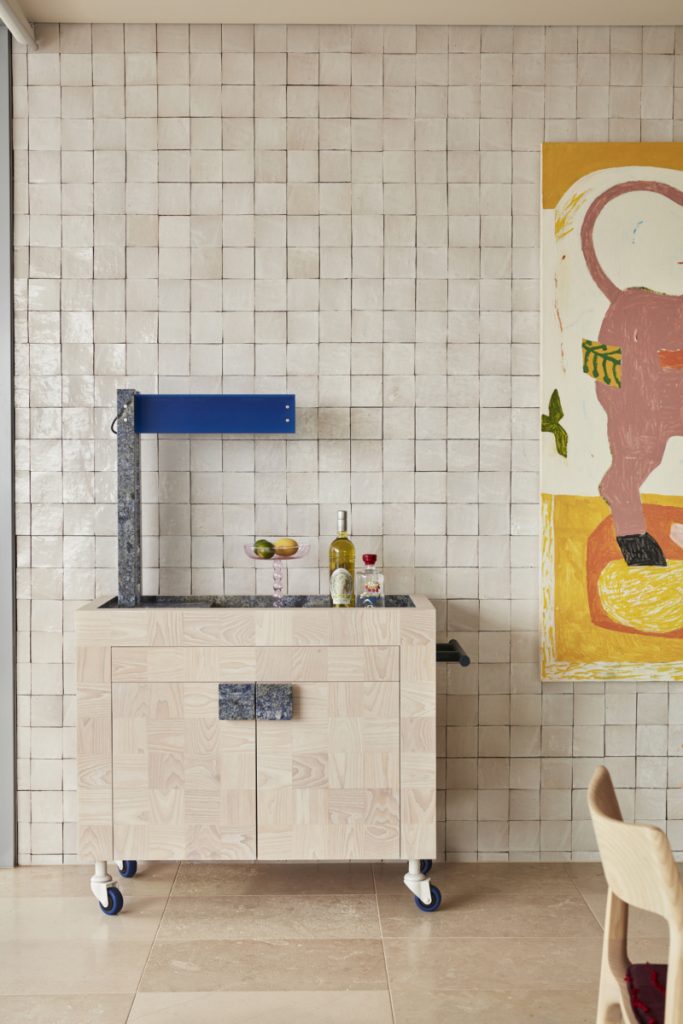 "As consummate entertainers, the hosts requested conversational custom pieces, so we clad the kitchen's utilities bench in mismatched oversized Lapis blue granite tiles," says Ghoniem.
"Cut from slabs to resolve lift height restrictions, they set the tone for graphic walls animated by glossy white Moroccan tiles."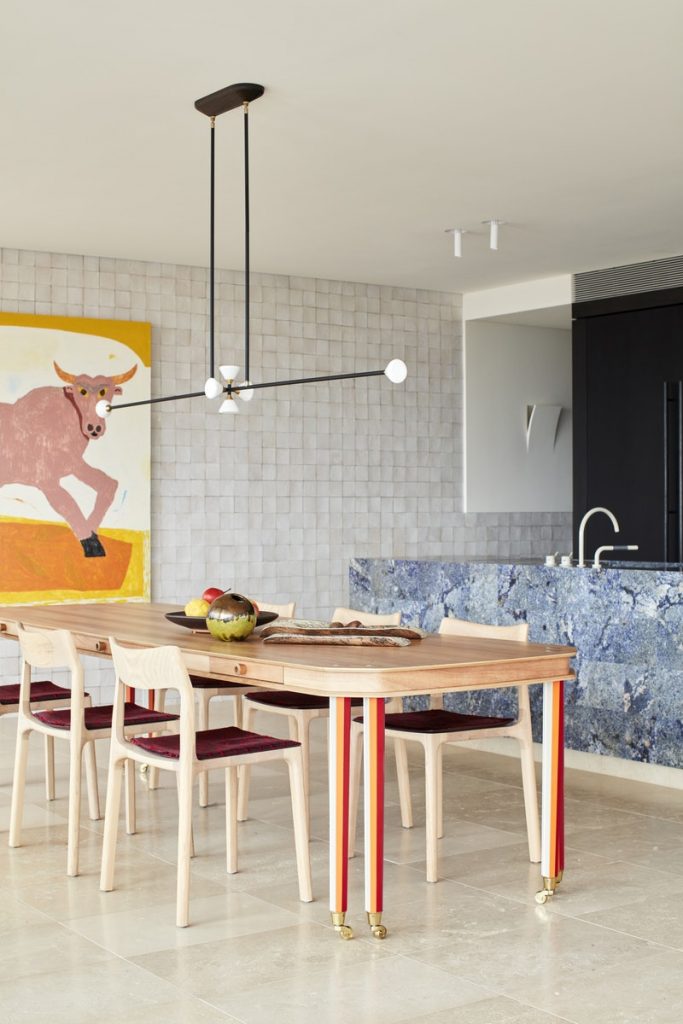 Completing the kitchen, an angled floating plinth with a curved return sits upon drum legs beside the counter.
A plum-toned fulcrum supporting a 360-degree rotating granite 'platter' (an entertaining device for canapés or cheese) connects the two structures.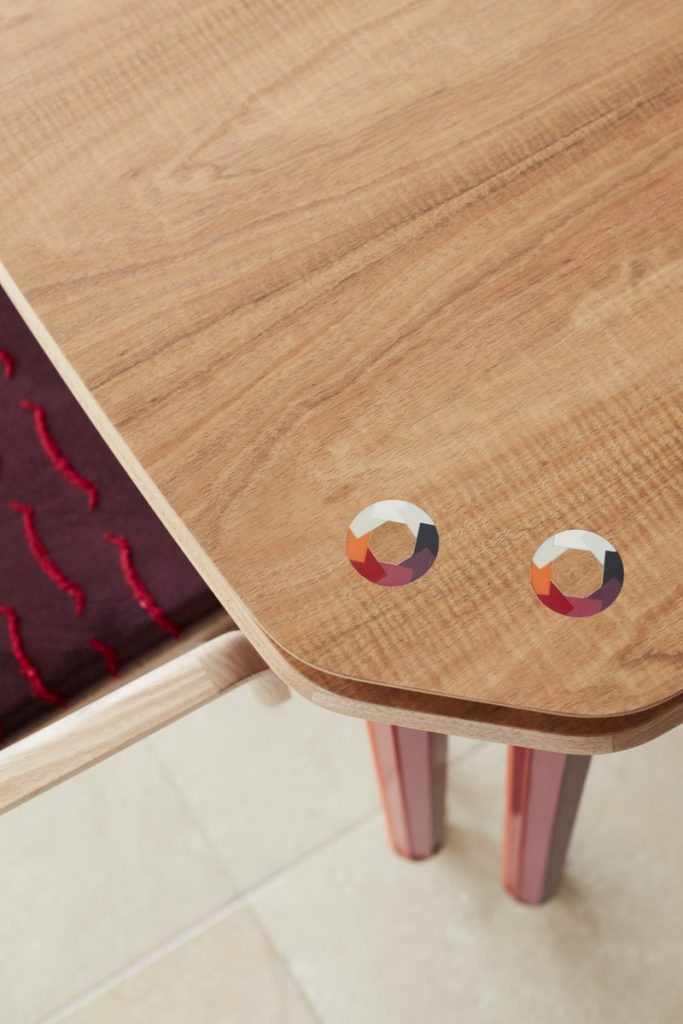 YSG worked with Adam Goodrum to co-design the dining table, which is made from Tasmanian Blackwood and features castors for flexible arrangements.
"Like a colour wheel key to the home, its graphic wreath-like exposed mortise detailing connecting striped legs depicts the dominant shades of the home," explains Ghoniem.
"That includes binary white, berry tones and yellow in a nod to the citrus accents of the entrance door's amber porthole and the striped illuminated Murano glass totems."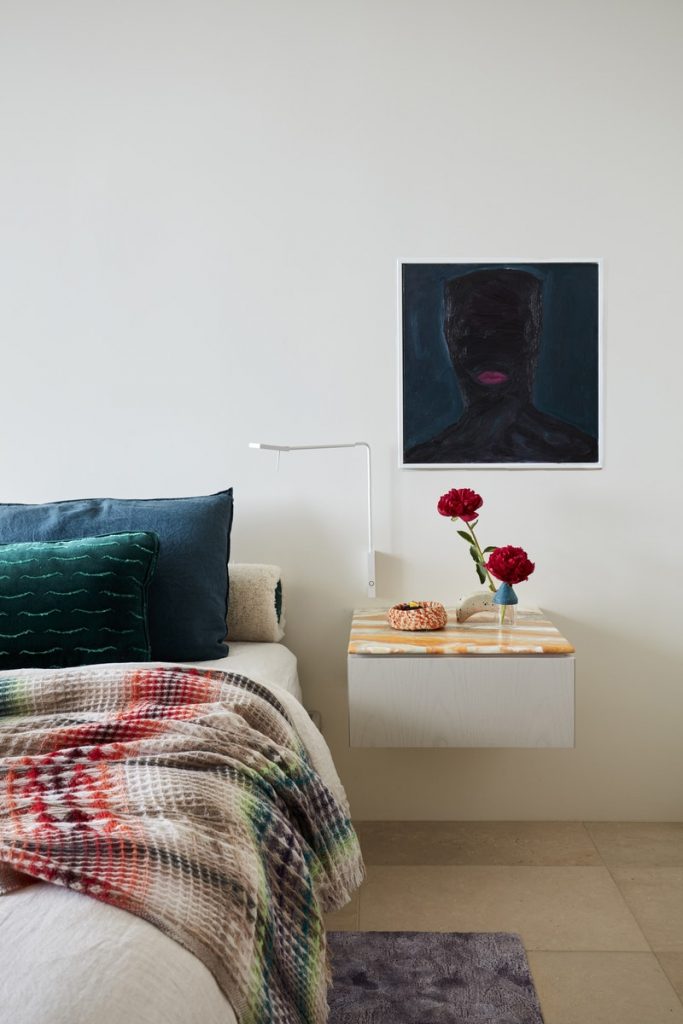 In the master bedroom, musk, lilac and plum reappear in the upholstered bedhead with its integrated side tables.
Featuring Tempranillo-hued zebra veneers crowned with Calacatta Viola marble, they sit beneath a "solar system" of blown glass lighting in berry hues.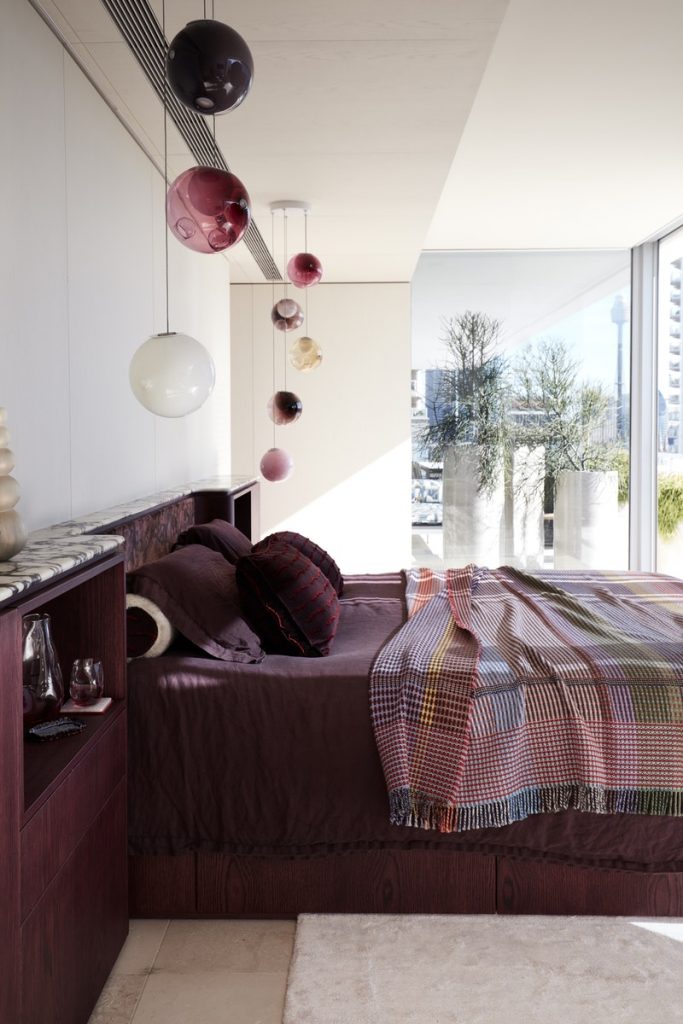 YSG lengthened the master bedroom onto the L-shaped balcony to accommodate a study nook and walk-in-robe.
"The deep L-shaped balcony resonates with graphic shades of blue, tethering the eye to the harbour among a sea of potted green cacti," adds Ghoniem.
"The latter is compensation for the verdant garden acreage the couple left behind during their downsize."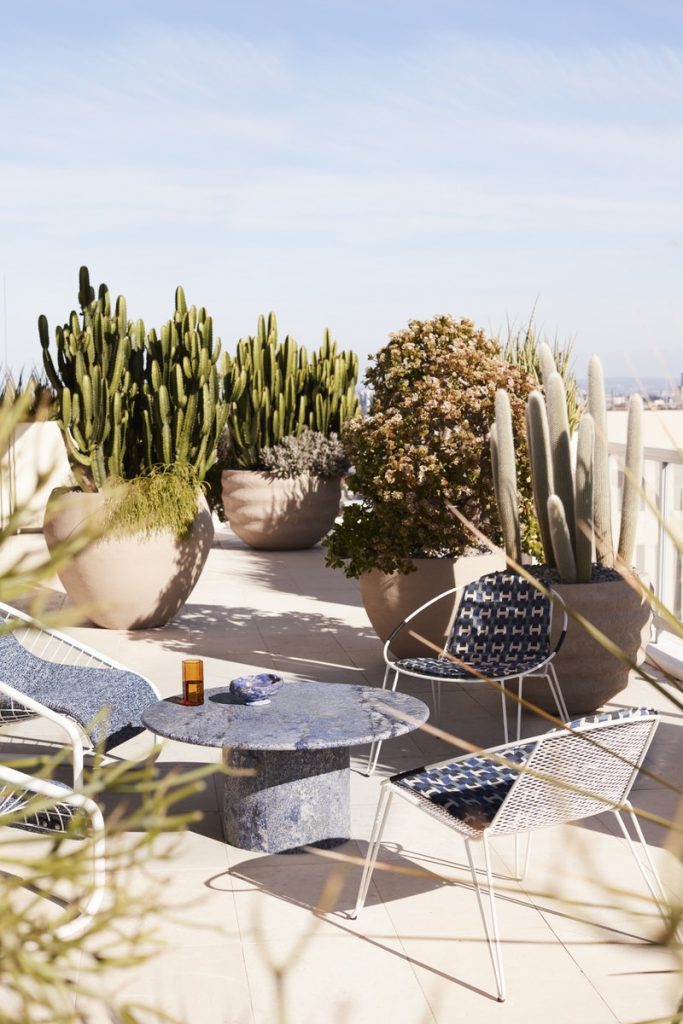 Elsewhere in the 400-square-metre apartment, the powder room also features Calacatta Viola marble across its sink and counter.
Nearby, another bathroom pairs glossy white tiles with terracotta floor tiles lain in a basket pattern and a stone slab whose active veins unleash "luxe gestural markings with graffiti-like freedom.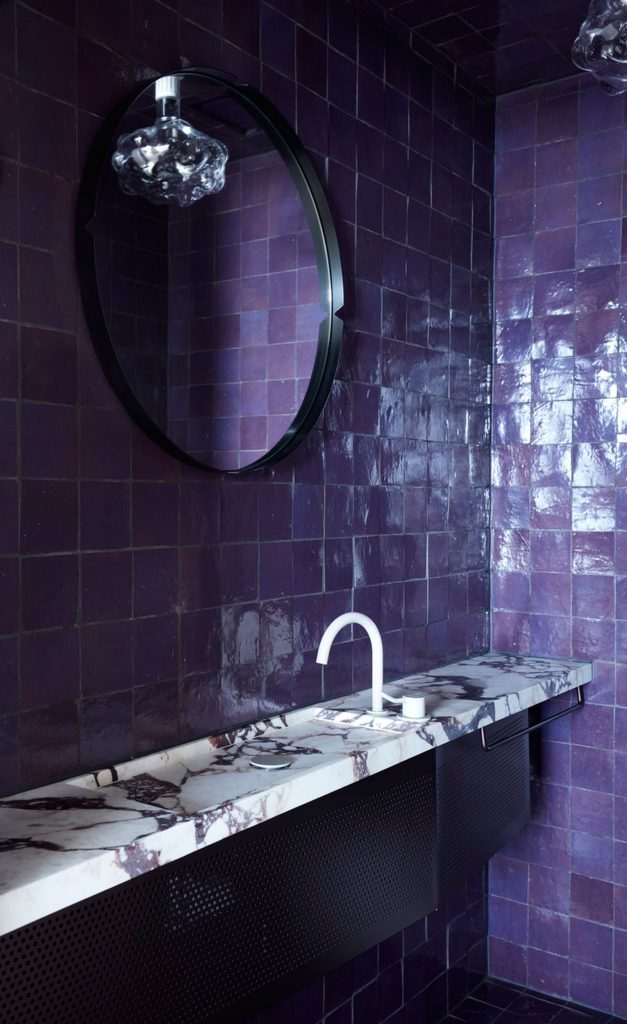 "The rooms impart a futuristic 2001: A Space Odyssey-meets-Mies van der Rohe's-Barcelona-Pavilion-vibe through their weightless suspension of gestural selections," concludes Ghoniem.
"In essence, this home invites investigation into the imagination."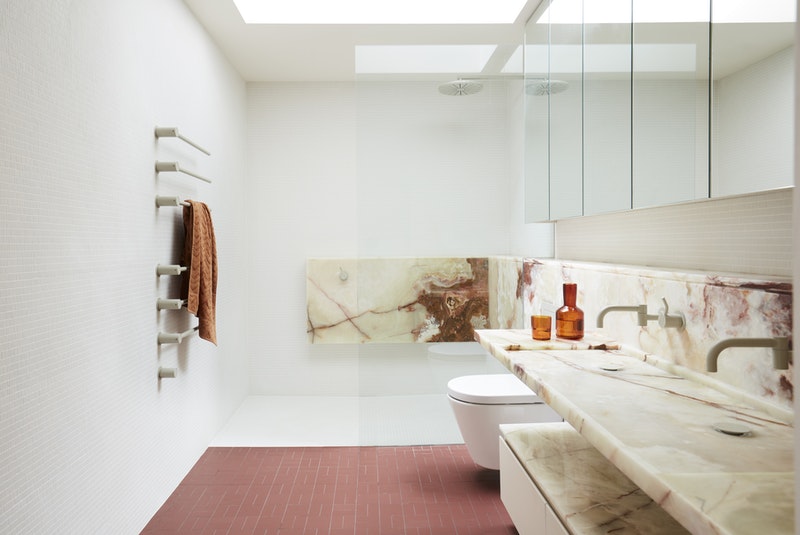 Photography: Prue Ruscoe.
Previously at the helm of Amber Road with landscape architect and sister Katy Svalbe, Ghoniem struck out on her own in February 2020, launching YSG in a refurbished hair salon on Liverpool Street in Darlinghurst.
The studio demonstrated its masterful use of bold colour once more in the recently completed Four Pillars gin bar in Surry Hills.