Portuguese studio stu.dere lined the walls of a self-service laundry in Vila Meã, Amarante, with handmade green tiles that allude to the ceramics of old washhouses.
The tiles, which were made by local brand Aleluia Ceramicas, dominate the 200-square-metre Lavandaria Morinha that merges two former stores in the district of Porto, in the north of the country.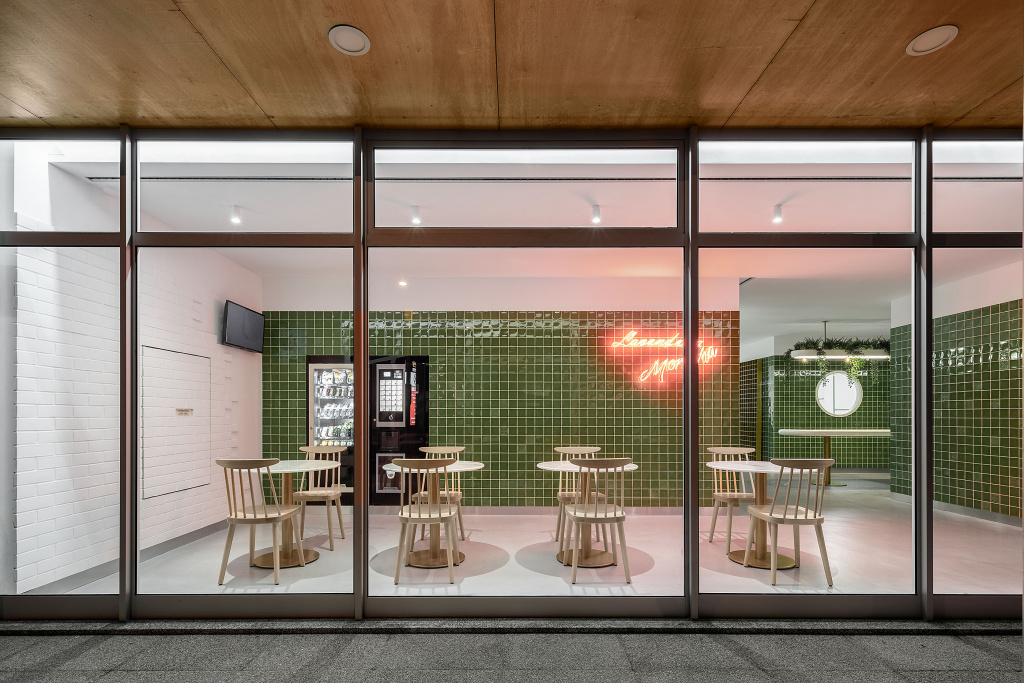 stu.dere designed the self service laundry as a combination laundromat and separate studio for dry cleaning, alterations, ironing and repair services.
"This space is intended to be harmonious with a lounge area for people to be comfortable while waiting for the washing and drying equipment to finish," says the studio.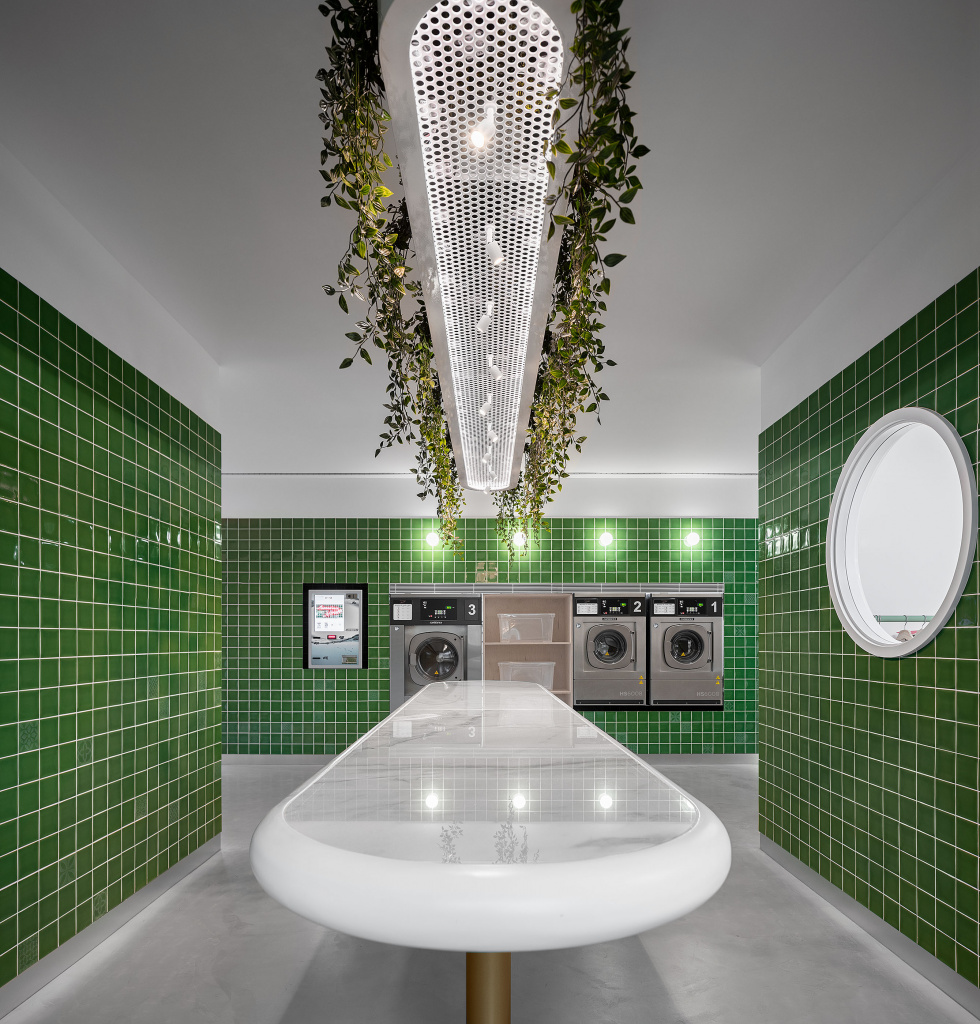 The green tiles were chosen to recall the communal washhouses of the 17th and 18th centuries with the "memories of those places reminding us of the social aspects that came with collecting water".
Communities would often gather in these washhouses, which were fed by water from a nearby stream or spring, to wash their clothes and socialise.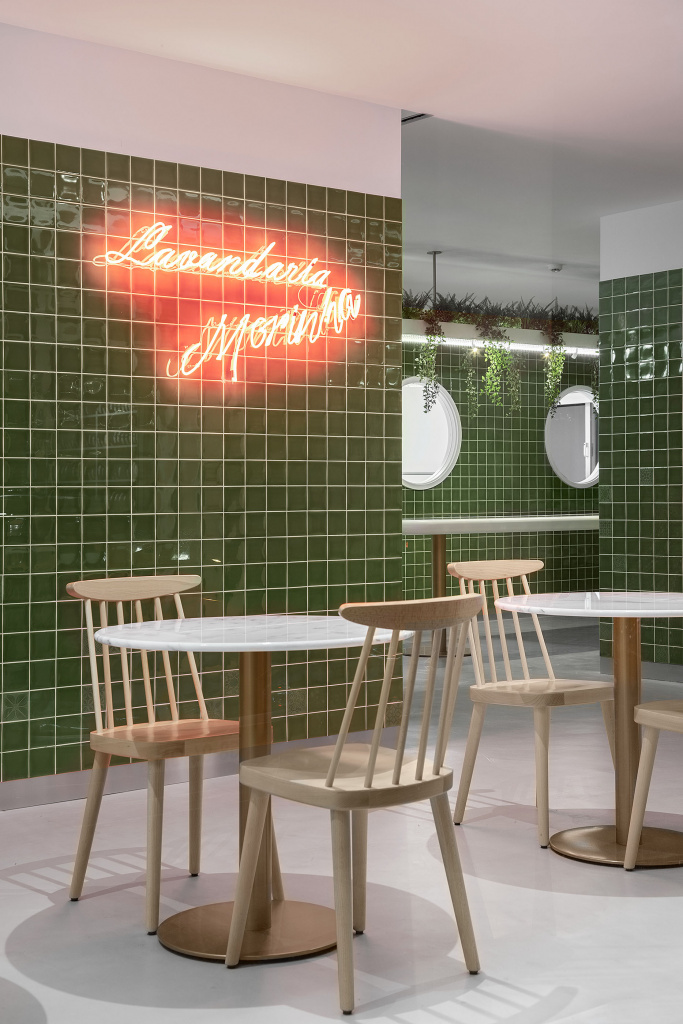 At Lavandaria Morinha, customers can sit at marble tables and timber chairs while they wait for the washing machines that line the laundrette's entryway to finish. There's also a vending machine with snacks and drinks.
Cascading plants in a suspended planter at the centre of the space emphasises nature, "lightness and freshness", while the marble worktables supported by cylindrical brass legs "takes us back to those old stones" that were used in washhouses to beat the dirt out of clothing.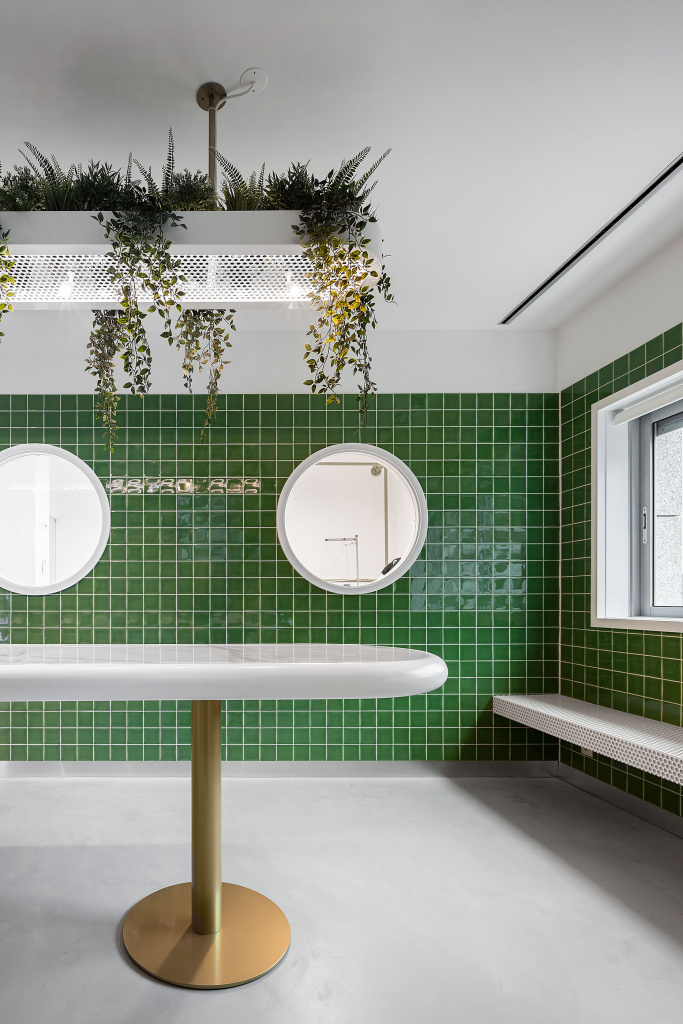 To contrast the bright green wall tiles, the studio chose micro cement floors in the same light grey as the marble benches. Waterproof without joiners or sealers, the cement flooring is ideal for high traffic wet areas.
The Flos Glo-Ball wall lighting and red neon Lavandaria Morinha sign illuminate the space, while in the separate service area, an L-shaped counter has wooden inner shelves for storing spools of thread.
Workstations with sewing machines, green garment rails and additional tables for staff are closed-off by a gridded metal door designed to reflect the tiles across the wall.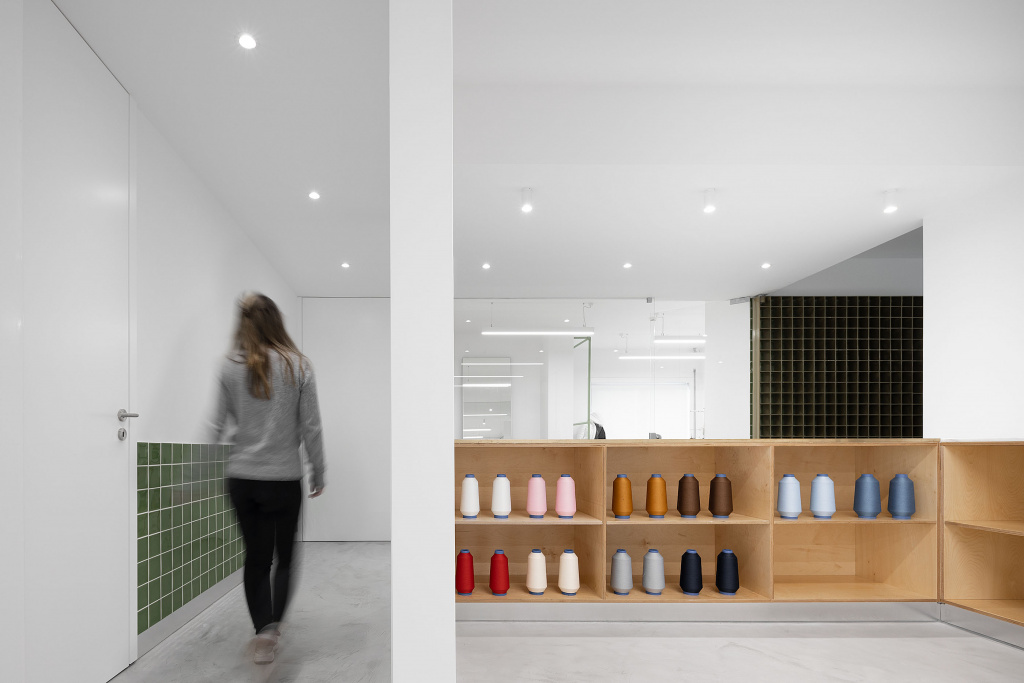 A handful of porthole windows also mimic the shape of a washing machine drum.
"The project concept explored the duality between traditional and modern with an emphasis on nature," says stu.dere, with the green tiles also evoking a sense of freshness and cleanliness.
"The purpose was to create a modern and innovative environment, reflecting the evolution of a society that seeks practical solutions for the management of its day to day, while still recreating the memory of traditional community washhouses."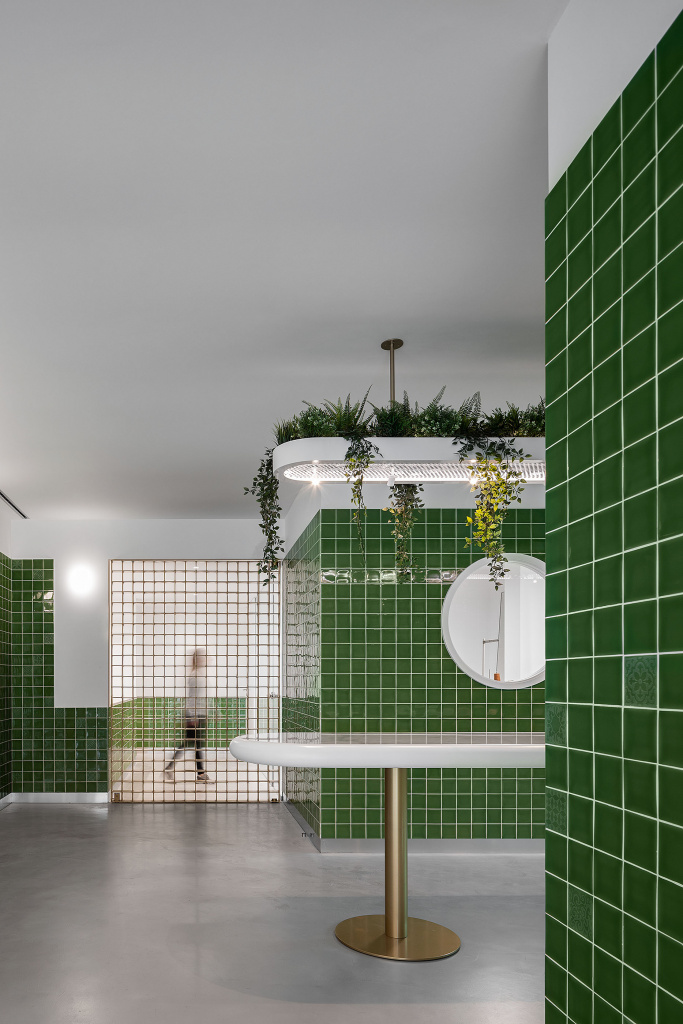 Founded in 2016 by Ulisses Costa, stu.dere is an architecture practice in Vila Meã, Amarante.
Australian studio Genesin also used handmade tiles as the main design feature in its Ban Ban Korean fried chicken restaurant. The Adelaide eatery has baby blue 3D-tiles that celebrate "spicy fried chicken and beer, K-pop and minimalism".
Photography: Ivo Tavares Studio.