For our latest lookbook, ADR is exploring seven retail spaces that showcase the powerful personality of colour.
This selection is from our IDEA 2021 finalists, and displays simple and bold colour choices that ensure the memorability of the space, while also promoting the brand's identity.
Tickets for the IDEA gala in Sydney on Thursday 24 February 2022 are on sale! Grab yours now.
Awesome Nails & Spa, Melbourne, ElvinTan Design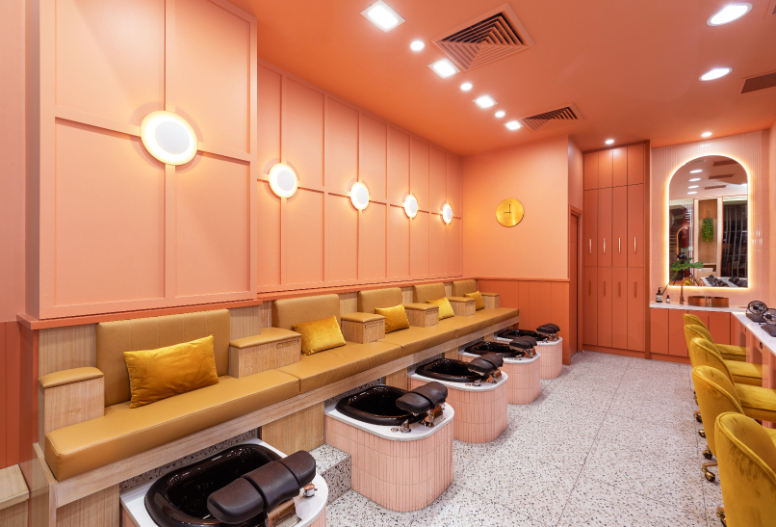 Located in Moonee Ponds, this nail spa embodies a sense of playfulness and whimsy with its peach canvas. Originally a run-down retail space passed down to the owner's son, Awesome Nail & Spa was in need of a serious TLC day of its own.
Decked out in a mixture of warm timber counters, blush pink finger tiles, mustard-coloured manicure chairs and terrazzo, the store explodes with an unconventional colour palette that sure to catch the eye of passers-by.
Read more about its designer, Elvin Tan.
Sarah & Sebastian, Melbourne, Russell & George
Described as a "love letter" to Melbourne as it emerged from COVID-19 lockdowns, Sarah & Sebastian Armadale is the latest retail offering from Russell & George.
The store is dominated by a palette of black in varying sheens and intensity and designed to honour Sarah & Sebastian's commitment to ocean conservation and restoration.
A black stained Japanese timber floor in a satin finish is the finishing touch, adding a level of depth and reflection to the spatial composition.
Read more about Sarah & Sebastian.
Stylerunner, Melbourne, Noise Noise Noise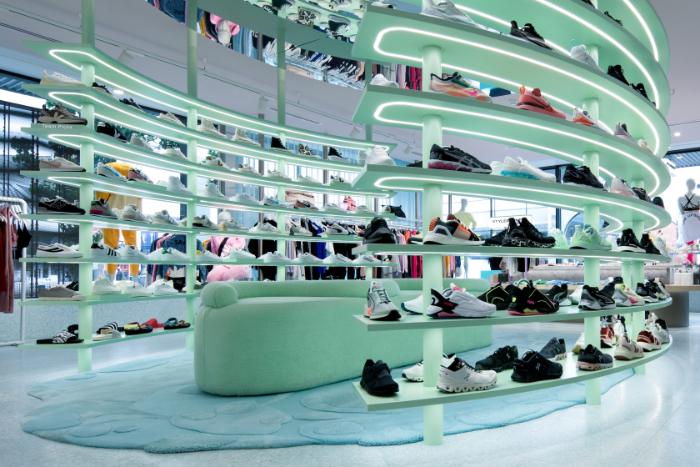 Stylerunner Melbourne was conceived during the height of the pandemic. The effects of the global situation were explored in a space that debated reality and depicted a feeling of euphoric energy.
Utilising the power of colour, the store encourages a positive emotional response, replicating the endorphins our brains love so much.
Langanis Studio and Barber, Brisbane, Borhan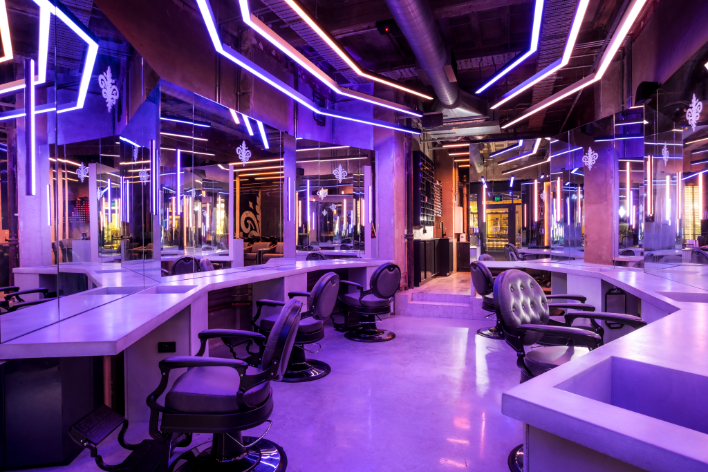 Langanis Studio and Barber is a Brisbane barbershop designed by local studio Borhan to transcend traditional parameters and expectations.
The avant-garde space reflects the brand and edginess of its clientele with dominant purple lighting and interior decoration.
This barbershop also highlights the dexterity of purple as both a masculine and feminine shade for retail spaces.
See more images of Langanis Studio and Barber.
Astrid Dispensary, Melbourne, Alte. Studio
Astrid Dispensary flips traditional pharmacy design with this Chapel Street store.
Alte. Studio transformed the originally stark white wall into a warm and lusciously green space that balances the desire for a calming pharmacy with a honed respect for professionalism.
Matched with green and white stone benchtops and matte timber finishes, Astrid Dispensary revolutionises the future of pharmacy design.
See more images of Astrid Dispensary.
Subtype Sydney, Sydney, Noise Noise Noise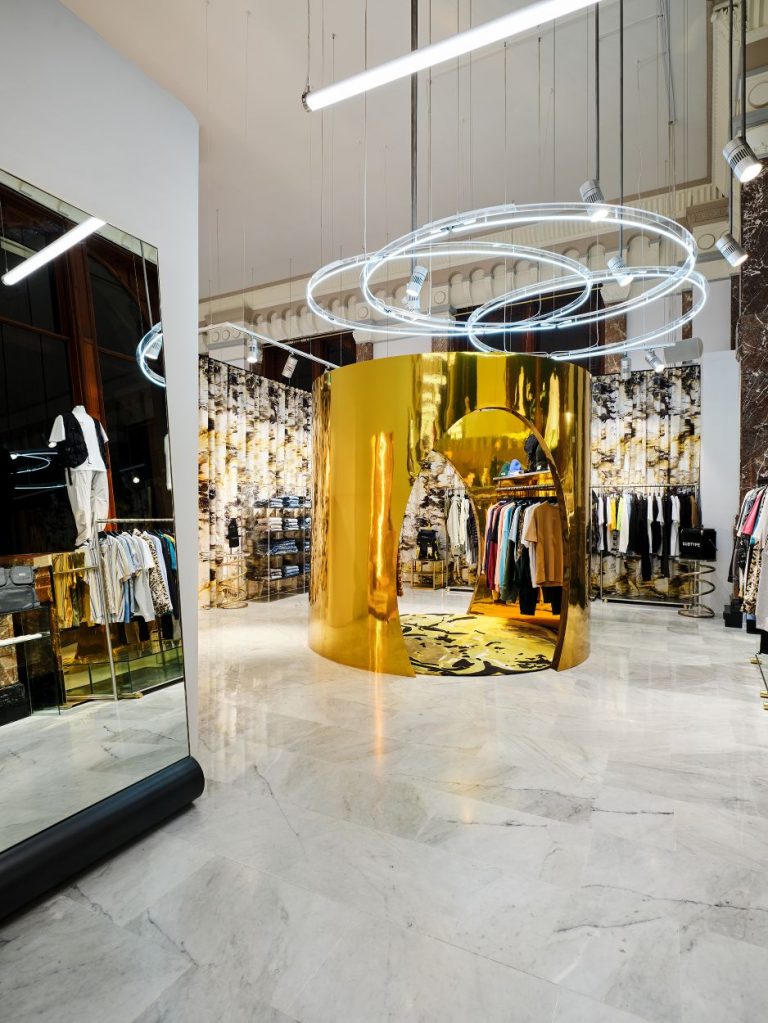 Respecting the spirit of Sydney's second oldest Heritage site, this streetwear store is fully self-supported, designed and built to ensure nothing interferes with the walls, floors, windows or cornicing.
As an "intended juxtaposition" to that seriousness, the store is tonally layered with the "playfulness of primary yellow" throughout.
Known for its confidence with colour, Noise Noise Noise has dipped this store in gold with mischievous expression.
Read more about Subtype Sydney.
Four Pillars Gin Shop, Sydney, YSG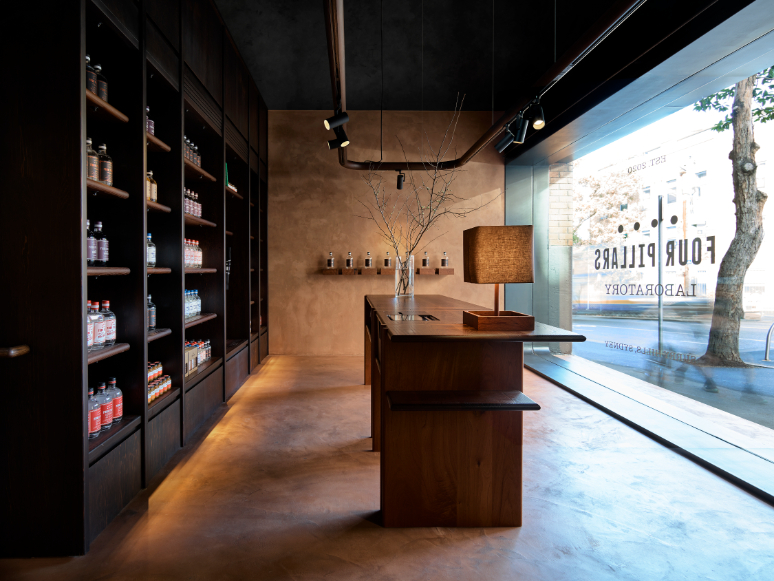 Designed by Sydney-based studio YSG, Four Pillars Gin Shop demonstrates the subtle end of the colour spectrum.
YSG capitalised upon the two-storey chocolate brick exterior of the site to inform the interior colour palette. The soft brown wall provides warmth and ignites gentle interest to explore more.
Check out our previous lookbook in which we list seven Australian bathrooms wth tiles that demand attention.