Noise Noise Noise pays homage to Sydney's second oldest Heritage site – 350 George Street – with a "conceptual retail space" dipped in gold.
Drawing inspiration from the building's marble-lined semi circular foyer, bronze grand staircase and trachyte stone facade, Subtype Sydney is, explains Noise Noise Noise director Blair Cooper, an "expressionist example" of a playful retail design set.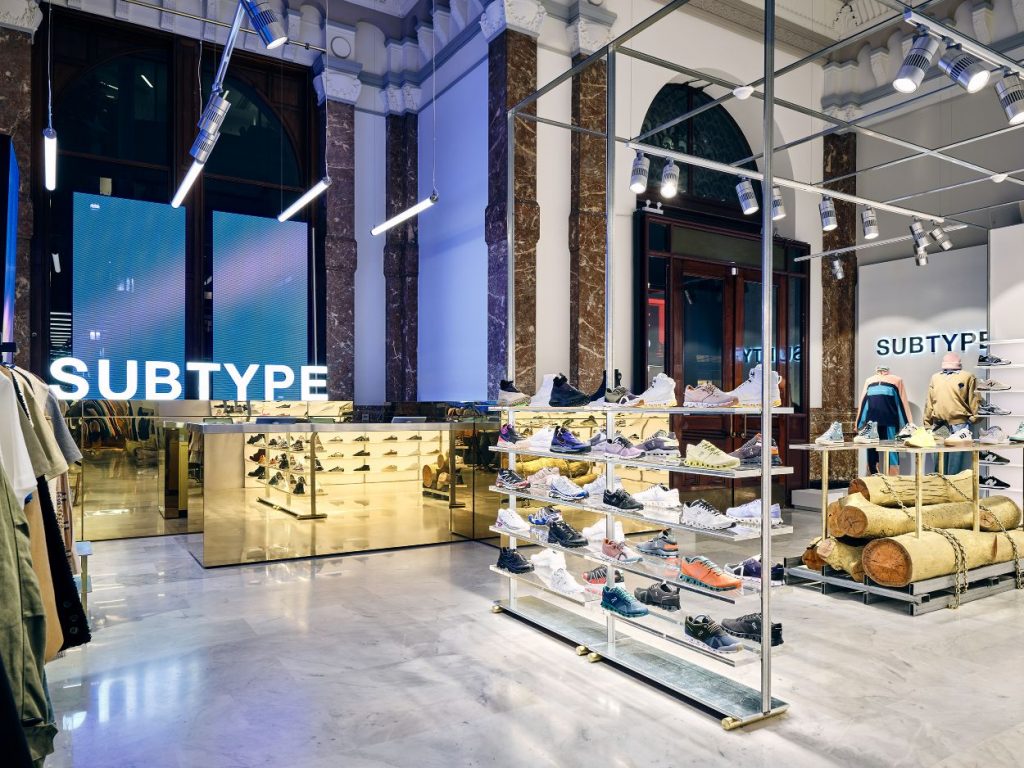 Like its sister concept stores in both Melbourne and Auckland, the sneaker gallery sits within a linear and grid-line all-white space, between evenly spaced matte white shelving.
"The store's Heritage building location contributed to the design concept as the entire store is free standing," Cooper tells ADR.
"No fixing of floors or walls into any of the Heritage perimeter!"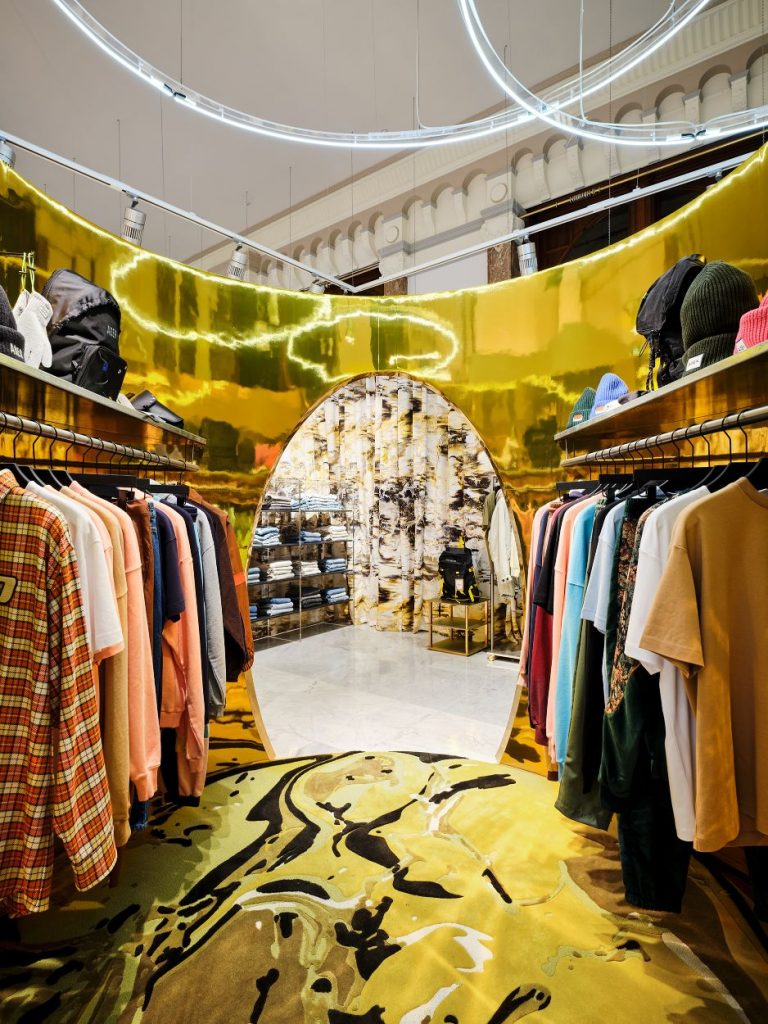 As an "intended juxtaposition" to the seriousness of the Heritage site, the studio tonally layered the "playfulness of primary yellow" throughout the store.
Upon entry, shoppers are greeted by a six-metre-long seating lounge upholstered in yellow fur, yet "shrouded" with a juxtaposition of stainless steel.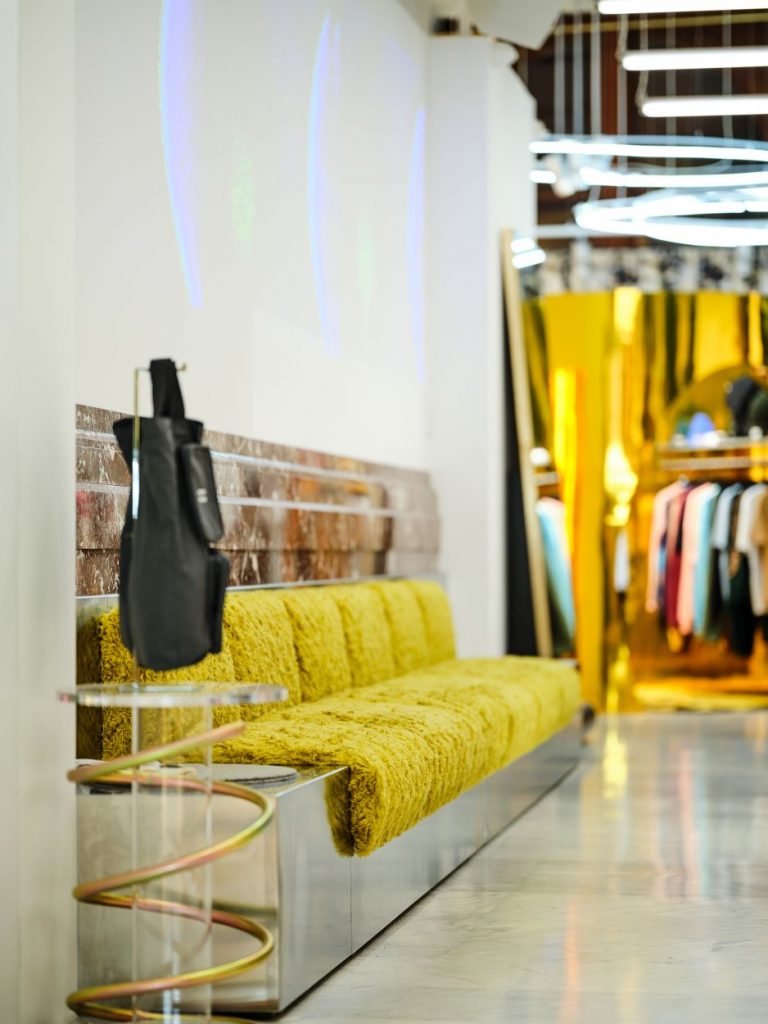 Nearby, "gold dipped sustainably sourced" tree logs stacked on steel pallets and held together with yellow zinc chain support a selection of sneakers.
"Reclaiming the logs from a Melbourne arborist, these logs form an intriguing reclaimed display unique to the Sydney location," says Cooper.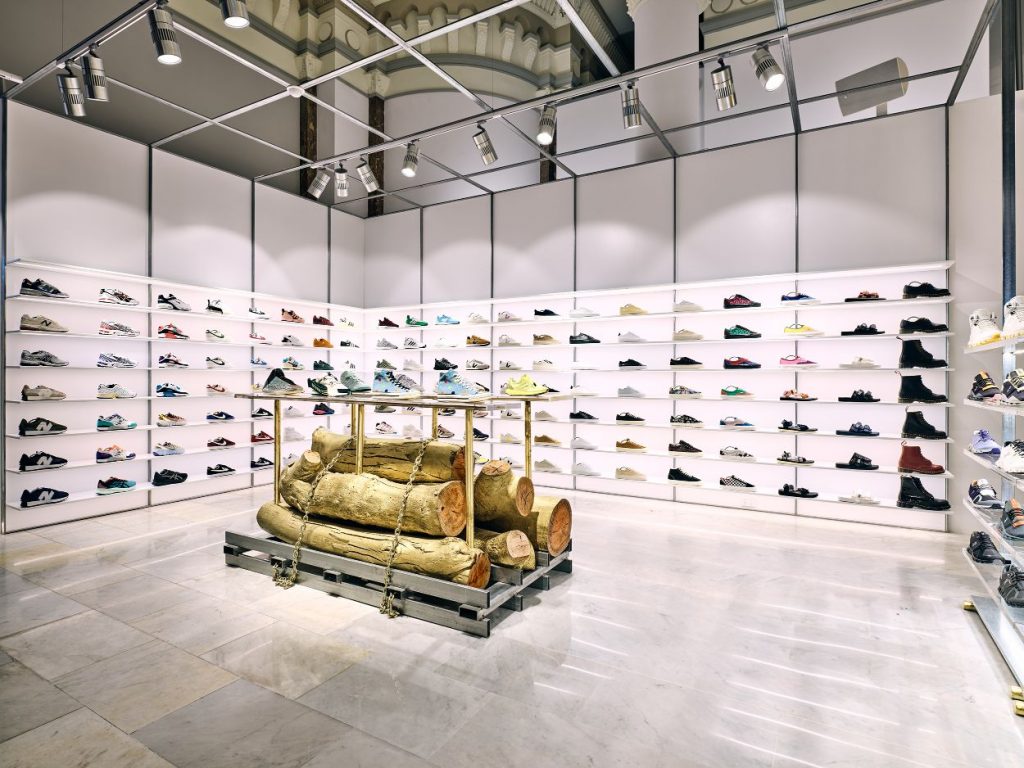 Founded in Sydney in 2014, Subtype is destination for premium sneakers that now curates a full collection of apparel and footwear from established and upcoming labels.
Clothes are displayed within a "gold mirror feature room" at the centre of the store, which was designed to be "space age" in aesthetic.
Behind it, shoppers can try items on in curved white fitting rooms lined in reflective gold chrome, full height LED strip lighting and a clear infinity mirror.
A custom-designed "furry-monster"-like longhair fur chair and hand-tufted rugs in various tones of yellow and mustard create a "monochromatic eye-catching repetition" reflected in the 360 degree mirrored walls within this space.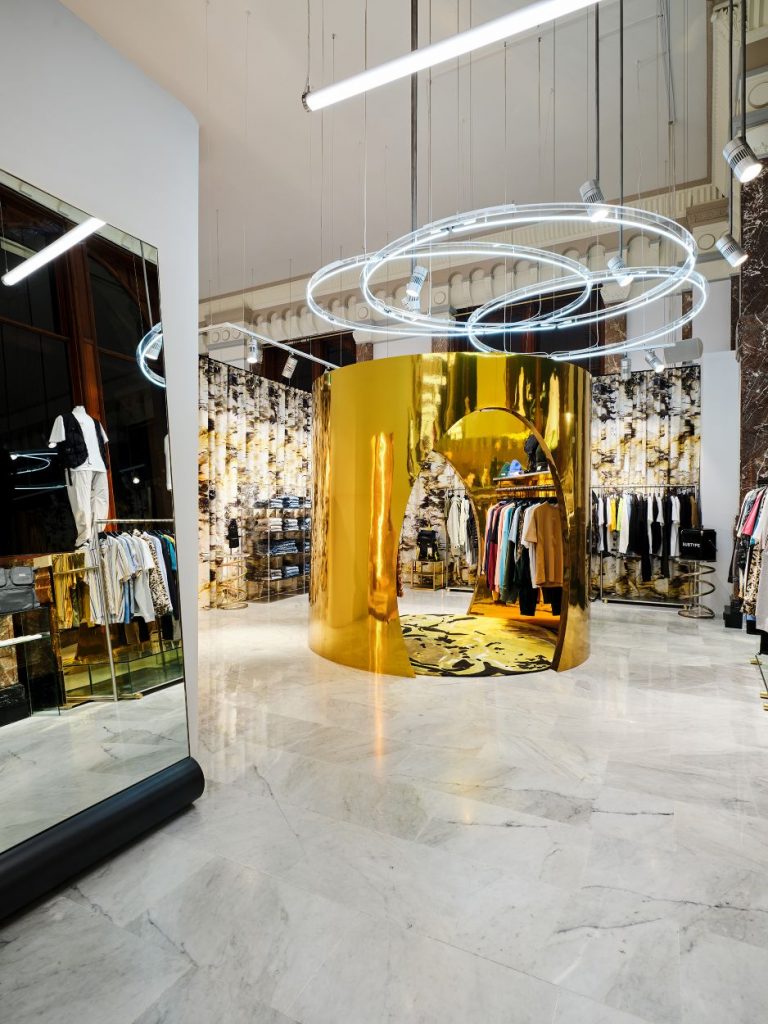 "Round form is used throughout as a hint to the original architecture," explains Cooper.
"Bases to all fixtures utilise brass tube, which will continue to patina over time, while corners of newly built freestanding walls flow continuously with seamless curved edges."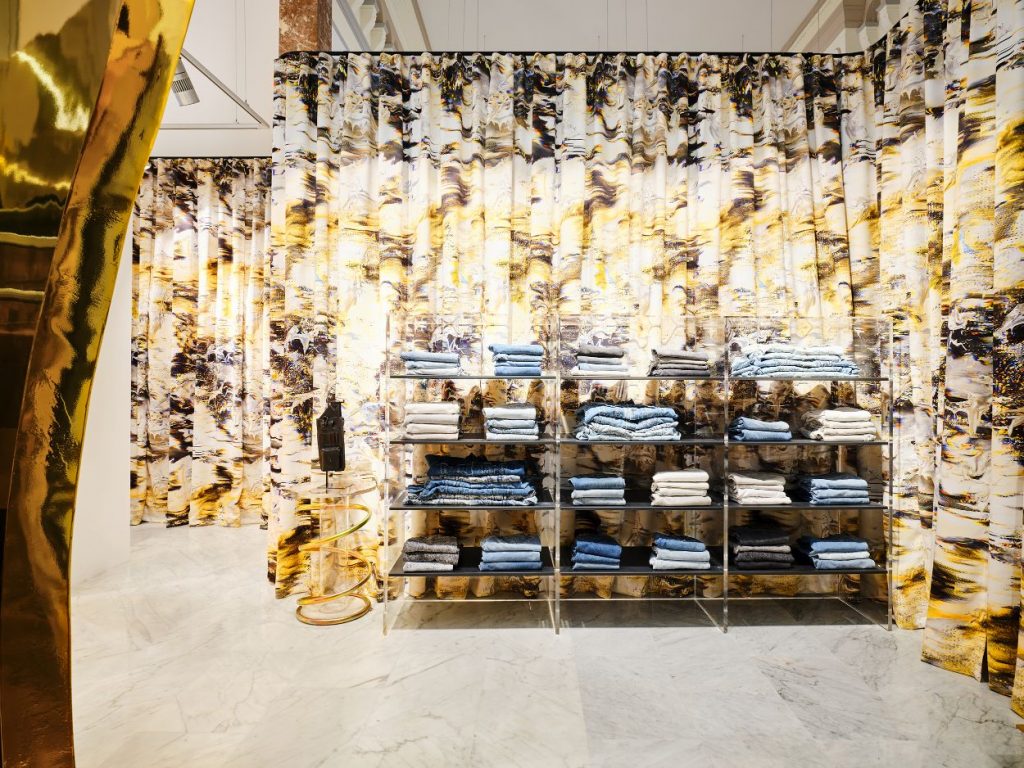 Noise Noise Noise completes Subtype with a custom chromatic-inspired "glitch textile", which it uses as curtaining along the store's rear.
3.2 metres of drape, the curtain creates a "fantastical dreamlike softness", blurring the line between the digital and physical reality.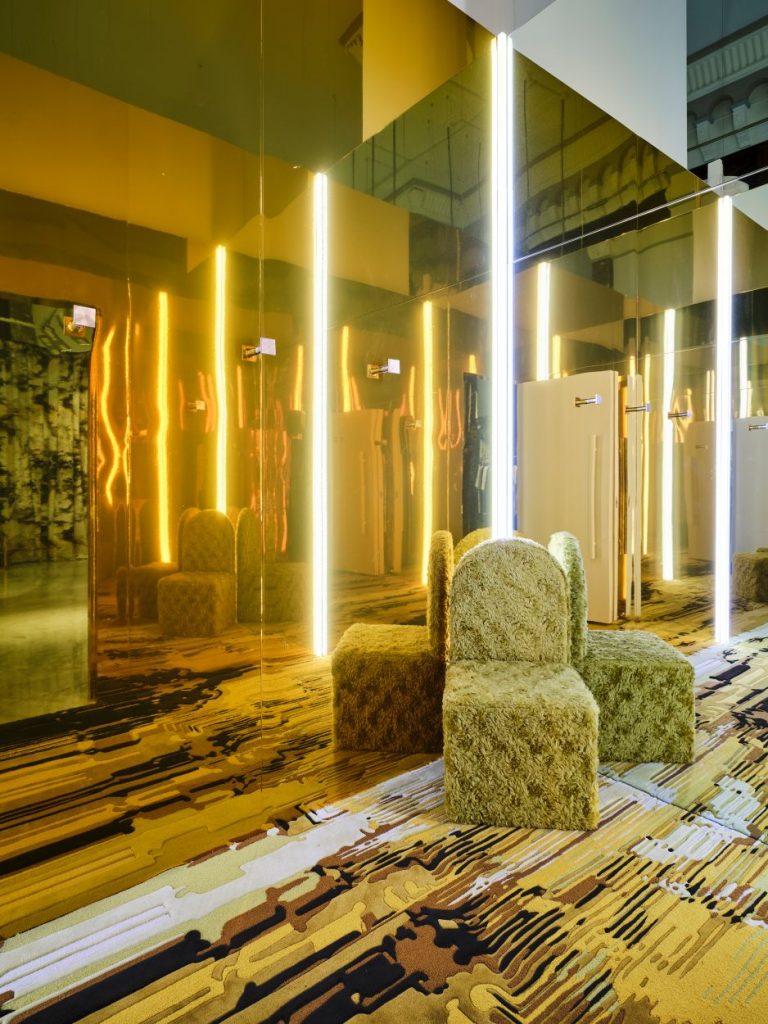 Photography: Martin Siegner / Frmez
Led by Cooper, Noise Noise Noise is a specialised retail design and brand activation studio based in Melbourne.
It recently completed another fitout in Melbourne, this time for the 120-square-metre streetwear concept store Relic, which earned it a shortlist spot in the IDEA 2020 Retail category, along with a nomination for this year's Emerging Designer of the Year.