An "unstructured" inner courtyard and decorative steel mesh facade covered in foliage are among the features Carr has included in this mixed use building that offers residents a strong connection to nature.
Designed by the Melbourne practice together with 360 Degrees Landscape Architects for developers Supalai PCL and Gersh Investment Partners Ltd, Brunswick Yard draws on biophilic design principles, which aim to connect its 122 apartments to the natural environment and beautify the surrounding area.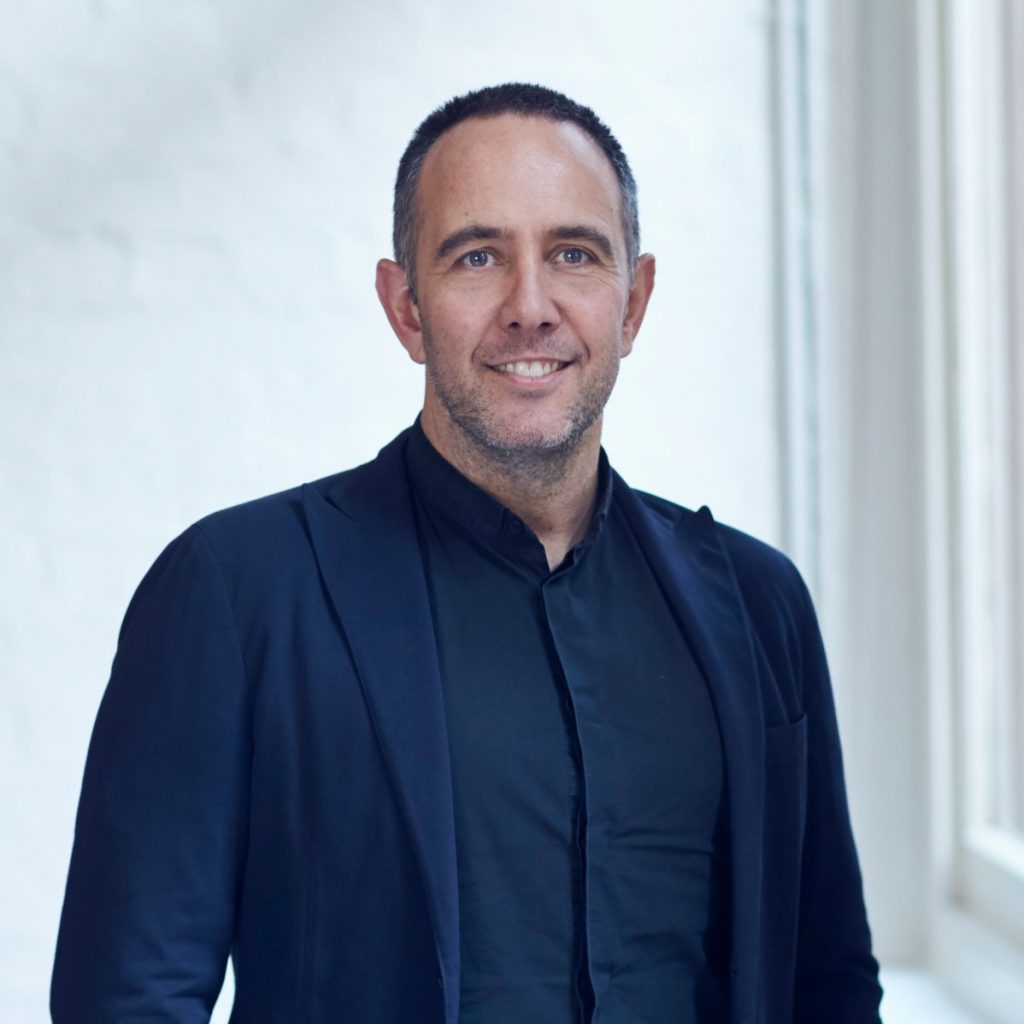 "This development was a study in designing for the extended space," Carr director Chris McCue tells ADR.
"We're part of the gentrification of a Brunswick neighbourhood that's converting from industrial to residential, and part of that is bringing a more residential quality to the streets. If we want to create these beautiful streets, we need more greening and more street trees."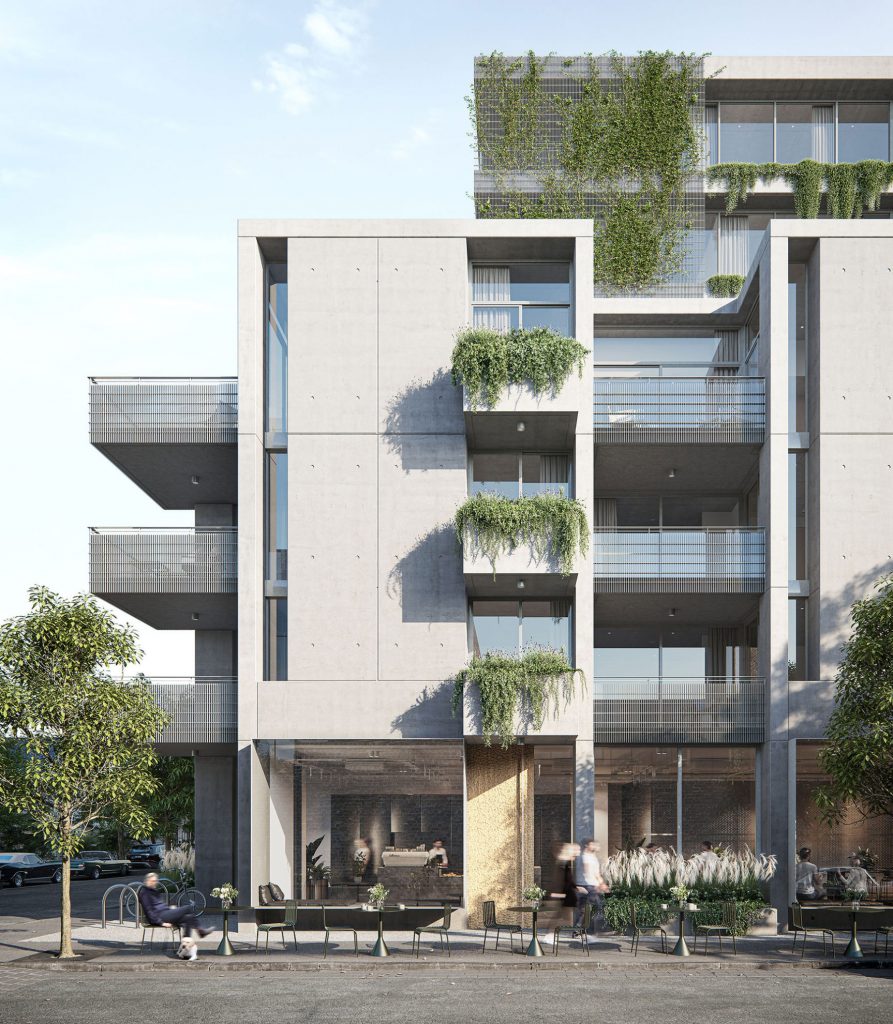 The eight-storey building will have a cafe on the ground floor, with plans to extended landscaping into the public domain.
"It's a dual design process that includes greening within the development within the constraints of the site, but also allows space for tree planting and ground planting that benefits the entire neighbourhood," explains McCue.
With plenty of public facilities nearby, Brunswick Yard, which replaces an industrial building that was once part of the rag trade, will forgo the more common apartment amenities like gyms and pools in exchange for more green space.
"If you've got a young family or pets, having a really beautiful green space that doesn't have huge ongoing maintenance costs, which swimming pools often do, is really sought after," says McCue.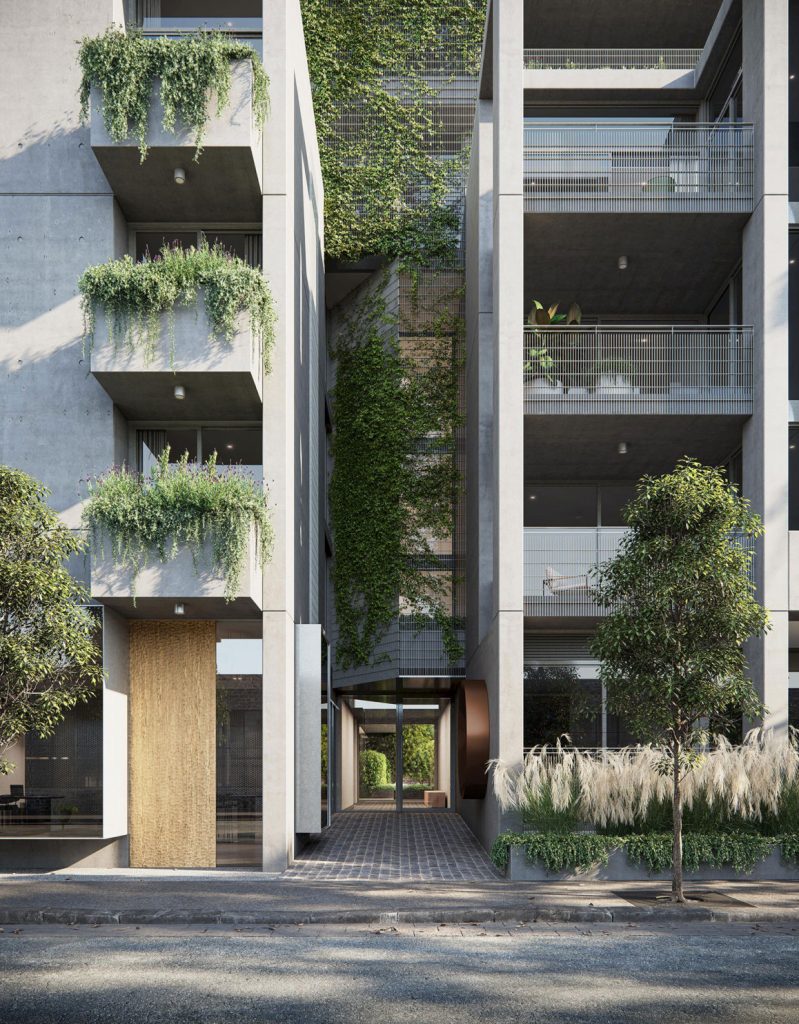 Working with 360 Degrees Landscape Architects, Carr designed the central courtyard to better filter natural light into all the apartments, installing a "beautiful tree canopy" that will reduce temperatures and the cost of cooling.
The courtyard will also have barbecues for entertaining and benches that provide a space for "respite to sit, relax and rejuvenate", and will complement the private gardens available to the ground floor apartments and level four terraces.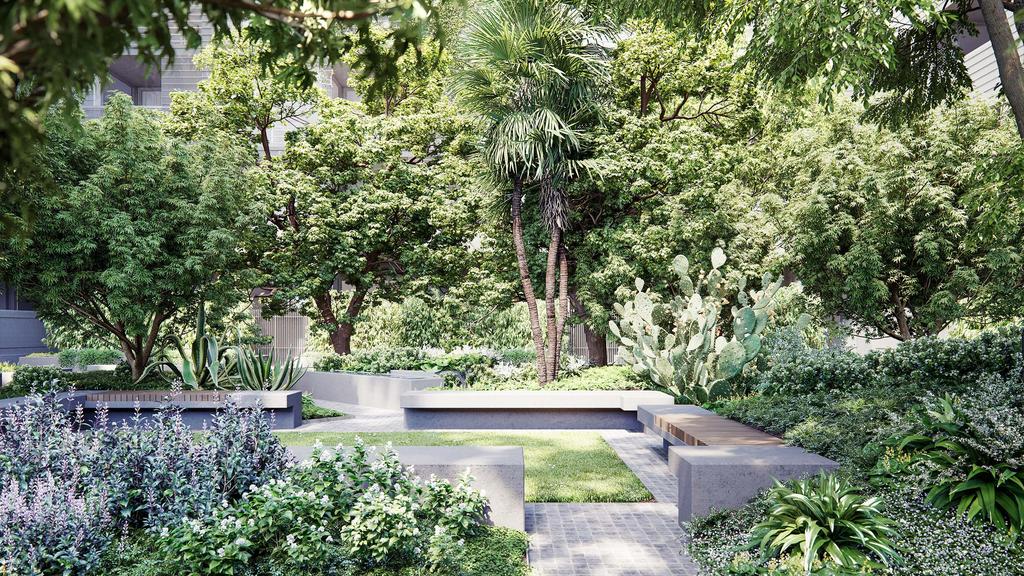 360 Degrees' choice of flora was deliberately designed to appear "unstructured and spontaneous" with mass plantings peeled out to reveal pathways winding through the densely planted internal courtyard garden that will smell of "spring flowers and vanilla.
"The landscape is designed and controlled, to a degree, to actually be wild and do what nature does best – take over a space," explains McCue.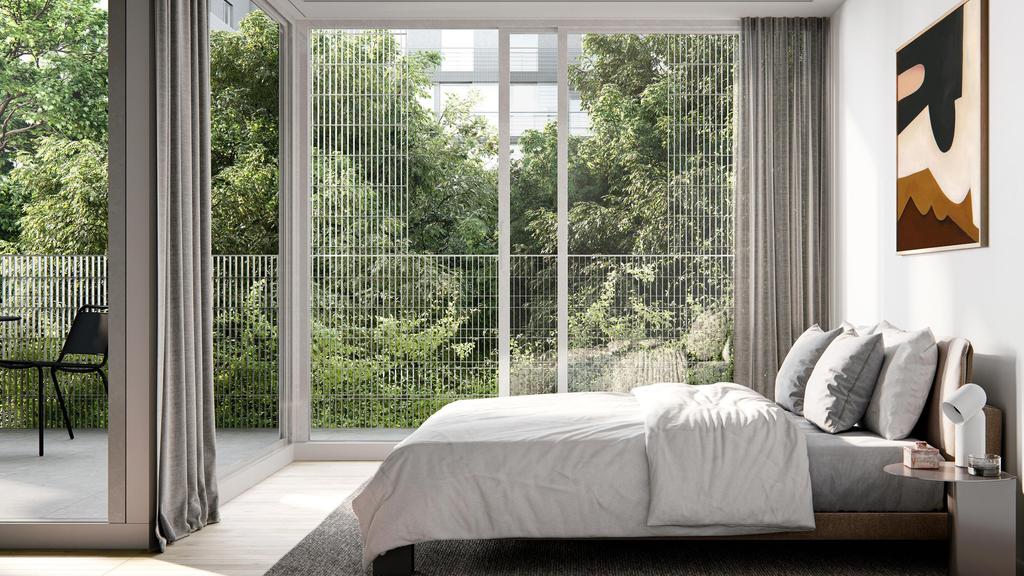 A similar design intent was applied to Brunswick Yard's other biophilic element – the mesh facade that partially wraps the top floors of the building and will be "enveloped" by Boston ivy, Virginia creeper and chocolate vines to provide privacy and filter air pollution.
McCue describes the facade as a reinterpretation of the green wall, which he says, while beautiful, can be expensive and labour intensive.
Instead Carr looked to "low-tech" examples seen in Singapore and local projects like those by WOWOWA, which use climate to "encourage" green across buildings.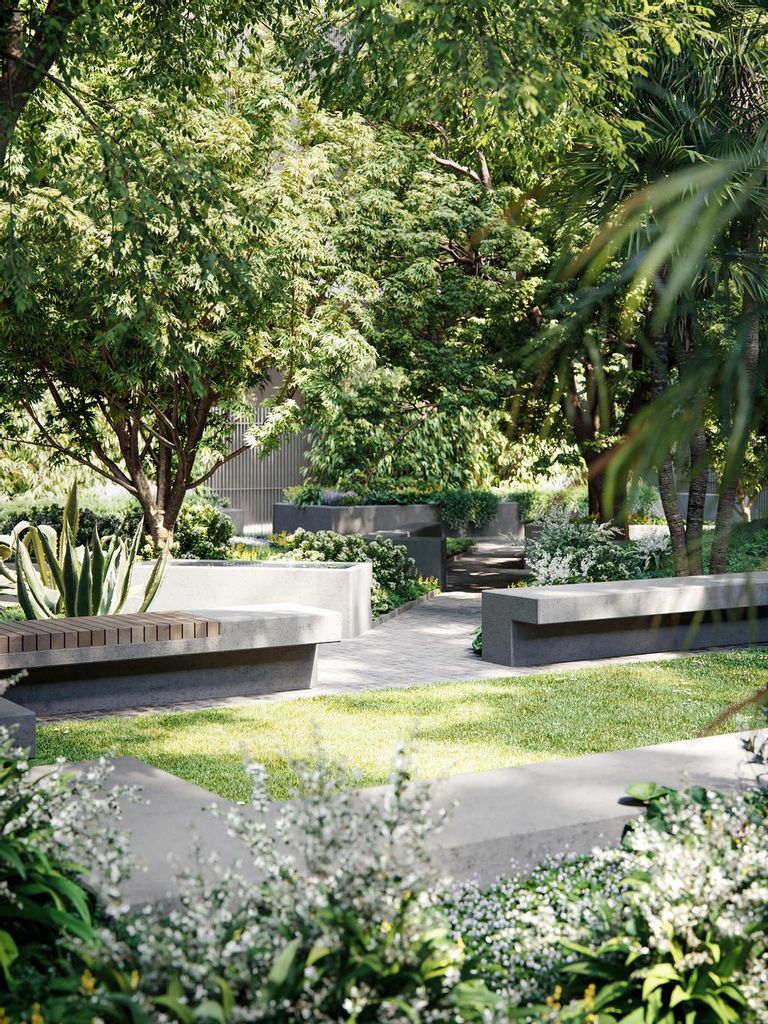 "While we don't necessarily have the perfect conditions here in Melbourne, we can use things like this mesh veil to grow creepers that don't need as much maintenance or irrigation and will prosper in our climate," he says.
"I also love that the creepers we've used have a different level of density, creating this wild pattern of greenery growing over what is the very rigid formality of the architecture, softening the landscape rather than controlling it."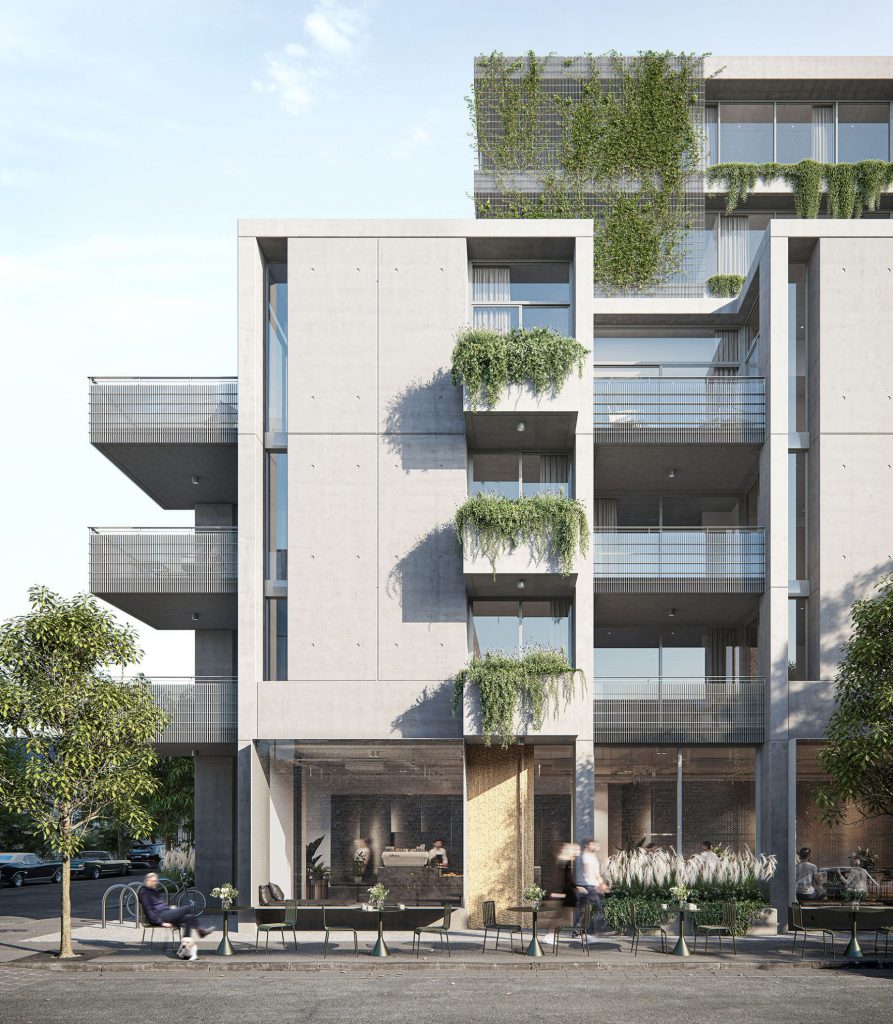 Inside, the team used a rich sense of materialism to help reinforce a connection to nature. Cross ventilation is encouraged by the dual aspect balcony views, while timber flooring provides a connection to the Dandenong Ranges in the distance.
On the ground floor, garden apartment doors will all be individually handcrafted, while the concrete exterior reflects the "raw honesty" of the area and the project.
3D Visualisation: Stab Studio
Carr is an architecture and interior design studio based in Melbourne. Other recent projects by the firm include a hibachi grill restaurant that takes visitors from the streets of Richmond and into a cool and calm Japanese haven and the Japanese-inspired interior of this Melbourne Heritage home.