A track-based copper work table is at the heart of this thought experiment by Bijl Architecture, which unites the kitchen and garden in a cramped Australian suburban block.
Designed through HouseLab's digital platform ConceptSpaces, the kitchen is part of a series of design challenges presented to Australian designers, asking them to redefine the traditional spaces in our home.
"We were inspired by the rituals of preparing food and how we might think differently about the kitchen in relation to those rituals," says Bijl Architecture principal Melonie Bayl-Smith.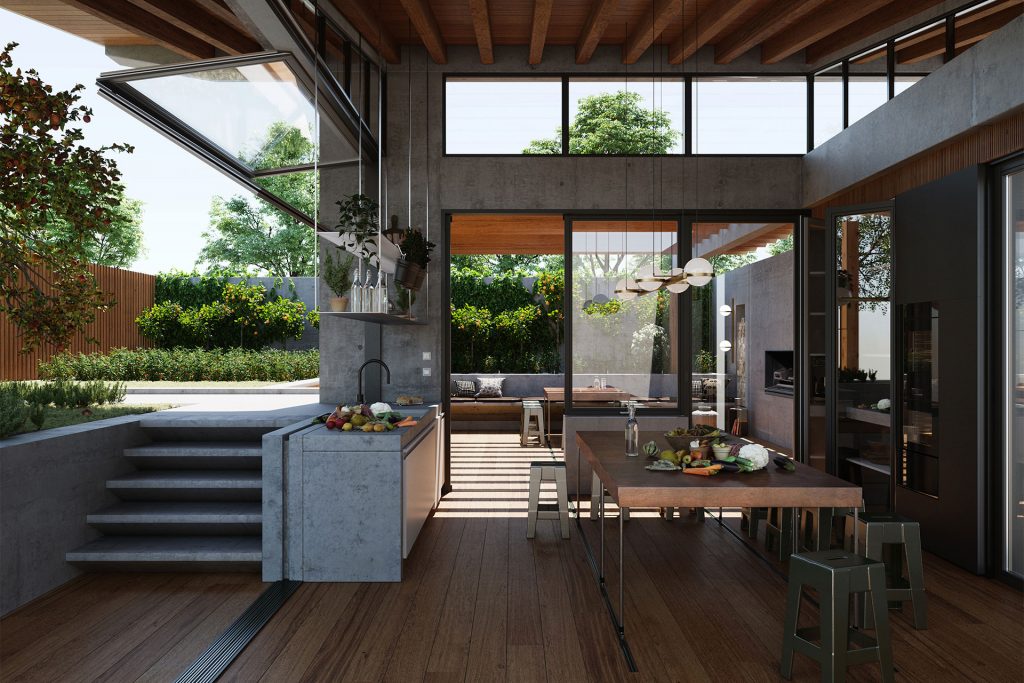 "In a suburban lot, there are a lot of odd spaces that get left behind, so we wanted to make those outdoor spaces work really hard by having a vegetable garden and fruit trees, and embedding them into the home rather than divorcing them."
Working off the concept of 'paddock to plate', designers created a series of sliding and bifolding doors and large gaslift awning and bifolding windows through which fresh produce from the garden can be brought into the kitchen, while also allowing for various combinations of openings and circulation flows, paired with highlight louvred windows for natural ventilation and lighting.
A Flow Hive is positioned in view of the kitchen, near the fruit trees, herbs and vegetables to encourage pollination and steady honey production.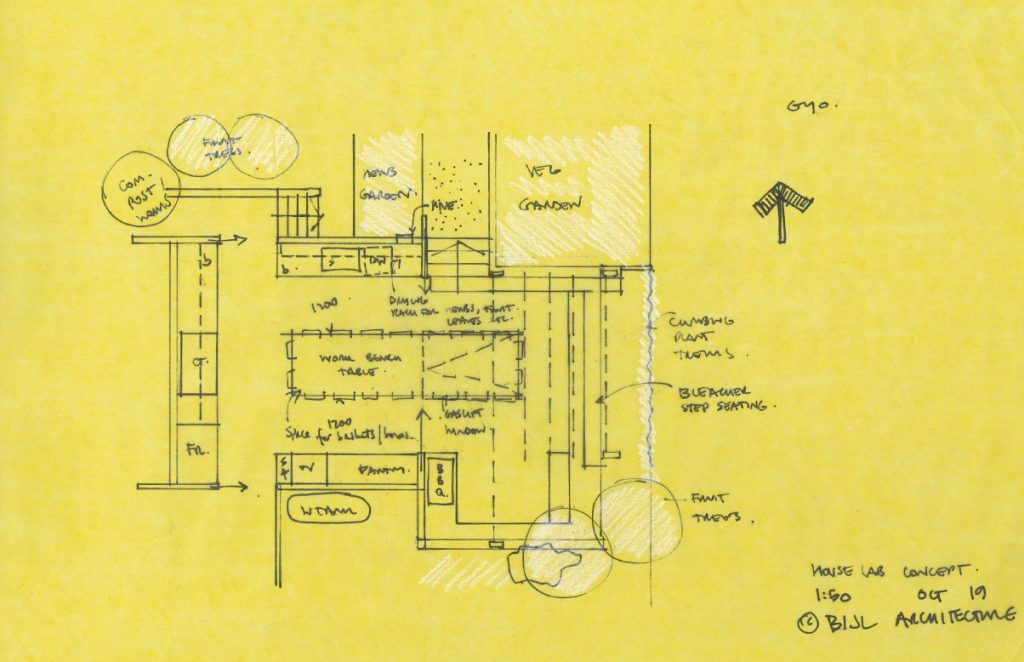 The minimal bench top space around the sink is designed so the water from washing vegetables can drain easily, while the flooring is heavy-duty recycled timber floorboards and off form concrete for muddy boots and dirty gardening tools.
Pots of herbs line the stainless steel shelving unit along with a drying rack for herbs and fruits. While a trellis style pergola would allow the growing of grapevines or similar.
"Designing a kitchen is akin to alchemy. You need to have a real connection to outside living and dining, a high degree of flexibility and an understanding of how the client engages with family and friends," says Bayl-Smith.
"The idea of a table that could be inside and outside was really key to this."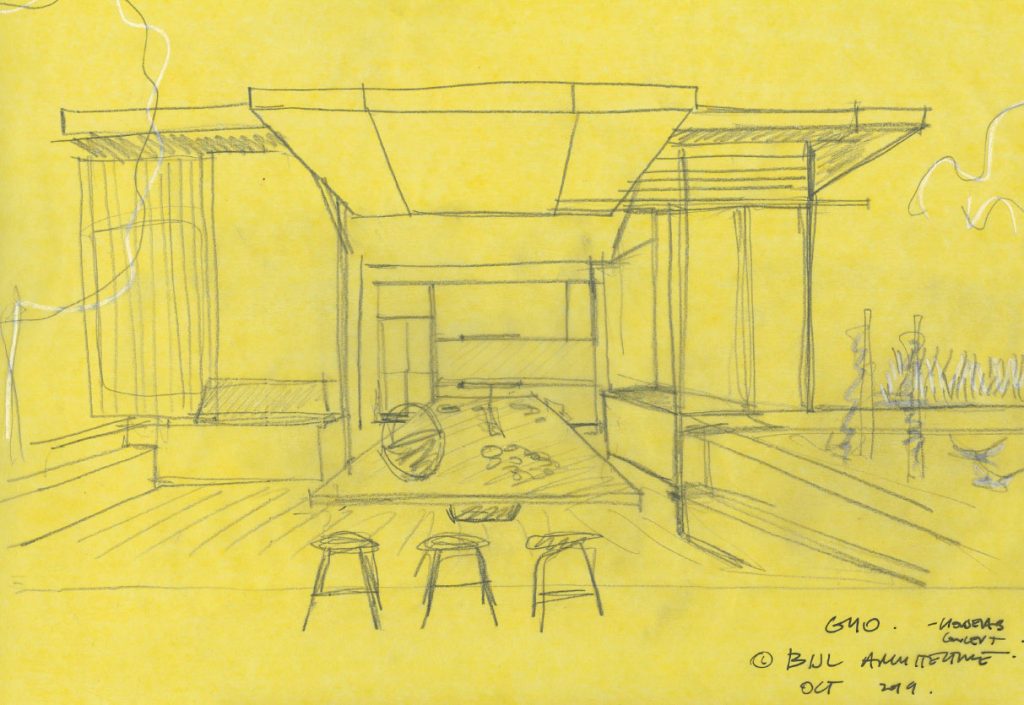 The 1200mm-wide table is copper, building on from the industrial and robust feel of the other materials used in the space, and sits on rails that allow it to be moved from the centre of the kitchen and out the fully-retracted folding wall, where it connects to a smaller table on the patio.
Completely open underneath for the storage of stools, baskets, boxes and other containers to store harvested food, the table accommodates intimate family dinners, large noisy gatherings and casual barbecues with friends.
"When you touch copper, it gives it patina. So it's a surface that interacts with the space, but it's also a heavy-duty work surface, where you can plant vegetables, prepare dinner, cook and then eat later in the evening," says Bayl-Smith.
"If you're a traditional Italian family, for example, you can peel 10 tonnes of tomatoes on this table for tomato sauce, but you can also use it for a simple meal shared on a warm evening or push it together with the outside table for a night of entertaining."
Stainless steel stools fit neatly underneath the table and can be used both indoors and out. Bleacher style sitting steps are placed outside, integrated with the garden beds and a patio space that overlaps with the barbecue area.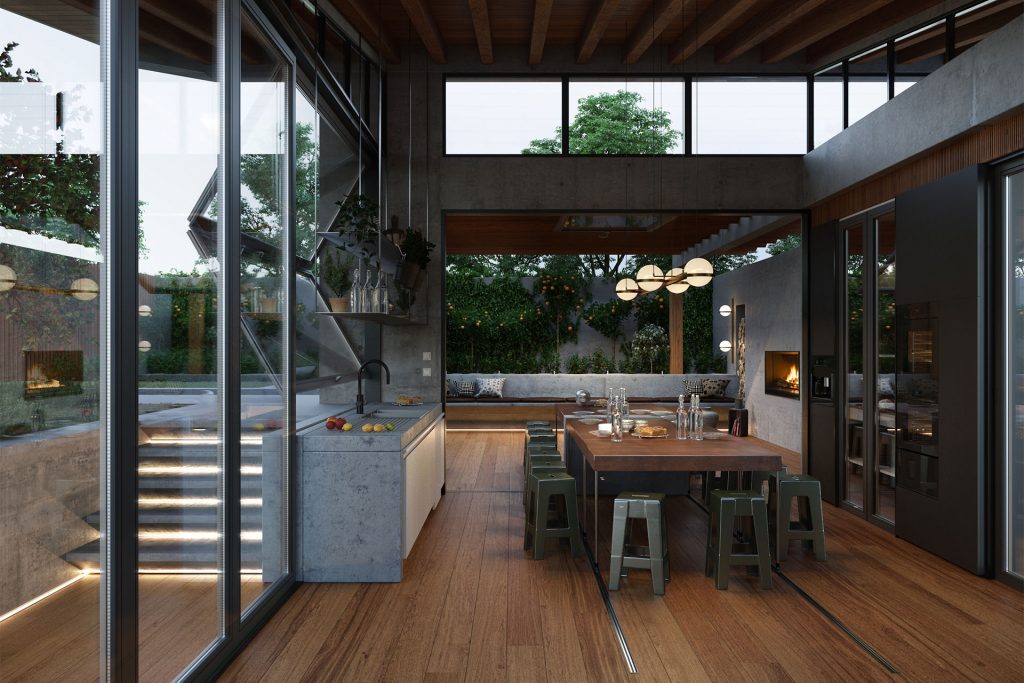 When addressing the brief, Bayl-Smith was inspired by a project she did straight out of university that included a community kitchen within a small student housing unit. The project was never realised, but the designer says she remained fascinated by the idea of a shared kitchen space.
"Most suburban houses have a shelf life. That's why people sell and move. But what if someone could stay there and the house could be used in a similar way?"
Fellow architect Timothy Hill also spoke about the importance of designing multipurpose homes at last year's Sydney Architecture Festival. A sentiment shared by Nightingale 2.0 designer and Six Degrees principal James Legge.
"We think of a share house as being the domain of the 20-something, but it's actually going to become that of the 60 and 70-something," says Bayl-Smith.
"And I think nothing in this kitchen says it's for two parents and two kids and the dog, but rather that it could be a house for a number of people."
In keeping with this idea of multiple tenants, Bijl Architecture swapped the so-called 'work triangle' for a streamlined space that flows straight along from inside to outside.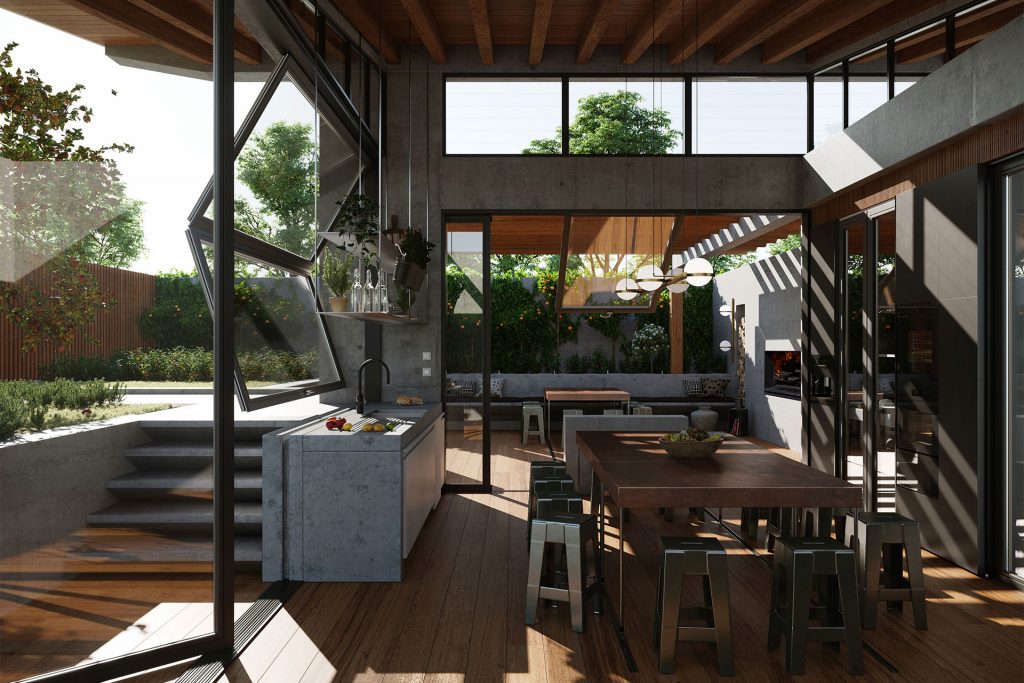 The sink is in front of the window, not to provide the dish washer with a nice view, but to make it easier for someone to pass vegetables through the window for washing.
The fireplace outside doubles as a barbecue and the appliances are all positioned to one side along with the food storage hub.
"The footprint of the kitchen is actually very simple, but also very considered because our philosophy is that we're building things that are going to last a hundred years, and this is reflected not just in the design of this space, but also its versatility."
HouseLab has also teamed up with Matt Wood Designs to design a living room as part of the ConceptSpaces project, along with a response to urban housing density and affordability titled The Missing Middle and penned by Philip Stejskal Architecture.