Charcoal logs and blackened foliage transport Woodcut's new Melbourne offices to the birch forests of the former Yugoslavia, designed by local studio Mim Design.
A family-owned timber flooring company, Woodcut's founders wanted the space to reflect days spent exploring the forests of their grandfather's property in Eastern Europe.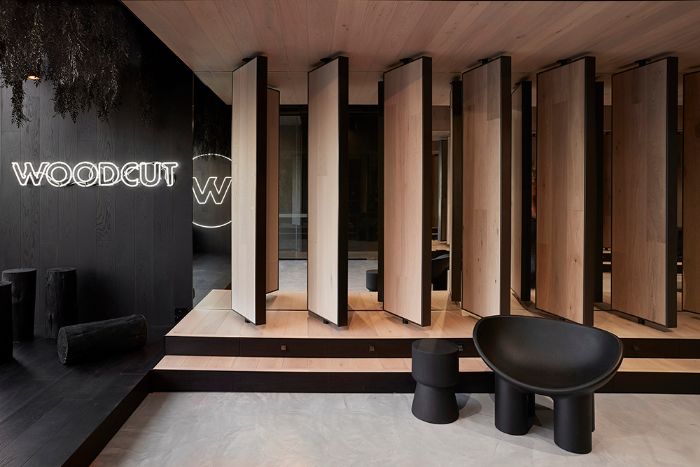 Laid across one long floor in Richmond, the space is set out with "gallery-like proportions" flowing from one zone to the next.
The interiors are deliberately minimal, ensuring "focus does not stray from the beauty of timber in its natural and milled form," says the studio.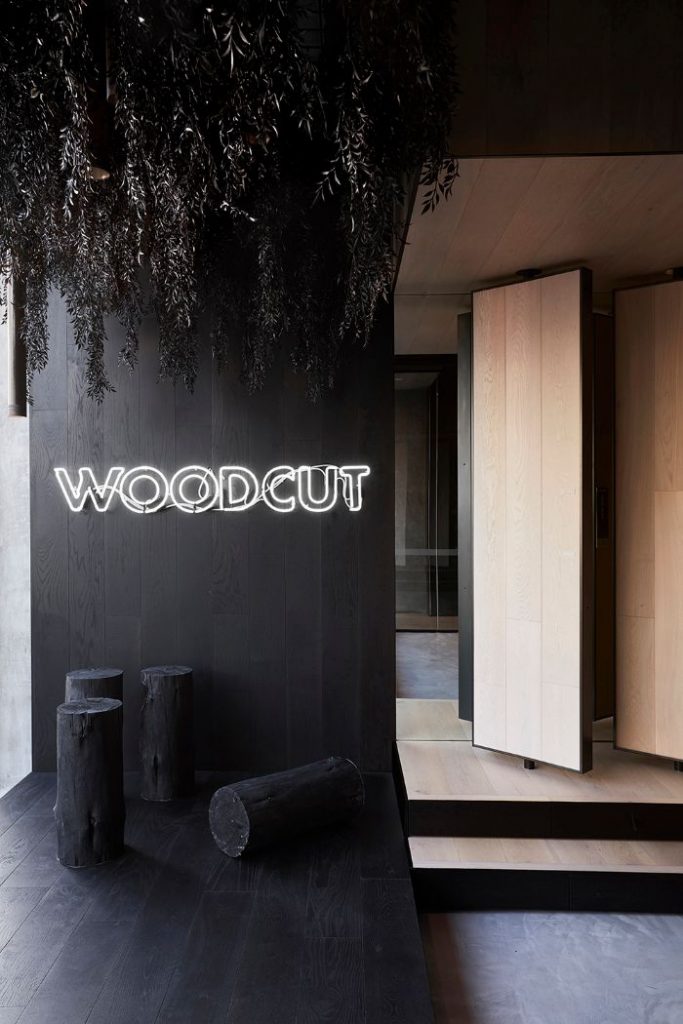 In the entrance, charcoal logs are scattered under bright neon signage. Blackened foliage hang from above. The space is lined ceiling to floor with charred planks of timber.
In contrast, the workspace and meeting rooms are lined in soft timber boards for "warmth and familiarity".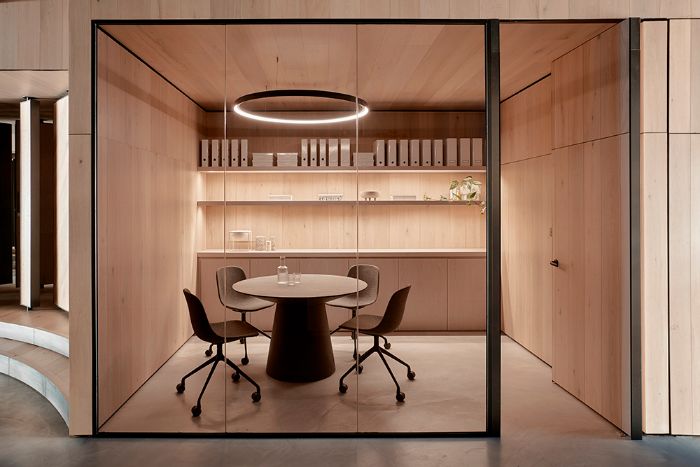 The simple palette of black paired with the natural timber is carried throughout the space, accented periodically with white stationary and potted plants.
A mirrored canopy floats above, reflecting lighting and providing a vertical anchor, with additional lighting coming from concealed fixtures.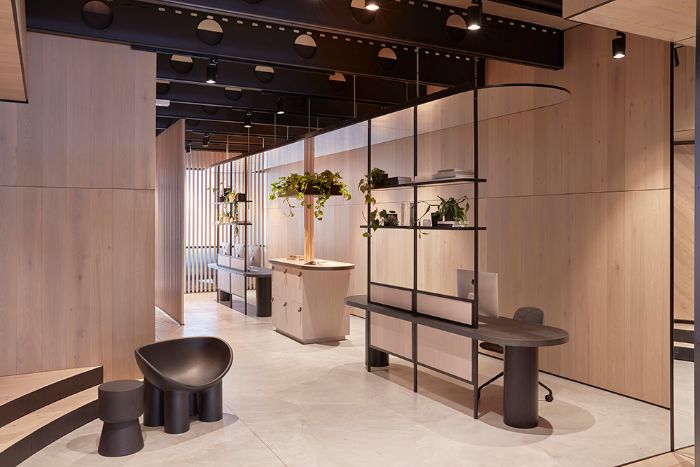 "We set out to design a space that didn't emulate the qualities of a formal workspace," says Mim Design.
"Instead we created interiors holistic to the brand and family history, a space with emotional integrity with drama and depth."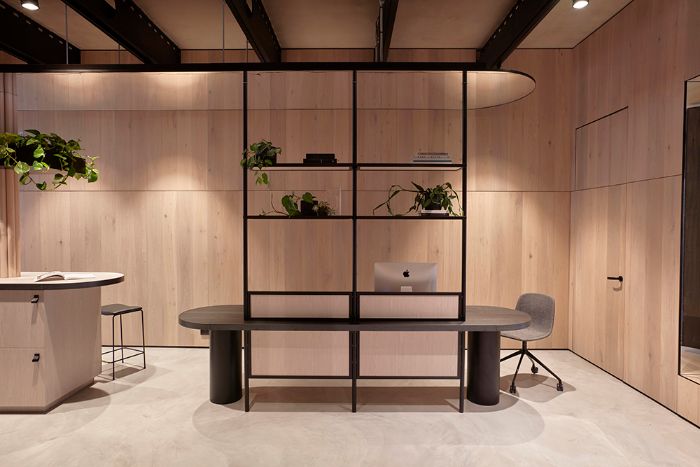 Custom curved timber desks face outwards, ensuring a clear sight line and connecting employees with the surrounding environment.
They're paired with grey office chairs and minimalist integrated storage.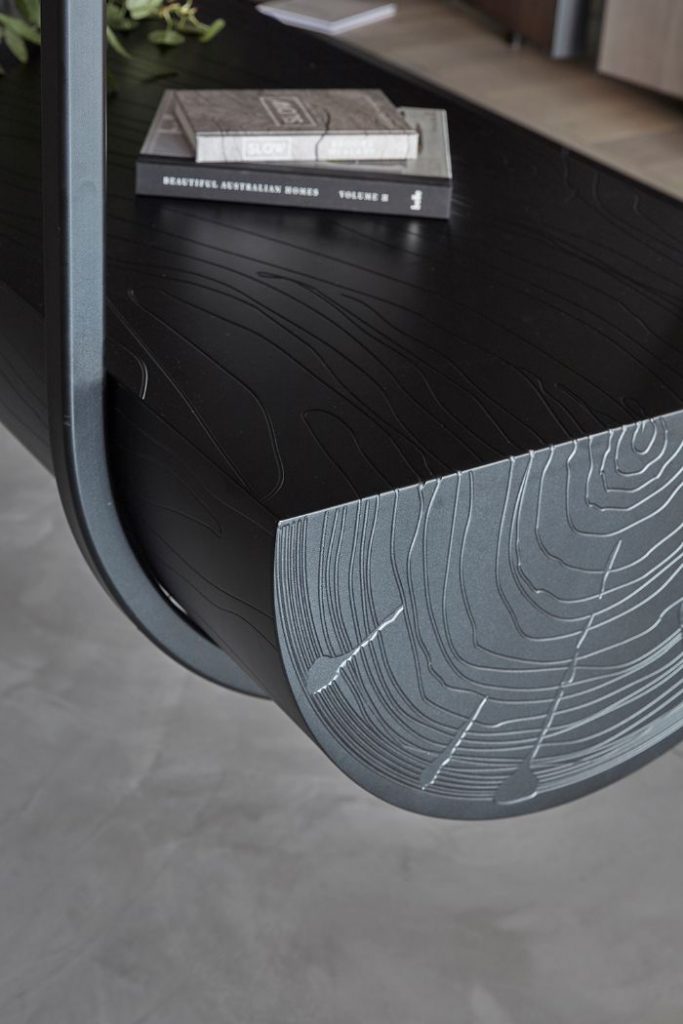 In reception, the statement piece of the project recalls "a connection with the grain, smell and sound of trees".
A custom-made desk appears miraculously floating above the polished concrete floor. Constructed from aluminium panels and CNC routed with an intricate timber pattern, it is akin to a milled tree trunk.
The Melbourne office is not the first project that Mim Design and Woodcut have collaborated on.
The studio also designed the company's Sydney office.
Photography: Sean Fennessy