This project involved substantial alterations and additions to a partly renovated red-brick 1950s home in Collaroy, Sydney.
Perched on a very steep site with challenging access but extensive views and aspect, the project involved retaining the existing building volume as a base for an entirely new upper storey, which was to contain open plan living spaces as well as a rumpus and service areas. The lower ground level was also to be extended for further accommodation, and the three levels were to be connected by both internal and external feature stairs that were to provide flow and aesthetic continuity to the completed house. A plunge pool and further development and integration of the already extensive landscaping was also required.
The design approach for the project was to utilise the expansive front setback to create improved streetscape connection and create a real relationship between the dwelling the site. The new front entry stair rises in a series of flights that control the pace of entry, whilst also providing an amenable undercroft that gives privacy to the lower ground floor level. The original main floor level is now at the centre of the dwelling's volume and contains the bedrooms and serviced areas.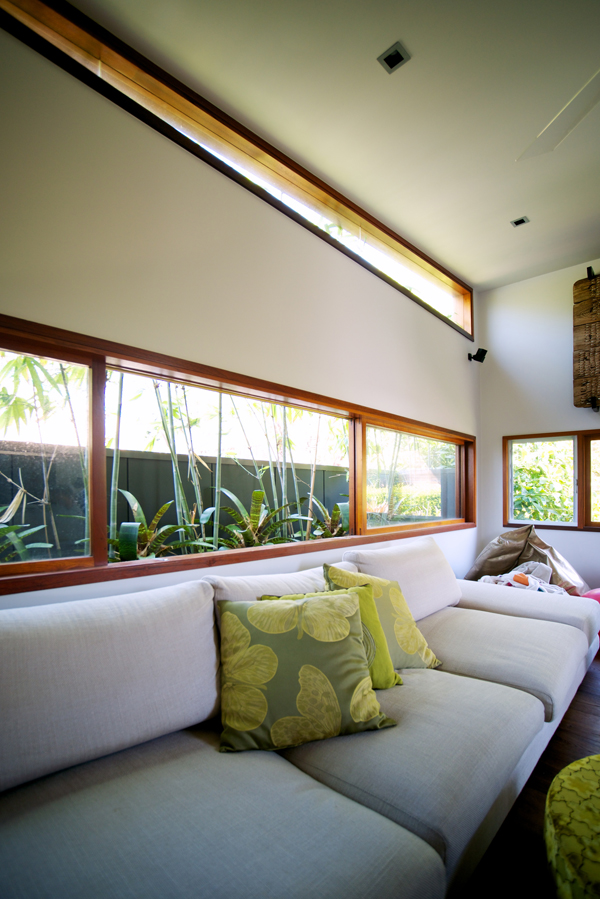 At the upper level, the open lounge space and enclosed rumpus room straddle the central kitchen, which looks out to both a generous dining area balcony, with an expansive vista beyond, and also to the beautifully landscaped rear garden.
This rear garden and the pool are accessed via a timber bridge below which lies an attractive exposed natural rock formation. The highly detailed timber stair traverses the three levels, with timbers also featuring in the custom built cellar, window and door frames, front door, flooring, garage door and other interior fitout. Quality fittings and a painstaking attention to details and finishes provide a luxe, resort feel to this home.