As part of our 30UNDER30 program we are thrilled to host a panel covering sustainability in design in partnership with Tongue and Groove.
Australian Design Review are hosting a 30UNDER30 panel in Meanjin (Brisbane) on Thursday 20 July 6-9pm in partnership with global timber oak flooring brand Tongue and Groove.
Tongue and Groove are proud sponsors for Australian Design Review's 30UNDER30 program, and share our goal of placing sustainability and cultural appreciation at the forefront of design.
They fiercely advocate for the protection of rainforests, and constantly strive towards achieving new standards in the industry regarding ethical material sourcing, waste reduction and recycling. They refuse to partner with suppliers who do not hold these values as paramount.
Tongue and Groove showroom consultant Iv Hout Kuouch will moderate the panel and the panellists include Annaliese McCarthy, Blake Hawthorn, Sophie Kebell, Kayle Butterworth and Mel Johnson.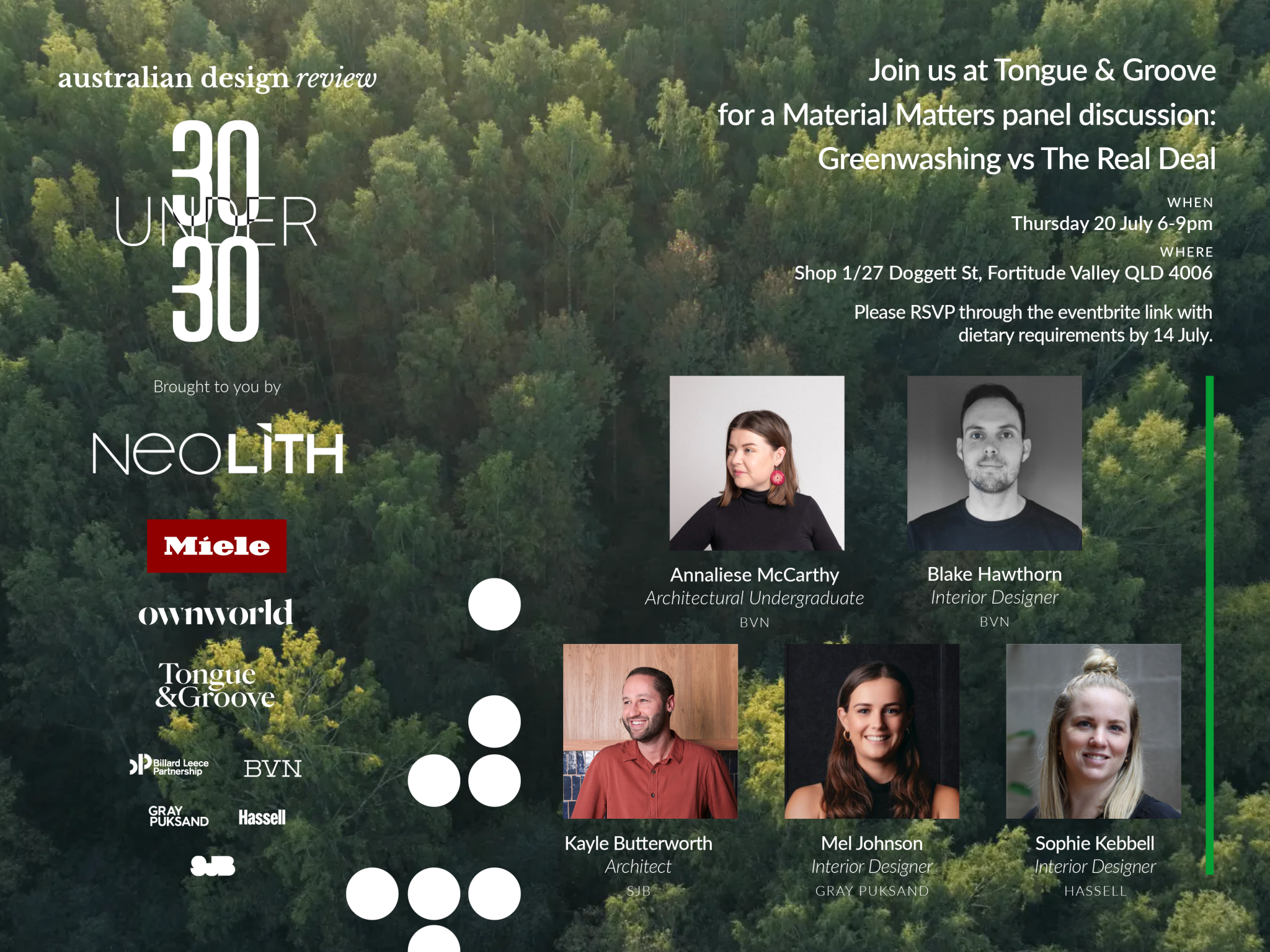 Panel discussion topics
Successful case studies that achieved a balance between aesthetics, functionality, and sustainability in your design and key sustainable materials or strategies employed in that project
Challenges or obstacles faced when trying to incorporate sustainable materials into interior design projects and how those challenges were overcome

What role does sustainable design play in preserving Australia's unique built environment and culture? How do you incorporate respect for First Nations culture into your sustainable design approach?

Navigating the balance between using sustainable materials and meeting the specific functional requirements of a space. How do you ensure that sustainability doesn't compromise the functionality and user experience?

How important is it to source local Australian materials for sustainable design projects? What are the benefits of using local materials, both in terms of sustainability and supporting the local economy.
Meet the panel:
We acknowledge the Jagera people and the Turrbal people as the Traditional Custodians of Meanjin (Brisbane), the lands on the panel will be hosted.
The panel is set to be insightful and engaging, and above all not to be missed! A video from the event will be available on our site.
Tickets available now but limited click here for enquiry

Read about how sustainability is an ongoing commitment at Tongue and Groove.