Australian-based artist Ben Mazey displayed his newest ceramics exhibition 'Some People Have Died But You Haven't' at Melbourne Design Fair and Cremorne's C Gallery.
Mazey oozes calmness, warmth and a palpable artistic passion. He genuinely relishes his creative process that situates mirth and fun at the forefront.
"I look at my exhibition and walk around it, and it feels like it came out of me naturally. If I just let myself go, something quite calm and straight-forward develops," says Mazey.
Mazey has 15 years of far-reaching experience in the fashion and design world across Europe, Asia and Australia. He most notably worked as Kenzo's design director in Paris for seven years, and currently holds the post of design director at lifestyle brand PE Nation.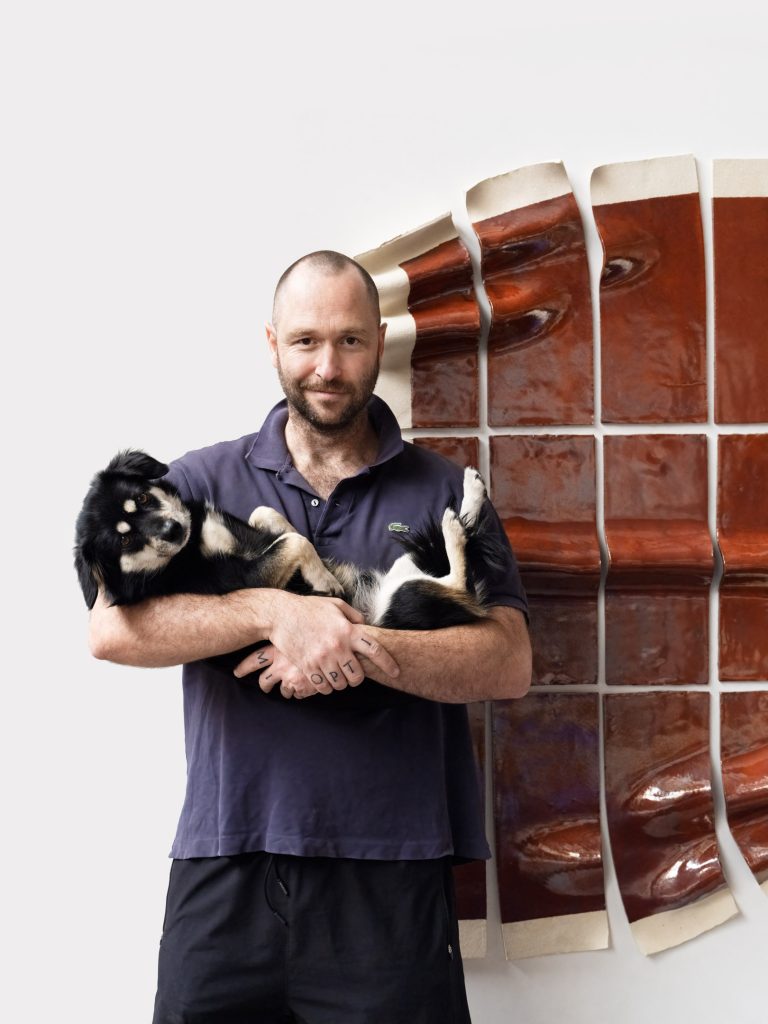 The concoction of styles that comprises his visual vernacular is reflective of his time spent in many different locations – growing up in a National Park in New Zealand, studying in Melbourne and Rome, and living in Paris, London and Shanghai.
Mazey had been living in Shanghai when the COVID-19 pandemic destabilised the world in early 2020, but he was holidaying in Melbourne at the time and found himself locked down.
"I had no private practice and I wasn't working – so on day two I thought I'm going to pretend this is a residency, or the sabbatical I will never have, and turned to arts and crafts," says Mazey.
While waiting for his furniture and the remainder of his belongings to touch down in Sydney, Mazey made dream catchers, lamps and candle sconces – and embraced this "delicious" interim period.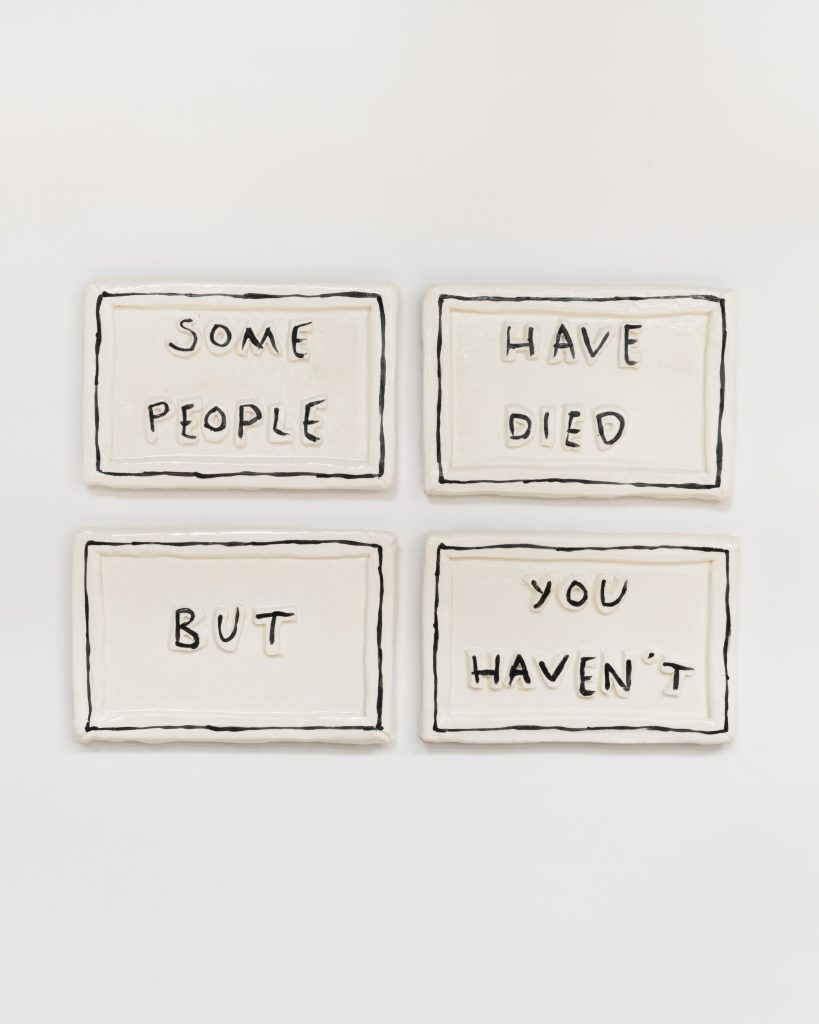 Home-bound ceramic making that started as a form of escapism and distraction transformed into a bona-fide passion for Mazey.
"I just really enjoy ceramics – I have such a nice time with it," he says.
Other than a few post-workday classes on the wheel while living in Paris, Mazey is essentially a self-taught ceramicist. And although he confirms he is by no means a master, Mazey has faith in the beauty of his work – clunkiness and all – and so he should.
"I am constantly liberating myself from caring if I am adhering to technical proficiency," says Mazey.
He speaks of the freeing feeling of adoring a creative pursuit yet not necessarily achieving masterful status – referencing how Matisse possessed a natural authenticity to his work despite a slightly rudimentary paper-cutting technique.
In mid-2021, Mazey began having conversations with gallerist Rachael Fry, who would soon open C Gallery in Cremorne and the rest is essentially history!
"I had my first solo exhibition at C Gallery a year and a half ago. It was the first time I had anything of mine on a wall in public," says Mazey.
When discussing his inspirations for ceramics making and design in general, Mazey emphasises his fascination with domesticity and also the importance of emotional research and development.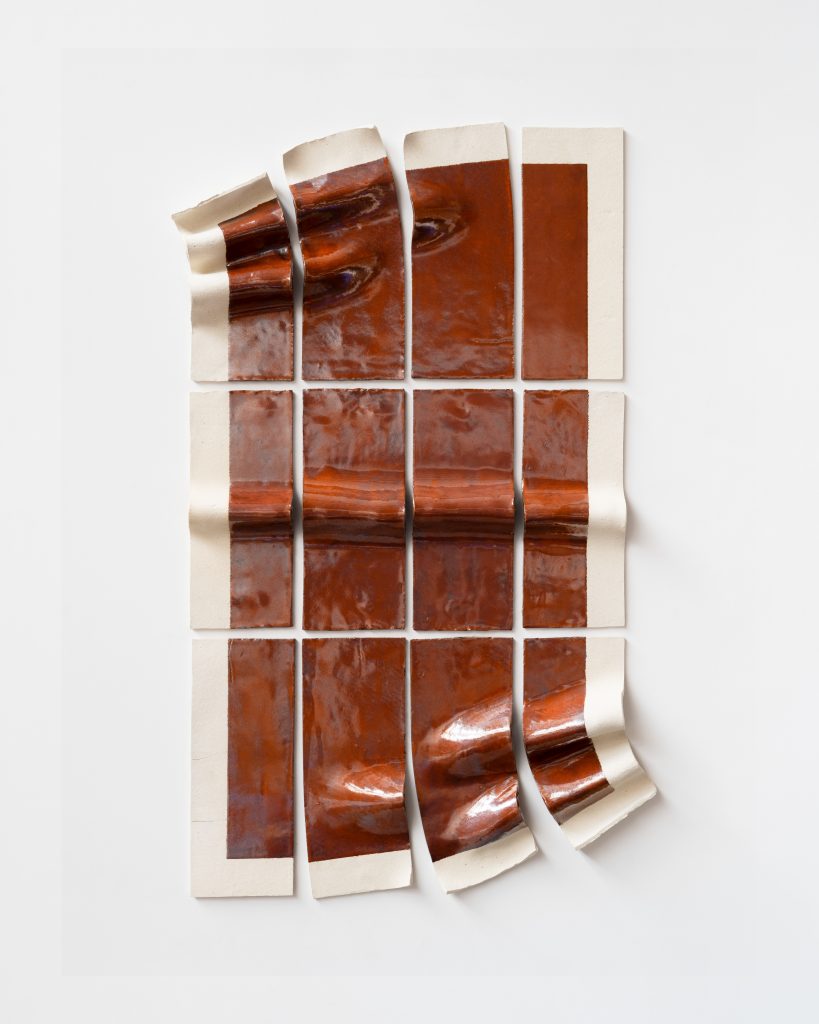 He explains a recurring childhood fantasy that demonstrates his passion to create something out of nothing, and his appreciation for the honesty and possibility of the home.
"I used to have this fantasy as a kid that you would go to a beach house over the summer, and you couldn't take any clothes, but when you got there, there were bolts of fabric and you made stuff to wear," says Mazey.
This fantasy possibly influenced his self-directed artist's residency during lockdown. But it also hints at his methodology that embraces spontaneity and instinct.
"When I finally started designing ceramics, it felt like turning on a tap – it was very natural," says Mazey.
Reluctant to credit concepts such as modernism or brutalism as inspiration, Mazey's creative process involves reflecting on what resonates with him. He sifts through a back catalogue of material as a source of inspiration – equating himself to a magpie collecting bits and pieces from far and wide.
Mazey's ceramics exhibition 'Some People Have Died But You Haven't' featured at the Melbourne Design Fair, and is now showing at C Gallery. The collection – presented in a tranquil room seemingly plucked out of an inviting and lived-in cottage – includes different ceramic 'flags' reminiscent of brushstrokes and moulded into domestic objects like windows, doors, napkins and carpets.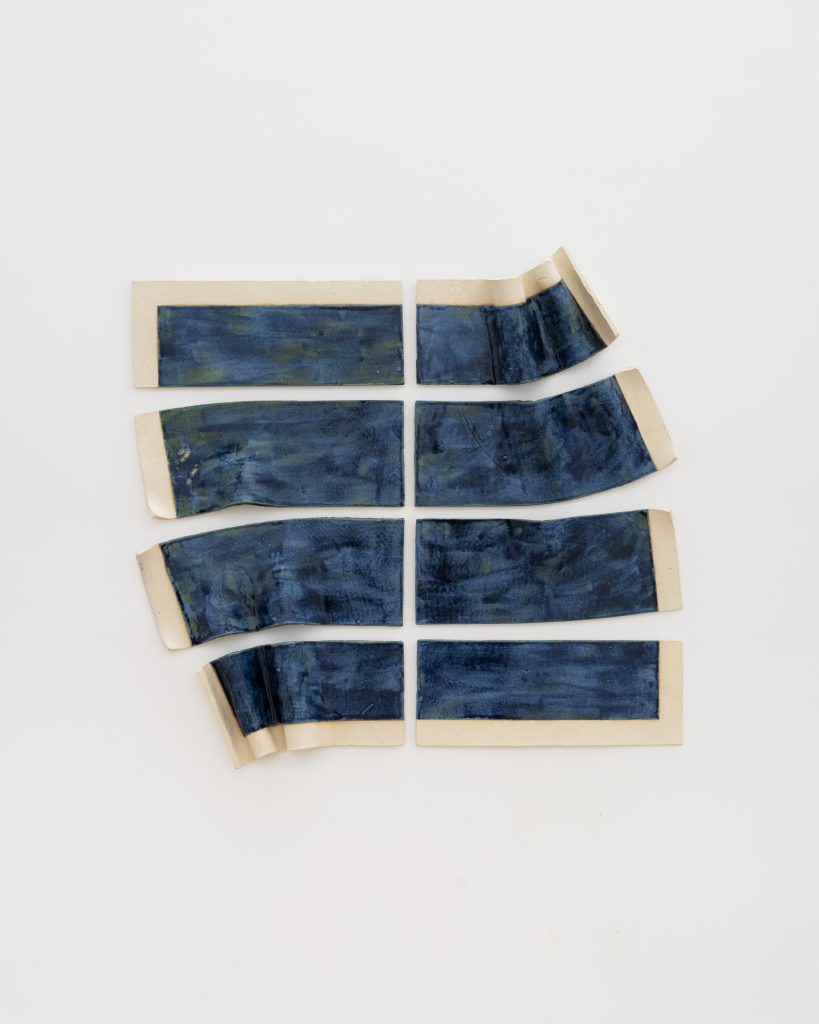 Ceramic flags speak to his appreciation for the order of mathematics. While sounding slightly oxymoronic, he finds rules liberating.
"As a kid, I always liked maths, and the rules and parameters," he says.
Mazey set himself the rule that all the flags would be 20 by 50 centimetres, and then he would go from there – akin to rules adopted when working with Lego.
"You have the freedom to create whatever you want, but they all have a similar visual language due to the measurements," he says.
Hesitant to ascribe a definitive meaning to the exhibition, Mazey invites people to purely bask in the aesthetic pleasure – if that's what they desire.
"I can really bang on about the meaning of things, but I'm also cognisant of the fact that something just looks really nice, and if that's why people want to put it in their home, that's enough," he says.
But Mazey acknowledges there is a clear reference to domesticity and the home. Loved ones who are either still around or who have left us are irrevocably tied to the comfort and safety associated with a home, he says.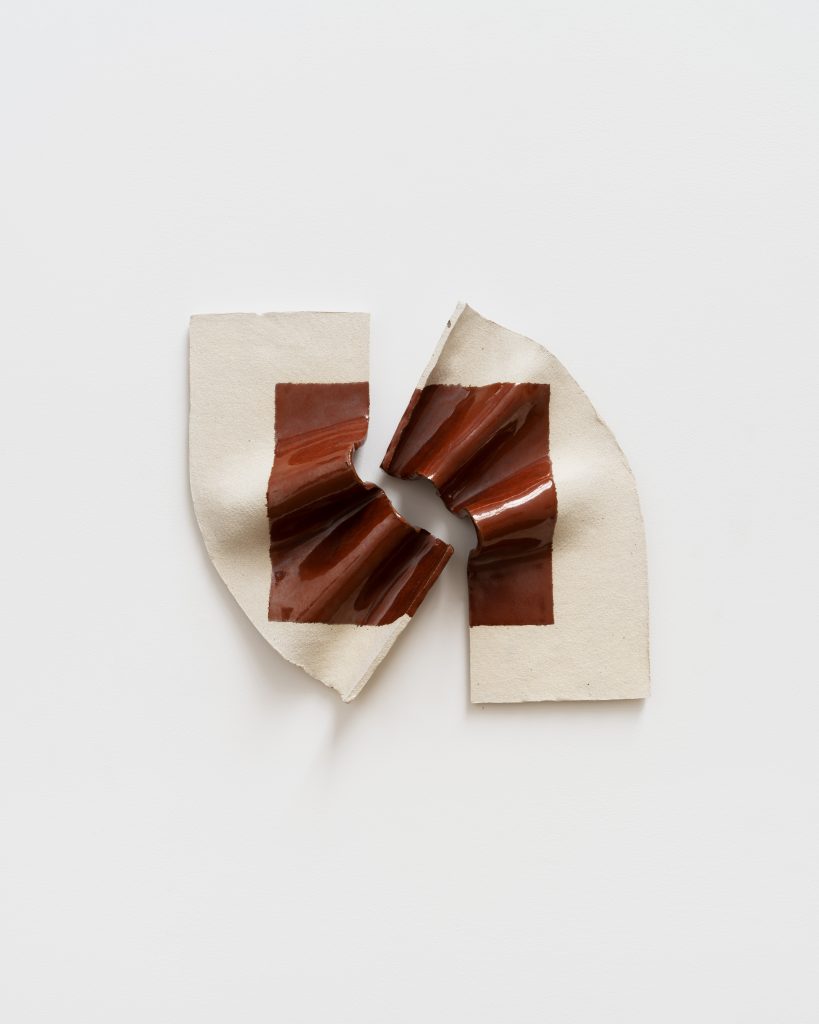 "A home should be a safe space, to be honest and do whatever you want – nothing can get you," says Mazey.
Mazey's unflagging optimism may have influenced the title of the exhibition, which although resigns to the fact that people will leave us, reminds the responder to remain hopeful.
"I am a big believer in optimism. If you don't have optimism, which is another word for hope, there's no point in trying, as long as you're here, things could always get better, and that's motivation," he says.
"My favourite t-shirt says 'we're all going to die', and is presented through a love heart, and there's something optimistic in how this certainty and inescapable fact brings us all together."
It's an exhilarating time in the Australian design landscape, and in Mazey's opinion, design succeeds when people create something that is authentically 'them', as opposed to tirelessly working towards a trend.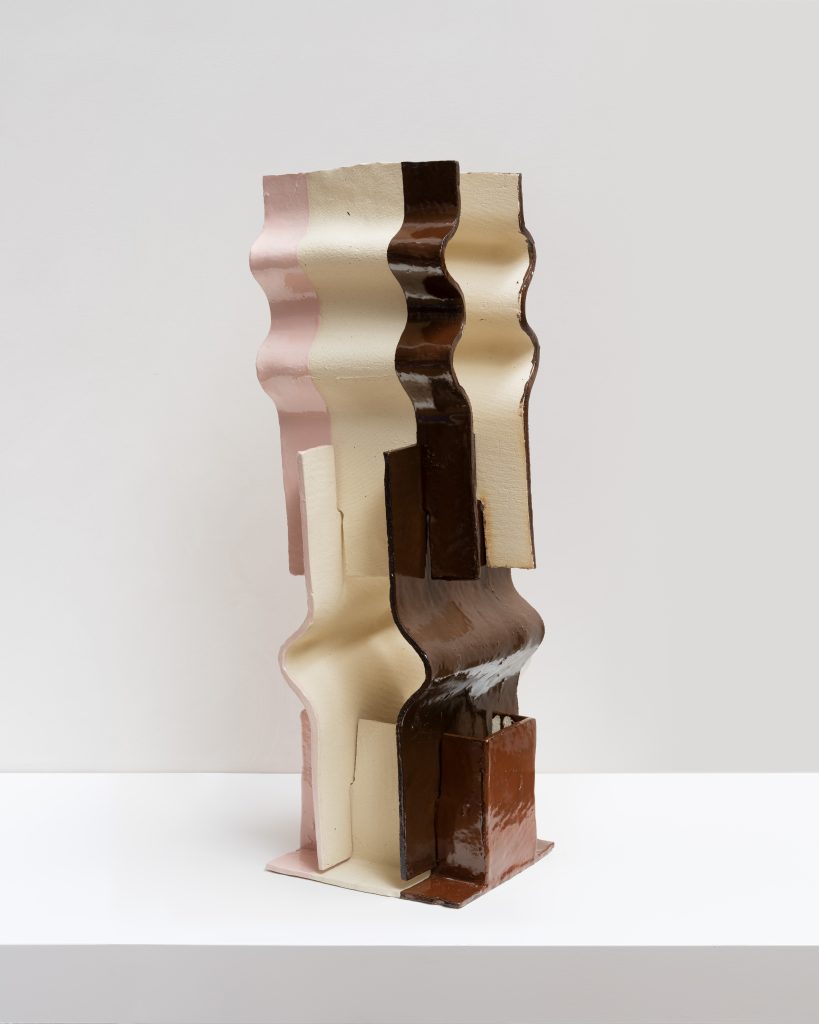 Mazey is enraptured by the home-grown material that is "clean, minimal and laid back" and expresses frustration towards the fetishization of North American and European aesthetics.
"In order to compete, people sometimes feel like they need to replicate these styles, and we're never going to get there," he says.
Mazey resents how people are quick to label Australian projects that are evocative of New York or Tuscan styles successful, as this prohibits celebrating the project in its own right, and risks lapsing into narrow-mindedness and artificiality.
"People often comment on how a house feels like it could be in Tuscany, but who cares, it's in Byron Bay! We should just be celebrating that it's a lovely house. The more we confidently celebrate something because it shines in its own right, the better," he says.
Ben Mazey's exhibition 'Some People Have Died But You Haven't' is on display at C Gallery, Cremorne from 16 May to 20 July. 
Featured Image: Exhibition room, from left to right: Blue Flag Window, White Flag Door, White Flag Painting and Rust Flag Carpet.
Photography by Simon Strong.
Read about how Lindi Mlambo reimagines Zimbabwean homewares at Mosti Living.