DEN fair director Thibaud Cau-Cecile talks us through what we can expect from the inaugural DEN Fair launching this Thursday. Created in the wake of the cancellation of designEX, DEN is a unique, independent event assembled with the expertise of an advisory board boasting some of the most influential names in the Australian design scene.
Board members include Barbara and John Hermon (founders and directors, Hermon&Hermon), Richard Munao (founder and director, Cult Furniture), Fleur Sibbel and Wilhelmina McCarroll (founders and directors, Zuster Furniture), Miriam Fanning (founder and director, Mim Design), Gordon Tait (founder and director, Tait) and Anton Assaad (founder and director, Great Dane Furniture).
Shunning conventional fair layouts – often involving standardised layouts and stand schemes – the small but passionate team behind DEN promise to provide the Australian design industry a long deserved focus on 'good design'.
ADR Can you give us some insight into the company you founded with Claudio Oyarce, Unwritten Shows?
Unwritten Shows was created to move the design industry forward by conceptualising and executing next level consumer and trade events. With some like-minded brand collaboration our ultimate goal is to become the go-to platform for all things design. We have started our journey with DEN Furniture & Design but have plenty of ideas on future events all related to design, food and fashion.
DEN Fair was created in the wake of designEX – what are the challenges of launching a new trade show in a competitive market?
We see DEN as being an innovative platform for the design industry to connect and do business. We curate all the product exhibited at the show and know the background of most exhibitors we get involved with. We specialise in showcasing the best on offer in furniture, lighting, textile and object and truly believe that DEN is a much-needed trade show, we actually do not see any real competition.
The DEN advisory board includes many influential and accomplished Australian design industry professionals. In what ways have they contributed their expertise to the fair?
I have created trade events such as Life Instyle for the past 13 years but didn't have enough experience in the furniture and design industry to really understand the true need. The members of the board have helped me understand the industry, and furthermore have guided me to ensure that my offer was going to suit the exhibitors and the visitors alike. They have been a very good sounding board to work out our program, guidelines and collaterals based on what they have seen and experienced in past Australian and international trade shows.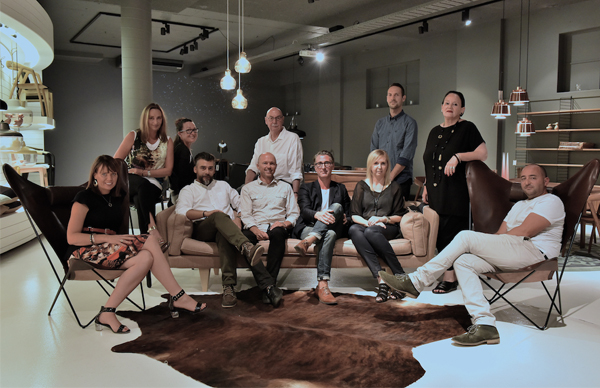 What positive changes would you like to see in the Australian design industry?

We would like to see a meaningful show such as DEN being successful in promoting good design. The design industry really needs a good platform made by people driven by passion rather than other interests. We are a small team made out of Damian Gentile (industrial and interior designer), Claudio Oyarce (graphic designer and photographer) and myself (visual communication and photographer) and the way we see a trade show is completely different than any corporate company or industry body who have conducted or still conduct trade shows in Australia. Everything we do is for the good of Australian Design on a national and international Level.
On a consumer level, we are opening the show to the public on Saturday 16 May to allow the general public to see Australian design in the hope that they will develop a better understanding and appreciation of design and craftsmanship to result in better purchasing habits.
What do you think is unique about the Australian design industry?
What is unique about the Australian design industry is the sense of community. Whether it is due to our distance from the rest of the world's design fraternity or it is purely because we don't take ourselves too seriously but still produce some serious design. The Australian way of continuously pushing the boundaries to create our own identity and style is also one of the most powerful engines to creativity. The only downfall is the lack of appreciation in the local market hence the reason why most of the greatest Australian designers are often recognised overseas.
What can visitors expect from the DEN experience?
Visitors can expect to see a handcrafted show where nothing is left to chance. We have promoted our show as "an event with substance and personality," which is what is lacking in most trade shows in Australia. We are the underdog of the industry and produce curated events where the product is king and not the organisers!
We have selected over hundred brands across the categories of furniture, lighting, textile and object to offer the industry the chance to experience the best design under one roof.
On a more specific level, we have teamed up with Anne Marie Sargeant who is producing ID by The Snap Collective at DEN which is a space showcasing top Australian designers such as Anaesthetic, Porcelain Bear, Shareen Joel, Ross Gardam and many more great talents, we also have a spectacular installation curated by Green Magazine under a life sized green house featuring a fine selection of sustainable product amongst a real garden.
TJ Guzzardi, renowned sign writer and artist will perform his craft live at the show in the Taubmans space and we also have the DEN Awards presentation open to everyone at 6.30pm on Thursday 14 May and presented by our judges Miriam Fanning (Mim Design), Kerry Phelan (KPDO) and Jeff Copolov (Bates Smart).
What other events are you looking forward to catching during Melbourne International Design Week?
Unfortunately as a small team we are very hands on working around the clock to perfect our show, and won't have the chance to see or take a part of any other events. But if I had to pick one, I would go and listen to Jay Green at the Business Advantage Breakfast Seminar.
For more about DEN visit denfair.com.au