Sydney-based Cox Architecture designer and UN Sustainable Development Solutions Fellow, HY William Chan realised early on that our built environments are vastly improved by directly including locals in the design and innovation process.
Travelling to South Africa and India while studying at university, HY William Chan met with vulnerable slum communities on the very fringes of urban sprawl. "That helped me to really understand the skillsets of an architect, and how to apply those skills to solve real problems on the ground," he says. "Seeing first-hand how different solutions can come about when you work with people and they become your partners."
A safe, secure home is vitally important, and imbuing communities with a sense of ownership is transformative. "We sometimes forget that for people who don't have much, where they live and what that looks like is everything they have," Chan adds. "If they can create better environments for themselves by taking on the skills I know, well, that's incredibly rewarding."
Chan was born in Hong Kong but moved to Brisbane with his family when he was three. His identical twin brother suggested he pursue architecture when they were finishing high school. "I've had no regrets, especially understanding the power and influence that the built environment has on people, and how I can be a part of that."
Recognised as one of Forbes' '30 Under 30 industry, manufacturing and energy innovators', and a finalist for the NSW Young Australian of the Year 2020, Chan was invited to speak at the UN General Assembly in 2018. He also delivered a TEDxYouth talk in Sydney about a plastic waste upcycling project he helped kick start in Greece's sprawling, far from temporary, Skaramagas and Eleonas refugee camps. Befriending a group of Syrian and Afghani teenagers, he was inspired by the resourcefulness of a young girl called Sana. She taught him the Arabic word for useful, mufid, on finding a discarded water bottle.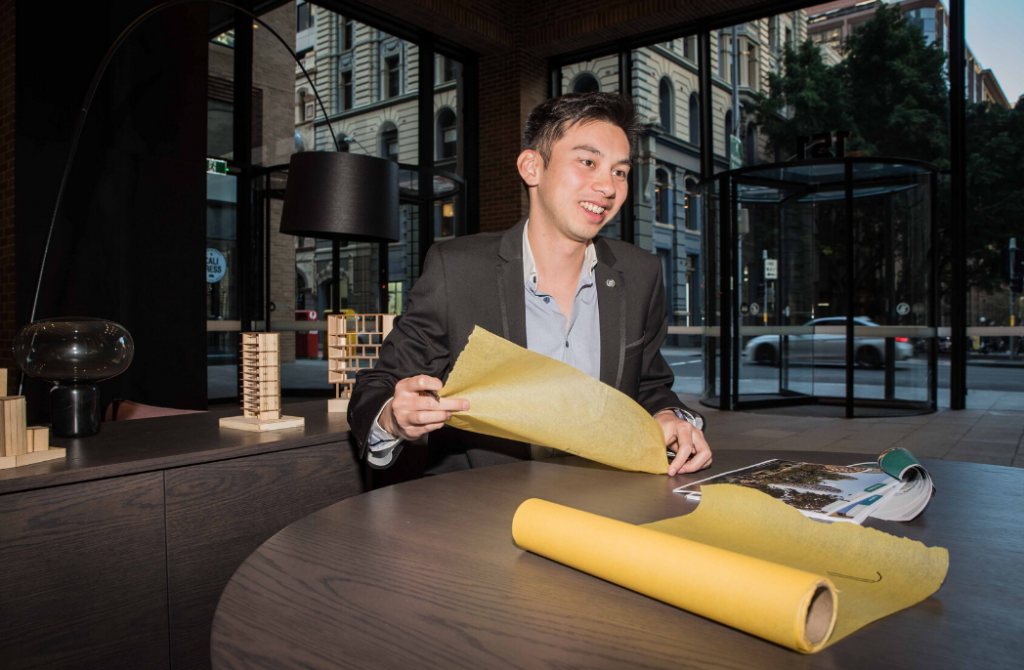 Realising they could tackle the scourge of plastic waste accruing in the camp (indeed, a global problem) while simultaneously empowering refugees to solve problems themselves, Chan's solution combined innovative practices with participatory design. The idea was to introduce an open source, plastic upcycling machine to create personal desktop 'factories', so the plastic could be repurposed for 3D printing a huge variety of architectural and construction applications, limited only by the refugees' imaginations. That included printing new joints for shelter construction. "At the end of the day, they are the users, and they know what they need," Chan says. "For a lot of the challenges they face, they already know exactly the solutions, but how they get there is a different issue."
Chan notes it's essential to observe social dynamics. He realised that other initiatives for refugees weren't attracting participants or failed to keep them. The solution? Skilling them up alongside Greek kids on weekend classes at local schools. "They wanted to be treated as themselves, as empowered individuals and not as refugees. By learning with Greek students, they can feel part of the host community. We can design for dignity in their environments."
The UN took note. "They're looking at how architectural thinking can respond to global crises like the refugee one," Chan says. "My personal ambition is to inspire non-architects about what architecture can do, and to really engage with non-architects."
As he sees it, the industry is primed for a more people-centric disruption. "There's a new type of building, new communities and cities we are trying to envision. It's very exciting, and progressive clients now understand that we have such an important role to play."
Chan and his Cox colleague, senior associate Felipe Miranda, will have their disruptive build-to-rent housing concept for Sydney (which was initiated for the City of Sydney alternative housing competition) showcased to the UN Secretary-General at a forthcoming UN-Habitat Urban Thinkers Campus event in New York. It's a concept that embraces tenants as part of the design solution.
"You can take the model of secure, long-term rentals further," Chan suggests. "Sure, they may not own their apartment, but how do we build ownership as part of that model? And that means having a creative process where prospective tenants are involved directly. Where they are co-creators, rather than just consumers."
This model ensures better building outcomes and also increases return on investment by attracting better tenants invested in looking after the building and its surrounds. "Our starting point was 'How do we make developers selfish for community?'. You can build-in community as part of that design and construction process."
In the wake of high-profile faults in Sydney luxury apartments, it's better for all involved if standards rise, Chan argues. "We have a housing affordability crisis, but we also have a construction industry crisis. People have spent their life savings on apartments that may collapse. This is the industry that we have carved out because of not focusing on people – in thinking these are just products, a purely commercial transaction."
Chan isn't just focusing his lens on offshore problems and is heavily involved in influencing the business of architecture and providing innovative leadership in his daily practice too. When he joined COX in 2015, he was a member of the National Board of Management's Design and Marketing Committee and at the practice's recent AGM for national directors, he led and facilitated in the areas of social and environmental sustainability, the circular economy and green innovation.
Much like 3D printers in refugee camps, the solutions require innovative and disruptive foresight, says Chan. "We have to be very conscious that we live in diverse communities with different needs and that we are designing solutions that work for them, rather than creating problems."
This article first appeared in AR162 .