On the banks of Labrador's Lake Melville, Our Lady of the Snows Catholic Church stands against an impressively rugged landscape, one that is characteristic of Canada's northern regions.
Asserting the building's presence is the church's apse, purposefully oriented towards the Mealy mountains whose formation defines the territory's horizon.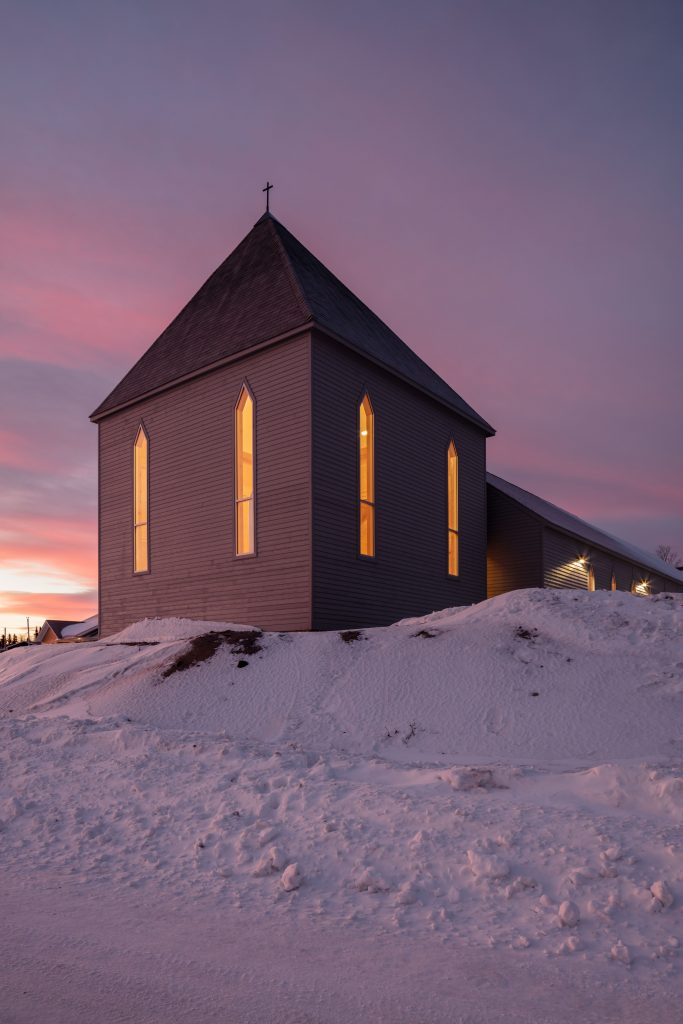 Designed by Woodford Sheppard Architecture, a Newfoundland-based practice, this 4,200 square metre religious building was commissioned by the Sheshatshiu Innu First Nation Band Council.
The Sheshatshiu settlement has a population of 1300 and is largely comprised of densely and compactly built single-family homes. While community structures are typically constructed outside the cluster of small residential streets, the site for this project was situated in the very centre of town.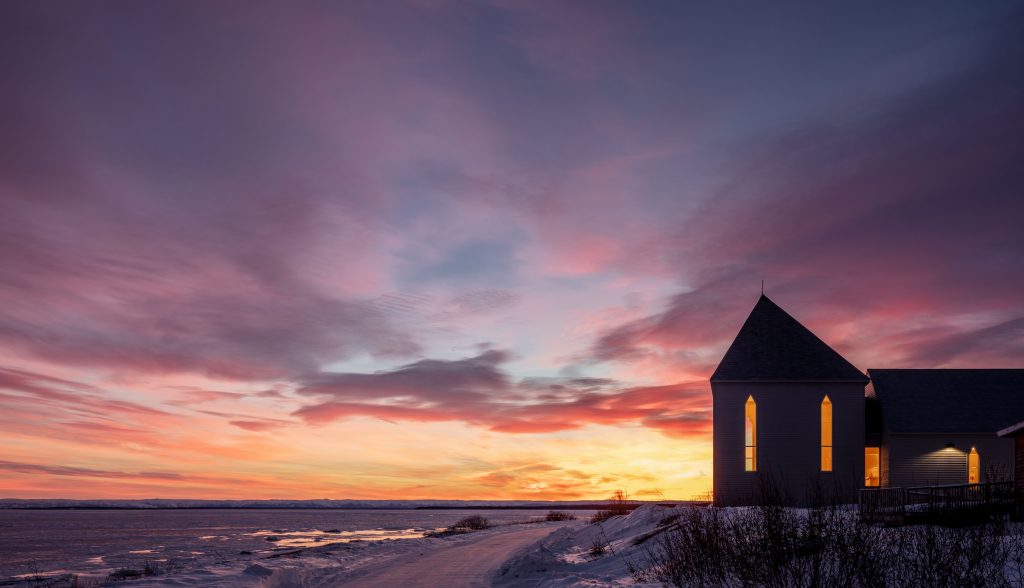 While the intention of the building's design was to create a visible landmark within the community, the new church endeavours not to overshadow or dominate its neighbours.
The exterior cladding was carefully chosen from the limited number of materials that are available in this remote region, further responding to Sheshatshiu's vernacular character. As a result, wood is the primary building and finish material throughout. In keeping with the traditional Moravian style of church construction that is endemic to the Labrador Coast, ornamentation has been kept to a minimum.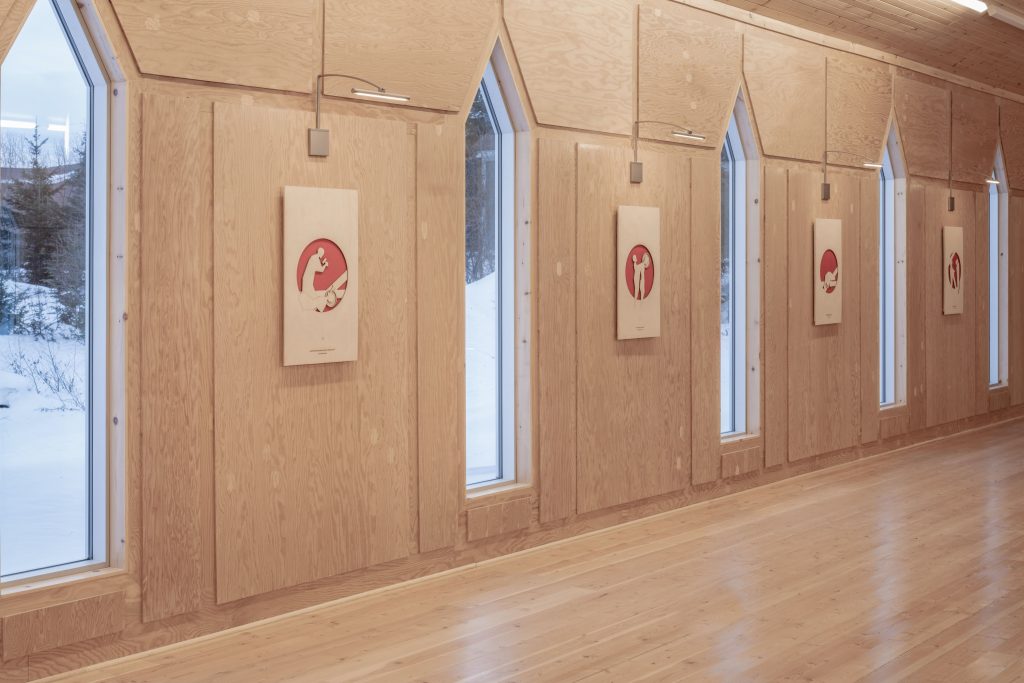 Instead the interior is adorned with 14 wall-mounted Stations of the Cross. Designed and fabricated by Woodford Sheppard Architecture specifically for this space, the pieces serve as meditative elements with inscribed descriptions in the Innu-aimun language along with English translations.
As a shared and inclusive space for the Sheshatshiu community, the church has been designed to accommodate for both religious and secular activities. As a result, the church's floorplan is divided into two distinct types of gathering spaces.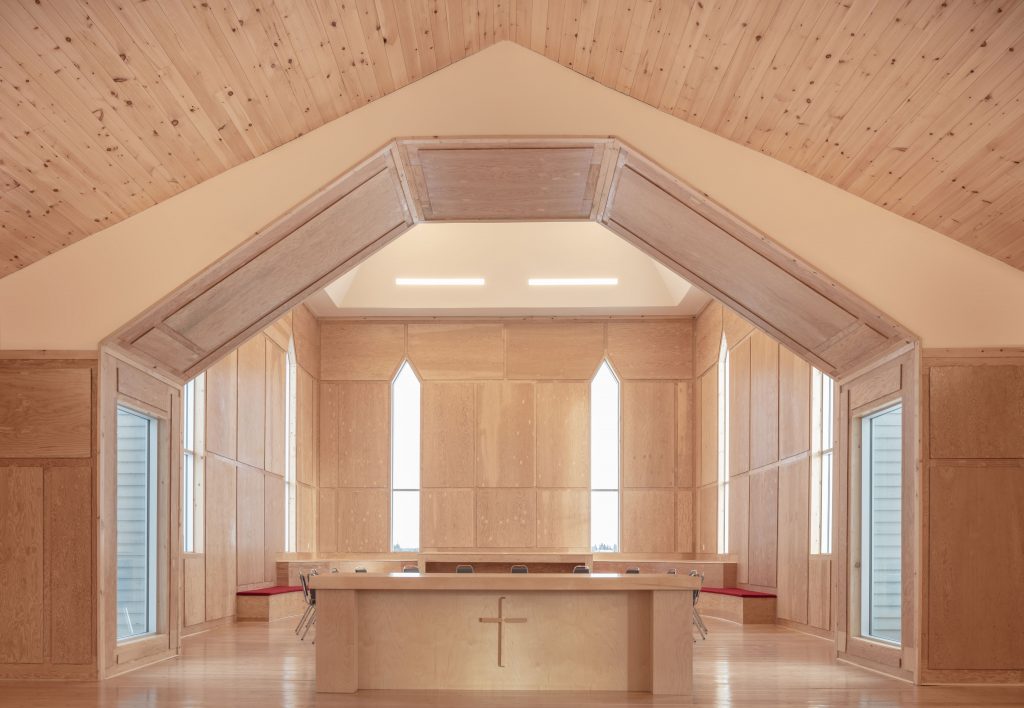 The first is reserved for large and more momentous occasions such as weddings, funerals and baptisms; all of which are hugely important to the Innu community.
The second area is designated for smaller, more common parish gatherings. To further encourage inclusivity, comfort and an introspective environment, this area has been designed as a non-hierarchical circular space. Positioned in what is traditionally known as the apse, this intimate gathering area combines architectural elements familiar to both Catholic typologies along with Innu ones.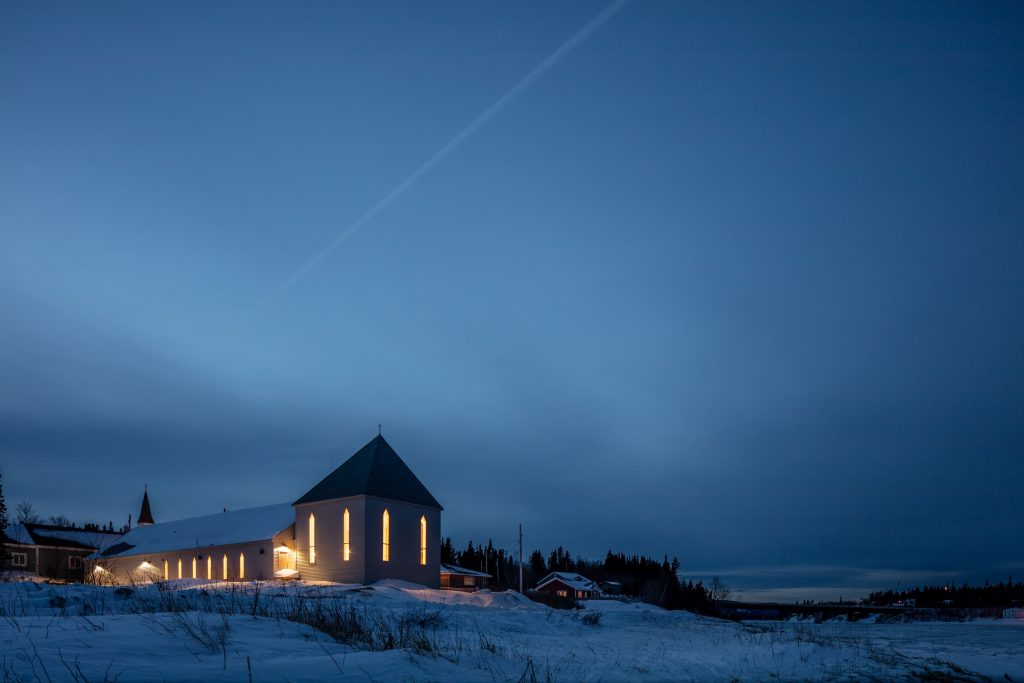 Woodford Sheppard Architecture is a design studio in St.John's, Newfoundland founded by Chris Woodford and Taryn Sheppard in 2013. Their projects are primarily based in Newfoundland and Labrador.
Photography: supplied