On a clear day at Palm Beach on the Gold Coast, the view is picture perfect – a fringe of white sand trailing off into the Pacific Ocean. When the weather turns, it can be lashing. Houses along these idyllic coastlines are often about balancing two contrasting ideas: an openness to the setting and protection from it.
At the northern end of Palm Beach, a large family home by Shane Denman Architects has replaced a decaying apartment block. The clients wanted a house of minimalist expression that gave them contact with the beach as part of daily life.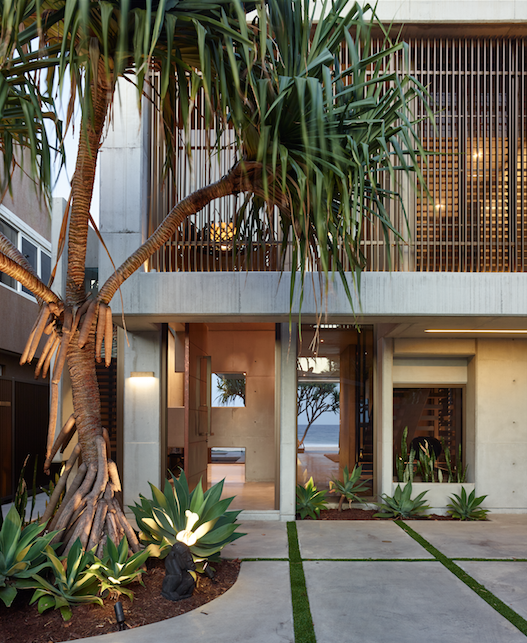 Denman designed a two-storey house in off-form concrete, left raw to express its structure, detailed with fixtures and fittings in a palette of dark woods and dirty metals (copper and bronze). His design exploits the plasticity of concrete powerfully. Opening the ground-level public rooms to the beach are three-by three-metre wide apertures with sliding glass doors stacked outside to deliver a seamless panoramic sweep. "The clients love the flow of spaces and views from front to back, and the unimpeded access to the terrace, lawn and beach," says Denman.
Three of the five upstairs bedrooms are cantilevered several metres out over the terrace. Along with the mature pandanus trees, relocated from the front of the site, these cantilevers help frame and filter the outlook. Inside are concrete kitchen benchtops and floating seats, all formed in situ. To express the construction process, form-holes are in-filled with clear polycarbonate plugs that animate the walls with specks of light.
The house, 2A Concrete, received the 2016 Queensland Regional Project of the Year from the Australian Institute of Architects, and Denman praised his contractor, Pase Building, for a complex project, well resolved. "I like the clarity of having the structure as the finished shell and not needing too much more in the way of materials. Its complexity is in the making, but simplicity when it's finished."
In Brisbane, architects Paul Owen and Michael Lineburg (Owen.Architecture) recently delivered a robust brick and concrete home for Queensland rugby star Darren Lockyer, his wife Loren and their three sons. Lockyer is the Queensland Government's ambassador for architecture, extolling the value of design at important public events such as Brisbane Open House.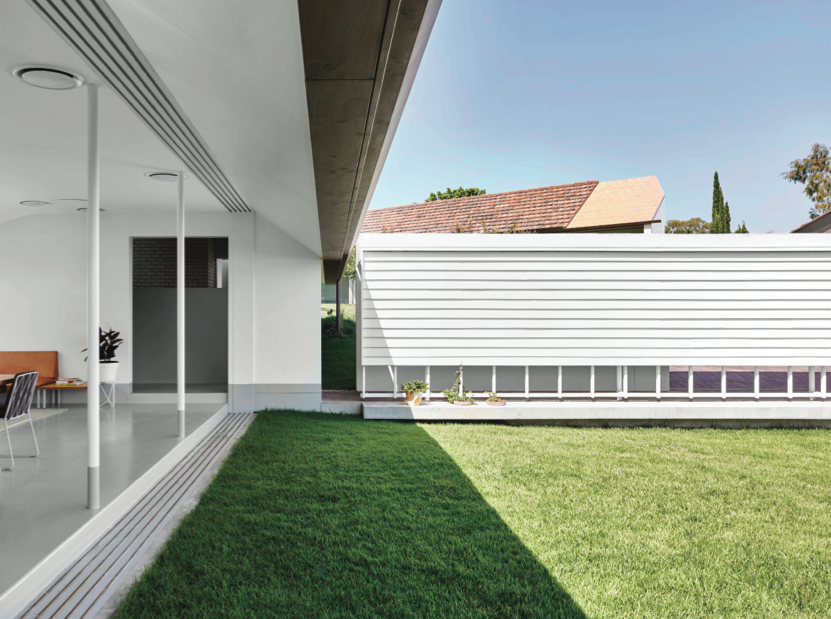 Owen rented the old house on the Lockyers' site for a year while drawing up its replacement. Rosalie House distills his 12 years of rethinking Queenslander cottages, of sculpting suburban terrain, of borrowing vistas and extracting beauty from ordinary materials.
The building envelope mirrors its trapezoidal site. Three wings contain the master suite, children's bedrooms and living pavilion – the latter built over an old tennis court. Owen likes to exaggerate eaves out over the window-line to screen out summer sun and allow all the doors to remain open in the rain. "It's basically like a clubhouse, in its construction," says Owen. Walls are rendered concrete block or common brick, roof tiles are recycled and floors throughout are concrete – not honed to a pristine finish, but painted warm grey in a semi-gloss by Dulux – a finish used for commercial kitchens and kindergartens. It's a wise choice for the corridor along the boys' bedrooms, which they use as a runway for their trikes.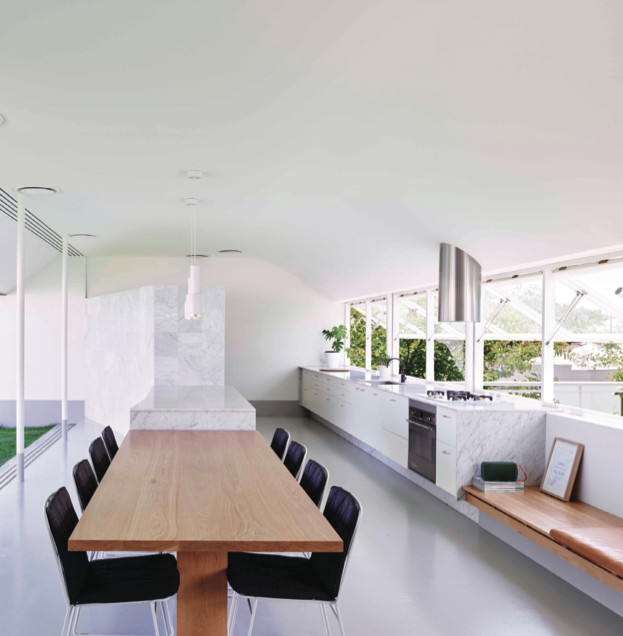 The site borders a busy local village and Owen worked with landscape architect Dan Young to achieve a clear agenda. "We didn't want an instant garden, but something to stitch the building into its public/private context over time." They divided the terrain around the house into four arenas: a 'meadow' of crepe myrtles between the two private wings, a 'playing field' north of the kitchen/dining area; a smaller south-east garden and a drying court off the laundry. Skirting the covered path from garage to house and flanking the field is a white-painted rough timber screen, its roof already in the grip of wandering ivy and moss.
Many architects (including Owen) use overt gestures to bring the outdoors in, but here he takes a subliminal step further. Throughout the house, the grey floor paint seeps up the walls in a datum ("like a floodline"), registering the gentle slope of the site. In the bedrooms, it's at skirting level and by the time you get into the public spaces it's over your head. "We wanted to draw attention to the ground plane, typically the most unexplored element of Queenslander cottages."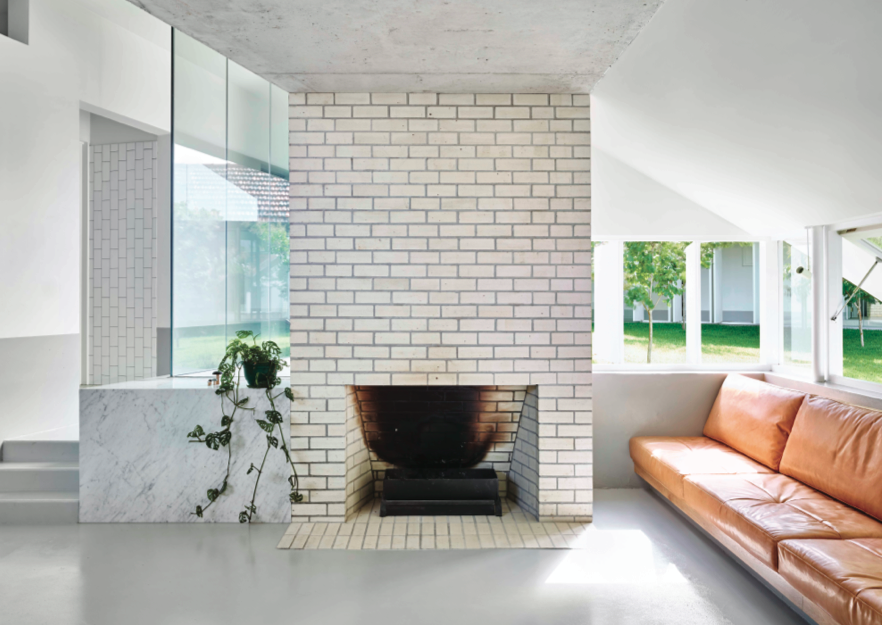 In terrain even less explored, a young Melbourne architect has staked a claim in Far North Queensland. It is 3000 kilometres almost due north from Footscray, Victoria to Wonga Beach, just up from the Daintree town of Mossman. Every year, Tim Sullivan (Sullivan and Charles) and his young family make the long journey north to escape the Melbourne winter and live briefly like nomads in Wonga Shack.
On a beachfront block, acquired 15 years ago, the Sullivans have a fold-up, lock-down shack, where they spend the school holidays fishing, swimming, dreaming. Like the fisherman's shanties once sprinkled across the nearby Great Barrier Reef islands, the humpie (as locals call it) is left for much of the year to brave the winds, heat and driving rain. But when the Sullivans arrive and unfold its floor and roof flaps, it's a glamping paradise.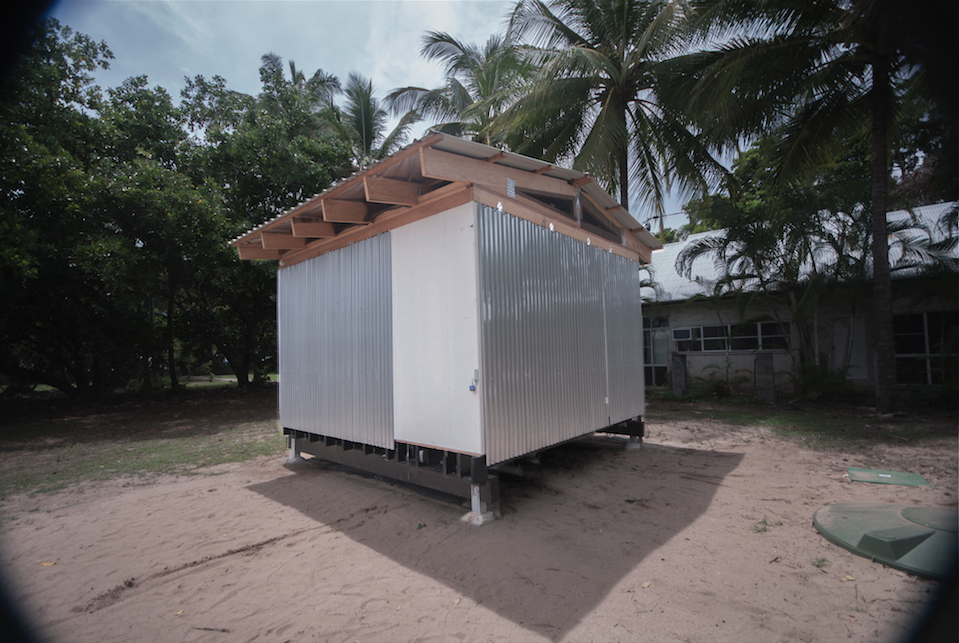 Onto a four-by four-metre footprint, Sullivan has squeezed a bedroom, kitchen, bathroom, toilet and laundry – the bare minimum required to call it a 'dwelling', because "it's illegal to camp on a vacant block of land, even if you own it!" he says. Each 'room module' is tucked into the core, using the outside space for access and circulation.
Materials are basic – fibre-cement sheeting and corrugated iron, with formerly kitchen cupboards. Parts were cut and the shack assembled in the Footscray workshop of a friend, architect/maker David Poulton. Kinks resolved, the whole kit was packed into a shipping container, sent by train to Cairns and trucked from there to be erected on-site with some help from local tradesmen.
The shipping container remains on site as cheap, indestructible storage. For extra sleeping space, Sullivan sourced an elaborate four-by eight-metre tent, similar to one he'd stayed in at Devi Garh, India.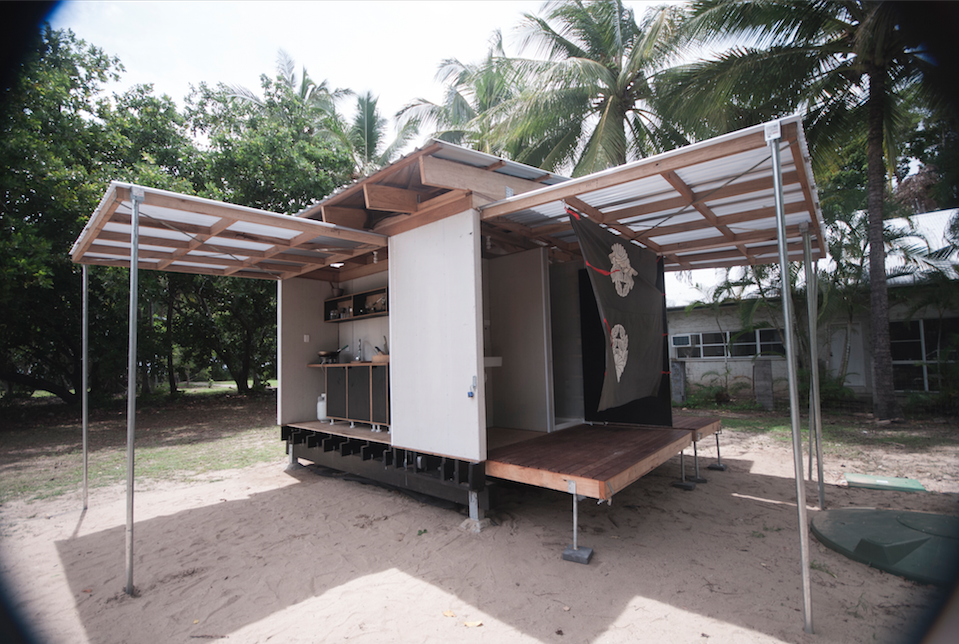 Raised on a platform, it's a semi-permanent fixture, carpeted with sisal and kilims. Each visit Sullivan adds something extra to the little shack: last winter he extended the kitchen deck.
A project like this is not just a quaint bespoke expression, but a touchstone. Working to a tight budget ($65,000 including a septic tank and tents), Sullivan proves how little we need to live a simple, nourishing life. "It's a tiny building, but the space it radiates is huge, because living, dining and cooking essentially happen outdoors. It's pretty exciting to arrive, open up the box and set up our temporary home."
Lead image, 2A Concrete House by Shane Denman Architects, photo by Scott Burrows.
Subscribe to MEZZANINE at shop.niche.com.au or digitally through Zinio.