Article by Online Editor
Photography by Nic Granleese, Jorge de Araujo
Designer
Architect Andrew Maynard Architects
An abridged version of this interview appeared in Architectural Review Asia Pacific #125: Architecture and the Arts
Full interview first published in Vagant 02/2012
What was the rationale for creating a mobile art space?
It originated at the Art Day South Studio in Dingley, run by Arts Access Victoria for artists with intellectual disabilities. Dingley is on the suburban edge of Melbourne, and the staff didn't like the fact that the artists are confined to the suburban edges when in fact they're doing really interesting artwork that deserves a wider audience, in the wider community. So they said, "Let's allow ourselves to be adaptable and to move around, to have a safe controlled space that will allow us to take this work to people."
 It's a very democratic space.
The brief called for flexibility – for a mobile art space that can also be a theatre space, a meeting place, a gallery, a workshop space. I called myself an 'editor' on this job rather than an architect, because, really, I interpreted a wad of drawings that the artists produced about what kind of space they'd like to work in. I was somewhat intimidated because I had to ask: "What is my role? Is it a conduit?" But on reflection, I'm really happy now because I've realised that is my role and it's a valuable one.
That idea of you as the 'editor' is very intriguing in that it runs in counterpoint to the traditional idea of the architect as top-down arbitrator of design.
Yes. The project's artistic director Rhian Hinkley put pictures of different caravans and things like that in front of the artists and said, "If you had something like this, what would it look like?" And from that, these amazing drawings came out, with lots of really punchy colour, lots of strong, hard lines. About four or five drew this gesture on the side of the caravan, like a canopy, which was great, because if you have these hard surfaces – this wall coming down to become a floor – and then, independent of that, you have a canopy coming down, that means you've got different levels and you can negotiate the edge of the structure.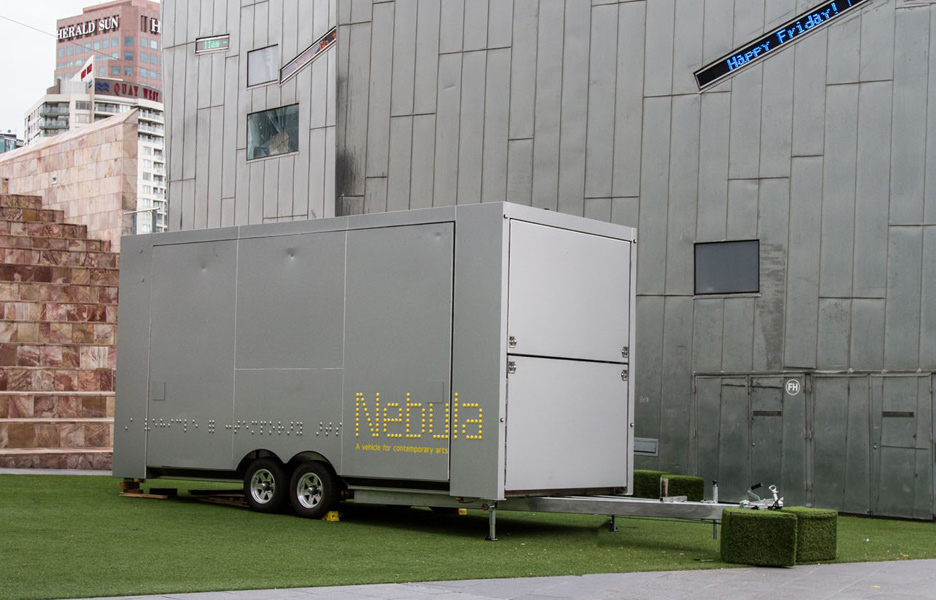 The discourse around disability and architecture is problematic. You never hear about architects designing for people with disabilities.
A lot of architects think of it as a limitation to creativity – I'm no different. But what we made very clear from the start is that we'd like to take the things we see as a constraint and try to subvert them, to turn them into an opportunity. Nebula's handrail, to allow disabled access, is an example of that: "Right. Well, if I have to put bloody handrails on it, it's going to serve a secondary function." So, instead of just hiding them underneath, we tethered them together to make a big 'bench top' for the artists to work on.
There was a nice irony in launching it at Federation Square, which has been criticised for being an inaccessible public space to people with disabilities.
Yes. The Art Day South people were aware of that. The location of the launch was partly a political act, as is the nature of, I think, all transient city space. But it's not a negative response. What they've engineered is something incredibly positive, and I love how it really subverts the idea of ownership of the space, and then the threshold of entry: who's invited into it and who's not. Since the launch we've had people asking if they could hire Nebula for other events but the answer is "no", because it's the artists' territory. If you're invited you can come in, but it's up to the artists to dictate that.
What they also want to do with Nebula is 'ambush' places. They want to go to public parks and set it up as a performance space: lift one edge of the space and do a performance. But also to set it up outside the football, where there are long lines of people waiting to get into the stadium. I reckon they should just lift the edges up and get people to walk through it on the way to the stadium, so that the lines of people actually participates with the project in creating an interesting public event.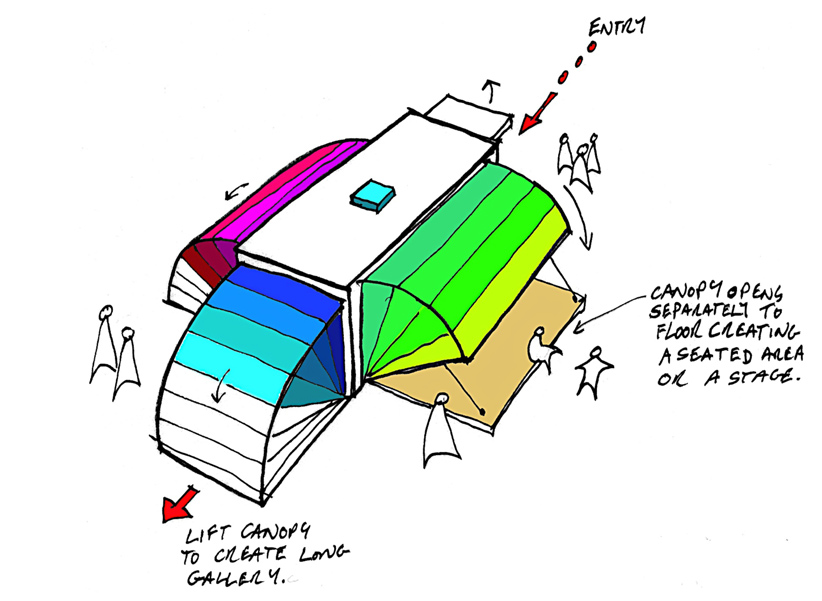 I agree that as a temporary space it's very interesting. When it was at Federation Square, kids passing by sat in its shadow and started playing spontaneously. It seemed to relax them and draw them into a new social interaction.
And then if you lift the edge of the canopy, suddenly they'd be able to sit on it without even thinking about it. Architects are notorious for saying "I meant to do that!", but it's great when you can allow for, and admit, unplanned events. I think most architects underestimate their political role, whether they intend to or not, but deep down I think even the most ruthless bastard of an architect has got this broader idea about their contribution to the city's spaces that other professions just don't have.
It's a hard paradigm shift for architects though, to think beyond the idea of designing 'the monument', and to think about transient space and objects and structures that won't be around in 20 or 30 years' time.
Yes, we architects really do have to get over ourselves, and to start to push ourselves beyond that idea of the form maker who creates the sculpture in space, as though that is actually some sort of generous gesture to the public. It's that old school idea of philanthropy: putting a sculpture at the end of an axis to make that public axis strong. Well, I mean, hang on – that's bullshit. Creating a nice little community space that's well connected with just a simple seat and a tree in it is probably far more inclusive than this idea of building a monument to the people. Talk about authoritarian – that's just Stalinist, isn't it?