The South Australian architecture practice's design of a new head office for Can:Do Group seeks to enrich the health and well-being of those using the space.
Following its partnership with Can:Do Group last year, Matthews Architects has provided a new head office for the charity – amalgamating staff and client requirements of Can:Do's previous Welland and North Adelaide offices into one purpose-built facility.
Proudly South Australia's oldest children's charity, Can:Do Group is committed to supporting the families of children who are sight and vision impaired or who have complex and diverse needs, such as development delay or Autism Spectrum Disorder.
The long-awaited head office will see administration and therapy coexist under one roof in a central and accessible location in Adelaide. 
Purpose-specific rooms
The head office spans 1330 square metres of floor space, encompassing four different therapy rooms, two group therapy rooms, an Assistive Technology Services suite and three audiology rooms with connected administration and observation rooms.
An open plan reception space aligns with the notion of therapy through play, and this approach – grounded in care and client freedom – is also noted in the indoor playpark area that has a therapy swing frame and generous views across Port Road.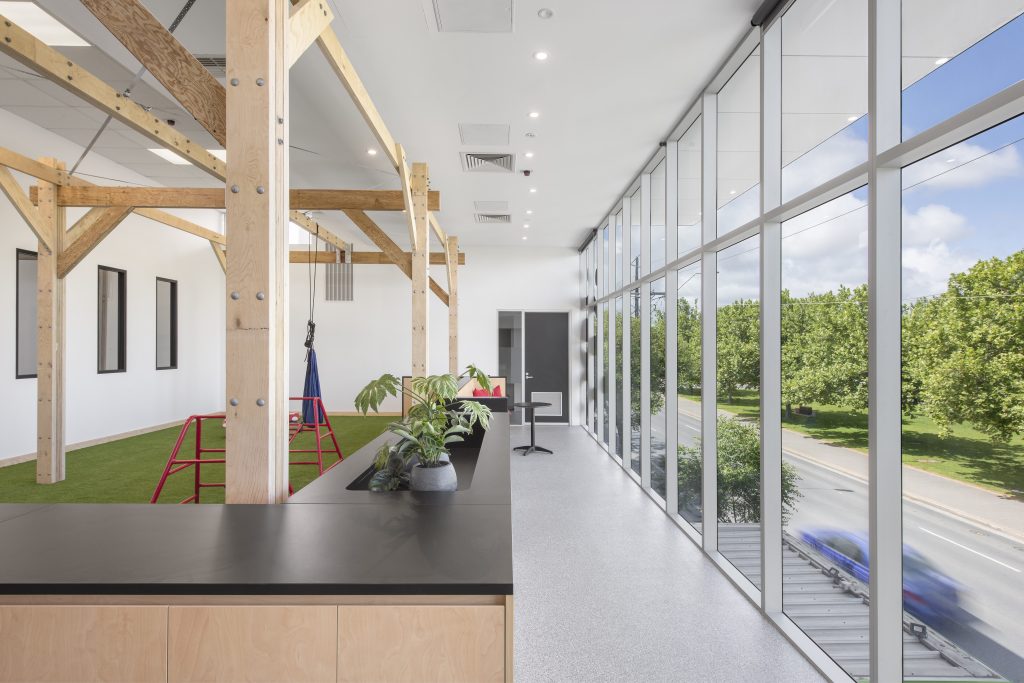 Two open plan office spaces, featuring five breakout and meeting rooms, two staff kitchens and an expansive ground level meeting room, provide a warm new home for the charity's administration sector. 
Inclusive design more than just following the brief
Designing for maximum inclusivity and accessibility is not merely professional standard, but part of the practice's staunch devotion to creating spaces that improve the emotional and physical well-being of those using them, says Matthews Architects' associate and senior architect Kerstin Bruneder.
Bruender explains that Matthews Architects strives to comprehend the unique needs and goals of its clients to guarantee that the design doesn't just consider, but also honours the diverse range of people who will inhabit the space.
"Inclusivity in design means going beyond mere compliance with accessibility standards – it's about fostering a sense of belonging and dignity for all," says Bruender.
The 45-year-old South Australian practice follows a process of engaging in meaningful and compassionate conversations with clients to ascertain their visions and objectives, before creating environments that are comforting, inviting and flexible. 
Aesthetics not sacrificed for functionality 
Not only did Matthews Architects conduct rigorous stakeholder consultation to cater towards the various therapy types and diverse needs within the space, the design also didn't skimp when it came to aesthetics, says Can:Do Group's chief executive Lester Wynne-Jones.
"The Matthews Architects team demonstrated professionalism and attention to detail in delivering excellence. They ensured every aspect was aesthetically pleasing, functional and efficient for our clients and team that we specifically care for," says Wynne-Jones.
Photography by David Sievers.
Read about Architectus delivering an educational asset to Tamworth, Central New South Wales.