The trans-Tasman design firm, known for designing buildings that provide a resounding positive impact, has revealed plans for the University of New England's (UNE) Tamworth Central project in central New South Wales. 
The Tamworth Central project involves designing the foundation building for the proposed campus on the existing Velodrome site on Peel Street in Tamworth's CBD – a project Architectus is thrilled to oversee as it is marked by a strong connection to community.
With other campuses in Armidale and Sydney, UNE envisages the Tamwoth campus operating as a highly adaptive learning space for students, staff and visitors alike – multi-functional and flexible spaces confirm the university's advocacy for future-focused and dynamic education.
UNE vice-chancellor and professor Chris Moran is excited for the delivery of an "inspiring" place conducive to student support and interaction with the community, that will also enrich the urban appeal of the campus.
"The designs presented by Architectus show how the building's spaces might flexibly adapt to the community's needs as the city grows and its education needs change," says Moran.
Connection to landscape and sustainably mindful design
Set to be achieved via co-designing with First Nations partner Yerrabingin and local community members, Architectus' design of the Tamworth Central project is an ode to the area's natural landscape.
Not only will the four-storey and 2000-square-metre building hopefully qualify for the coveted 5-star Green Star rating, the architectural gestures salute Tamworth's stunning natural landscape and contribute to a warm and inviting meeting and gathering space.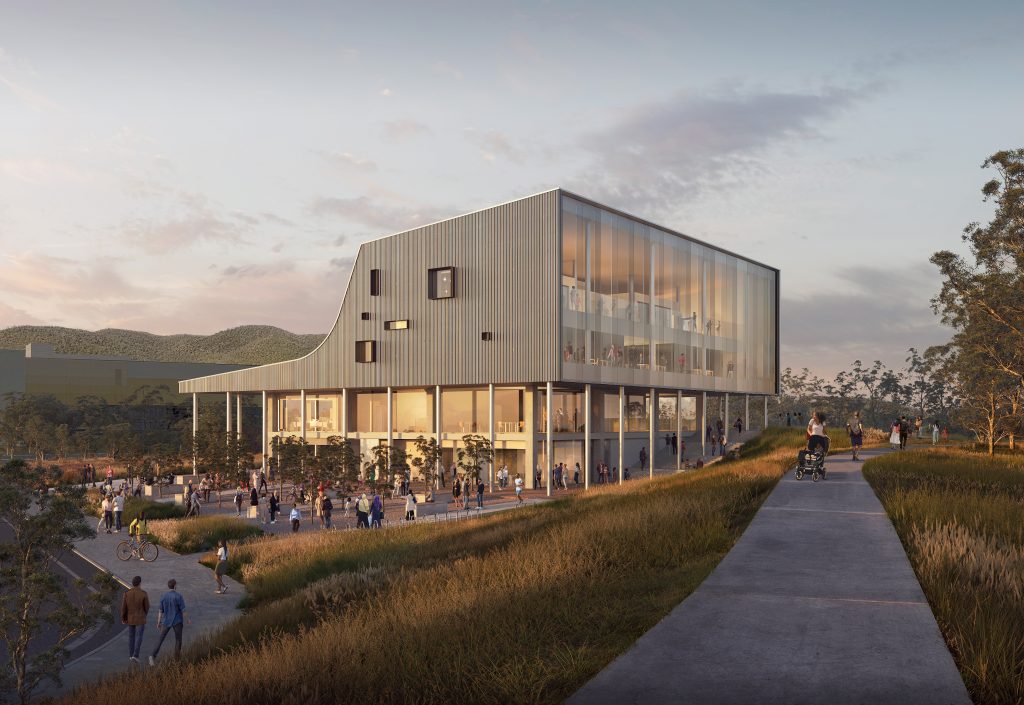 The building's form being situated to the south allows for the floodplain to be viewed from multiple areas. The arc of the building mirrors the adjacent mountains and bends in the river in addition to shading the building in harsh weather conditions.
Architectus selected materials that represent the aforementioned pattern and flow of the river and a wide range of endemic flora and fauna. Sustainable design practices will be met through an exterior cladding made up of recycled bricks, textured concrete, paved stonework and steel of a natural colour.
Users of the space will bask in the natural light that will spill through the south-facing curtain wall and foster connection to the outdoors.
Designing for equitable access and inclusivity
Architectus principal Karl Eckermann reiterates that the design was unequivocally community-focused – with this understanding of community encompassing First Nations peoples and future students, users and industries of the space.
"Our concept promotes student success, equitable access to learning, and an environment that is inclusive and welcoming," explains Eckermann.
The intended welcoming atmosphere of the building will render teaching, learning and leisure pleasurable experiences, alongside features such as a wide verandah wrapping around the perimeter acting as a thoroughfare space to filter light in and encourage socialisation.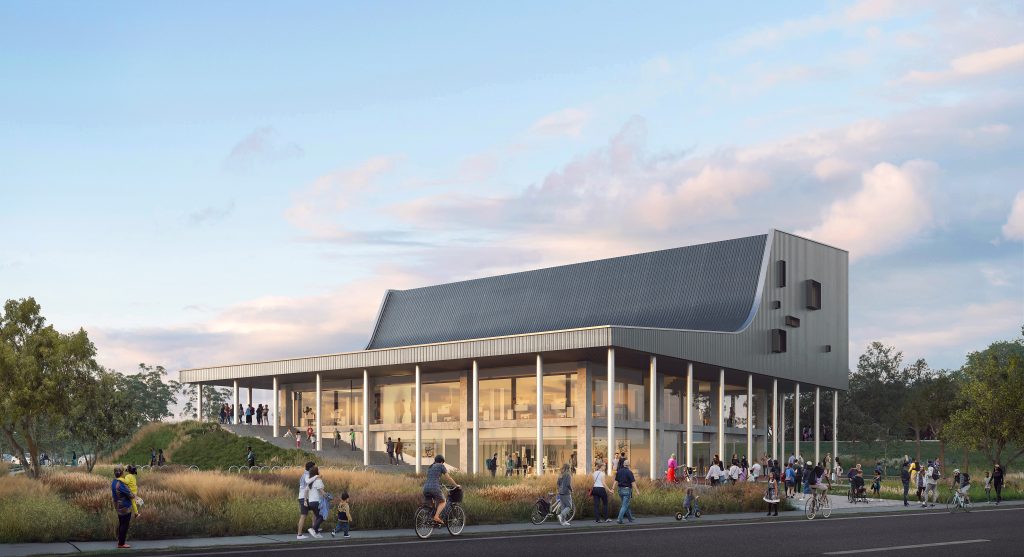 A journey of discovery and wonder
When arriving in the building, users are faced with a triple-height space complete with a sculptured interior ceiling that boasts similarities to volcanic ridges and rocks from the area's surrounding topography.
This journey throughout the space, akin to a walk or venture through a natural landscape, continues to reflect a focus on calming and flexible learning. Timber tones, stucco and corded carpet soften the interiors while still achieving vibrancy.
Additionally, curved pathways, ramps and plantings from interconnected landscaped spaces create opportunities for informal and formal outdoor learning.
A game-changer for Tamworth
Professor Moran emphasises that providing access to higher education in Tamworth is crucial and long-awaited – a belief also shared by member for Tamworth Kevin Anderson.
"We're seeing the realisation of a project our community has been dreaming about for a very long time – it's an educational and economic win and adds to the great lifestyle our region offers," concludes Anderson.
Renders supplied by Architectus.
Check out Hassell's design of the Research School of Physics at Canberra's ANU.