The Melbourne-based architecture and interior design studio has designed 38 Abermarle Street – an Australian first reimagination of a medium density build-to-rent – for Assemble, a Certified B Corporation build-to-rent developer.
38 Albermarle Street – a 'build-to-rent-to-own' (BTRTO) development – comes from the fruitful collaboration between Fieldwork and Assemble seeking to create socially vibrant, aesthetically pleasing and financially sustainable homes in Kensington, a suburb in Melbourne's inner north-west.
Not only did health and wellness occupy the forefront of Fieldwork's design philosophy for Albermarle, the 73-apartment development, comprising one-, two- and three-bedroom units, also coincides with Assemble completing the first step in its Futures' BTRTO plan.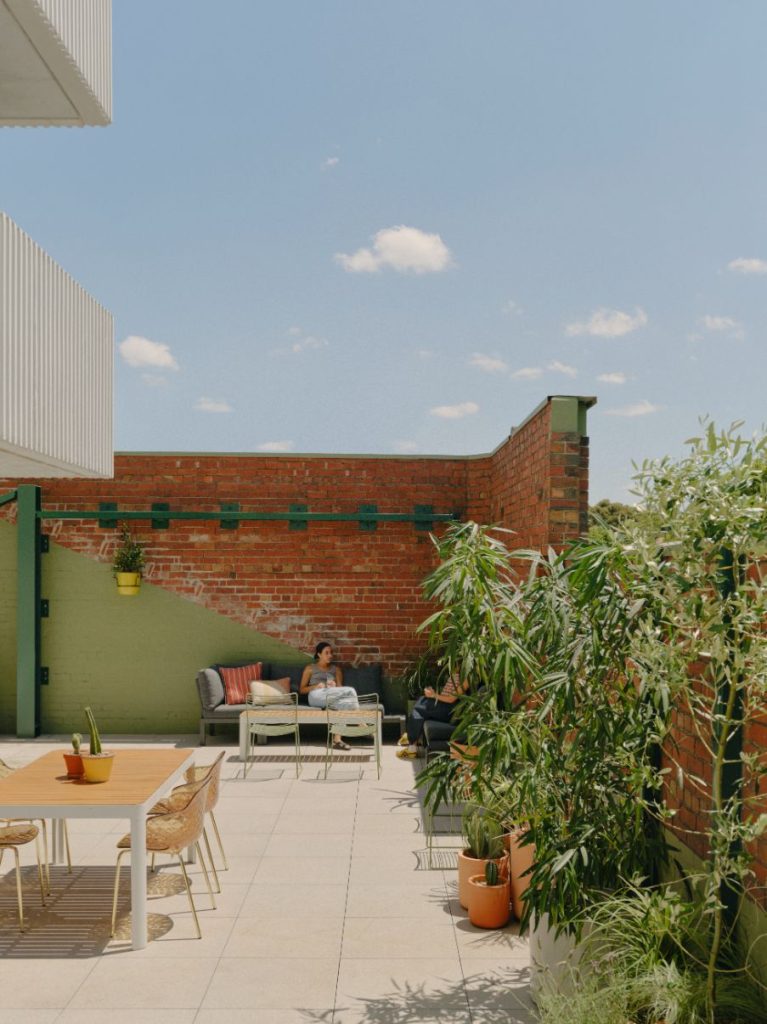 This new take on build-to-rent, spearheaded by Assemble, will see residents rent new apartments for up to five years before being afforded the opportunity to buy the property for a fixed price at the conclusion of the lease period.
The development also shines as an enriched medium density living space, offering residents opportunities for socialisation and engagement with neighbours, in addition to blurring the boundaries between the apartments and the urban streetscape and natural environment.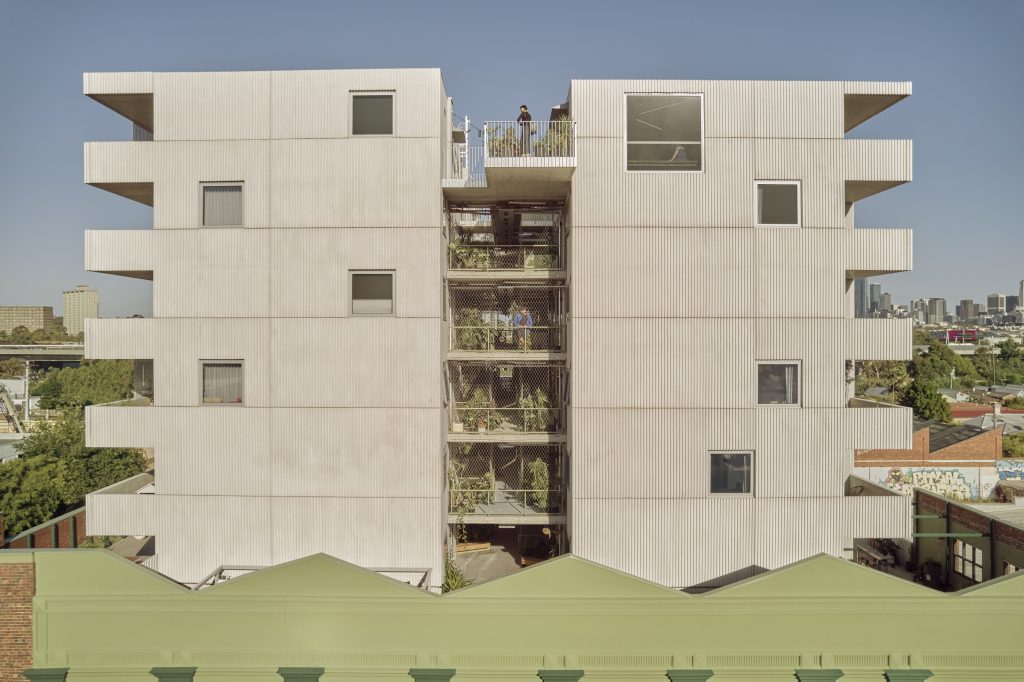 Honouring historical integrity through adaptation 
38 Abermarle boasts a rich structural history, as the existing building on the site is an early industrial structure – designed by Australian architect Harry A Norris – that had a past life as the former recording studio and CD and cassette factory, Dex Audio.
In honouring the structural history of this building, while still reworking the site to allow for its new role as a residential redevelopment, Fieldwork implemented interventions on the ground plane and prioritised forging a dialogue with the wider context of the neighbourhood.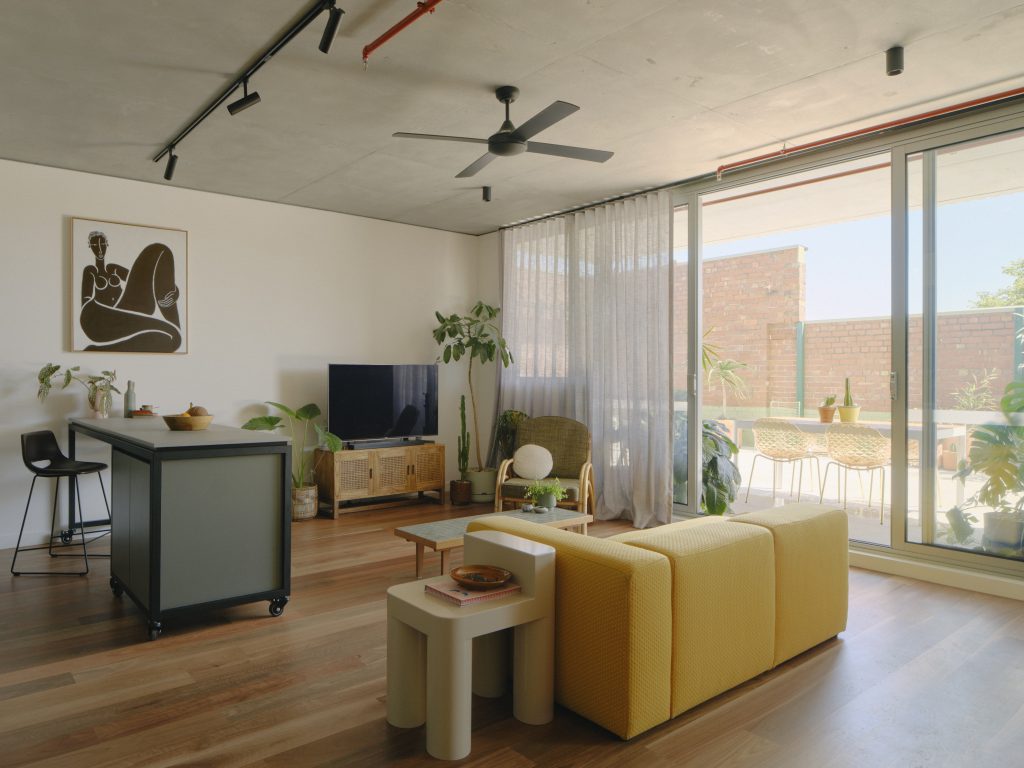 The development complements the front-facing red-brick Heritage building, as vertical, pre-cast concrete ribs accentuate the western façade and pay homage to the frieze and capitals of the Harry Norris building.
Additionally, a series of perforated and corrugated aluminium panels that correspond to the concrete are located to the north and offer light to hit the building in various ways throughout the day.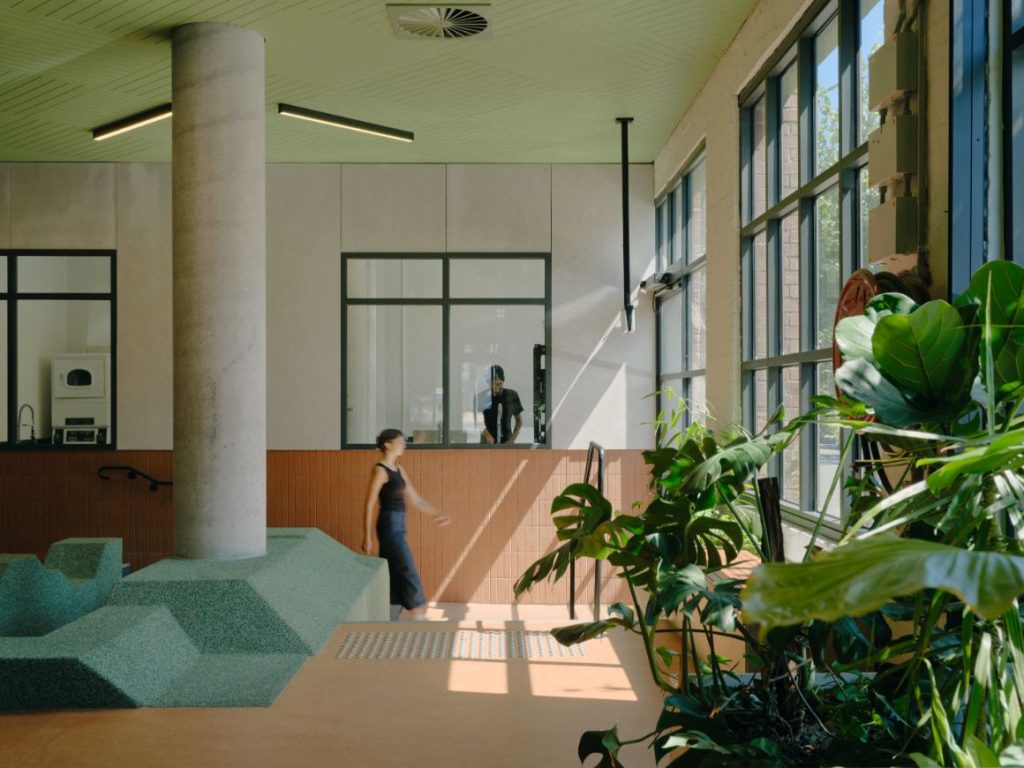 Fusing private and public spaces
Fieldwork derived inspiration for 38 Abermarle from the familiar circa 1950s, 60s and 70s walk-up apartments in Melbourne's inner suburbs.
The studio particularly appreciated the manner in which residents used the apartments' external circulation paths as a way of adding a personal touch, lining them with pot plants, bicycles and outdoor furniture.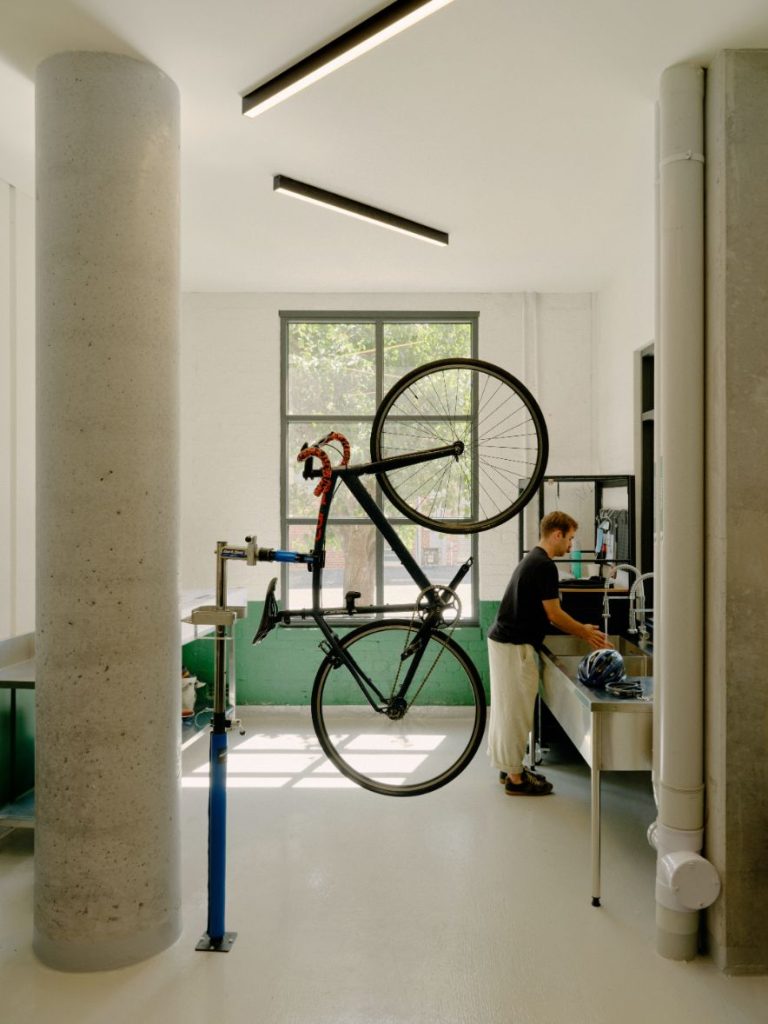 Fieldwork co-director Quino Holland emphasises how this example of self-expression via landscape design is unique to external circulation paths.
"These spaces serve as an informal extension to the living areas and make for a nice transition between public and private," says Holland.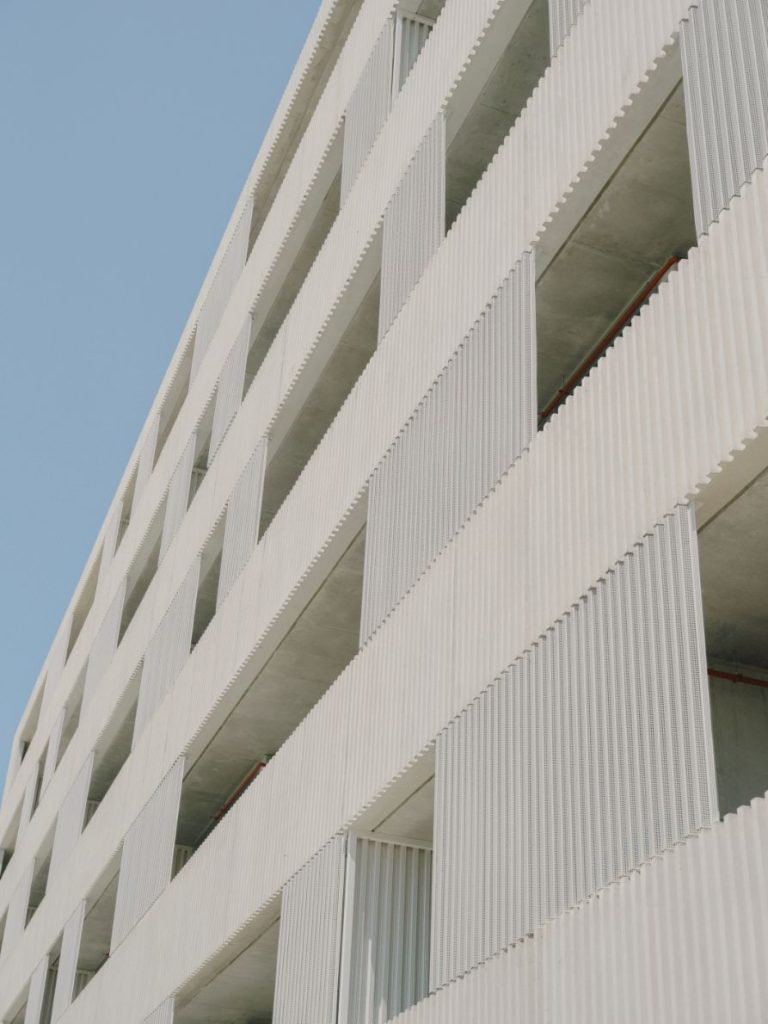 Design informed by spatial philosophy 
38 Albermarle is strategically divided into two towers that are connected via an external breezeway that Holland refers to as a "connective tissue".
A landscaped void, semi-circular in shape, connects each level, a feature that emerged as an artistic response to the site necessitating tower crane access.
Also, a bridged verandah connects each apartment to the breezeway and fulfils the aforementioned goal of external circulation paths providing a canvas for residents to personalise the space.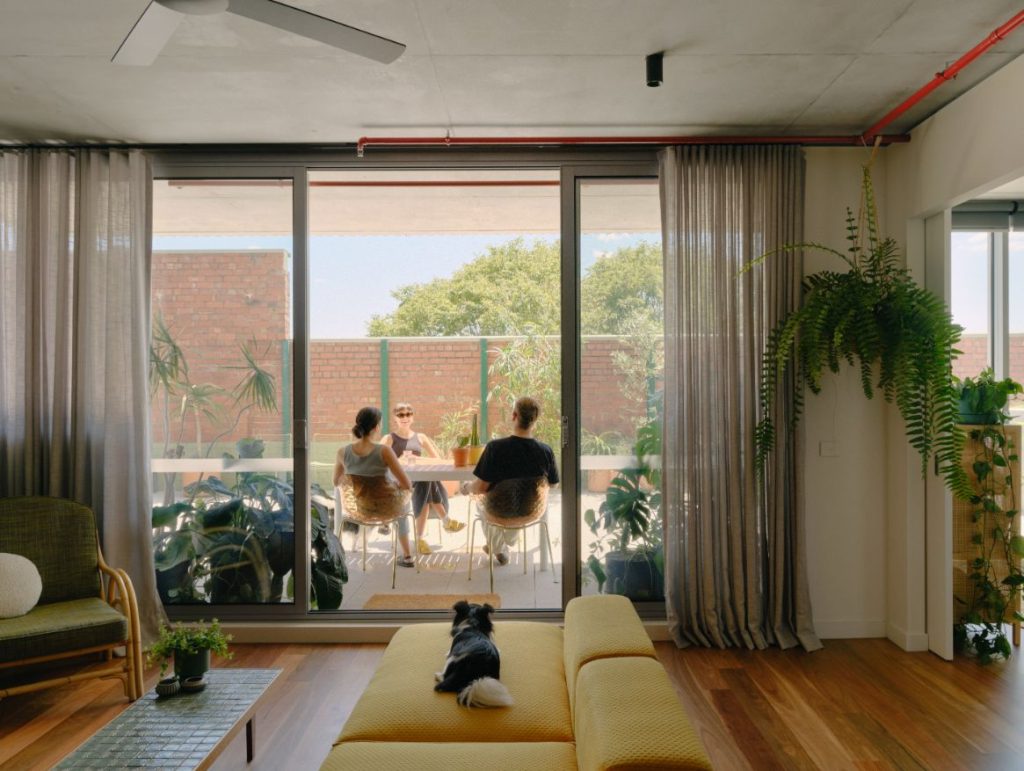 Shattering expectations of apartment living 
Fieldwork was also eager for the development to overcome the obstacles of tight, squalid and inflexible apartment living and ensure the space was conducive to pets, children and a rich resident demographic.
Pet doors can be easily installed owing to the non-glazed fixed panels in all apartments, and a washing bag on the first floor is dedicated exclusively to bathing pets.
Moreover, marmoleum floors in communal spaces are guaranteed to endure wear and tear from children and pets. Residents will find secure pram parking and play areas across multiple locations and 140 bike spaces.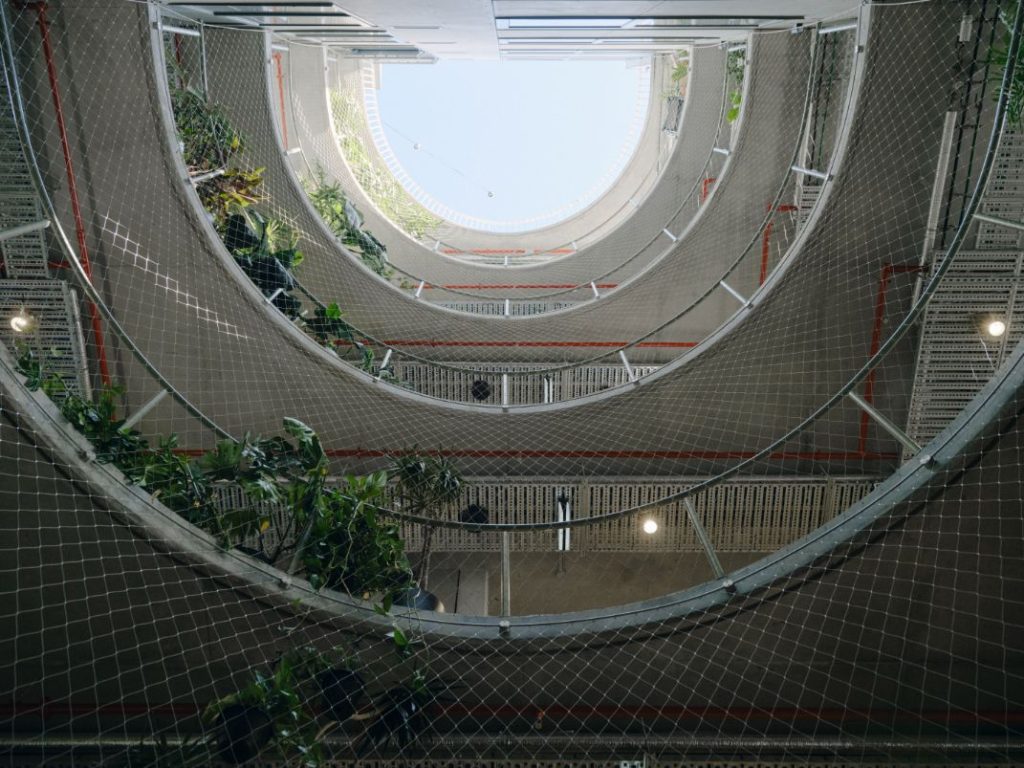 Car bays – designed by Fieldwork to be retrofitted in the future if car ownership decreases – are also communally owned and rented from Assemble.
Residents will relish the laundrette, parcel room and lending library on the ground floor. This floor also plays host to a multipurpose communal workshop, complete with a bike repair station, workbench, tools and industrial sinks to cater for DIY undertakings, creative projects and repairs.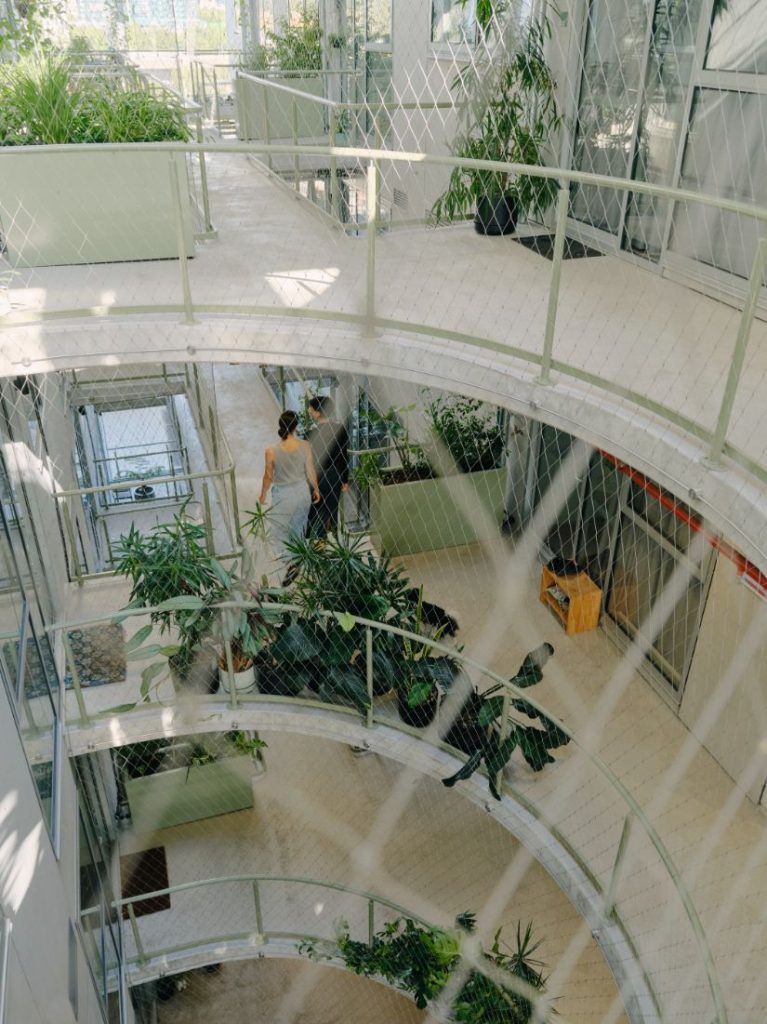 Cassette, a hospitality space on the ground floor, the name of which salutes the building's past life, encourages resident socialisation generally uncommon to apartment living. It was designed by Six Degrees Architects and is operated by Assemble's neighbourhood team.
Emphasis on communal living 
Fieldwork project architect Briony Massie says the 38 Albermarle project encouraged the studio to experiment with unlocking the power of communal spaces.
A communal room on the top floor of Albermarle, dubbed a 'multipurpose scout hall' by the team, contains a kitchen, bathroom and outdoor barbecue, and is free for residents to use.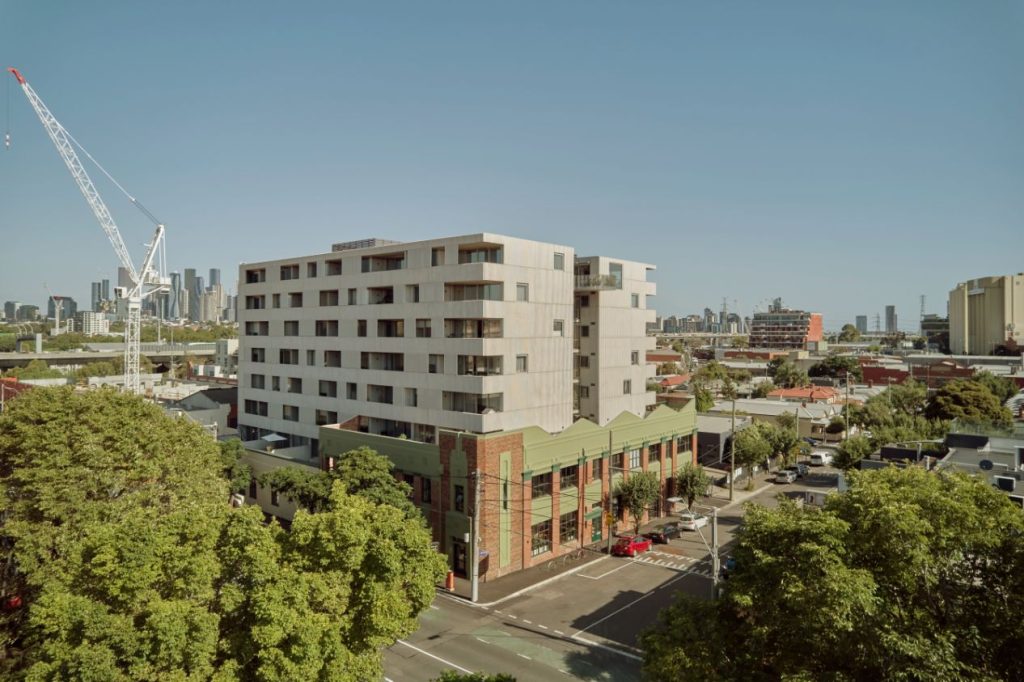 Fieldwork hopes the room will be used for yoga sessions, celebratory gatherings, dinners and movie nights, again demonstrating how 'small design moves' in communal spaces elevate the amenity and liveability of the building.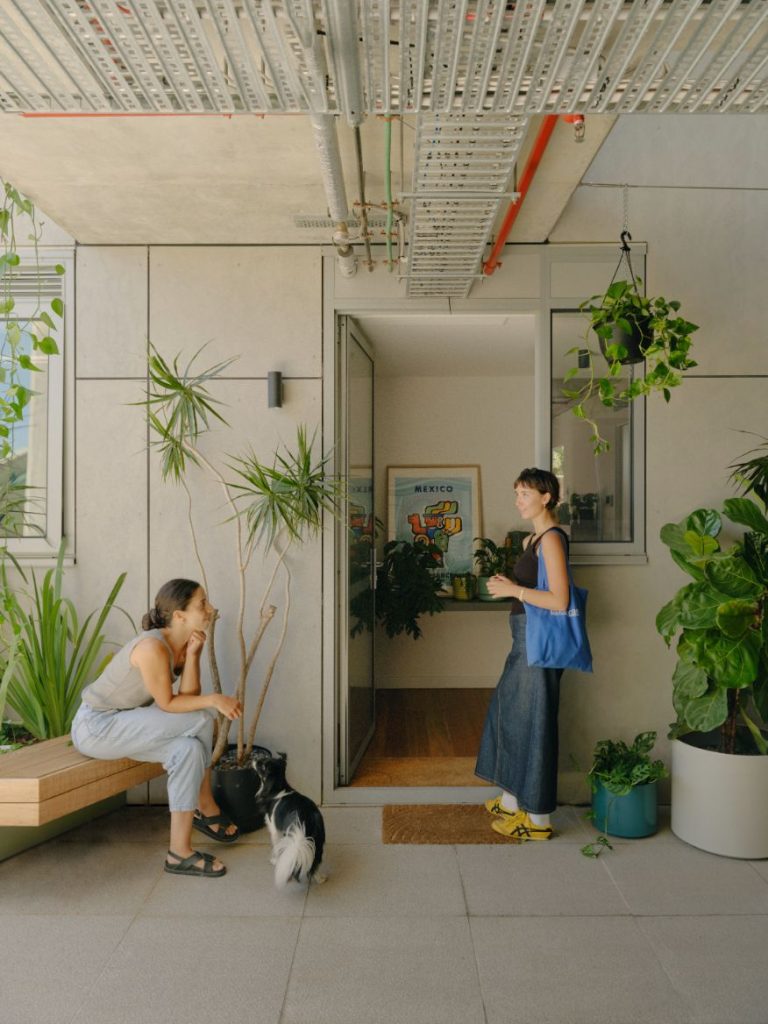 "The design of 38 Albermarle Street has a feeling of community and liveability, and is the first in a series of communities that will create a real impact in improving fair housing options," says Assemble managing director Kris Daff.
Ease of location and environmental footprint 
Located in close proximity to public transport links, schools, healthcare facilities and shopping precincts, 38 Abermarle also satisfies sustainability principles.
The northern apartments' shaded private terraces allow for passive solar control, in addition to the thermally broken glazing frames earning the build a 7 NatHERS (Nationwide House Energy Rating Scheme) rating and the durable materials, lack of natural gas, cross-ventilation and rooftop solar panels contributing to impressive building performance.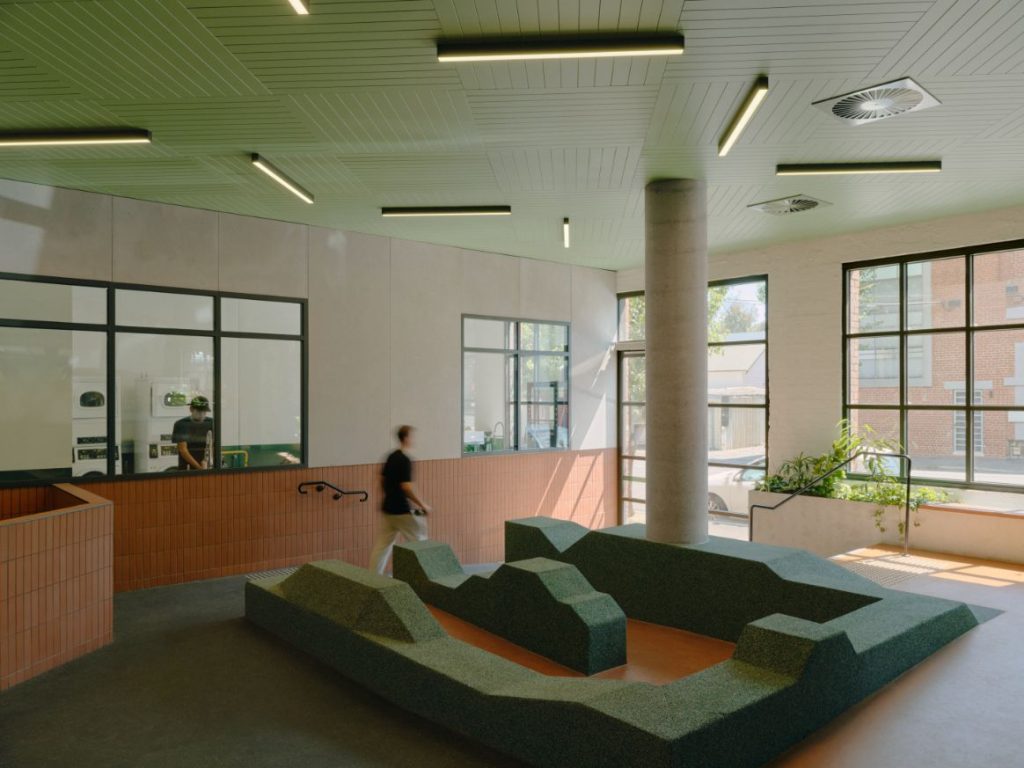 38 Albermarle Street exemplifies how design has the power to transform lives and enable people to live with dignity and optimism, even in apartments. Assemble anticipates its BTRTO housing model will galvanise a new phase in Australian affordable and liveable housing into action.
Photography by Tom Ross.
Check out how design has the power to increase health and wellness, with William Smart.