Earlier this month, leaders in hormetic therapy, Found—Space, launched their Nu-A Collection, a revolutionary range of state-of-the-art saunas.
Melbourne designed, the Nu-A Collection combines exquisite design with superior functionality. This is the second product in the new wellness ecosystem, having already launched the Found—Space Ice Bath, the range allows the user to control the tech from a single patented app, setting themselves apart as first-of-its-kind.
This innovative technology is designed to seamlessly work with iOS devices and enables users to easily modify settings and preferences using their smartphones.
It also allows for remote activation even when away from the home, providing a convenient and user-friendly experience for fitness enthusiasts returning from the gym or workers seeking post-office relaxation. Additionally, a new touch screen has been installed in the sauna for easy control.
To further enhance user convenience, the innovative app utilises an algorithm to calculate and display the heat-up time, sending a push notification to the user's smartphone when the sauna reaches the desired temperature to indicate that it's ready for use. This intelligent automation allows individuals to incorporate the sauna experience into their daily routines without any hassle, guesswork or wait-times.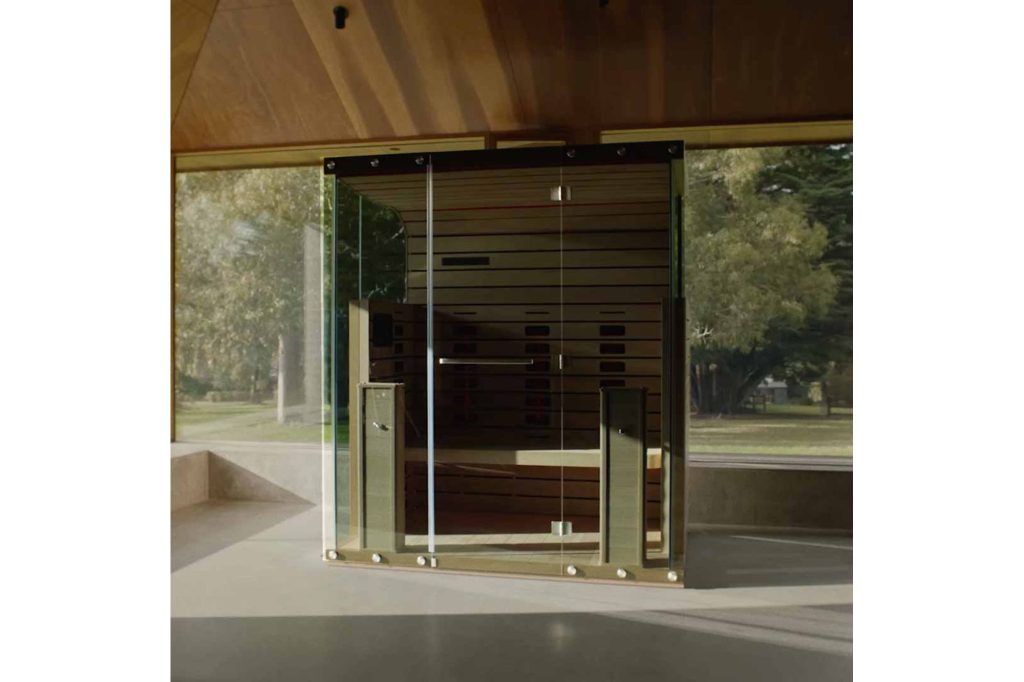 Moreover, the Nu-A Collection offers a range of pre-programmed sessions, meticulously designed for specific health outcomes. For those seeking a good night's sleep, they can simply choose the sleep session, and the sauna will automatically configure all settings for optimal relaxation and sleep enhancement. Similarly, other pre-set sessions cater to stress relief, post-workout recovery, and general well-being, making it easier than ever to enjoy the benefits of hormetic therapy.
Topping it off, the system allows users to play their favourite music whilst indulging in the sauna's therapeutic heat. "With the launch of the Nu-A Collection, we are excited to offer a transformative sauna experience that combines exceptional craftsmanship, advanced technology, and unparalleled comfort," said Found—Space founder Alex Tyson.
The Nu-A Collection utilises Sentiotec Infrared heaters designed in Austria and exclusive to Found—Space Saunas in ANZ, and light colour therapy where the heaters provide optimal heat distribution, delivering a deeper and more invigorating session.
Australian Design Review sat down with Space Founder Alex Tyson to discuss the concept behind the design, and the goal of Found Space to revolutionise the wellbeing industry.
ADR: What was the thought process behind this concept, and the design concept behind Found Space flagship store?
AT: The brand was created to help people achieve higher levels of health with powerful health products and education. The design concept of the store needed to be spacious. It needed to be clean and it needed to incorporate fine quality materials; nice textures, clean lines, subtle lighting. 
These design ideas talk to the type of design in Found—Space products. We wanted people to get a sense of the quality of what we do at Found—Space simply by walking in the store. And I think we've achieved that.
Could you please talk about the design and functionality elements of the 3 products? NU-A, Outdoor barrel and Ice bath? What makes the design unique, the functionality aspects and of course the benefits?
AT: The health benefits of sauna and Ice bath are being written deeper in stone each day. The reasons these two products are so powerful is because they activate a process called hormesis in the body. 
Hormetic stress is what happens when we exercise, and it also happens when we go into extreme hot or cold environments. Hormesis has been shown to reduce inflammatory markers, increase brain derived neurotrophic factor, promote better heart health and much more. One study showed that regular sauna users are 22% less likely to experience sudden cardiac death. Article here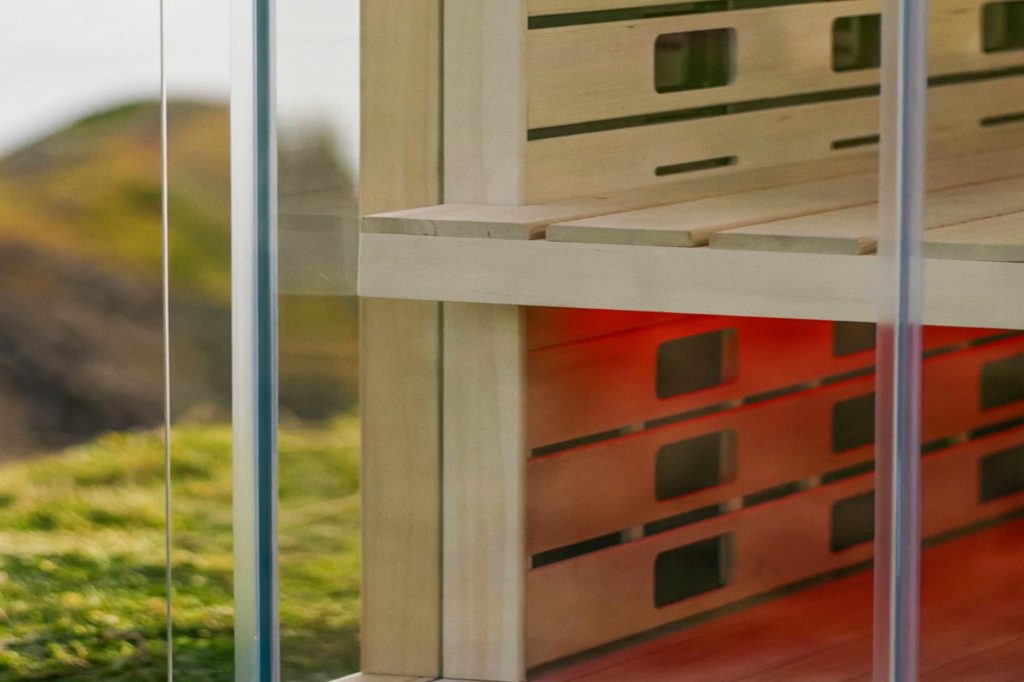 The Nu-a sauna and Ice bath we have created now sit in a digital ecosystem where you can control both from products on your phone using the Found—Space app. Traditionally you have to preheat your sauna and choose all your settings which can take 30 – 60 minutes to heat – not anymore.
Now you can activate and warm your sauna from your phone before you need it. In today's busy world when all we want is some space to breathe and slow down, this convenience, and a warm sauna ready for you when you arrive home is priceless.
Who came up with each of the designs and what was the inspiration for each?
AT:  The designs started out as a sketch on my notepad! At Found—Space we regularly ask 'how can we make it better?' So we started with some daring design elements like a much larger cabin and a roof suspended by glass on three sides. Initially we weren't even sure if a large roof could be supported by glass only. 
Nor were we sure if we could heat such a hot room made mostly of glass. But we have engineered an infrared sauna which is hotter than other infrared saunas by 10-25%, whilst still being mostly glass.
Both Nu-a and Ice bath come from similar design styles. Straight lines, beautiful timber, lots of stainless steel and glass. Both using timber which draws inspiration from traditional Finnish sauna and American hot tubs and then taking these designs to new levels with lots of glass in the nu-a and the straight, clean lines on the ice bath.
What are the materials used for the 3 designs? And how do they add to the benefit of each machine?
On Nu-a we use Canadian hemlock timber, Laminated glass and 306 stainless steel fixtures, the kind you see on buildings to support external glass. Laminated glass hasn't been used in saunas before.
Ice baths are similar materials, only use 316 stainless for even better cleanliness due to the water element and we use Japanese Cedar which endures really well outside. We also use Japanese Cedar in our barrel sauna.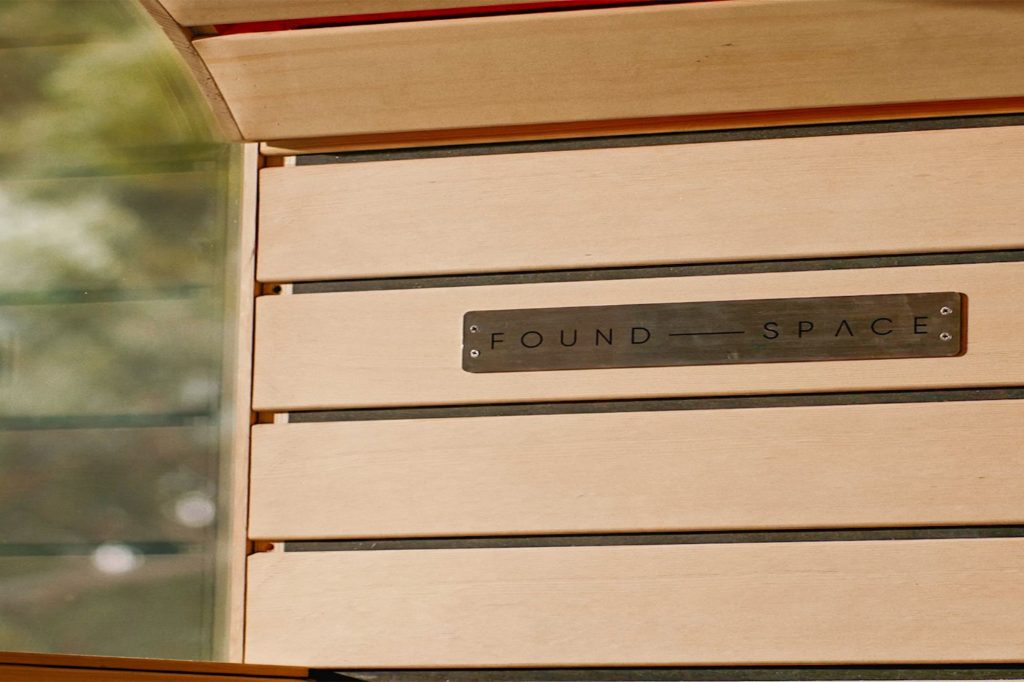 How did you combine the functionality of technology with the design concept?
AT: With a lot of good engineering. It was hard to create a sauna that looked good whilst still keeping the core sauna elements such as the feeling of timber in your hands and a really hot room. 
What is the ultimate goal for Found Space?
AT: The ultimate Goal for found space is to see an increased uptake in people making space inside or outside their homes for saunas and ice baths. Our brand was born out of a desire to inspire people to live healthier. These products provide such powerful health benefits, and we see a world where chronic pain, poor sleep and chronic illness are on the decline and preventative health is on the increase due to more people using products like this.
Photography supplied by Found – Space.
Find out more about designing spaces for transformative research in honour of National Science Week.