The Melbourne-based practice has completed the fitout for Casa Victoria, an ode to quietness, calm and the Central American notion of building with raw materials and timbers.
Splinter Society, fronted by husband and wife duo Chris Stanley and Asha Nicholas, are well-versed in inner-city renovations, so they willingly and gladly rolled up their sleeves to tackle Casa Victoria, a heritage worker's cottage in Richmond.
Stanley speaks of the constant joys and surprises of not only leading a small office of eight designers mainly working in the residential, hospitality, tourism and educational spheres, but also remaining open and flexible to any project that comes their way.
"We've got a really broad group of typologies and client base that we work with – we don't really have a 'typical' project, as such," says Stanley.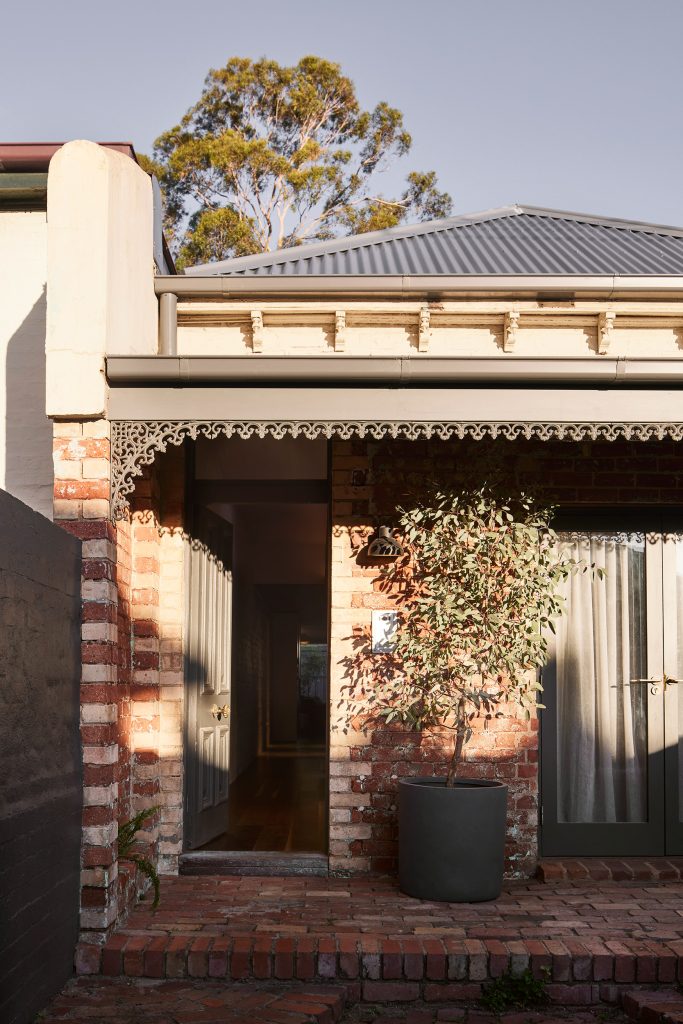 Meeting of two aesthetics
The owners of Casa Victoria, who have Mexican heritage, were drawn to the history and memory embedded within the worker's cottage. However, they were determined to infuse their home with abstract Mexican urban ideas and ensure the space was conducive to the organised chaos of a growing family.
"That's why we called it Casa Victoria, because it's a Victorian terrace with Central American ideas permeating it. But the idea wasn't to make it feel too much of one or the other, but to pick elements from them both and try and extrapolate from there," says Stanley.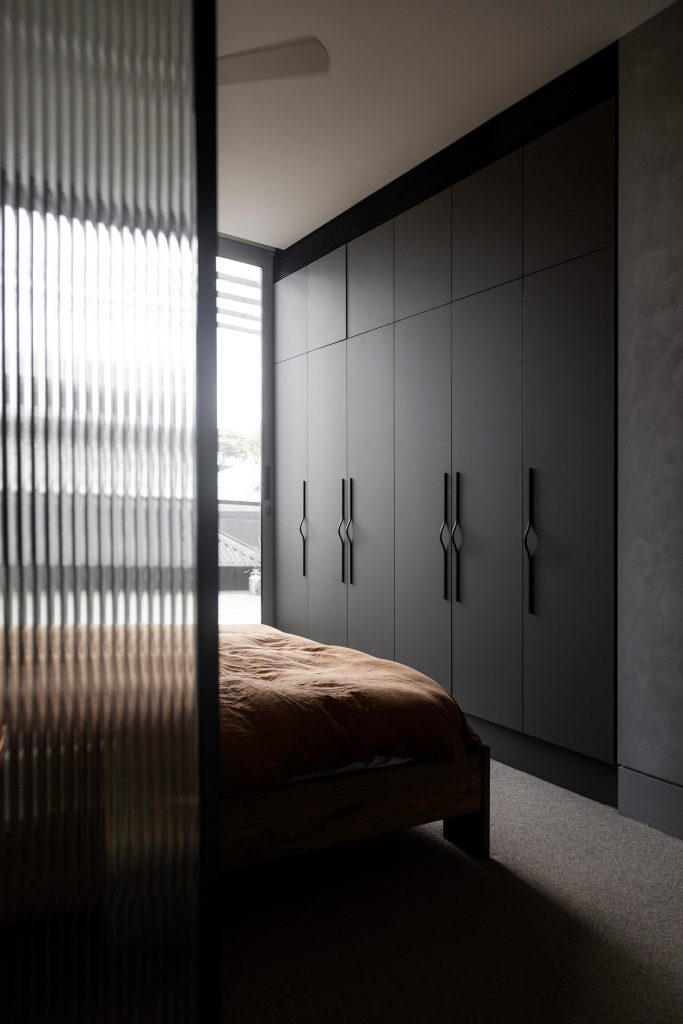 This meeting of two aesthetics is initially evident in pairing textured Adobe walls reminiscent of a Mexican courtyard home with local Australian timbers.
The owners desired for the dwelling to offer respite and relief even when situated in a bustling and sprawling inner-city area.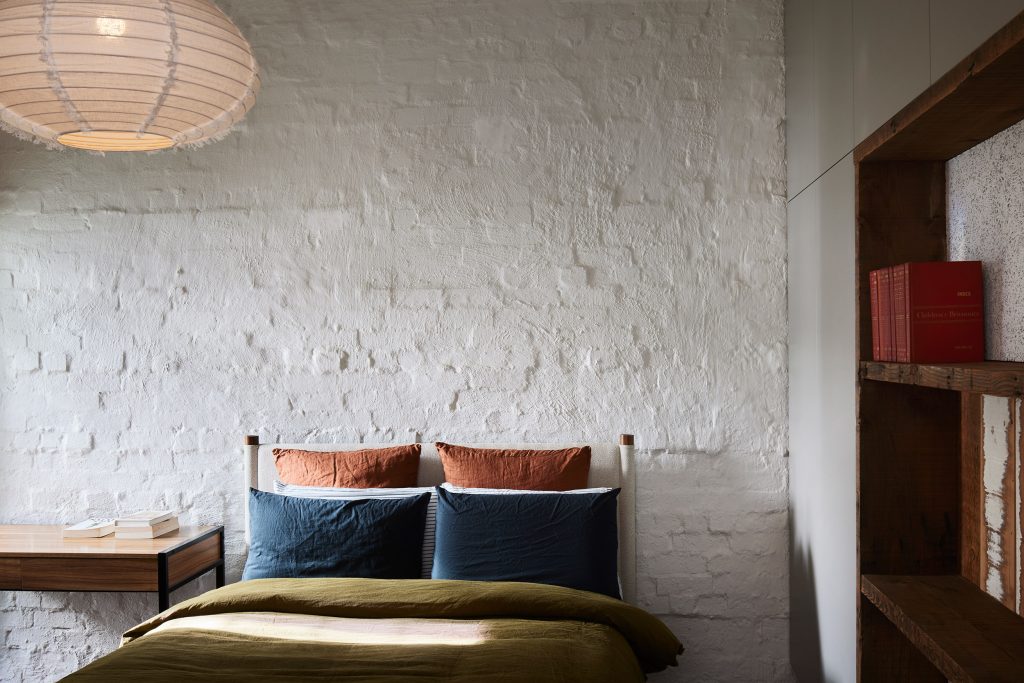 The design therefore reflects a strong consideration for creating privacy and intimacy, while still allowing natural light to spill through into a house that is poorly oriented and victim to Richmond's typically narrow blocks.
Stanley explains how although the property offers comfort and warmth, the interiors are characterised by a textural moodiness, drawing on architectural gestures that are routinely used to bestow a sense of sexiness and excitement into hospitality venues, such as top lighting, mirrors, timber and steel.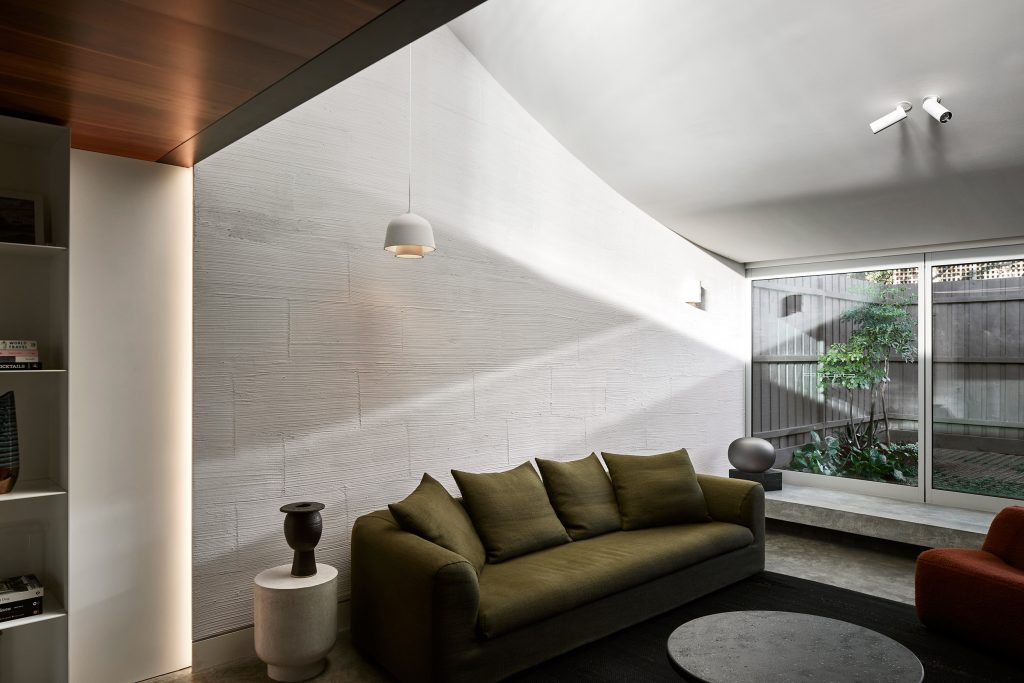 Embracing the limitations of space
Stanley recalls the obstacle all-too-familiar to designers working with tight inner-city dwellings – the limited space inevitably dictated how the team approached the rebuild of the 4.5-metre-wide block.
"The house has a very dramatic concave and double-storey scooped ceiling that starts very low at the back and then scoops up over the new second-level mezzanine to the upstairs master bedroom and ensuite," says Stanley.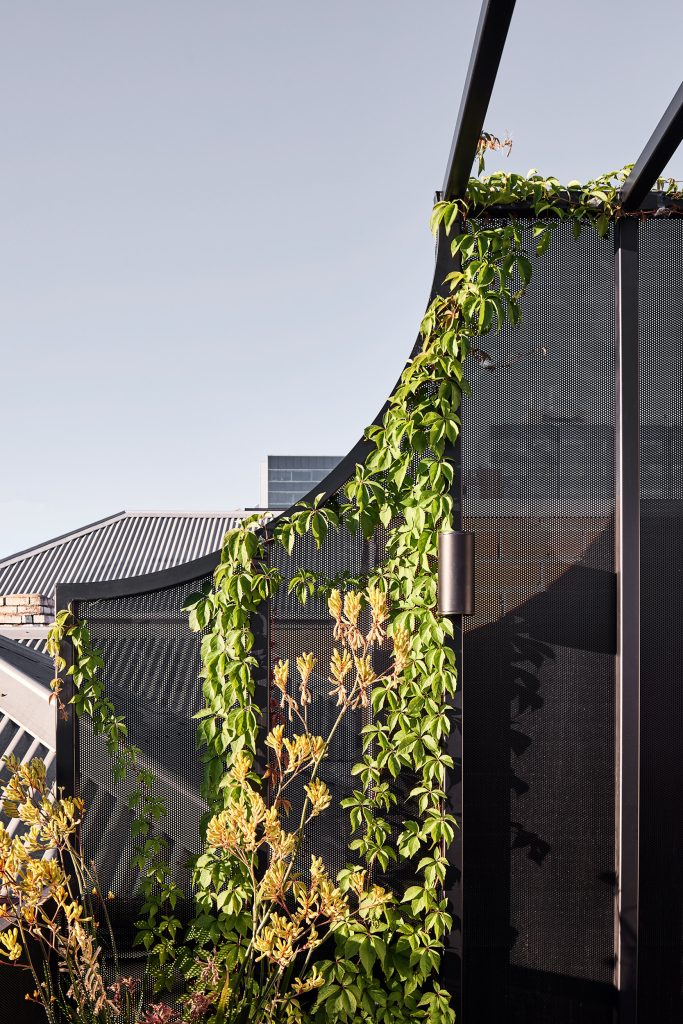 Yet, Stanley says the real skill lies within designing a house that does not reflect an obvious adherence to a planning scheme governed by the limitations of space.
The team installed a new curving roofline to allow north-westerly light to pour into the house, and achieved the aforementioned effect of juxtaposing the moody and sleek interiors of the house against a feeling of warmth and comfort generated by sunlight.
Celebrating the history of the cottage
Prior to restoration the cottage had an elegant external facade, yet poor internal detailing, scrappily built all-brick rendered walls, basic skirting and an absence of cornices and plaster. There was a 1970s add-on located at the rear of the property, but the team chose to remove it due to its lack of worth.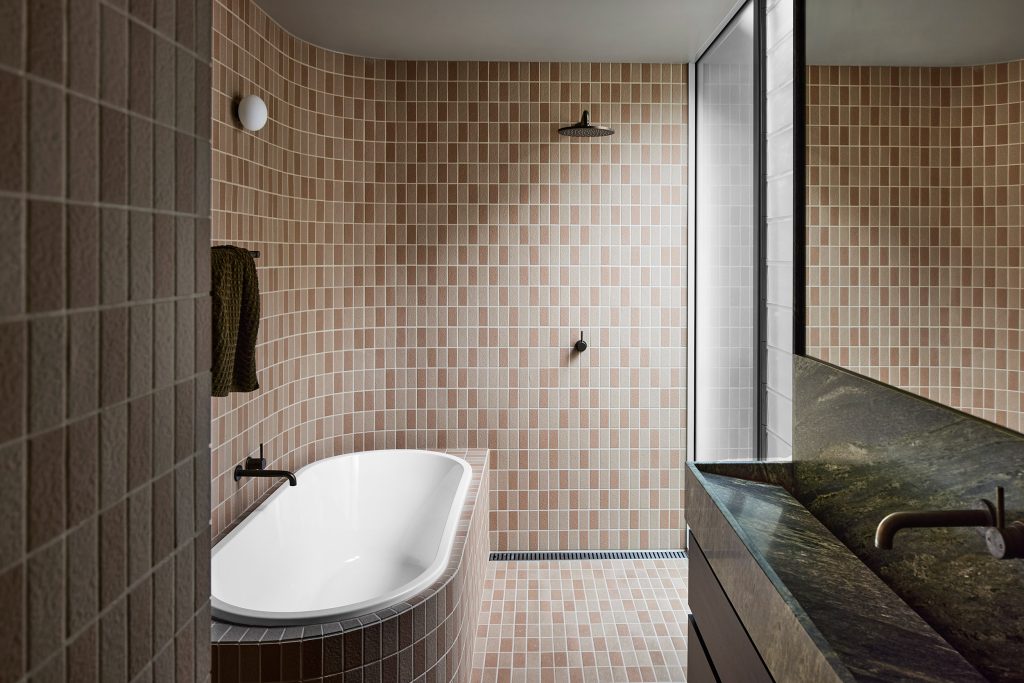 The scant detailing emerged as almost a blessing in disguise, as the team rejected the conventional route during restoration to hero the Victorian façade detail. They instead committed to delivering the intended Mexican Adobe aesthetic by proudly displaying the texture and stone of the Victorian masonry work and pursuing design choices that guaranteed natural light exposure.
"Our response to the heritage of the property was to celebrate that it was a very poor workers' cottage and not to play up the elegant Victorian details," says Stanley.
Increasing the performance of the house
Casa Victoria was undoubtedly a sustainable build from the get-go, as restoration projects use less embodied energy than a new build. The team was driven to maximise the performance of the property via base-level sustainability principles such as double-glazing, cross ventilation – drawing on the curved ceiling to ensure natural light and solar gain – and stacking effects.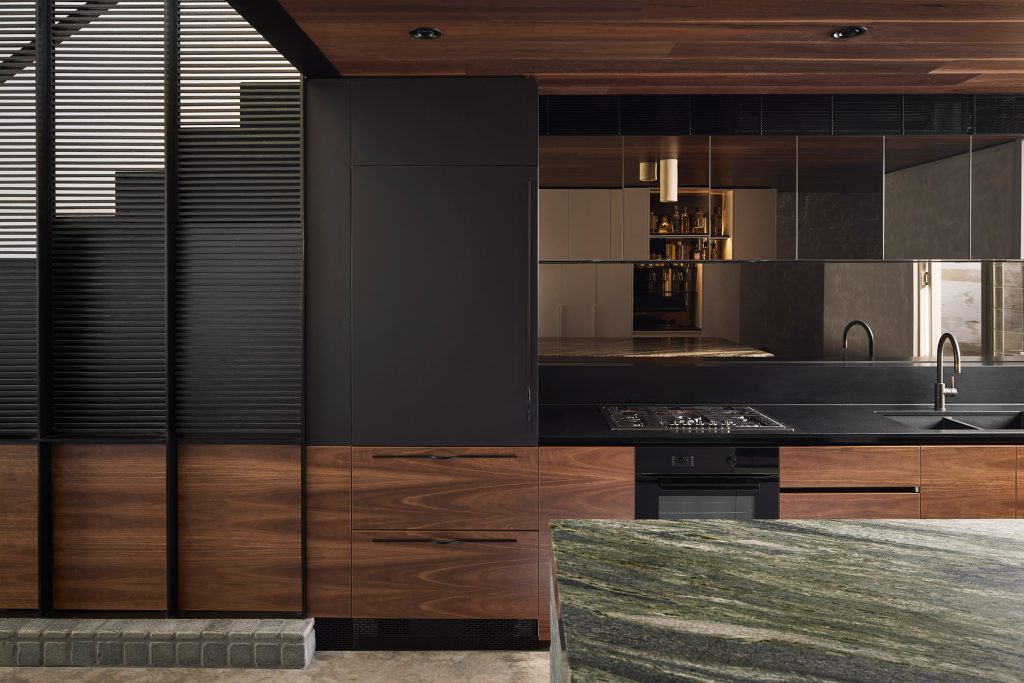 "Casa Victoria doesn't have the innovations that some of our other projects do at the moment, but its first principles are solid and carefully thought through," says Stanley.
The rebuild incorporated raked plasters, weathered stone and recycled local Australian timbers such as spotted gum, that are not only natural and unmanufactured, but also honour the Mexican design notion of building with raw timbers.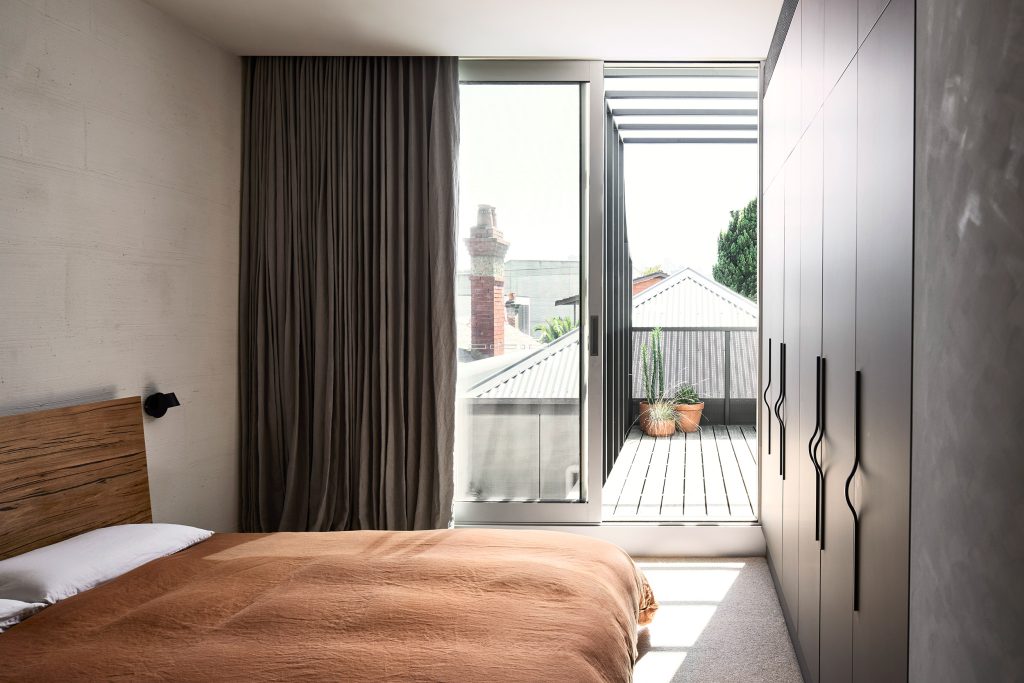 A different heart to the home
The owners of Casa Victoria had a peculiar yet ultimately heartwarming request – they didn't want a distinctive dining space, but rather a multi-purpose kitchen and dining room. The kitchen, adorned with a rich material palette, is essentially a large island bench they cook on and then eat around.
Stanley says this request allowed for a bigger lounge room within a smaller house. This kitchen-dining room fusion produces a lively hospitality experience – talking, laughing, sharing stories and cooking in the heart of the home.
He confirms how it is always an exciting experience when clients have a unique way of living they want echoed in the design.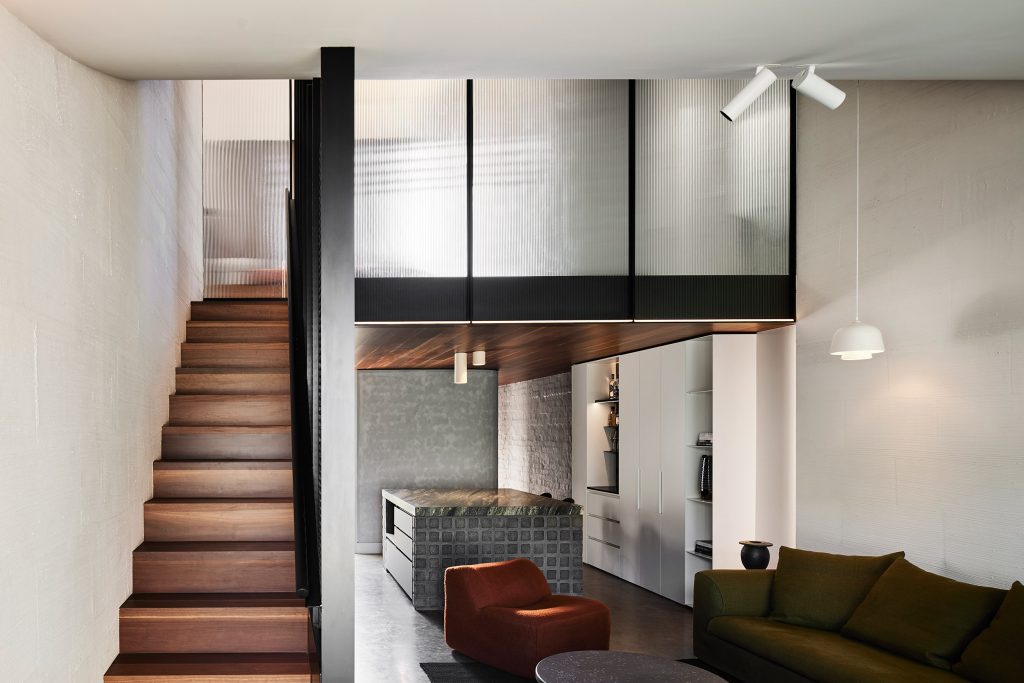 "They knew how they wanted to use the space and what was going to work for them, and we made it happen," says Stanley.
Moreover, working with the owners of Casa Victoria was a collaborative and energising process that involved brainstorming how ideals for a home can come into fruition.
Photography by Sharyn Cairns. 
Read about Studio P architecture's restoration of a mid-century modern marvel in Mosman.