Photographs courtesy Lendlease, by David Russell.
The 15-storey tower at 888 Collins Street in Docklands will be lit up nightly in Melbourne's first real-time weather light show, designed by Bruce Ramus.
Lines of LED lights cover the Lendlease building's façade, changing to reflect the weather forecast, presenting wind, rain, and soaring summer temperatures through a spectacular show of light beams. The interactive lights reflect environmental conditions based on real-time data, sourced from a weather station on the roof of the building that combines with the Bureau of Meteorology's feed.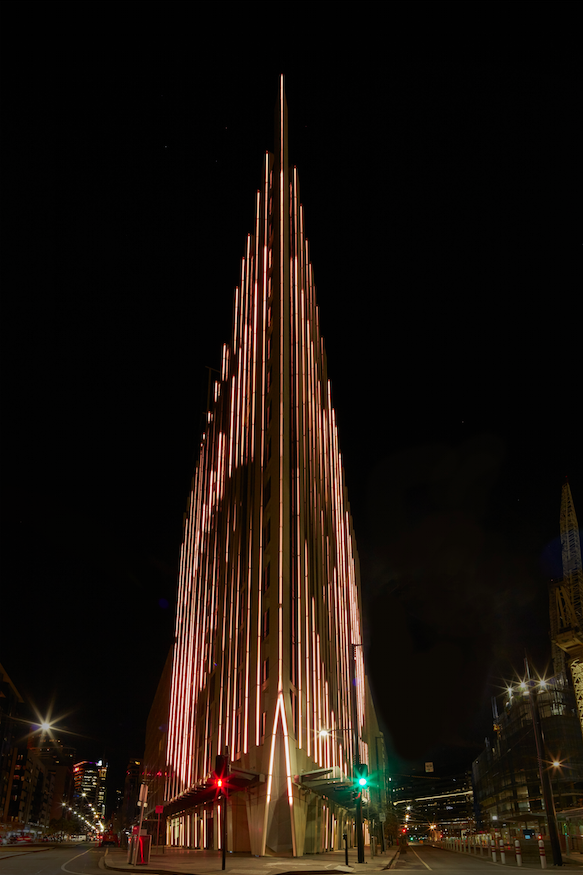 The lights run from dusk until midnight each night, forecasting the following day's weather for five minutes on the hour. For the remainder of each hour, an abstract light movement reflects the way the weather 'feels' at the time and is constantly but gently changing. From midnight until dawn the feature then goes into a static phase that reflects the moon patterns.
The display was designed by Canadian-born Bruce Ramus, whose resumé includes designing the world's largest permanent interactive light installation, Luminous at Darling Quarter in Sydney, as well as lighting designer for U2, R.E.M., James Brown and David Bowie.
"I've lived all over the world and when I moved to Melbourne, I was impressed by how weather-sensitive everybody is. People here are always talking about the weather and it changes so often. I wanted to be able to reflect something that Melburnians can connect with and something that hasn't been done anywhere else in the world," he said. "The lights change with the weather, the energy and the seasonal shifts. It's all about how it feels to be here, using technology in an innovative, playful and very Melbourne way."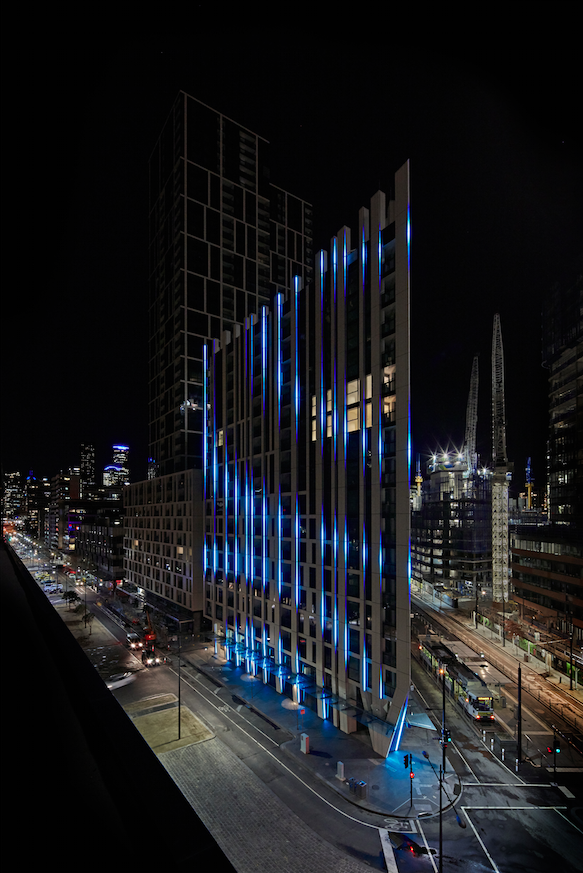 Lendlease's Project Director for Victoria Harbour, Tim Campbell, attended the switching on of the display last week. "The blend of innovation in technology, public interaction and sustainability aligns with our vision for Victoria Harbour. The light feature is not only visually stunning – it's 100 per cent powered by solar panels on the roof of the building," he said.
"As far as we're aware, this is the only residential building across the globe with a façade that doubles as a luminous public art work."
The display features 2.4km of custom designed and fabricated LED lighting fixtures, embedded into 35 vertical fins that flank 5,500m2 of building façade, and reach up to 50 metres high – visible from as far as the Bolte Bridge.