Above image: Kaldewei Puro bath and Kaldewei Xetis shower surface available from Bathe
This article originally appeared in inside 91 – available now on newsstands, or digitally through Zinio.
As more people seek refuge from increasingly hectic lives, greater attention is being placed on bathroom design. The modern bathroom is now viewed as a sanctuary and a private space for relaxation. While this is informing the style of bathroom finishings, it's also having an impact on the shape and design of sanitary ware, such as basins and toilets.
BATHROOMS GET CURVY
The application of curved, organic shapes in architectural design is widely considered to have a positive effect on our sense of well-being, so it's little surprise that bathroom sanitary ware is also taking on a more curvaceous form.
Michelle Irvine, marketing assistant with Abey Australia, says angles are becoming less prevalent in sanitary ware. "We went through a phase where everything was very square, but now we're beginning to see a move toward curved lines, which seem to make people feel more relaxed. This helps in creating a spa retreat environment for the bathroom."
Irvine points to Abey's Mastella collection, which features sweeping lines and slender curves throughout its basin range. "They don't look like a standard bathroom basin," she says. "They appear custom-made and this adds to the overall style of a bathroom." Material innovation is also assisting in the slender, organic forms of sanitary ware. Australian bathroom fittings company Bathe, which sells leading brands such as Kaldewei, Duravit, Hansgrohe and Axor, is noticing slimmer lines due to advancements in ceramics.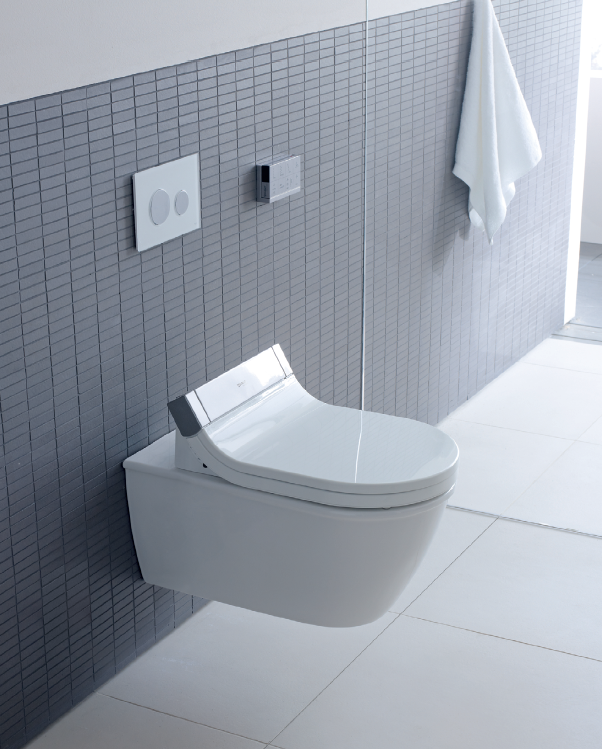 "Kaldewei's latest baths are very curved and very slim," says Barbara Tracey, marketing manager at Bathe. "Duravit's basins are also being produced with more curves because of thinner ceramics. It's all about having an organic look with smooth edges and smooth lines. Even taps are beginning to look more organic. Hansgrohe's Talis looks like a tree branch."
It's not only basins taking on a new shape. Toilets are also becoming more curvaceous. One example is the Laufen Ilbagnoalessi One, designed by Italian architect Stefano Giovannoni. It has a shapely, organic form rarely seen in toilets. "It is inspired by the idea of a stone that has been smoothed by water over time," explains Daniela Santilli, bathroom business manager at Reece.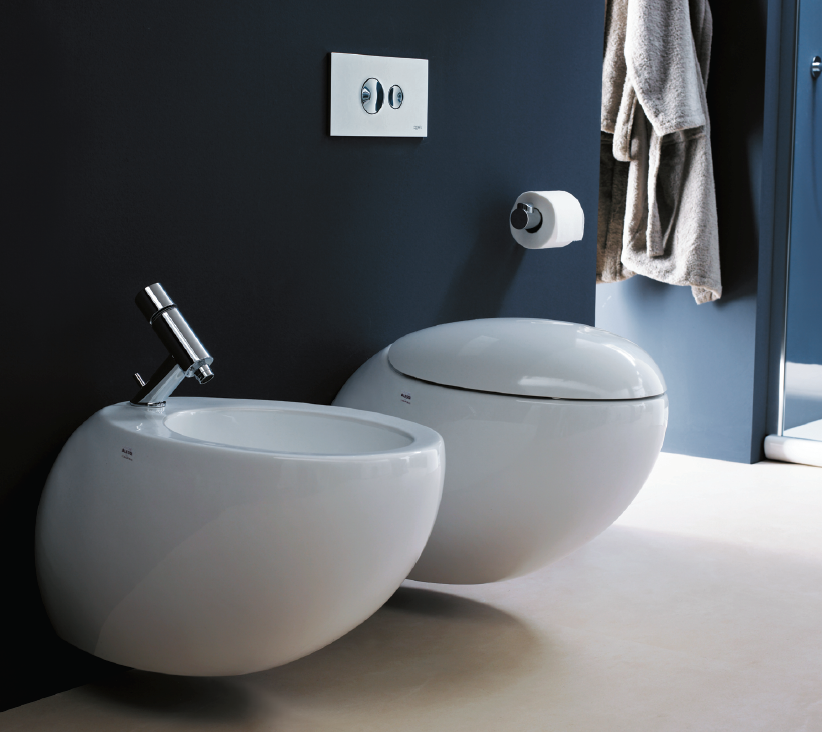 HIDDEN FEATURES
Cleaning under the rim may soon be a thing of the past with the introduction of rimless toilets. The Gap Rimless from Roca, for example, features a pan designed as a continuous surface free of edges, angles or gaps. "Water flows smoothly in a circular motion and dirt is quickly removed rather than accumulating in the grooves and gaps," says Santilli. While Australia takes many design cues from Europe, one bathroom fixture that has been slow to catch on is the bidet. Bathe's Barbara Tracey notes that they tend to be a culture-specific bathroom fixture. "There's not much demand for them in Australian sanitary ware," she says. Bidets may be rare in Australian bathrooms; however, their new cousin, the 'shower toilet', represents a growing trend. "Shower toilets are also known as bidet toilets," explains Tracey. "They're a big trend in Japan. Instead of toilet paper it has water sprays."
Shower toilets, such as Duravit's SenoWash Starck, designed by Philippe Starck, are now becoming popular in Australia. "It's one of our biggest sellers in the Duravit range and it's only just been approved for our market," Tracey continues. "SenoWash Slim was also released this year, which is more refi ned in its look." This desire for greater refinement in sanitary ware means bulky cisterns are being removed from sight. "A lot of people are putting cisterns in the wall or ceiling and just keeping the pan exposed," says Irvine. "Although it's usually to save space, it also simplifies bathroom design. Our Gessi range, for example, is so easy to look at. The toilet is sleek and curved and also has softclose removable seats to make cleaning easier."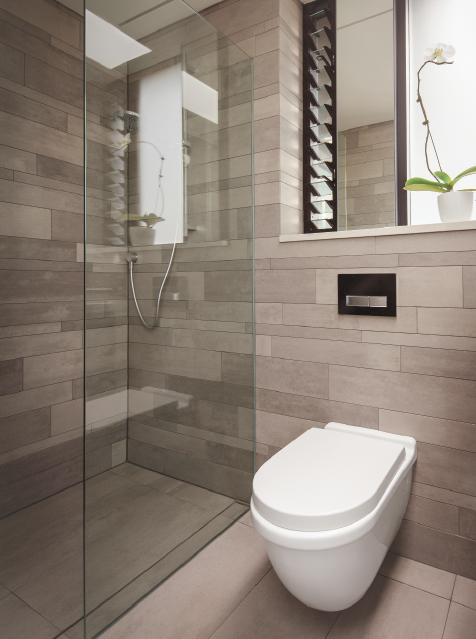 Selena Adams, national marketing manager with Geberit, says concealed cisterns also provide greater bathroom design freedom. "They allow for more front of wall choices – continuous, uninterrupted tiling and a wider choice of pans, including wall hung pans, and the use of texture and colour finishes on the flush plate," she says. The Meridian In-Tank toilet from Roca also features a minimalist design that integrates the cistern and button within the pan structure. "This eliminates the need to install your toilet into your wall, meaning a simpler installation and a sleeker design aesthetic," says Reece's Daniela Santilli. "Touchless buttons, which respond to motion to activate the flushing mechanism, are also increasingly popular. They integrate straight into the wall."
A RETURN TO COLOUR
While coloured bathroom suites were big in the 1960s and 70s, white has been the standard shade for the past few decades. Brands such as Roca, however, are beginning to inject colour back into the bathroom. The Roca Khroma range features toilet covers in colours such as Passion Red and Oxygen Blue, bringing a sense of individuality to the bathroom. Colour is also being introduced in subtle ways through tapware. "There's still a demand for chrome tapware, but gold, copper, black and nickel is becoming more popular," says Tracey. "Individuality is also being introduced in taps such as the Axor Starck V, which is an open crystal glass design."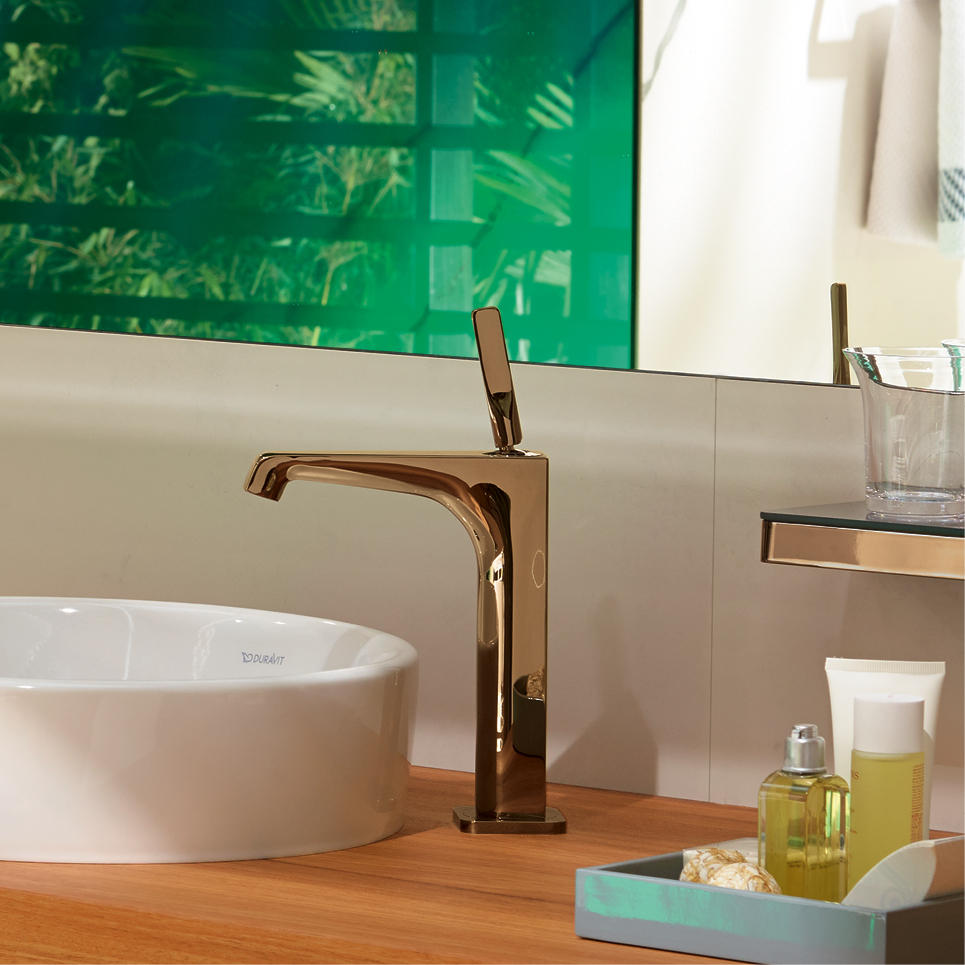 Geberit is also releasing a range of new flush plates this year in a range of colours and finishes. "Geberit maintains a refined palette of contemporary colours to ensure the design of the bathroom is in harmony with the overall design of the home," adds Selena Adams. As bathrooms are increasingly regarded as additional living rooms rather than merely serviceable spaces, the technology and style of sanitary ware will continue to evolve. "These new innovations not only contribute to sleeker, space-saving design in the bathroom," says Santilli, "they provide superior hygiene and improved functionality, too."
This article originally appeared in inside 91 – available now on newsstands, or digitally through Zinio.