The Sydney School of Architecture, Design and Planning has unveiled this year's best student projects.
Dubbed Odyssey, the 2021 graduate show celebrates the creative journey of the students in architecture, design, and urban planning as they enter the world as professionals.
The show was launched online yesterday, with an exhibition also scheduled at the Wilkinson Building and Tin Sehds gallery from 31 January – 11 February 2022.
The graduating projects of more than 600 students from across the university's programs will be on display at both the online and physical exhibitions.
Here are 10 of the best.
'Finding Home with the Tokohu Manor' – Master of Architecture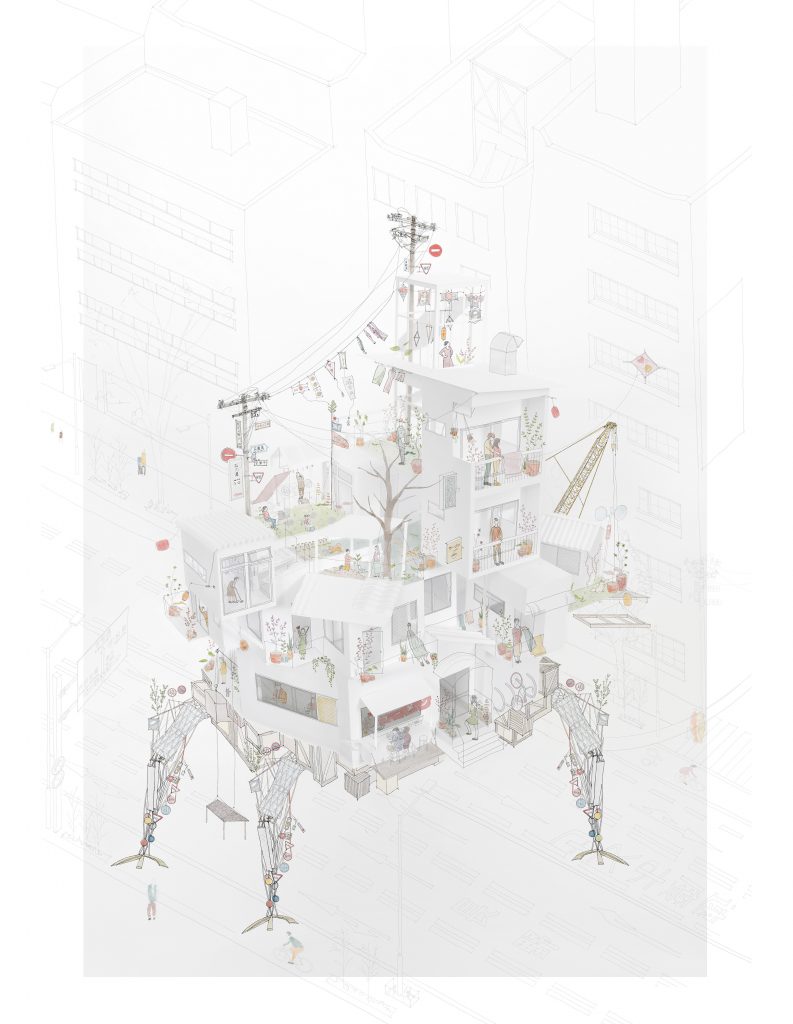 Students: Serena Bomze and Alex Zeng
Tutor: Sebastian Tsang
This project investigates the rebuilding of identities and moments of the people affected by the events of the 2011 Japan earthquake and tsunami.
The culminating architectural response imagines an animated and dynamic dwelling that traverses the coasts and inlands of the Japanese landscape to assist the collectively displaced in order for them to physically, spatially, culturally and emotionally rebuild and rekindle their lost "webs" of spatial memories and the qualities that uniquely define their home.
The project culminates in the physical form of a highly unique dwelling, with its architecture taking on specific elements from each town it passes through. It is tailored to its people, both spatially temporal and permanent, strongly inspired by Japanese cultural customs and living.
'Mine of Monsters and Memories' – Master of Architecture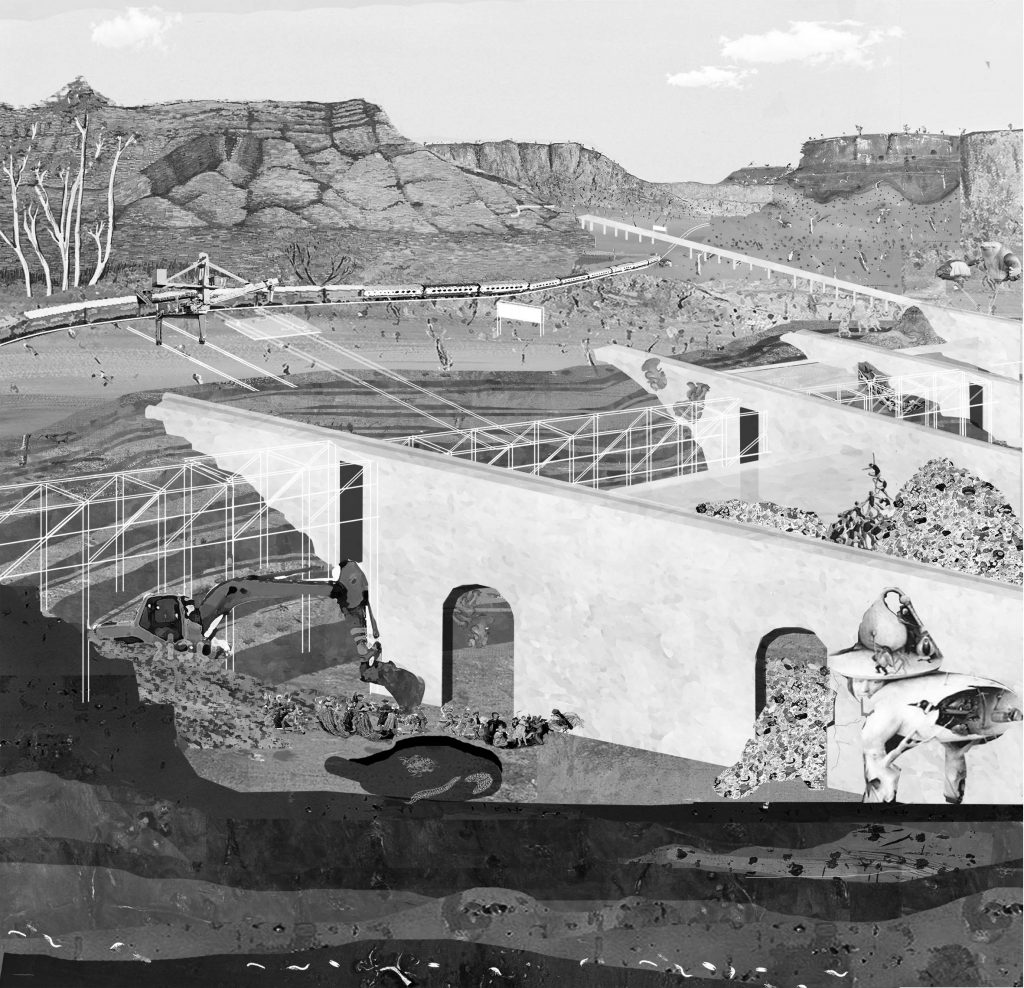 Student: Caitlin Condon
Tutor: Jorge Valiente Oriol
Located on Eastern Guruma Country, this project re-imagines Rio Tinto's Marandoo mine.
Condon was inspired by a quote from The arts of Living on a Damaged Planet: Ghosts and Monsters of the Anthropocene by Anna Tsing, Heather Swanson, Elaine Gan and Nils Bubandt: "Monsters have a double meaning; they help us to pay attention to the ancient chimeric entanglements; [and] they point us towards the monstrosities of man."
The project re-appropriates Marandoo's existing program to mine erased memories and unearth the monsters among and within us.
Archives, galleries, living museums, performance spaces and cemeteries all come together as a "theatre of Gaia" where multiple practices of knowing come together to un-know and collaborations with those other-than-human tell stories of living entanglements.
'The Temple of Negativity' – Master of Architecture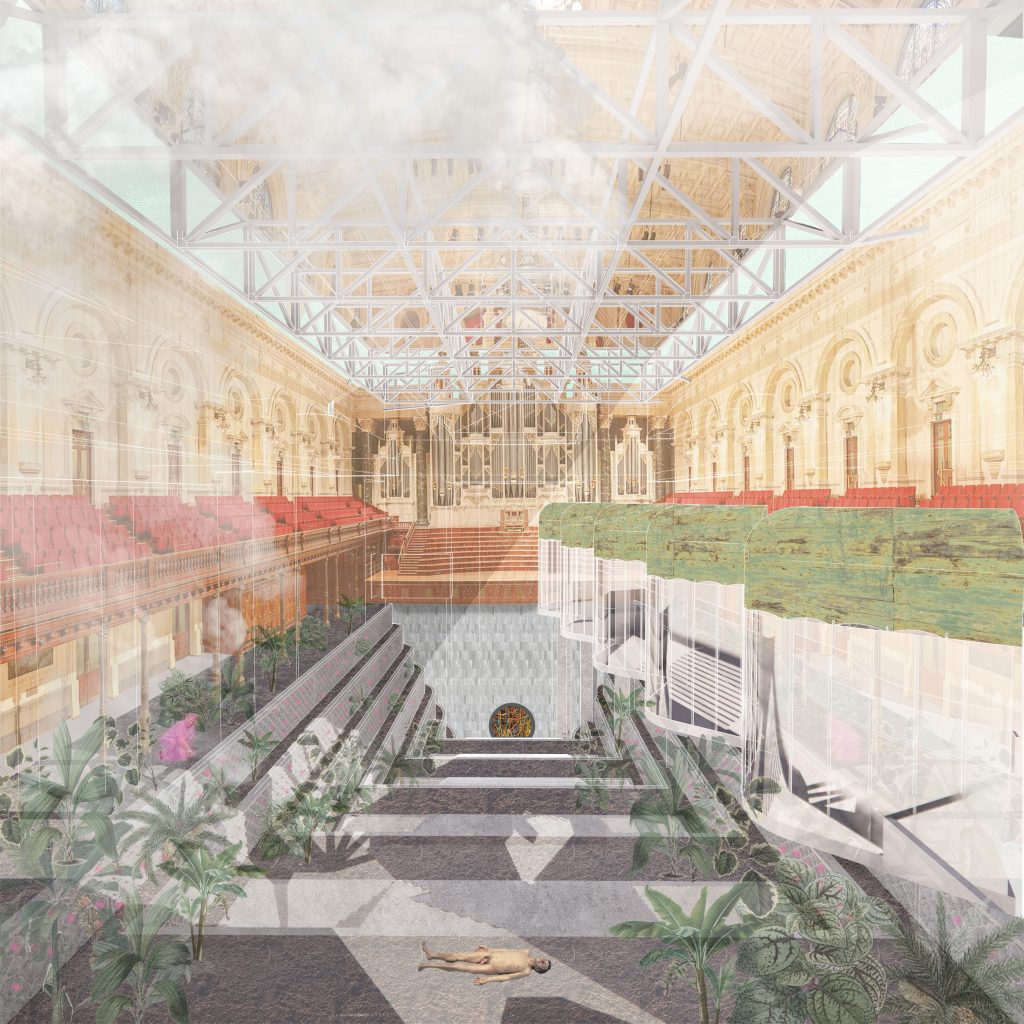 Student: Matthew Aylmer
Tutor: Gozalo Valiente Oriol
Colonisation and globalisation have established a moral and aspirational system that subjects bodies, territories and social structures to dogmatic naturalisations of hyper-productivity. It is driven by the individualist need to impose the 'self' onto the 'other' as a way of symbolically negating the omnipresent threat of death.
Intersecting architecture, philosophy and political theory, this project transforms Town Hall into a temple for encounters between the living and the dead, returning death to the heart of the city.
Through this intervention, it speculates on the generation of new mythologies eroding the obligation of hyper-productivity and introducing a system of reciprocity between life and death.
'Sydney: A Biking City' – Master of Architecture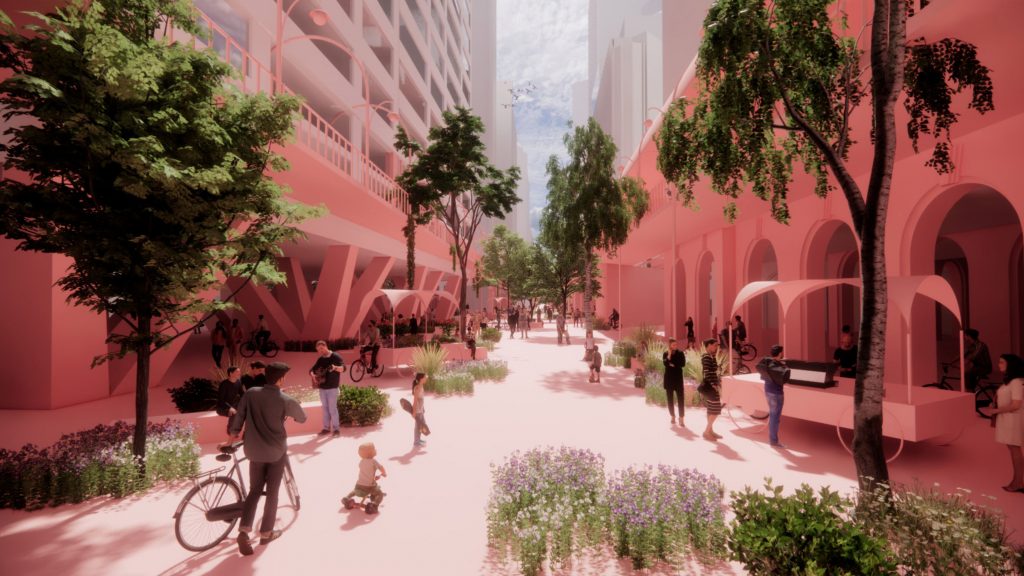 Student: Ania Lloyd Jones
Tutor: Sebastian Tsang
"After my sister was hit by a car earlier this year while biking, and the deaths of four delivery riders within two months in 2020, Sydney's streets continue to be hostile environments," says Jones of her project.
'Sydney: A Biking City' reimagines Sydney as an idyllic cycling city, using imagined pieces of cycling infrastructure to transform streets into worlds in which these accidents may never have happened.
Through different urban moves, the project transforms public space, allowing people to gain a more interactive, sensory and social environment.
'Monolith on the Sea' – Bachelor of Design in Architecture
Student: Chuyue Jiang
Tutor: Sean Akahane-Bryen
"'We have no contemporary theatre. No agitators' theatre, no tribunal, no force which does not merely comment on life, but shapes it." – Frederick Kiesler, Endless Theatre (Shelter Magazine, 1932)
As a place of action, theatre not only refers to dramatic practice but also refers to architecture that performs. It can create spatial performativity within various social events, historic narratives, aesthetic preferences and daily routines.
Theatre tells stories all the time and so does architecture. Time as another dimension is added to this theatre so as to carry out more events reflecting its context.
'Architectural Ruin' – Bachelor of Architecture and Environments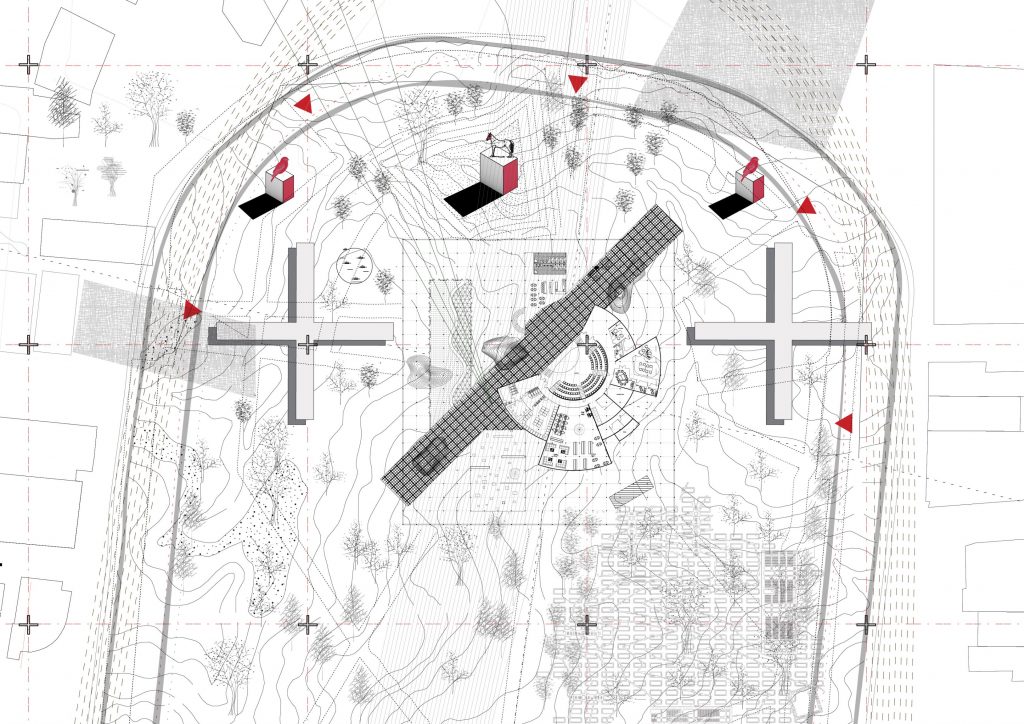 Student: Kenza Sundal
Tutor: Gonzalo Valiente Oriol
The technical solutions aimed at attaining sustainability are fallacies. A post-capitalist future is unavoidable and impending, and planning for it is a (geo)political challenge.
The concept of this project is to exhibit the ecological crisis brought on by anthropocentrism, which leads to unlimited violence against the nonhuman world.
Its overall form is an antithesis – a representation of a rapidly rising metropolis balanced by the surrounding high-rises. It seeks a spatial relationship in which individuals meet at various levels of intimacy.
'Towards Country-Centred Interaction Design: A Case Study on Audio Augmented Reality on Awabakal Country' – Master of Interaction Design and Electronic Arts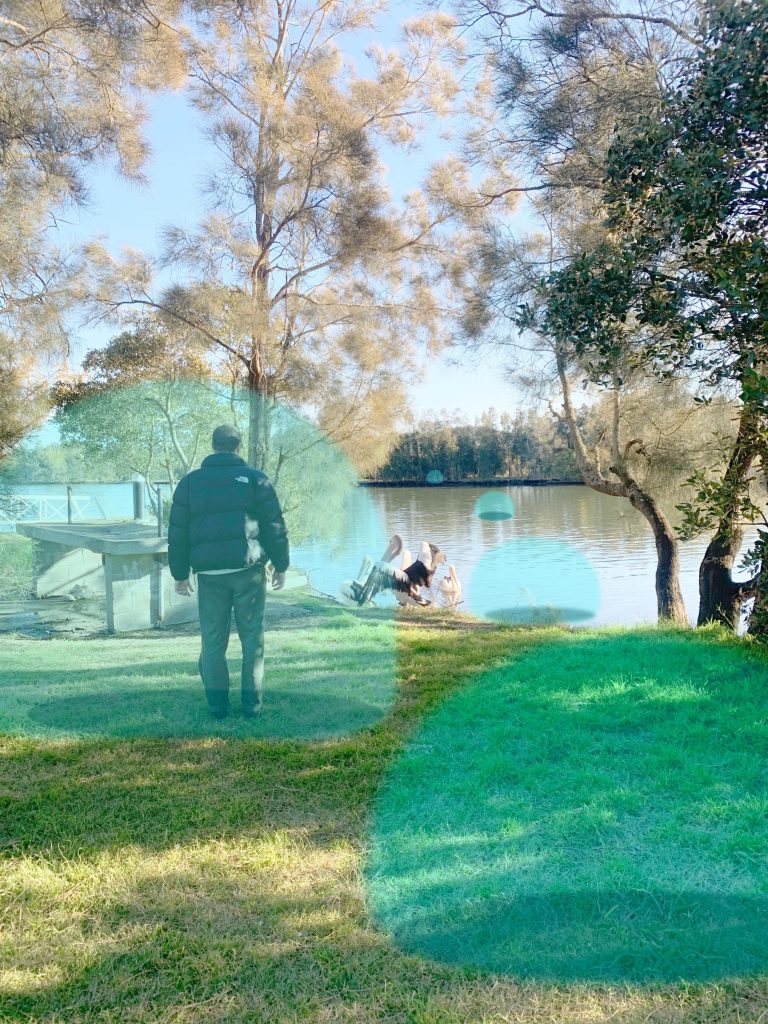 Student: Siena White
Tutor: Luke Hespanhol
Awareness about the destructive effects of colonisation on sustainable pre-colonial ways of living has gained increasing momentum in recent years.
This has led to growing movements in the industry and academia towards an understanding of Indigenous ways of relating to Country, raising questions about culturally and environmentally appropriate approaches to design.
This research project, motivated by the challenge of designing audio augmented reality storytelling application for and with the Awabakal people of New South Wales, proposes an innovative approach that identifies and consolidates design methods, principles and precepts, mapped to a sustainable design process timeline.
'MyConnect: Making Australian HealthCare More Accessible' – Master of Interaction Design and Electronic Arts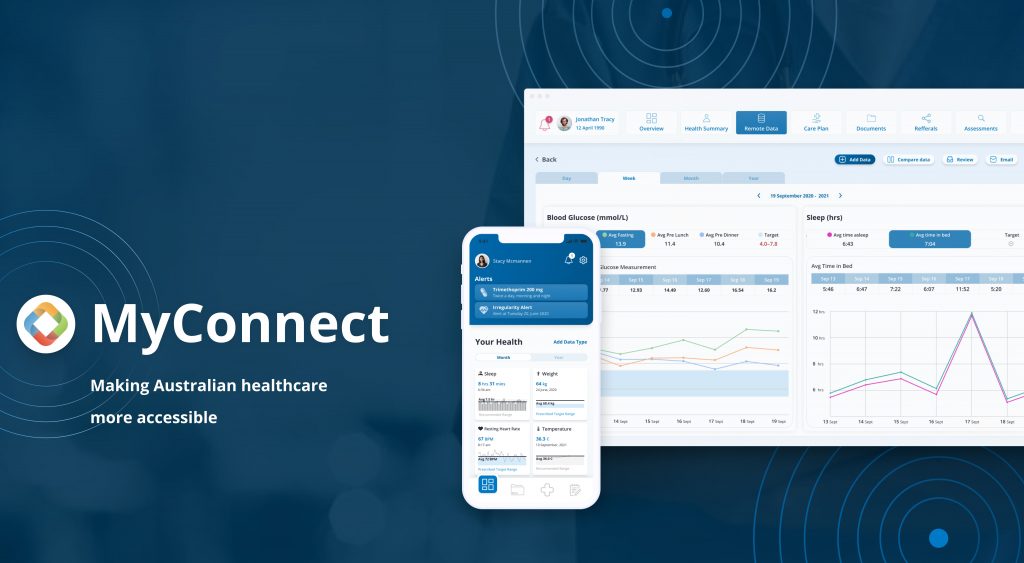 Students: Hugo Dowd, Erin Topfer, Zihe (Zoe) Lu
Tutor: Abhiruchi Chhikara
"We were tasked to create a digital product that enabled Australian citizens to access day-to-day healthcare during a pandemic/lockdown situation," say students on their project.
"We were strongly recommended to consider systems that could be adapted and used even after pandemic life.
The students' MyConnect app allows users to upload data to their MyHealth Record. Their doctor can then access this data through their MyHealth portal.
The goals behind the project are to establish reliable communication between doctors and patients, improve diagnostics and patient monitoring, facilitate better healthcare for remote patients, generate usable patient data to fill MyHealth Records and help patients to take control of their health."

'Social Bunch' – Bachelor of Design Computing (Honours)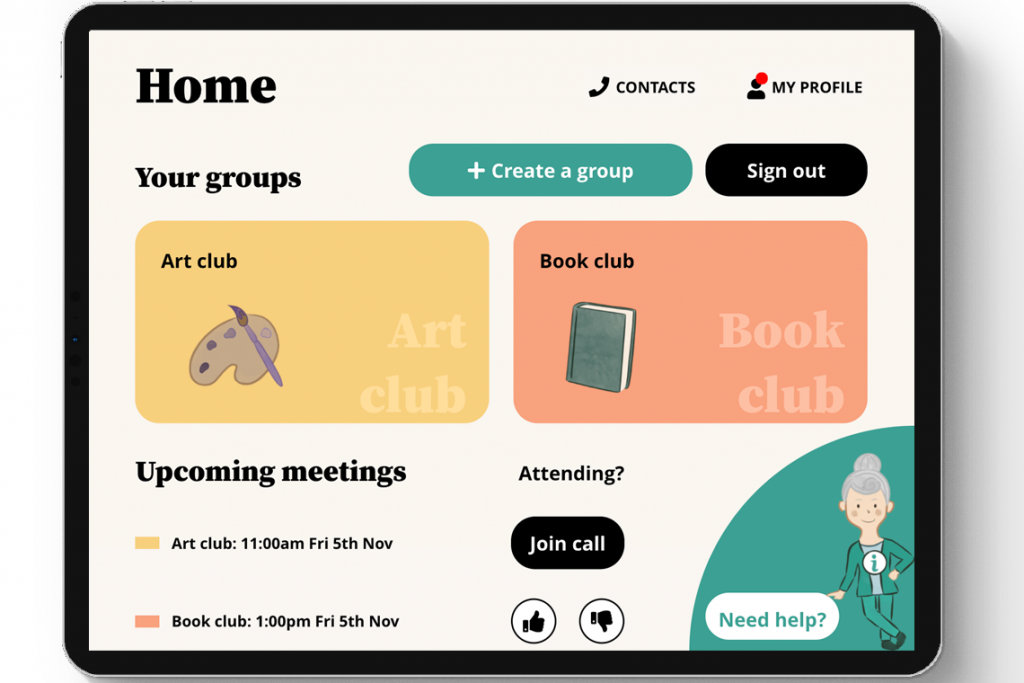 Students: Margaux Thwaites, Bianca Laycock, Katia Moors, Gabrielle Hong
Tutor: Phillip Gough
During the pandemic, many social and community groups geared at older Australians were interrupted.
This project asks: 'How can we move these activities online in a non-intimidating way for people who aren't as accustomed to interacting online?'
'Social Bunch' alleviates the complexity of traditional social media by creating a space for groups to interact on their own terms.
By combining tricky apps and sites like group message boards, video calling and group scheduling into one easy-to-access platform, it considers the needs and wants of older adults, building an accessible and approachable app that provides a space for group activities.
'Confidante' – Bachelor of Design Computing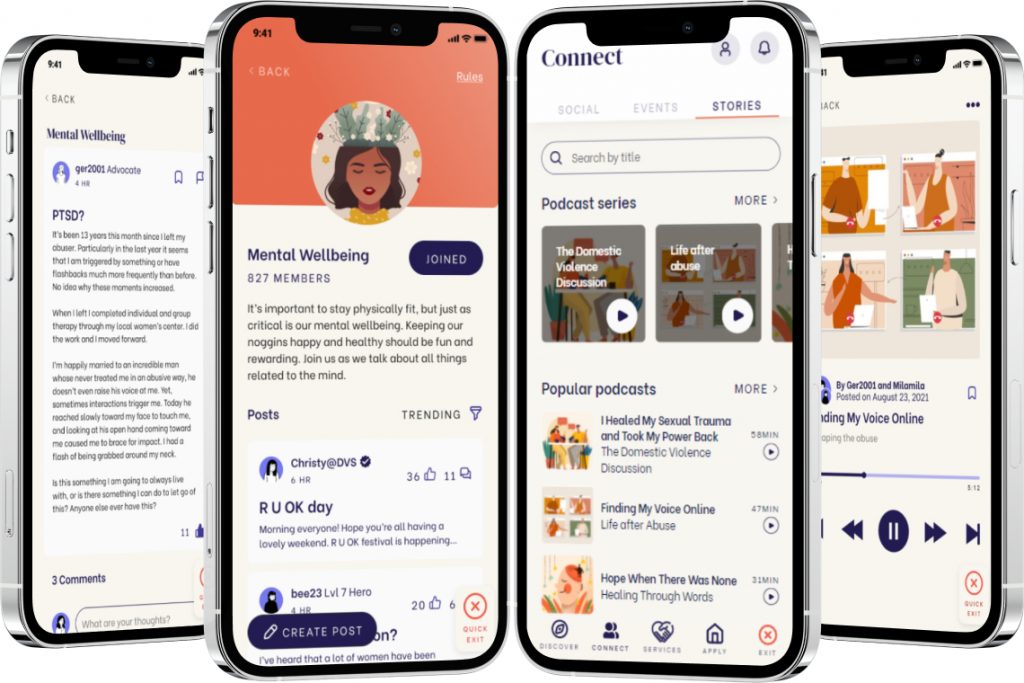 Students: Claire Say, Cyrilla Lowas, Monica Tsui, Wiryawan Onggo
Tutor: Emily Hatton.
Domestic and family violence is one of the most under-reported crimes around the world. The issue has become even more complex and severe as the impact of COVID-19 and social isolation has exacerbated acts of violence at homes.
With this in mind, students created a digital platform designed to support victims of domestic violence regain their emotional, social and financial independence.
Confidante is a one-stop shop that provides victim-survivors with a safe online community as well as resources for professional services, job opportunities and accommodation.
Images courtesy of the University of Sydney.
See all the 2021 graduate projects online or at the Wilkinson Building and Tin Sehds gallery from 31 January – 11 February 2022.
On 3 February, a selection of our top students will present their projects to industry.
Last month, ADR collated ten projects from the Master of Architecture cohort at the University of Melbourne.