The University of Melbourne is proud to present MSDx Summer 2021, a faculty-wide virtual exhibition showcasing design innovation from the next generation of built environment professionals.
The virtual exhibition launches on Thursday 25 November from 6pm, featuring DJs, trivia, prizes, performances, chat rooms as well as speeches and commentary from design academics and industry figures.
The gallery will host a bespoke interactive platform that allows the viewer to easily navigate through virtual galleries to experience projects from over 80 postgraduate and undergraduate studios.
In recognition of the incredibly impressive work of the 2021 cohort, ADR is celebrating ten projects from the Master of Architecture students.
Studio 01: Weaving Landscapes – Case Study: Federation Square South – Labyrinth of Laneways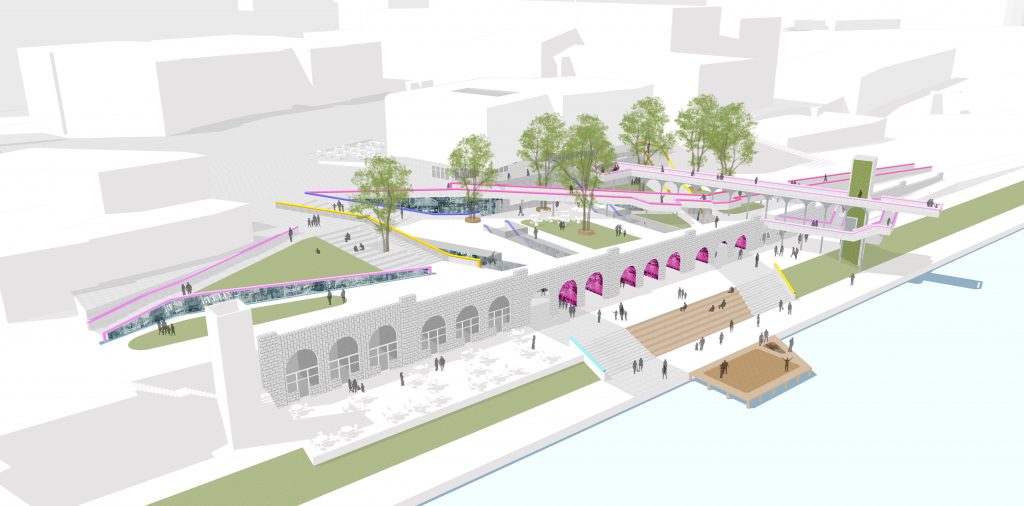 Student: Olivia Goodliffe
Studio leader: Isabel Lasala
"Labyrinth of Laneways connects Federation Square and the River by weaving elements of Melbourne's urban art scene, Victorian heritage, and contemporary Indigenous culture. The design is inspired by the laneways of Melbourne and the thermal labyrinth hidden underneath the square. Around direct connections through the site weaves an experiential journey of Indigenous art, from the formal galleries of the Koorie Heritage Trust, past interactive maker spaces, ending at an underground street art gallery. Reflecting the site's original role as the tanderrum gathering place, the project brings people, activity, and life to the space, and encourages informal creative expression and storytelling."
Studio 02: BODRUM – The Osmothèque of Scented Memories
Student: Johnny XU
Studio leaders: Oskar Kazmanli-Liffen and Rennie Liffen
"The Osmothèque of Scented Memories explores the intersection of the olfactory perception of scents and their importance in triggering memories. Offering solace to those suffering through grief and loss, the double-loaded cores offer complimentary olfactive spaces that encourage the processing of grief through passive aromatherapy and reflection. As a result of the slow process of crafting Bergamot Essential Oil, it provides peace upon arrival and strength upon departure."
Studio 04: Cities Without Country – Coffee Valley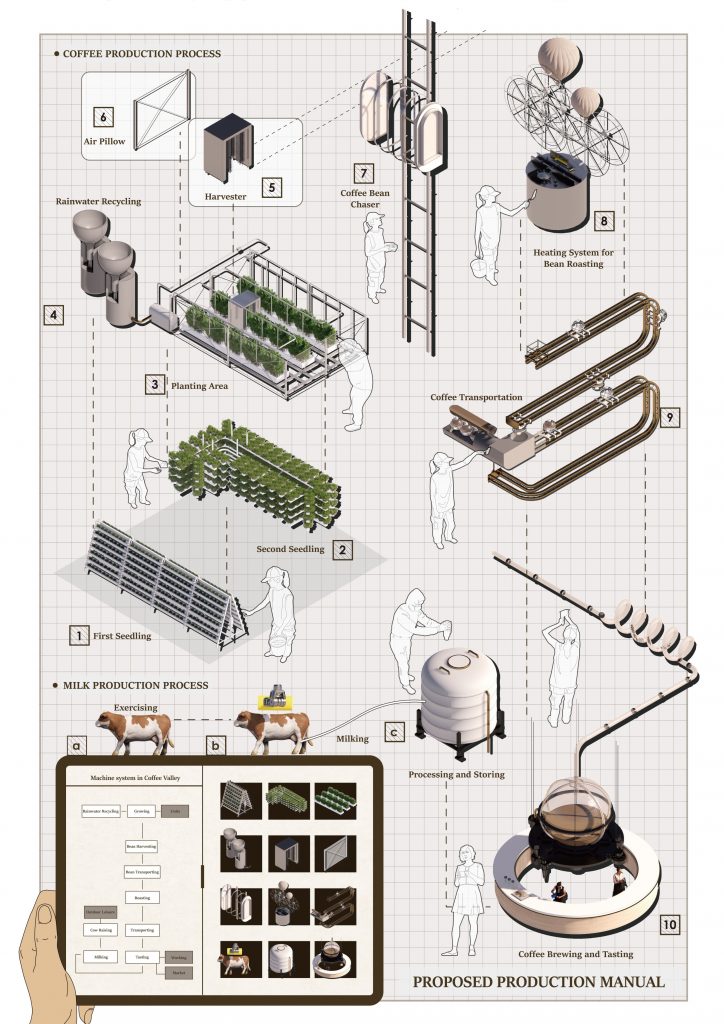 Students: Xiangyi Wang + Jieze Tan
Studio leader: Laura Martires
"Coffee is a significant part of Melbourne's culture loved by people around the world. Inspired by the new possibilities offered by the integration between coffee and milk, Coffee Valley aims to create a project where living spaces, plant growing spaces, and recreational spaces interact to reflect Melbourne's coffee culture and future coffee production technology. Coffee Valley introduces agriculture into the daily life of the inhabitants, making them feel the convenience of technological development through future planting techniques, thus defining a new form of future life and agricultural production."
Studio 08: Triplicate: Stirling at Ca' Corner della Regina – Vessel: Rhapsody, Parody, & Requiem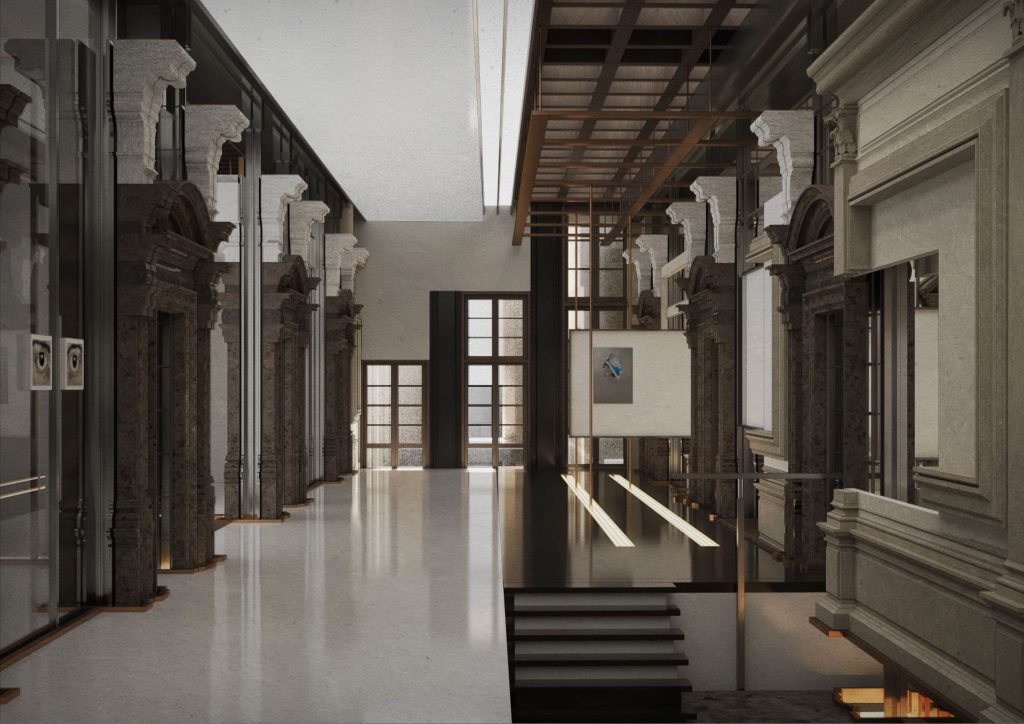 Student: Karry Yichen Sheng
Studio leaders: Scott Woods and Kim Vo
"The project challenges the definition of the Museum as a container. Rhapsody, Parody, and Requiem as the epitome of James Stirling's operations from CCA archive, become the driving force that transforms the Shell of Ca' Corner della Regina into a Vessel: a reassembly of the metaphorical and performative devices that constructs a mutual dialogue between the museum architecture, exhibition, people and the city."
Studio 19: Virtual Environments – The Field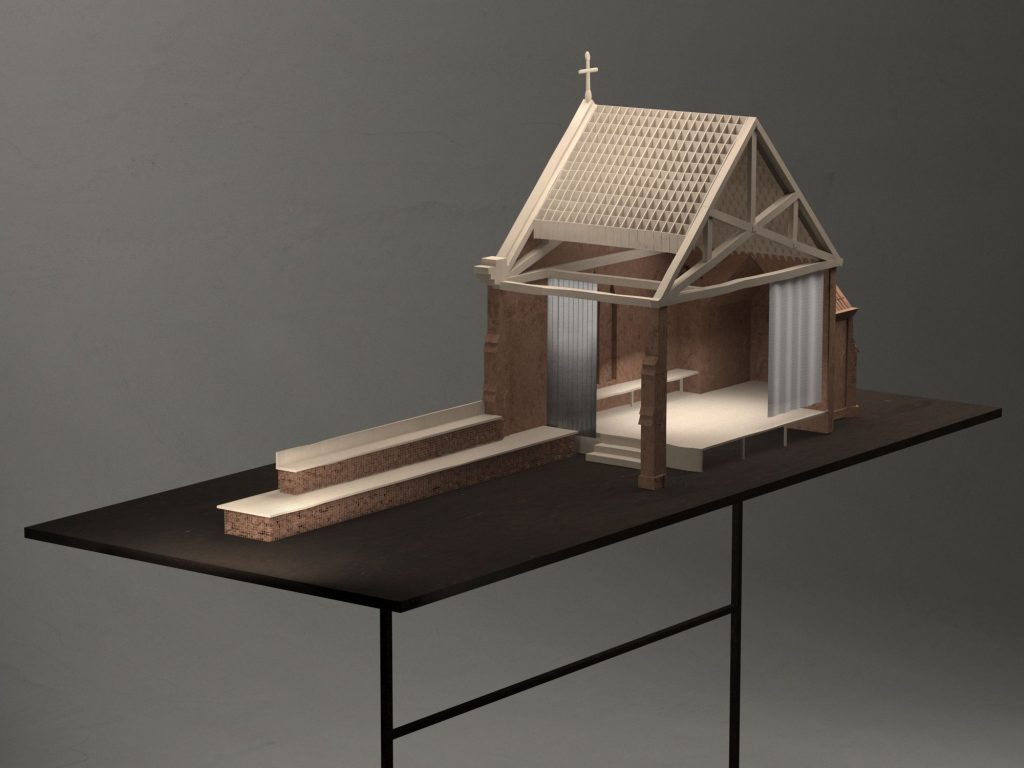 Students: Brittany Devlin, Kate Donaldson and Rob Snelling
Studio leader: Ben Waters
"Within the Victorian Volcanic plains, a 300km wide stretch of land west of Melbourne, lies a critically endangered ecosystem, the Western Grasslands Reserve. Following centuries of land clearing for western agricultural production, only 1% of these native grasslands presently remain. Declared critically endangered in 2008, The Victorian Government planned to acquire 15,000 hectares of this endangered landscape by 2020. Yet to date, limited government funding has resulted in only 10% bought, stifling the ability for native grasslands to be revegetated across the reserve and the broader Victorian Volcanic Plains.
"It raises a question: how can the park be slowly transformed to its former ecological state within this neoliberal context?"
Studio 26: A Soft Focus on Domestic Things – A House on a Fringe Lot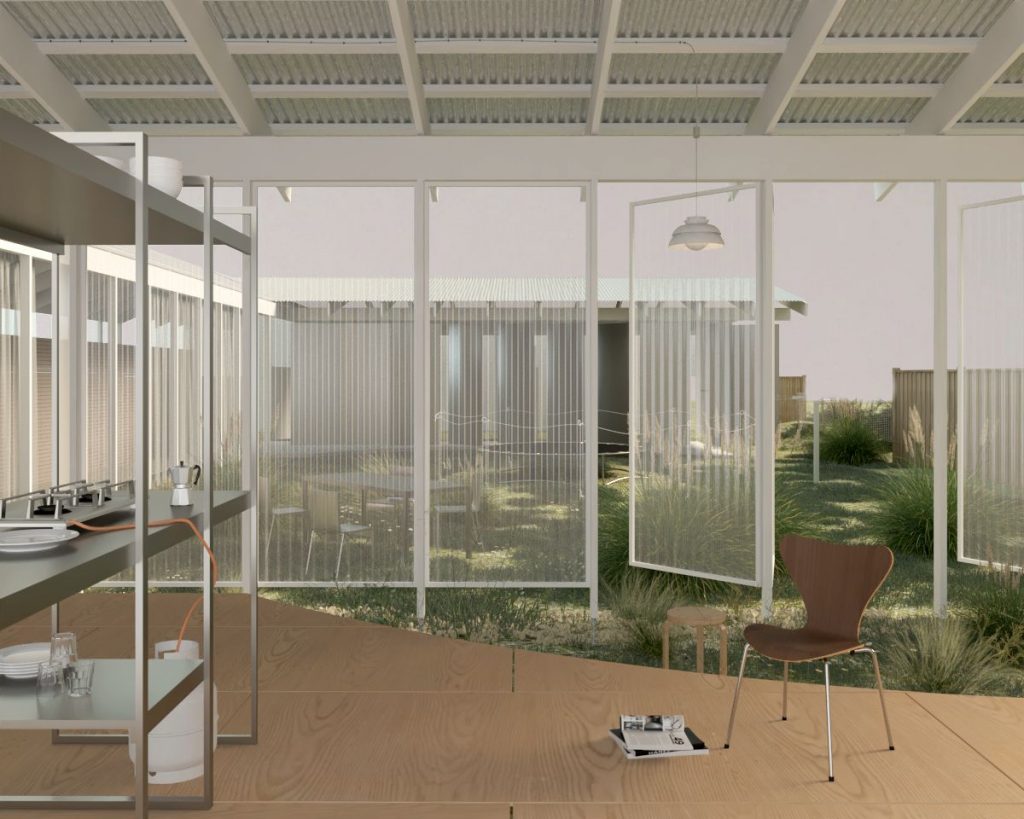 Students: Junjie Zhang, Maia Guppy-Hall and Thomas Martiniello
Studio leaders: Colby Vexler and Pricilla Heung
"Edging between suburban estate and grassland, the fringe lot exists at a threshold border. However, boundary is unsure of its legal authority as an imperfect materialisation and slippages cause a precise line on paper, to become a wobbly line in reality.
"House is the manifestation of the site's duality at all scales, presenting initially as a moment of clarity that is then distorted by peculiar occurrences. Cover, area, enclosure and garden weave a thread through the site, implicating each other in a seemingly infinite number of assemblages. This constant interaction allows domestication to exist."
Studio 33: Studio Japan – Floating Pavilion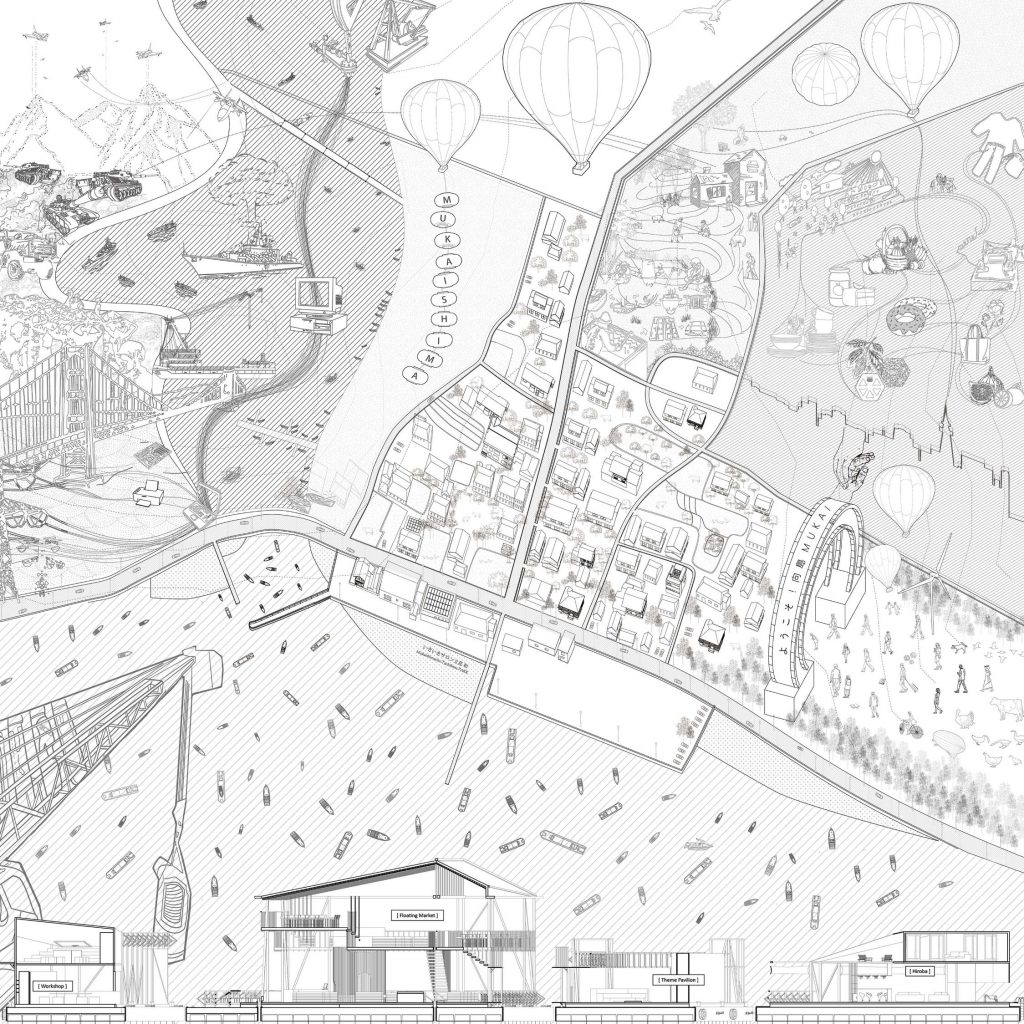 Students: Karrin and Cordelia
Studio leader: Nancy Ji
"Our project, the Floating Pavilion is based on the island of Mukaishima in West Japan. Mukaishima was once a bustling island with a thriving ship building industry which has since fell into decline due to depopulation.
"The project celebrates the natural landscape by emphasising the island's connection to water and proposes new uses for abandoned boat parts which are used to construct the pavilions. Each pavilion provides flexible public space and can be combined to work in different modes and configurations to house multiple types and scale of programs from pop-up markets to festivals.
"The pavilions provide a mutual meeting place for both island residents and visitors as well as supporting emerging new local industries to ultimately promote interaction and exchange while offering a new way to experience the islands."
Studio 32: NHG – New Hamilton Gallery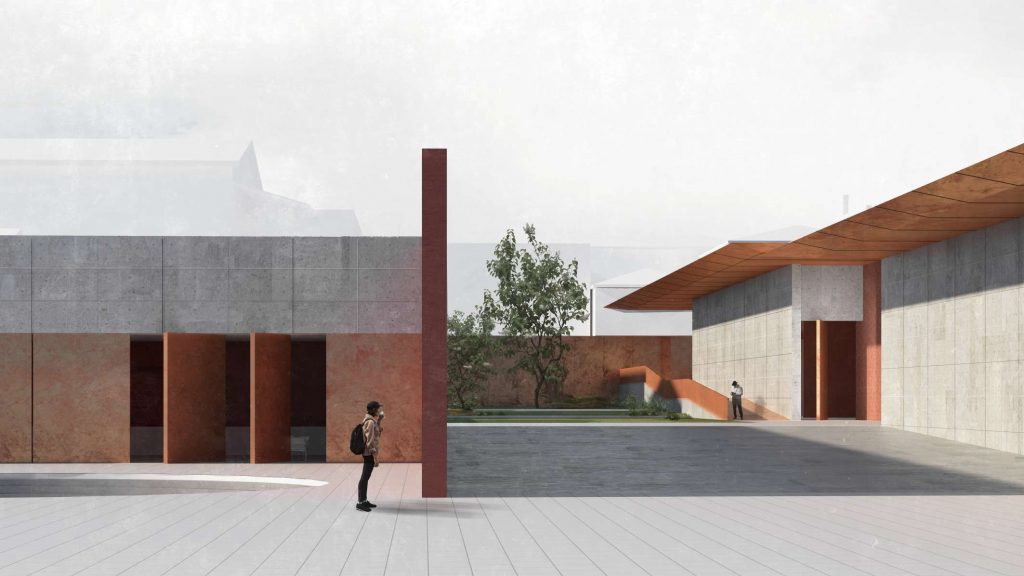 Student: Yuwen Chen
Studio leaders: Dayne Trower & Simona Falvo
"The proposal for the New Hamilton Gallery considers the continuation of local art and culture, innovative learning, community vitality and retail integration. The building aims to embrace the local community and respect the existing landscape. The progressive layers of linear space and subtle changing of the ground plane levels accommodate the existing terrain and the central axis, from Thompson Street to Brown Street, draws people in to the site and becomes the main avenue to the civic square."
Studio 36: untitled: a Project Art Space for Melbourne – fragmented collective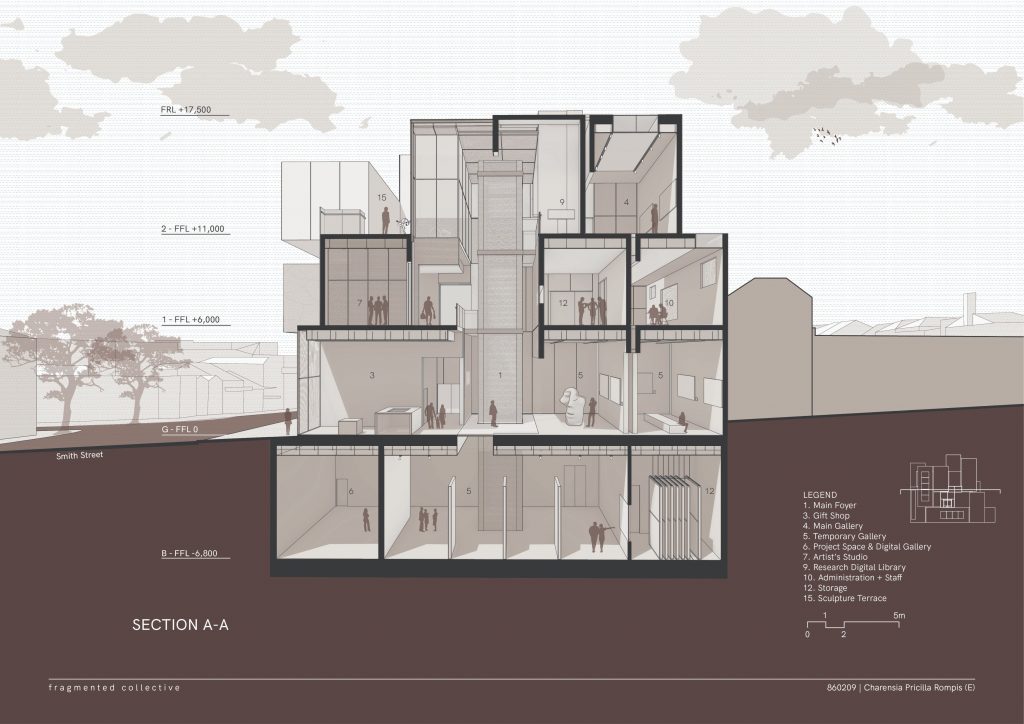 Student: Charensia Pricillia Rompis
Studio leader: Anna Nervegna
"With the current pandemic situation, most art and culture industries are in free fall, forcing many theatres, museums, and art centres to shut their doors. Without certainties of when they would reopen, the arts and culture sector is slowly diminishing. The project investigated 'How do we connect people again through art and culture like we used to? How do we make people feel and experience art at the same time?'
"The project art gallery space is forms by a series of stacked fragments that breaks down the idea of internalised gallery space investigating notions around the formal / informal, individual / communal, focused / diffused, indoor / outdoor space and program. This design strategy was further explored with the potential of light and materiality to create a sensory and atmospheric experience throughout the gallery space offering an open and contemporary engagement with the program, street, site and community."
Studio 44: Ultimate Spinach – Melbourne Soup Institute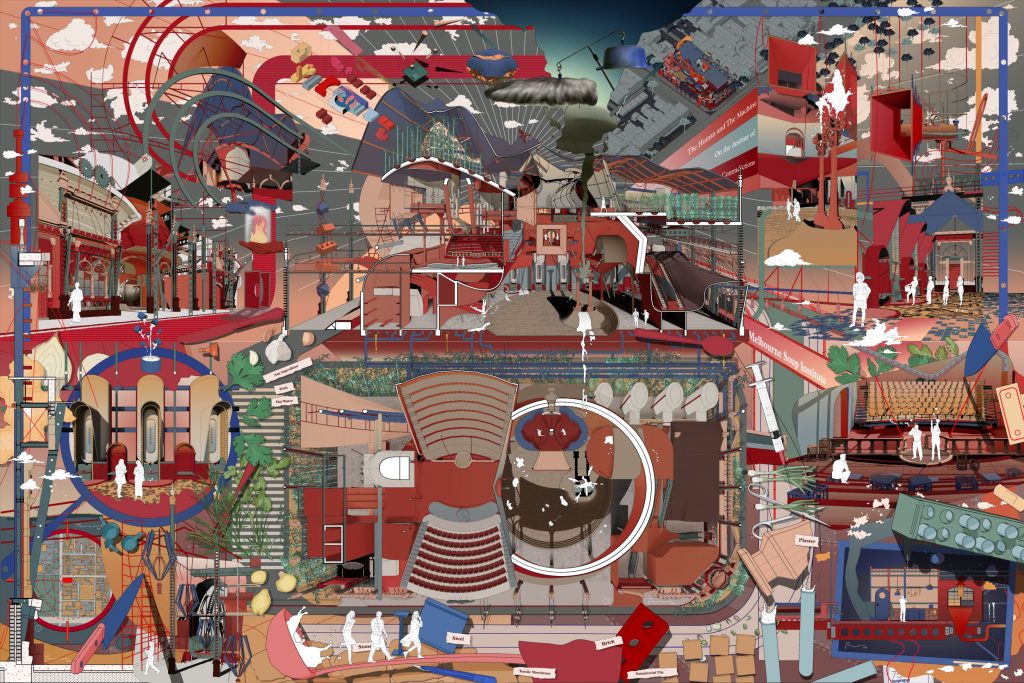 Students: Ziyue Zhang and Isabel Solin
Studio leaders: Danielle Peck and Sam Hunter
"The Melbourne Soup Institute merges two sides of culinary production: the human and machine-made. The project encourages collisions between these two modes in order to give rise to something new. Inspired by soup production and the architectural language of the existing 19th century building, a new 'human' skin and 'mechanical' structure are inserted into the existing Italianate fabric. Romantic notions of soups healing and restorative powers are fused with an anthropogenic flavour of a possible machine-made future; the line between blurred and discursive."
Images supplied by Melbourne University.
Continuing the university theme, earlier this year ADR covered La Trobe University's new stadium which was awarded Australia's first '6 Star Green Star Design and As Built v1.2 certified rating' for a sports building by the Green Building Council Australia.