La Trobe University's new stadium has been awarded Australia's first '6 Star Green Star Design and As Built v1.2 certified rating' for a sports building by the Green Building Council Australia.
The stadium was completed in January 2020 as part of Stage 2 of La Trobe's Sports Park development – a key component of the University's ambitious plan to transform its Melbourne Campus in Bundoora into a University City of the Future.
The stadium includes six multipurpose highball courts, a teaching and research building with world-class sport science and analytics research laboratories, and an office space for commercial tenants.
The stadium's roof holds 1,104 high specification solar panels capable of generating about 724,000 kWh year. This is enough to meet the entire stadium's electrical demand with a surplus that will also provide renewable energy to the rest of the campus for net positive operation.
The stadium's urban design includes native landscaping, natural ventilation, local procurement, an integrated waste management plan, green groundskeeping operations and a white roof which reflects the sun to reduce the urban heat island effect.
La Trobe Dean School of Allied Health Human Services and Sport, Professor Russell Hoye said the state-of-the-art Sports Stadium had transformed students' experiences and was a valuable community asset predicted to have more than 10,000 visitors a week.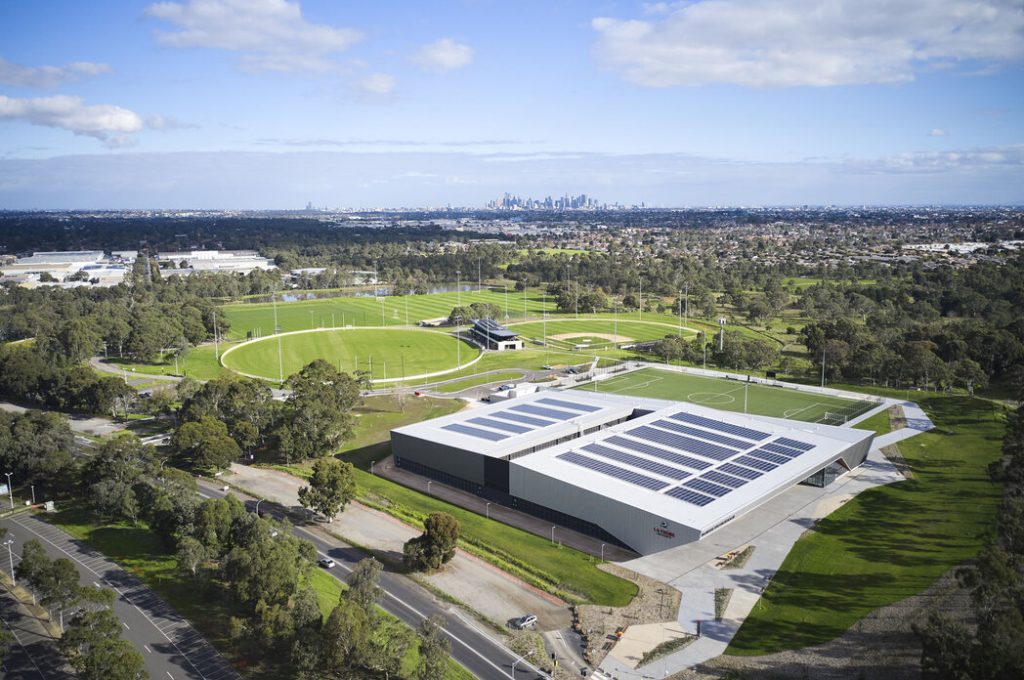 "The La Trobe Sports Park is now home to 26 sports clubs, the Northern Football Netball League, Softball Australia and Softball Victoria and planning is underway to become home base for the Matildas, Football Victoria and Rugby Victoria," Professor Hoye said.
"We're very proud of the fact that we've been able to create this incredible facility while remaining true to La Trobe's values of being sustainable, protecting our environment and aiming to achieve Net Zero carbon emissions by 2029."
All newly constructed buildings at La Trobe are certified at a minimum rating of 5 Star Green Star under the Green Building Council of Australia's (GBCA) building rating system.
Wilson Architects recently completed their Indigenous student accommodation building at the University of Western Australia, setting new standards on cultural understanding and sensitivity within the Australian university landscape.