Drawing from research and consultation with Indigenous students and other college stakeholders, Wilson Architects' latest project is a study in inclusivity, cultural understanding and sensitivity within the Australian university landscape.
On the rooftop of the University of Western Australia's newest Indigenous student accommodation, phones are banned, and students discuss issues and ideas, fears and hopes in small gendered groups with appropriate mentors.
By design, it's a very private space. Circular seating around a deeply symbolic fire and smoking pit sits within a garden that is open to the sky, emphasising the relationship First Nations people have with the land and nature, and the importance of birds and animals to their songs, dances and belief systems.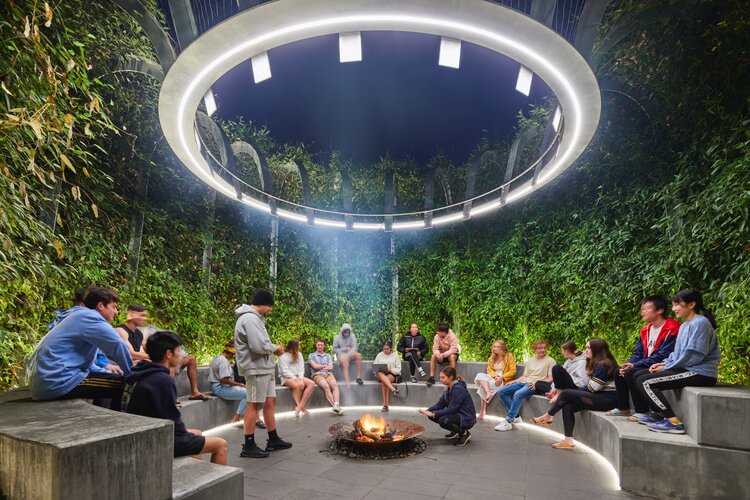 But in other moments, this area is a relaxed social space, a place for quiet reflection or a community meeting ground where students from the country's largest tertiary residential program for Indigenous Australians can mix with the university's non-Indigenous community in the spirit of the building's very namesake.
In Nyungar, the dialect spoken by members of the Noongar community, who live in the south-west corner of Western Australia, Dandjoo Darbalung means 'mixing together'.
It's by no coincidence that Wilson Architects succeeded in creating a space informed by inclusivity, cultural understanding and sensitivity towards the Indigenous students who are part of St Catherine's Dandjoo Darbalung program within the University of Western Australia.
As the Queensland-based practice's director and project lead Hamilton Wilson explains, the design process was undertaken in close consultation with an Indigenous working group from the student body as well as the previous director of Dandjoo Darbalung, Lynn Webber, and its current director, Benjamin Lewis.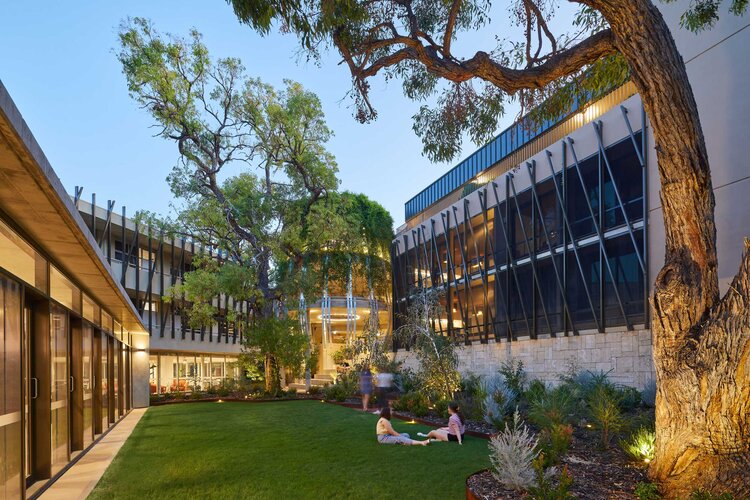 Early research identified Indigenous students, in particular, struggle with the dislocation and isolation of living away from their home as first-time university students, leading to poor personal well-being, learning outcomes and retention rates.
"The model in the past for student housing was to build a building full of rooms populated off corridors with a couple of community spaces that weren't really owned thrown into the mix," says Wilson.
"From our point of view and from our research, it was pretty clear that you need to own space and use it to build small neighbourhoods and small communities that actually foster a level of support and reduce isolation."
Rather than adopt the traditional St Catherine's student accommodation structure, which the practice says was "horizontal and European in origin", Wilson Architects created small pods of 10 students.
These pods feature a mix of differently priced rooms, interspersed with spaces where students can interact, study and support each other in alignment with the Indigenous idea of kinship.
"It was a bit of risk because some people have an en suite and some people don't, but they're all part of the same community this way," explains Wilson.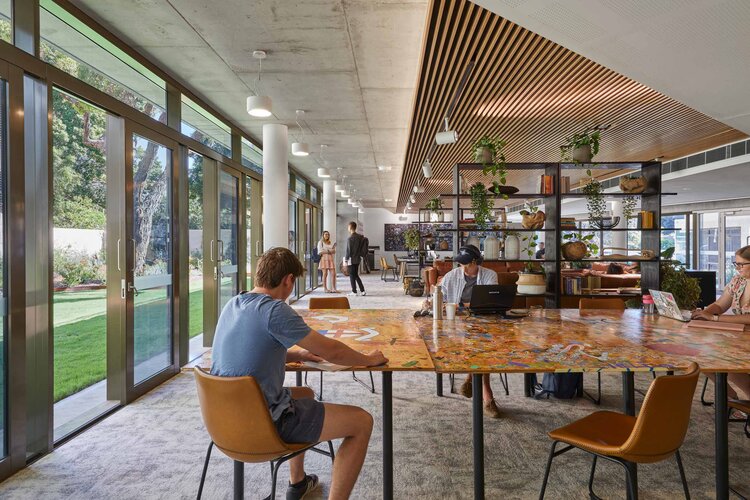 "So an older student might take up the en suite room and become a mentor to the students in the slightly cheaper accommodations on the same floor."
A shared common space with multiple purposes behind a common front door coaxes students out of their rooms and encourages interaction.
"Everyone circulates through that space to get where they need to be," says Wilson. "And, within this, there are lots of ways people can occupy the space."
Another key feature of the new student accommodation is its interaction with the landscape. Acknowledging the importance of Indigenous identity through an individual's occupation and sense of belonging, rather than the identity being prescribed through the building, interior spaces blur with the outside.
"We created rooms that weren't cells with a small window," says Wilson.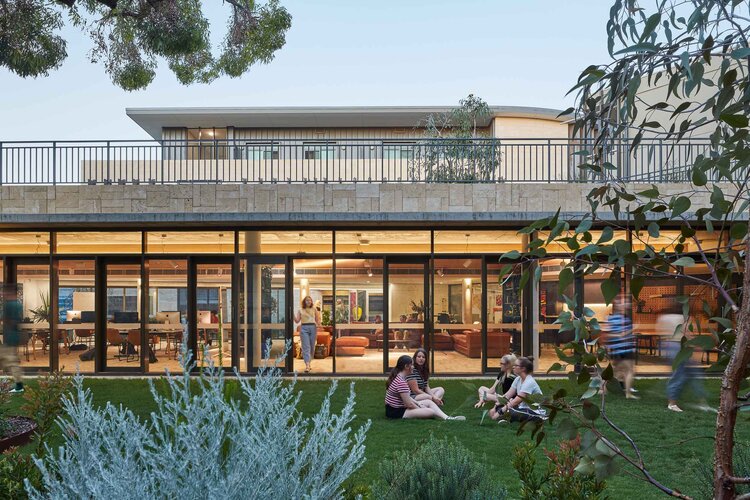 Connection to country
"The rooms all open onto small verandas screened with security mesh, and there's minimal obstruction between the room and the landscape," he adds.
"For Indigenous students, this design does help in making them feel very much like their room is a transition space from the land, from the country to the city, so they don't feel like they've been put in a box."
The building itself is veiled in expanded mesh and green vegetation and shaped along the form of the banksia – the symbol of the college. Its position is centrally located at the confluence of campus networks, further encouraging interaction between Indigenous and non-Indigenous students.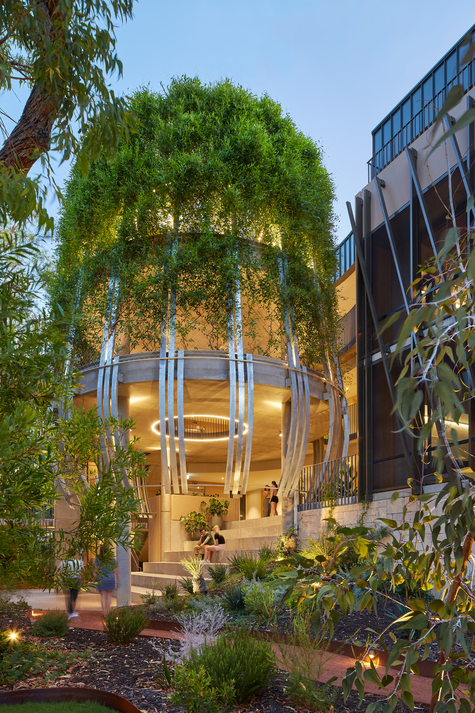 In the ground floor communal spaces, large windows open fully onto an Indigenous courtyard and other garden spaces, where existing mature trees were maintained during the build.
In this, Wilson says he was inspired by his mother, who was a landscape architect.
"She was very interested in the history of landscape before European settlement and, in particular, how the Indigenous populations were using land, as well as how they treated their communities and their networks," he explains.
The firepit on the top floor of the four-storey building, he says, draws on this approach to landscape, which Wilson's mother instilled in him at a young age.
"St Catherine's did have some smoking ceremony places on the campus, but they ended up being non-exclusive. They weren't elevated to a more emotive experience. They were just going through the motions," he says.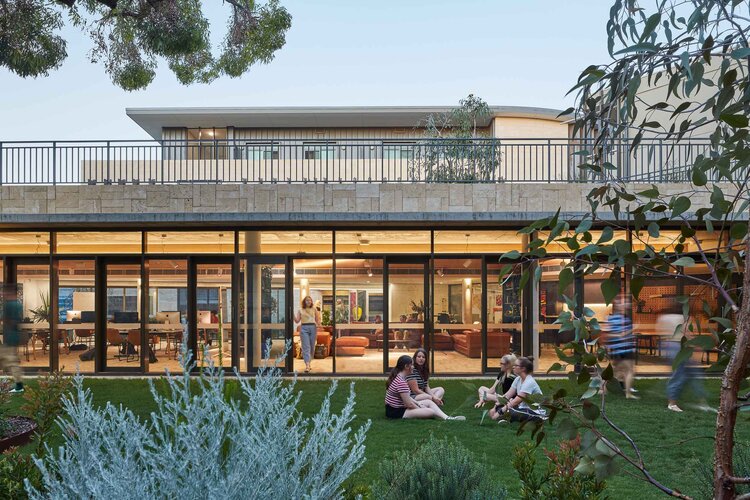 "So we thought, 'Let's move beyond just giving them something private and create something that actually rises well above what they would never have ever had before'. They were just expecting another firepit placed somewhere in the landscape, but we created, I think, something that has become slightly transcendental to what would normally be designed.
"As well as being the most memorable and identifiable moment of the building, and one of its major successes, it feels like it's a precious gift rather than just something that ticks the box."
In December, the Queensland University of Technology released its own Indigenous Australian campus development strategy, Campus to Country, developed in consultation with BVN principal Kevin O'Brien.
Photography by Douglas Mark Black.