Jakarta-based Andra Matin talks about beginning his practice in an economic crisis and the need for a paradigm shift in Indonesian contemporary architecture.
To herald local, traditional design while simultaneously championing a nationwide modernisation is a balance few could find with the elegance of Andra Matin.
Since founding his eponymous Jakarta-based studio andramatin in 1998, Matin has become the keeper of a contemporary Indonesian design vernacular that's inspired a generation of young architects.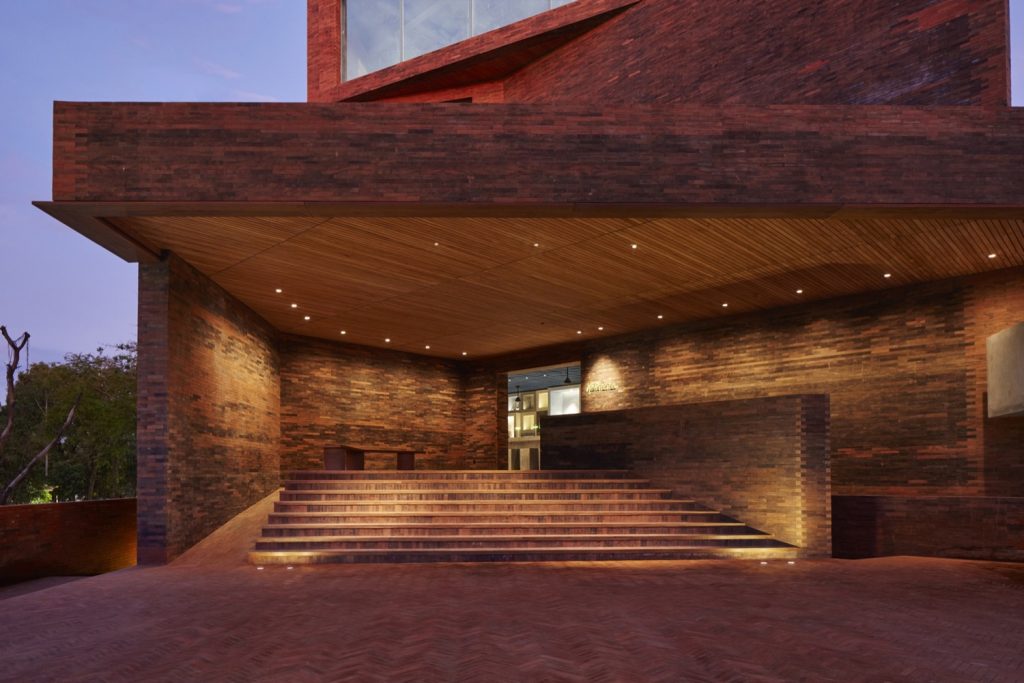 Alongside the bold residential projects that have garnered international admiration, Agus Suwage Villa, Salihara Community Building, Potato Head Beach Club and Katamama Hotel are among the firm's most culturally significant projects.
In 2019 andramatin completed Banyuwangi Airport, the studio's first government-commissioned project.
Matin chose to pursue architecture on the prompting of a high school career aptitude test. "My first impression of the architectural profession was that it was chiefly concerned with the designing of buildings, or creating beauty in space," reflects Matin.
"Believing this, I began to hope that I would someday be able to create buildings that would represent my idea of beauty."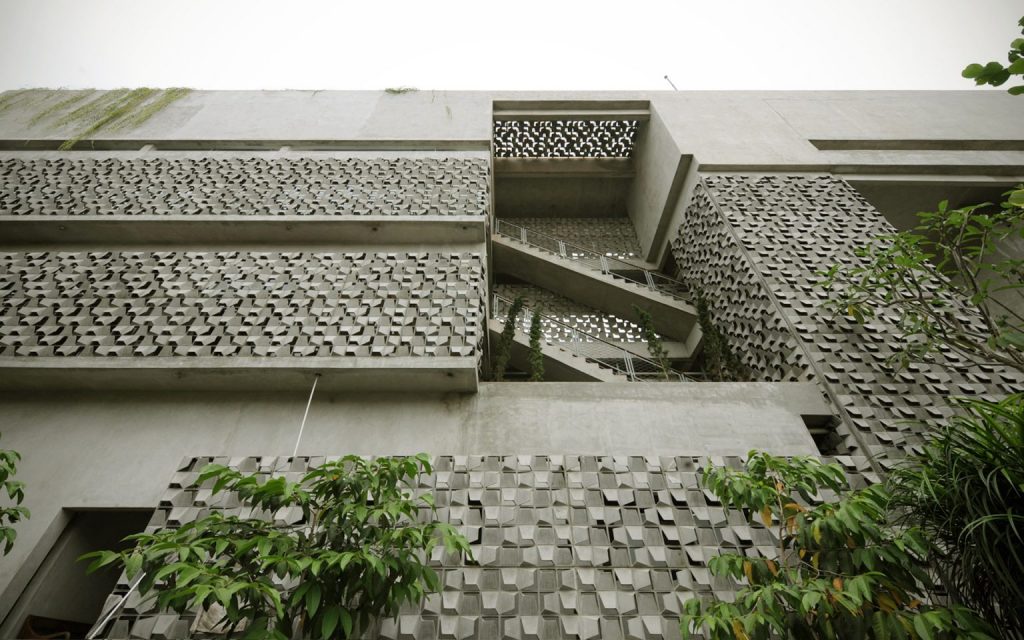 He enrolled at the Universitas Katolik Parahyangan where he found the focus on the technical aspects of architecture a limited frame for understanding that beauty, what he now calls, "the intangible aspects in architecture".
"I would liken the experience to taking piano lessons where you were expected to play classical pieces like sonatas and concertos," Matin says.
He then spent nine years working at large hospitality-focused firm Grahacipta Hadiprana, now Hadiprana. The practice remains well-known for using Javanese and Balinese elements in its design, infusing culturally identifying aesthetics into all projects.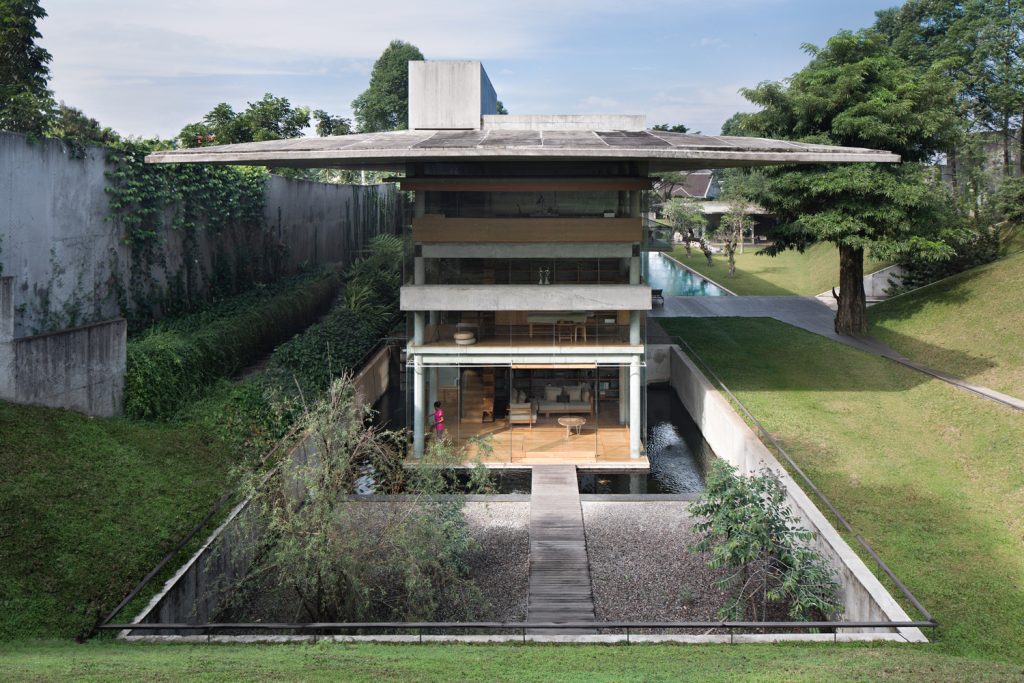 It was there that Matin accumulated the knowledge on the Nusantara and Palladian architecture that would form the motifs of his own firm's design language.
"My designing experiences in Hadiprana pushed me to delve into Indonesian culture and art, especially those of Jawa and Bali," Matin reflects.
"I hoped that by starting my own practice I would be able to make even greater contributions to the progress of Indonesian architecture."
Beginning in crisis
In 1998 Andra Matin established andramatin, becoming one of only a handful of Indonesian architects to begin an independent practice during the Asian economic crisis that precipitated the fall of President Suharto in 1998.
"I believed that if I succeeded in holding on and building my practice during the crisis, I would have a strong foundation to build on later on when the economy improved."
andramatin began with five commissions in its first year – all renovation projects. The constraints of time, budget and existing building conditions proved to be intensive learning curves for the fresh firm.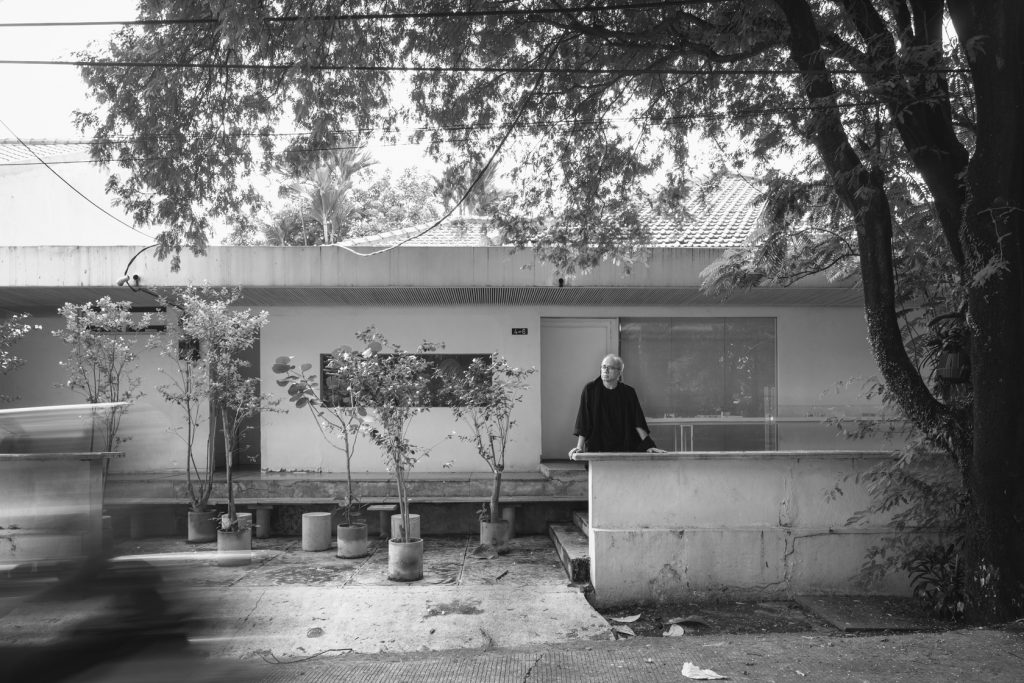 "Even though I had years of experience as an architect in a large and well-established firm, it turned out that when it came to getting a small practice off the ground, I was still a beginner. I had to start over and be open to learning new things all over again," says Matin.
It was andramatin's renovation for Jakarta-based graphic design studio Le Bo Ye that began drawing attention to the firm.
The design is a distinctly modernist structure but deeply responsive to the tropical Indonesian climate, a floating wood brise soleil protected against the heat and a glass shielding against the rainfall.
It was this duality, between international and place-based design, that remained andramatin's bailiwick as the firm grew.
A 'small' operation
Maintaining a small operation had been Matin's goal since andramatin's founding. It's a goal he's failed at, he says with a laugh. The firm now stands at over 40 employees, growing from 12 in 2007.
"It is hard to say 'no' to projects, especially if the brief is very interesting. I end up saying 'yes' to a lot of projects. In the same way, it is hard to say 'no' to applicants who have amazing portfolios," he explains.
As the firm began to grow and studio management became a necessity, Matin felt his pursuit of the 'intangible' aspects of architecture moving to the background, noting that the irony of success is an inevitable pivot from designing to managing and nurturing designers.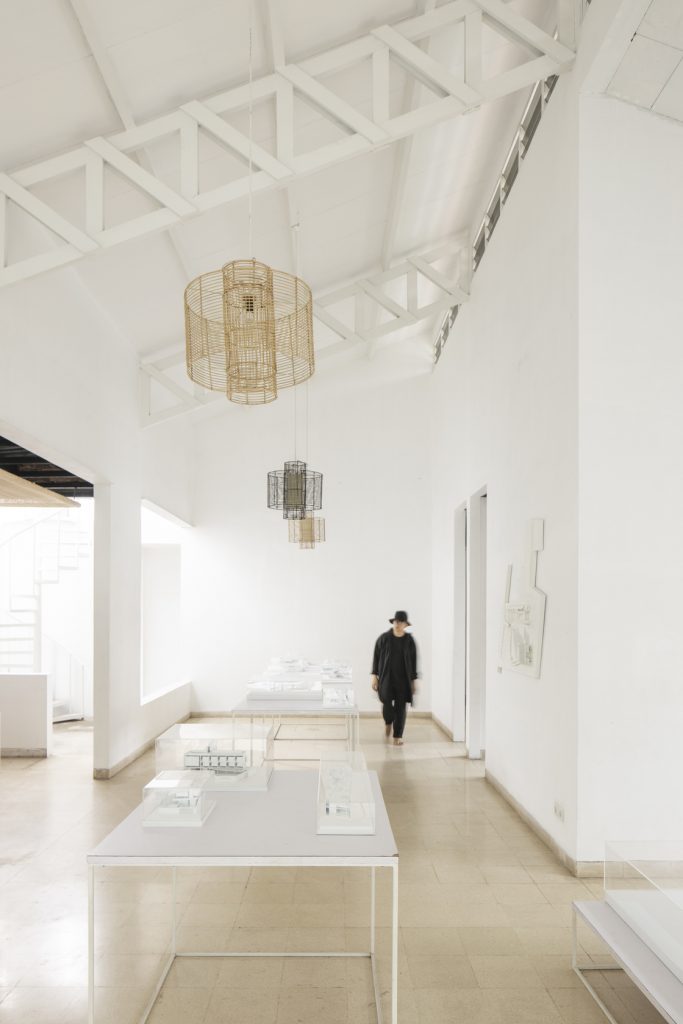 "I sometimes felt like the time I was able to allocate to the creative aspects of my work had been greatly reduced," he says. "Because of this, we've changed the organisational structure of our practice."
The design team is now split into two smaller groups and a team leader is assigned to each group to distribute information quickly. Matin holds routine meetings with these two divisions in order to make cross-studio design decisions and chart work progress.
It's a decidedly youthful team with most of the members between 22 and 35 years old. "They're young, energetic and very passionate. Being around them makes me feel as youthful as they are," says Matin.
Arsitek Muda Indonesia
Alongside nurturing his own young team, Matin is one of the founders of Arsitek Muda Indonesia (AMI or Young Indonesian Architects), which was established in the late 1990s. AMI is a collective, the members of which discuss the future of architecture in Indonesia and work to develop a new singular national design language.
"This was during the time when the authoritarian Suharto/New Order regime was still in power and all Indonesian architecture tended to look very similar," explains Matin.
"Many architects here were afraid to voice the ideas that could free them from the shackles of uniformity that plagued the era. AMI entered the scene with an independent spirit, eager to put forward fresh architectural ideas in a passive and monotonous design climate."
AMI discussion forums were usually held on Wednesday nights, with members arriving from their respective places of work and staying until midnight or later.
Members usually brought scale models, projected slides and prepared pin-ups to present their work for debate and critique by the other members.
"We openly gave constructive criticism for each other's designs. We questioned and refined each other's ideas. That was the culture and atmosphere we sought to foster in AMI forums, as well as in the future of Indonesian architectural practice," says Matin.
"For us, these activities helped create a richer landscape of perspectives in architecture, so that the young architects of the period were able to establish and refine their individual design identities, which ended up being very distinctive from each other."
An Indonesian Vernacular
Andra Matin is hesitant to pin down precisely what his distinct 'design identity' is. In sweeping photographs, his bold almost Brutalist projects appear decidedly modern, the influence of Le Corbusier obvious.
But what is nestled in these structures, and concealed in the two-dimensional image, is Matin's career-long drive for a national design vernacular, evocative of traditional designs and responsive to the Indonesian climate.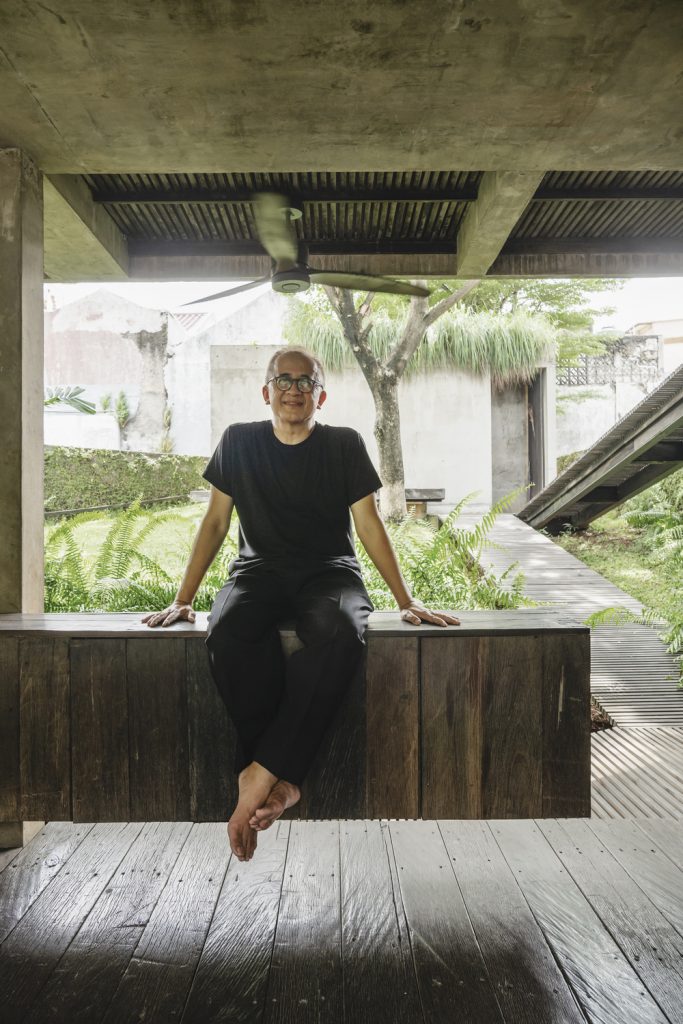 In an andramatin house, there is a porousness between inside and outside, the sequencing of spaces blurring the boundaries between public and private.
A local and minimal material palette is chosen to reduce both maintenance and the carbon footprint. The locally crafted materials that comprise part of this palette are the result of intense exploration.
"I always make the effort to ensure that the exploration of building materials – both in terms of form and detail – are relevant to the present context. This way the materials should be able to embody the current zeitgeist without necessarily leaving history behind," says Matin.
"If each nation were able and willing to dig into its local wisdom for inspiration, I think we would all develop a sense of satisfaction and delight at the uniqueness we could find through such exploration."
"And by expressing that uniqueness through architecture, we would all have the chance to see that this world is truly diverse and beautiful."
It's this conviction that inspires Matin's love of Japanese architecture with its enumerated principles and impulses. Amid the powerful currents of globalisation Matin says that this creation of, and loyalty to, a site-specific architecture is vital.
"I am sure that we must be eager to embrace progress as the world offers it to us, but we must also be able to slow down, to move in a measured way. We must strengthen the ties between craftsmanship and its deep roots in our cultural traditions, creating work that represents the values of our cultural heritage."
Since his studies, Matin has wrestled with architecture's natural inclination to prioritise the tangible, often at the detriment of exploring the meanings and values of the built environment that can only be felt and not touched.
"I often stress this to my team: beauty is absolute, and we must have mastery over it. The greatest challenge is to create awareness, that architecture does not stop at creating beautiful forms, and must become a means to enhance the quality of human life."
Osaka-based atelier Luke also chose to walk the fine line between modernisation and a traditional Japanese design vernacular in the architecture studio's second machiya renovation in Kyoto.
Lead photo: Andra Matin at studio andramatin. Photographer: Davy Linggar.