The latest release from Shaw Contract is a highly flexible flooring system called Campus.
"Our guiding principle was that design is neither an intellectual nor a material affair, but simply an integral part of the stuff of life, necessary for everyone in a civilised society."
The above quote is Walter Gropius' apt summation of the raison d'être behind Germany's famed Bauhaus art school. It's now just over a century since Gropius established the institution, which operated in various locations and under various leaders until 1933, but its ideals and aims are as relevant today as they have ever been. If not, more so. In 1919 the world was beginning to recover after World War I, and design that looked to combine form and function with a utilitarian approach that put people first was a perfect response to a world ravaged by dissent, division and disunity.
With the extraordinary events the world has been experiencing since the beginning of 2020, it's not hard to argue that anything that promotes unity and community thinking is once again a very welcome initiative.
If life under the virus has taught us nothing else it's that human beings yearn for connection and togetherness. While students and workers around the world are now used to remote learning and virtual lectures, meetings and other gatherings, it's clear that the allure of the 'campus', the physical location where like-minded people can come together, learn, swap ideas and/or undertake commercial transactions is looming large.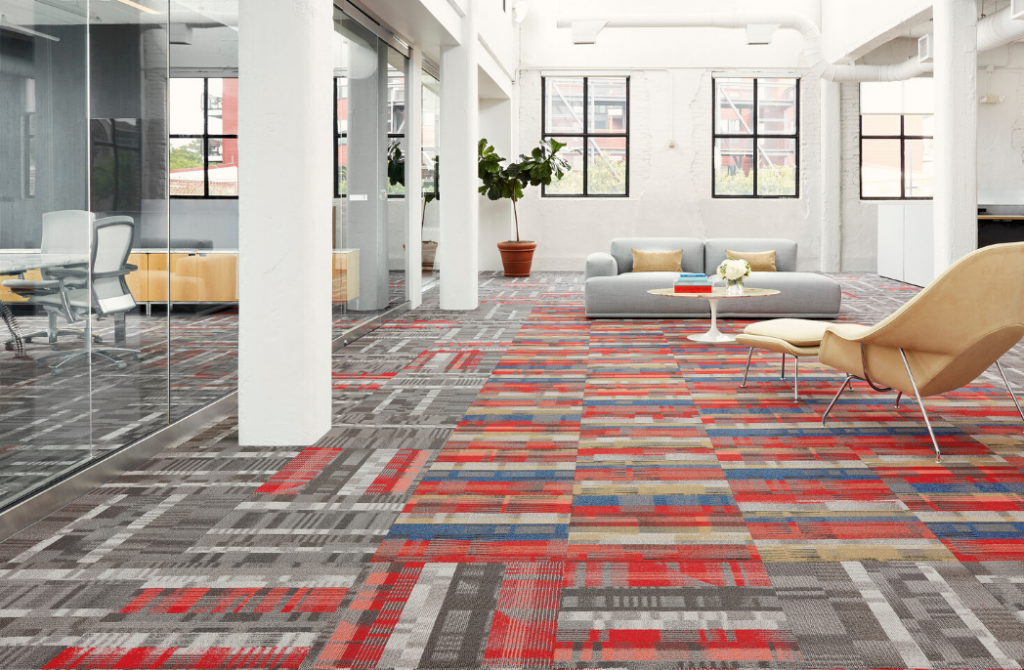 Design inspiration
This is the thinking behind Campus – a brand new range of carpet tiles by Shaw Contract that was inspired by Bauhaus ideals and design, and which works on the same principles of collaboration and experimentation. Just as the thought leaders of Bauhaus aimed to create strong, practical but still beautiful design that would be accessible to all, not just a wealthy elite, the Campus collection of floor tiles has been created to bridge form and function, and provide a perfect solution for educational, corporate and other institutional facilities everywhere.
With its intricate and intuitive use of pattern and colour, the collection can be installed in myriad interchangeable ways. Already resilient and robust with its EcoWorx backing use of Eco Solution Q nylon, Campus is a No Rules collection, which can be configured and reconfigured at will. Its modular format means it can also be replaced piecemeal, with areas experiencing the greatest foot traffic simply upgraded by swapping worn tiles with new ones and mixing up the existing tiles with the new or hardly worn tiles to keep an overall conformity of design. Sustainability meets aesthetic superiority as mergeable dye lots provide unique colour patterns, layered textures and intelligent gradations, making it simple to mix and match over time, without the age-old concern of whether colours will exactly match previous selections.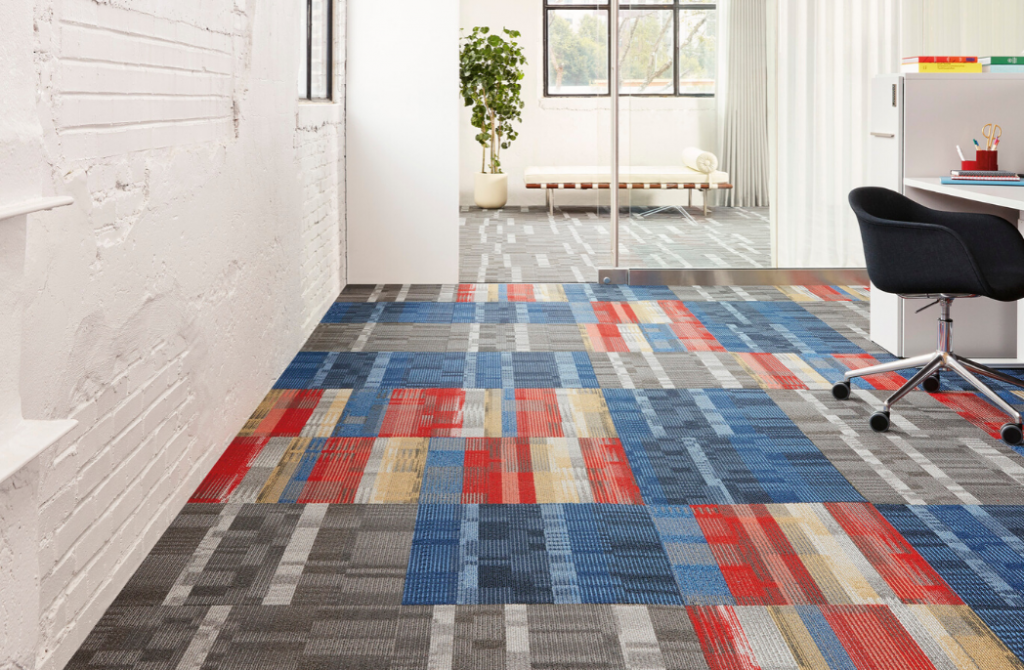 Idealism in practice
Not only is Campus a well-suited range for tertiary and secondary education applications due to its physical properties, it is also manufactured to the eco and environmental ideals prevalent in such establishments. Designed within a rigorous framework of environmental and social responsibility, Campus is Cradle to Cradle Certified silver, meaning it has been designed for the circular economy with a positive impact on both people and planet. Its materials are safe and healthy, it is manufactured in 100 percent carbon neutral facilities and it comes with an end of life guarantee.
A beneficial effect
"As a system of tiles, Campus can positively influence the experiences that occur within a space by combining high design and functional solutions like way-finding, smooth visual transitions, stain resistance, sustainable materials and colour accents," says Michelle Carpenter – Education, Government and Multi-family marketing director at Shaw Contract. "The name itself is inspired by the feeling of community – the goal of any campus is to facilitate the flow of information and collaboration."
The Campus Collection has three core elements:
Commons – inspired by the grid-like aesthetic that lay behind all Bauhaus design
Quad – in a similar fashion to the intersection between buildings in a traditional campus, this is the point where colour and neutrals come together to form a bridge across the full collection, and
Makerspace – where a colourful geometric pattern connects to coordinating colour families designed to encourage spontaneity and experimentation.
A campus is never about the singular, the individualistic – it is a nexus of connection and creativity, the very foundation of a place in which people come together united in a common endeavour.
For the last word on the subject, let's go back to Walter Gropius and how he foresaw how Campus could be justly regarded as furthering Bauhaus' own immortal legacy… "If your contribution has been vital, there will always be somebody to pick up where you left off, and that will be your claim to immortality."
For further information please visit Shaw Contract.