While the big hotel names still dominate the hospitality industry, the rise of the boutique hotel offers myriad opportunities for architecture practices looking to branch out. And they can make an instant impression if they get the entry right…
As is so often the case these days, we are captive to our first impressions. Hotel lobbies set a scene, a mood, an atmosphere, the expectation of memorable design and service. Their aim is for you, the guest, the visitor, to feel you are at a destination that gives you more than the usual, the mundane, the expected.
And in recent times it's the inner-city boutique hotels that have led the way. Some are parts of chains, such as Mantra and the Art Series, some have created their own brand identity like QT, while others have been inspired by the building's former life – think the film industry and the Paramount.
That a hotel lobby is usually the "first internal area and possibly the last" one sees may seem obvious but, as Dr Nyein Chan Aung, a Monash University design researcher specialising in industrial design, well-being and sleep, says, it indicates an arrival psychology. At its best, this will permeate other common areas and the rooms. A lot rests on it.
"When a person walks off the street and into a hotel lobby, whether or not that point can relieve the 'pressure' of the streets is critical to activate [an] emotional response," Aung says. This also has a hard-edged commercial aspect, influencing "how much money people will spend in order to maintain that high".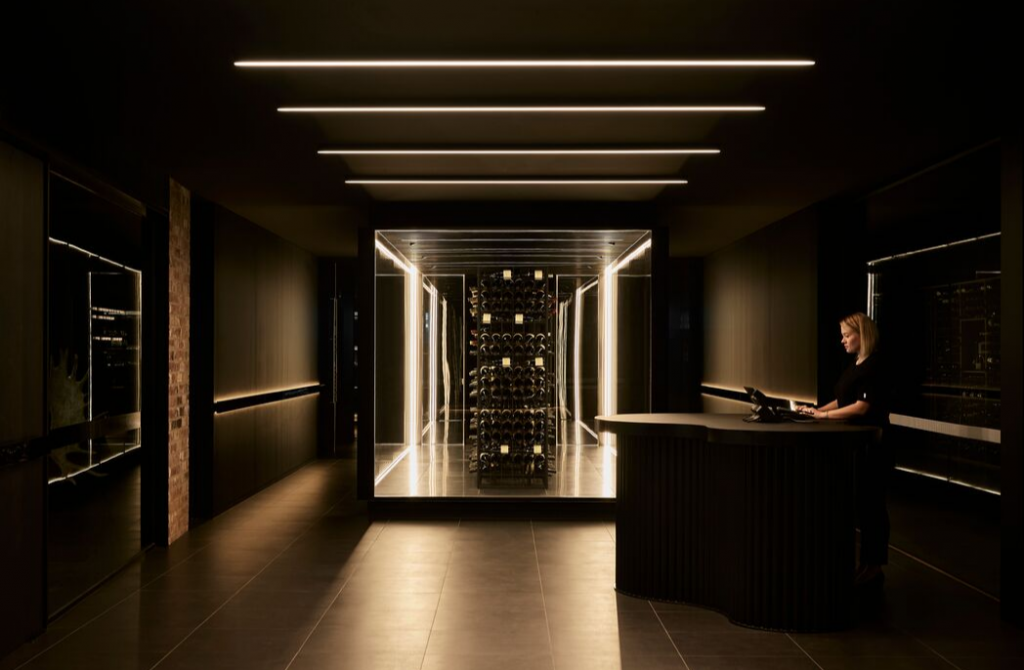 We like immersion, a design equivalent of deep diving, being engulfed by a place with character, where the furniture, carpets, walls, vegetation and vases fit.
A lobby is about putting guests at their ease, while also having a personality that "can create wonder and pique one's curiosity to see what is around the corner and lead the eye to different areas," says Kit Kemp, co-owner and creative director of Firmdale Hotels.
"It should also be like trying on a new pair of shoes. It should feel comfortable and fit properly from the word go."
The Australian travel pages have featured the group, which has hotels in London and New York, and proudly proclaims on its website that it is known for 'transforming overlooked properties such as warehouses and car parks into world-renowned successful, luxury hotels'.
Nic Graham, QT Hotels' public areas designer and stylist, is firm. "Design and experience must work in harmony. A hotel is people. Not bricks and mortar. That's the motivation behind a great lobby and the basis I work to. It's imperative it makes them feel something, to engage the senses… [with a] signature scent, carefully curated art collection and bespoke one-of-a-kind furnishings [to] create a hyper local lobby experience."
Connie Alessi, director at Archemy, and interior designer and space planner at Little Albion Guest House in Surry Hills, Sydney, broadens this process to include "which way the doors open, the ambience, who meets you at the entry [and such details as] the festoon lighting over the ramp".
Lighting, in fact, can transform the mood of a hotel by day and by night as in Carr Design Group's award-winning Jackalope Hotel on the Mornington Peninsula. The project, which was the 2018 IDEA overall winner, features Unios luminaires (supplied by Lights & Tracks) that are integral to what Carr has described as an "otherworldly experience [in which] guests are transported away from the everyday with a fusion of art, design, dining and storytelling".
Being different and approachable is accentuated by the almost inevitable "Instagram moments, which create opportunities for guests to not only tell their friends, but also share with their networks no matter how minute," says Graham. Many of these moments play on the lobby's local appeal. QT Melbourne shows its 'industrial chic heritage' while in Perth the city's natural light throws "shadows tastefully across the jarrah timber floors in the afternoon," says Graham.
"QT doesn't want to look like a museum. Each property sources and commissions bespoke furniture with the purpose of generating excitement for guests to engage in their surroundings. It's this uniqueness that sets the brand apart from others," he adds.
Accentuating their differences creates what most modern hotels are looking for – to be unique and approachable. For Little Albion House architect Terence Yong, its ultra-homey style "signifies the branding of the hotel, which is a home away from home, warm and welcoming thanks to the rich colours of emerald green and pink," he says. "It operates as the eyes into what a guest will experience. Its old-meets-newinteriors connect with the rich historical context and celebrate the Art Deco and Retro eras that the former convent went through."
Lobbies can feature unusual details, newly created or harking back to earlier incarnations. At the Little Albion, the Honour Bar (already distinctive as an honesty-based system, where costs are totted up and paid for by guests on leaving) has a Nick Samartis-designed bookcase-wall of romantic poetry books, lovingly doodled and printed to look like old books.
At the Paramount House Hotel (Breathe Architecture) there is a light-filled atrium, detailed copper doors and a notable café, with an emphasis on high-quality coffee, taking up the first half of the lobby and generating excitement with its references to the glory days of the film industry.
Competition, the hotels all agree, has kept them on their toes and more aware than ever of the value of design.
As to the economic effect, Yong points to the "continuing positive feedback from hotel guests and a high level of occupancy rates". The guesthouse sale (from 8Hotels to Crystalbrook Collection Hotels and Resorts) reportedly highlighted the strong investor demand for Sydney hotel investment opportunities.
The Paramount owners cite the lobby as a welcoming "conduit to the rest of the hotel making people want to return time and again".  Meanwhile, QT's Graham sums up the collective thinking. "The bottom line will always come out on top when delivering a tailored creative experience to guests."
Creating an unforgettable welcome for hotel guests
Think of an arrival as an experience as much as the design.
Promote the idea of hotel hospitality, including art, music, food and beverage.
Emphasise the location's geography and special features, incorporating the colour and texture into the choice of materials.
Delve into the hotel's history integrating previous interiors and building structures.
Set the mood of the hotel, taking pride in being different, bespoke and, for some, a bit quirky.
Make guests feel at home, but aware that they are somewhere else – a home away from home.
All images: Jackalope Hotel © Sharyn Cairns
This article first appeared in Architectural Review #161