Global design firm Buchan is thrilled to announce the concept design for the Australian Pavilion at Expo 2025 in Osaka, Japan, that applauds the beauty of Australia's natural landscape. 
Buchan's design of the Pavilion responds to Australia's Expo theme 'Chasing the Sun,' through saluting Australia's spirit and diverse landscape. 
Designing Future Society for our Lives
The wider Expo 2025 theme is 'Designing Future Society for our Lives,' which will see an exploration into how the most flexible and adaptive design methodologies from around the world can be consolidated into a global guideline for sustainable design.
Running from April to October of 2025, Expo 2025 is set to welcome over 150 nations and 28 million visitors and share how design can be harnessed, in conjunction with emerging sciences and technologies, as a tool in which to mediate social challenges. 
Chasing the Sun
The pavilion is shaped as an almost distorted eucalyptus gumnut tree, complete with a myriad of shapes and colours reflective of Australia's diverse community.
Brightly coloured eucalyptus leaves and gum blossoms are also a homage to the vibrancy of contemporary Australian society.
Buchan creative lead Dong Uong promises an immersive and educational experience for patrons engaging with the pavilion.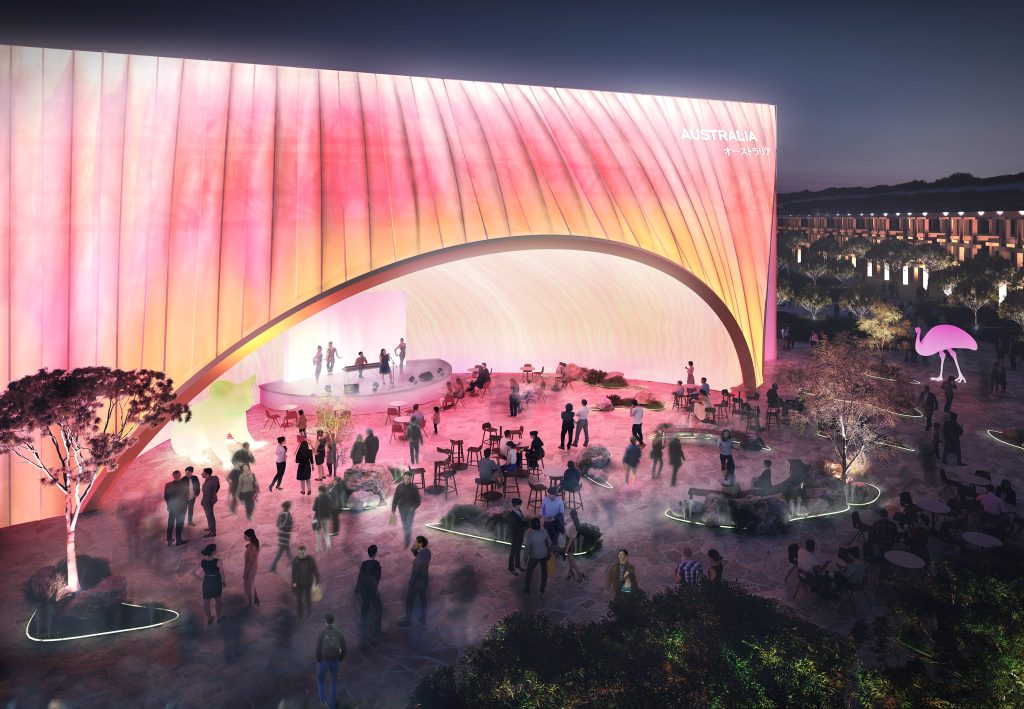 "The exhibition will chase the sun across land and water and move from day into night and between real and surreal. Visitors will engage with Australia's physical beauty whilst learning about our culture and achievements," says Uong. 
Pursuing net-zero environmental footprint
The design confirmed Buchan's unwavering commitment to its Environmentally Sustainable Design (ESD) principles. Lead architect Nataly Ernst explained how the main design goal was for the pavilion to leave a lasting imprint on patrons without leaving a trace of waste.
"The architecture is guided by sustainable design principles, materials and delivery methodologies" says Ernst.
Advertising Australia's technological and economic abilities at Expo 2025
Australia's involvement in Expo 2025 aims to not only further enrich Australia's strong cultural and economic relationship with Japan, yet enable Australian businesses a global platform and promote the nation's technological and economic prowess.
"Buchan is excited to work with our consultant team on this significant project, which will showcase our nation's creativity and ingenuity. The pavilion will be a platform for promoting Australia's technological and economic capabilities, and our unique culture and personality," says Ernst. 
Renders supplied by Buchan.
Read about Fender Katsidis' design of The Alba demonstrating powers of adaptive reuse.