With original Grant Featherston contour chairs frequently fetching well over $5,000, most people probably think that they have never sat in a Featherston chair but they are most likely wrong. Most Australians have experienced at least one Featherston chair, arguably making him Australia's most successful industrial designer. Surprisingly, a book exploring the life and work of this famous Australian has not been available until now.
Featherston started designing chairs in 1947 and continued until the late 1970s. Working with wood, steel and plastics he designed hundreds of chairs, many of which were produced by leading Australian manufacturers, most notably Melbourne based Aristoc.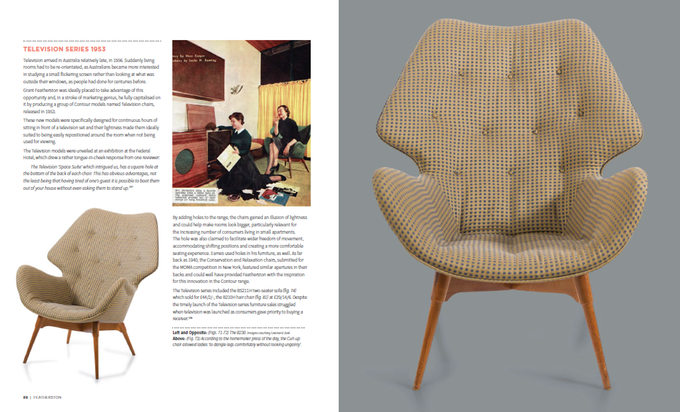 Some of his designs were so successful they sold hundreds of thousands of copies, at a time when the population of Melbourne was just 1.2 million.
While Featherston is best known for his Contour series, which is aimed primarily at the domestic market, his most successful designs were adopted by the commercial market, with offices, community halls, universities, cafés and restaurants ordering hundreds at a time. Many of these designs were so sturdy that they can still be found in use at cafés and bars in country towns over half a century later.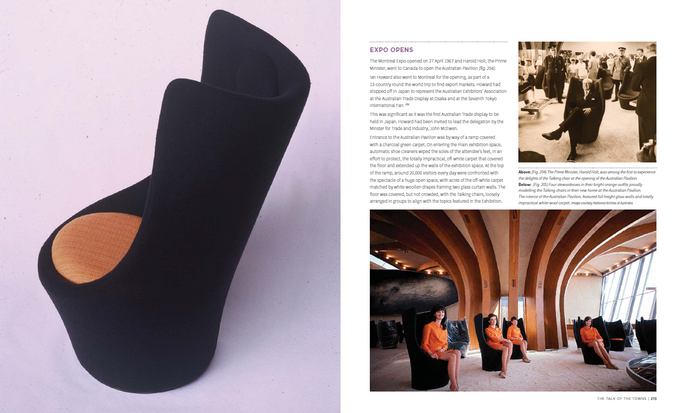 The Delma was the most successful design – simple, stackable and cheap at less than half the cost of other steel framed chairs.
Featherston, working with Aristoc, also designed custom public seating for sports halls, conference halls, university lecture theatres and other public venues – ensuring that most Melburnians have sat in at least one Featherston chair.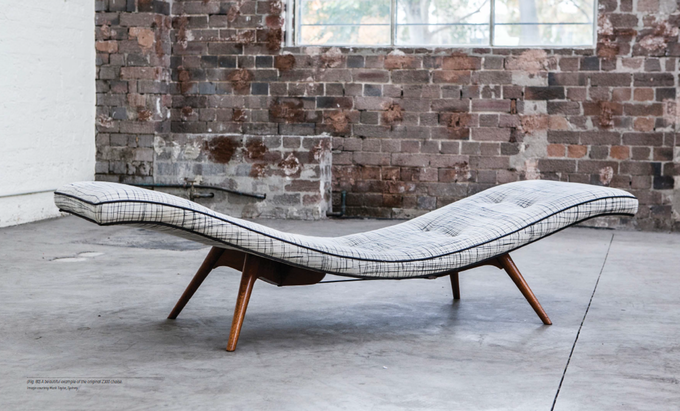 In 1967, Featherston, working with his second wife, Mary, designed the Talking chair for the Australian pavilion at World Expo in Montreal. This highly innovative design merged technology and furniture to allow exhausted expo visitors to relax in a comfortable chair whilst learning about Australia from tapes of famous Australians played through speakers concealed in the head rest. The chair was an instant success and became the talk of the town in both Montreal and Melbourne.
Grant worked with the leading modernist architects (including Robin Boyd and Neil Clerehan) to supply furniture for their clients and the Featherston's designed all the furniture for Roy Grounds' new National Gallery of Victoria building in 1968.
Despite all these achievements, it is the Contour series that remains Featherston's best-known work.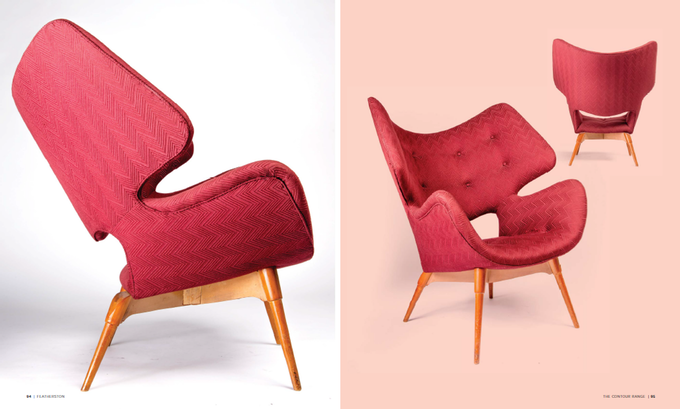 Designed in the early 1950s most people are familiar with the R160 as this is the most commonly found and frequently copied design. The Contour series encompasses two dozen designs and this extraordinary flourish of creativity is displayed in its entirety for the first time in this book.
Over four years in the making, the book has been extensively researched by Geoff Isaac who argues that Featherston has been under estimated by the local design community. "Critics have accused Featherston of being derivative. However, this fails to acknowledge his achievements in developing production methods that enabled the sparsely populated and remote Australian market to experience the modern look," he says.
"The ingenuity required to succeed and consistently deliver successful modern designs is the real, previously untold, story revealed in my book."
It is beautifully illustrated with over 250 photographs, including previously unpublished material from the Aristoc achieve. Featherston is being crowd-sourced funded through Kickstarter. For more information visit the Kickstarter web page or grantfeatherston.com.