Above: Smart Tactile Paving by Büro North. Written by Sara Kirby.
With Pokémon Go dominating mobile gaming worldwide, it's hard to walk down the street without encountering fellow pedestrians with their eyes gazing downward, paying no attention to their surroundings as they fulfil their quest to catch fictional creatures.
Engrossed in their phones, people crossing roads without looking, or without looking properly, is cause for concern. Australian design company, Büro North, however, has come up with a solution in Smart Tactile Paving.
Smart Tactile Paving takes advantage of current infrastructure – the raised dots that edge roads and train platforms – and  illuminates them with LED lights. The lights glow red or green to indicate to smart phone users whether they should stop, or if it is safe to cross.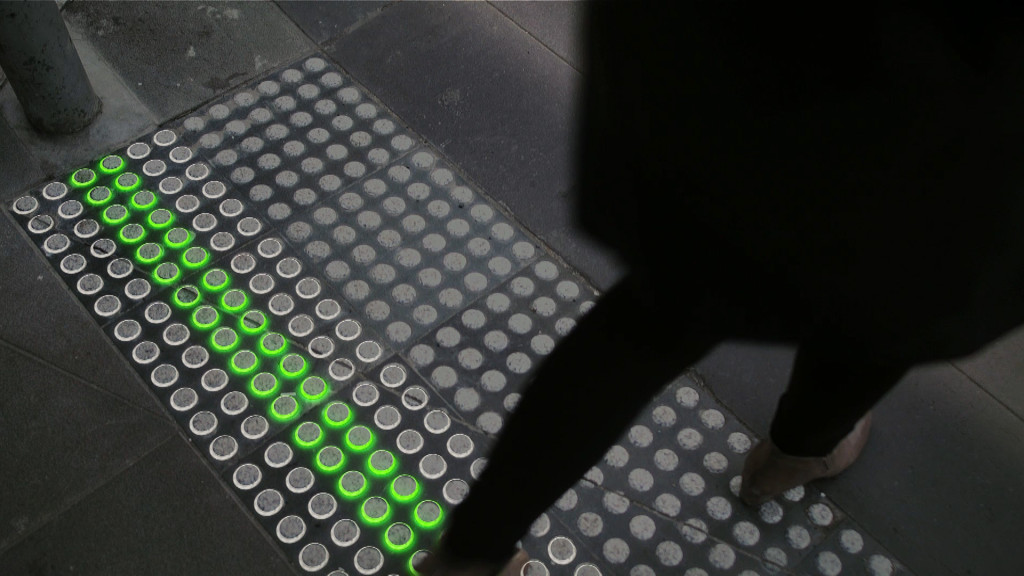 "One in seven fatalities on Australian roads is a pedestrian. In the last year, 165 pedestrians died on Australia's roads. Around 3,500 pedestrians are seriously injured each year," says Soren Luckins, director of Büro North. "In Australia, one in three pedestrians use a mobile phone while crossing roads."
"Rather than attempting to modify behaviour by legislation or punitive laws that will ultimately prove futile, we want to make cities safer by design," Luckins says.
Earlier this year, in Augsburg, Germany, a public-works/transportation provider installed similar ground lighting alongside two tram stops. In the same vein as Smart Tactile Paving, the lights, installed by Stadtwerke Augsburg (swa), blink red for stop or green to go, and are large enough to be visible from a distance.
Similarly, in 2014, authorities in Chongqing, China, divided a 30-metre footpath into two lanes. One for those using their phone as they walk, and one for non-distracted pedestrians, in an attempt to bring awareness to people's engrossed smart phone use.
While logical, designs that cater to oblivious pedestrians are not met without criticism. Opponents argue that people should simply take a second to look up from their phones to check the old-fashioned street lights, or put their phone away as they walk. However, the clear reality is that many people do not – and the consequences can be dire. Our world is increasingly revolving around smart phones and there seems to be no fighting it. Sitting stagnant in defiance of "the future" rarely does anyone any favours, and in the instance of innovations such as Büro North and swa's, adaption through design could just save lives.