Images appear courtesy of Damian Bennett.
Sydney design studio TomMarkHenry has had a busy 2015, taking on a number of commercial and residential projects within its first year of practice. With backgrounds in interior architecture, design and property development, the trio – made up of Chloe, Jade and Cushla – have quickly made a name for themselves in the architecture and design community, and show no signs of slowing down.
First things first, we'd love to know the origins of your name. As three young female professionals, we have to ask – why 'TomMarkHenry'?
TomMarkHenry pays homage to three inspirational men in our lives who have shown strength and character that we emulate through our business. The name also symbolises an interesting juxtaposition between the reality of us being three young female directors and the strong masculinity represented by the name. This name allows us to show an equal representation of our strength and masculine sides, as well as the obvious feminine side.
You've entered a couple of your recent projects into IDEA 2015. It would certainly appear you've had a busy 12 months! Can you talk us through some of your latest projects?
We have been seriously busy in the last 12 months – we have taken on 36 projects! Having three directors allows us to take on more projects, which keeps our day-to-day very interesting and ever-changing. The Farm Wholefoods is a recent baby of ours that just opened its doors on Macleay Street in Potts Point. It's a bulk wholefoods pantry and café concept store, which we completely designed out of sustainable and recycled materials, even down to the bamboo Boo stools from Catapult Design. The design was largely based on a farmhouse, which ties into the client's story of how this business idea came about. We used recycled steel structures to create a barn house silhouette that is symbolic of their branding and ethos.
Let's talk about Paddington Terrace. How did this project come to your practice? Was it a long tender process?
We had previously shared an office space with one of the clients of Paddington Terrace, and hadn't seen him in a while. Jade – one of our directors – was driving next to him in the car and he yelled across the traffic that he had a job for us, so the project came to us through a car window! There was no tender process on this one; they felt comfortable having seen us in our work environment to give us the job.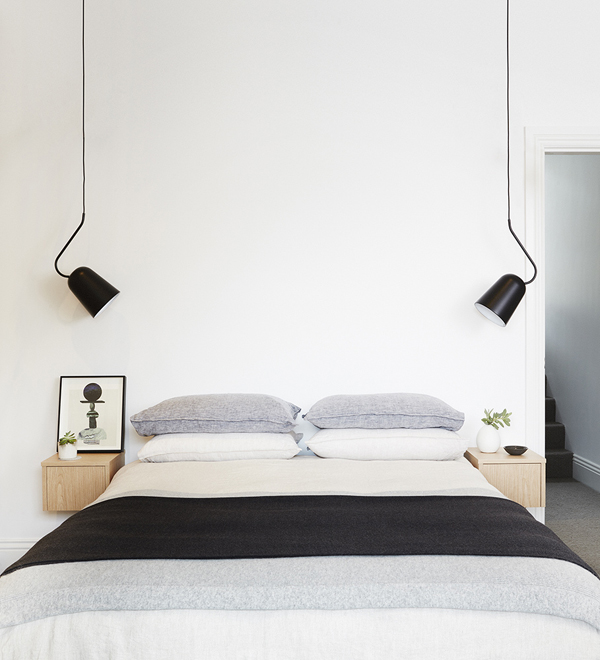 How involved was the client from the initial conceptual stages and throughout the design process?
The clients gave us a clear brief and strong directive on the style and how they wanted to function within the space from the beginning. After giving us an understanding of these elements early on, they were largely very trusting and left us to the design process. This project had a very quick turnaround time – we only had four weeks to design and document the whole space so we really didn't have a lot of time for changes. Having such a great bond and mutual understanding with our clients was integral to the successful completion of this project.
What were the key points of inspiration behind its design? How does the design complement and incorporate these themes or concepts?
The client's brief was to have a classic but clean, family-friendly home they could grow with. To achieve this, we maintained a neutral palette, keeping true to the heritage of the terrace, but modernising it with new bespoke joinery, fixtures and fittings. We layered the neutral palette with textures, and added interest with strong monochromatic contrasts. By keeping the space light, bright and simple it will remain timeless.
What, in your view, is the most successful element of the project?
The fact that the clients can now enjoy their space to its full potential is a very satisfying aspect of this project. The functionality created by the new floor plan in the living/dining/kitchen area is definitely one of the most successful elements given the constraints of the site we were working with. We created an extension on the existing space of 35 square metres. The room measures four metres at its widest point, and in it we have housed ample living room, a large kitchen with plenty of storage, a main family bathroom and laundry. This is the area that the family lives in, so it was crucial to get this space right in both form and function. We maximised height where possible, exposing the four-and-a-half-metre raked ceiling and adding a row of skylights to enhance the space.
Can you give a little insight into the challenges and highlights of working as a trio?
Having three different perspectives is not only beneficial for our clients, but also for ourselves as we challenge each other and push the design boundaries further. As we grow together the harmonisation of our perspectives has become more seamless – we love the process and cannot wait to see where it goes from here.
Where do you turn for inspiration, and which architects or designers have had the biggest influence on your work?
Our work is influenced by being emotionally connected to our spaces by observing details, places, moments and people within that space. We draw inspiration from many sources including friends, family, culture, art, fashion or even a walk down the street. Wherever it comes from, it takes us to where we need to go and places we didn't even know we needed to go. Some of our favourite local and international designers and architects are Joseph Dirand, Oliver Gustav Studio, Dimore Gallery, Henry Wilson, March Studio and Apparatus Studio – just to name a few.
What excites or frustrates you about the current state of Australian architecture and design?
I think the biggest thing that our industry faces is the value of our expertise. A lot of people find it hard to value our work; we believe this is for the industry as a whole and not just us. This is partly overcome by bridging the gap between what people can afford and giving them an understanding of how this can be achieved for their budget. It also is a problem the industry has to tackle as a whole, with education, expectations and standards.
What has been the proudest achievement in your career?
Being shortlisted for the International Restaurant and Bar Design Awards for our project Bondi's Best (when we were less than one year old as a company) was a proud moment. It is surreal and such an honour to be shortlisted among firms that we look up to and aspire to be in like in five to 10 years' time!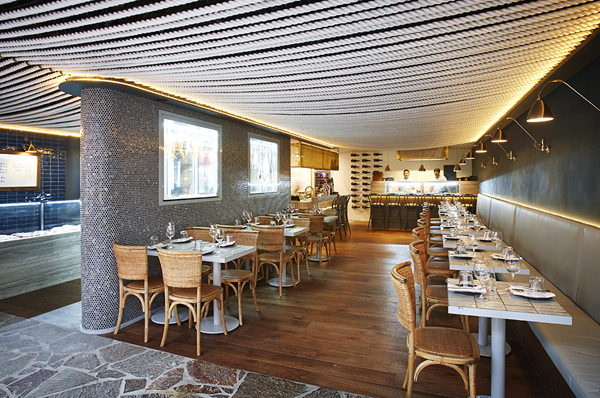 What is your favourite project from your own body of work and why?
It is hard to choose a favourite project, because every project has something we love about it. That may be, an amazing site we get to work with, an exciting brief, or a great connection with the client. The project that comes along and ticks all of these boxes will most definitely be our favourite!
What is your favourite space/place in Melbourne or Sydney – is there a spot you wish you had designed?
We thought very hard about answering this question, and found it difficult to say a favourite space or place. We are inspired by so many places for very different reasons, so we just couldn't pick a favourite. When we walk into a space that, as designers, we can appreciate and identify with, we wonder about the client behind it. Rather than having wished we had designed the space, we can definitely say we have wished we designed spaces for particular clients. Most of all we love designing with clients who understand and value our expertise and where there is an opportunity to design not just a space, but also an experience. We would love to design for a chef that we admire, such as George Calombaris or Matt Moran.
What are you working on currently?
We have a project in Bondi that we are very excited to share, but can't talk about just yet. We can say it is a commercial project that everyone will have the chance to check out in the not-too-distant future. We have also been keeping very busy with four projects in the brand new Lend Lease development at Barangaroo. We have absolutely loved the process of working with mega property developers Lend Lease. We feel it has broadened our horizons and we are excited to work more with them in the future. Other than these exciting commercial projects, we have a few residential projects on the go that allow us to explore beautiful bespoke finishes and detailing for our clients' homes.