Lexus' design pavilion – LANDMARK by Lexus returns in the company's sixth year as Principal Partner of the Victoria Racing Club for the 2023 Melbourne Cup Carnival with a marriage of Japanese architectural values and Australian sustainable produce.
Designed by Koichi Takada Architects, luxury car company Lexus embraces its brand value of 'Omotenashi' with the showpiece, a Japanese hospitality tradition of premium service where guests' needs are anticipated in advance.
Guests can access a range of offerings to complement their Flemington Racecourse experience, exploring three distinct levels with which the collaborators seek to synergise sustainability and design: 'Source', 'Cultivate' and 'Harvest'.
"LANDMARK by Lexus showcases the sophistication, style and refinement Lexus is renowned for," says Lexus Australia chief executive John Pappas.
2023 brings Lexus 'Close to the Source'
The 2023 theme for LANDMARK is 'Close to the Source', a contemporary and conceptual fusion of the rarity of a mineral, scarcity of an ingredient and the simplicity of natural materials.
"This year with 'Close to the Source', we recognise the inherent purity and appeal of natural materials and sustainable, organic produce. Our collaborators are artisans who will bring 'Close to The Source' to life with innovative design and breakthrough culinary flair," says Pappas.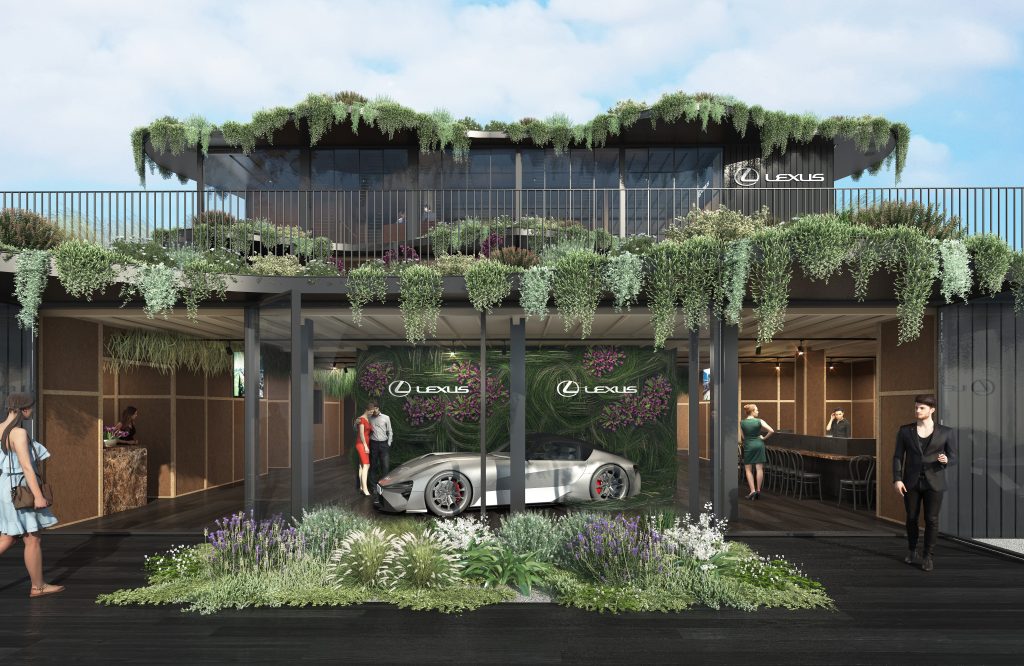 "Lexus is all about creating amazing experiences, and this year, with all our collaborators in the Birdcage Enclosure, we will take amazing to even greater heights."
On the upper levels among floral displays, guests can find entertainment, St Remio coffee, and cocktails created by mixologist Priscilla Leong as they take in prime views of the Flemington Racecourse. Two hundred and forty guests per day will be able to experience star chef Luke Mangan's best, served on bespoke Japanese-inspired crockery by potter Sam Gordon.
Mangan describes the experience as an "exciting opportunity to create a luxury culinary experience for guests, using fresh, ethically sourced ingredients to emphasise being 'Close to the Source'".
The 2023 Melbourne Cup Carnival will take place at Flemington Racecourse from Saturday 4 November to Saturday 11 November.
Render supplied by Lexus.
Check out CULT's introduction of Fritz Hansen's Skagerak collection to Australia and New Zealand.