Studio Doherty recently collaborated with Enth Degree Architects to develop Gloss House, a zany yet sophisticated space for home-bodies and socialites alike
Gloss House brings a flash of Palm Springs to an unassuming street in Doncaster East by saluting the joy and fun of 1950s modernist design. The final project is a polished house that still maintains a slight edginess.
Gloss House is relatively modest in size, yet boasts bright and bold architectural gestures – a 20-seat conversation pit, a green-tiled bathroom and a blue spiral staircase.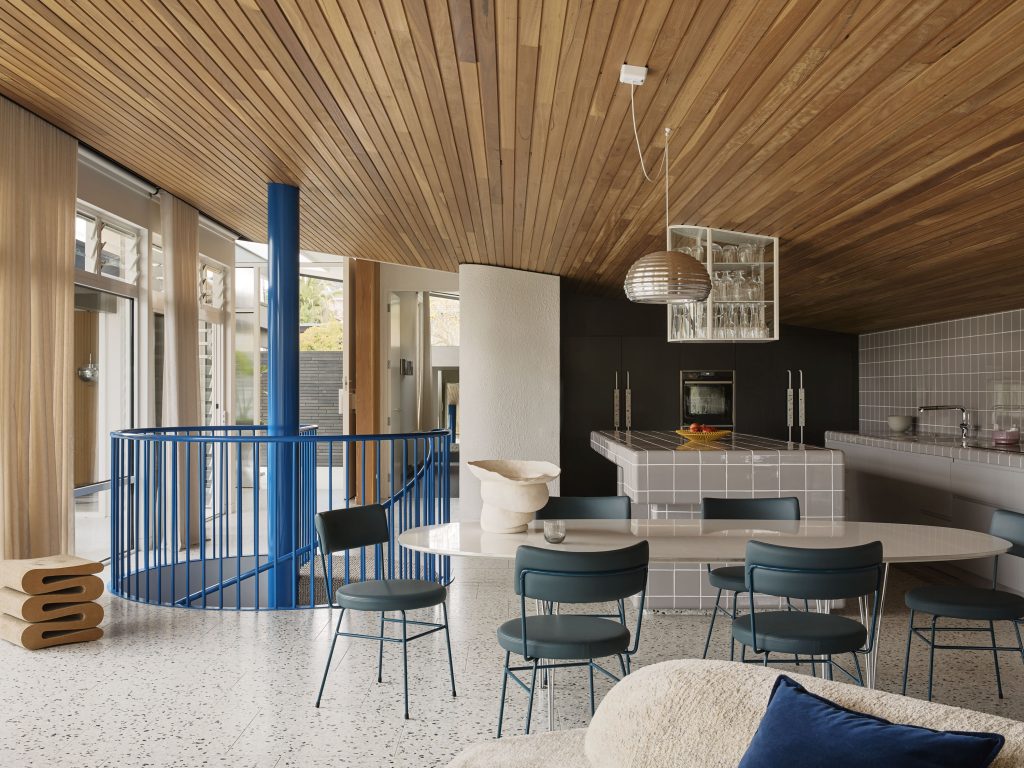 Studio Doherty director Mardi Doherty says Gloss House is an ode to owners Micheal's and Lidija's passion for family, entertaining and design, and is a true platform for self expression.
Studio Doherty is a Hawthorne-based interior design firm specialising in mid-to-high-end residential and retail projects through collaboration with architecture firms.
"We pride ourselves on responding to the architecture of the building and the needs of our clients," says Doherty.
For Gloss House, Doherty says she was inspired by the mid-century design typical of architecture in Palm Springs, and shared this vision with Micheal and Lidija.
"They're both constantly exposed to innovative design and creativity – they were up for anything and said 'Can we kook it up a bit?' " laughs Doherty.
Doherty says the studio previously worked on similar projects, such as a 1980s Malvern home designed by Peter McIntyre, yet Gloss House was a new step forward.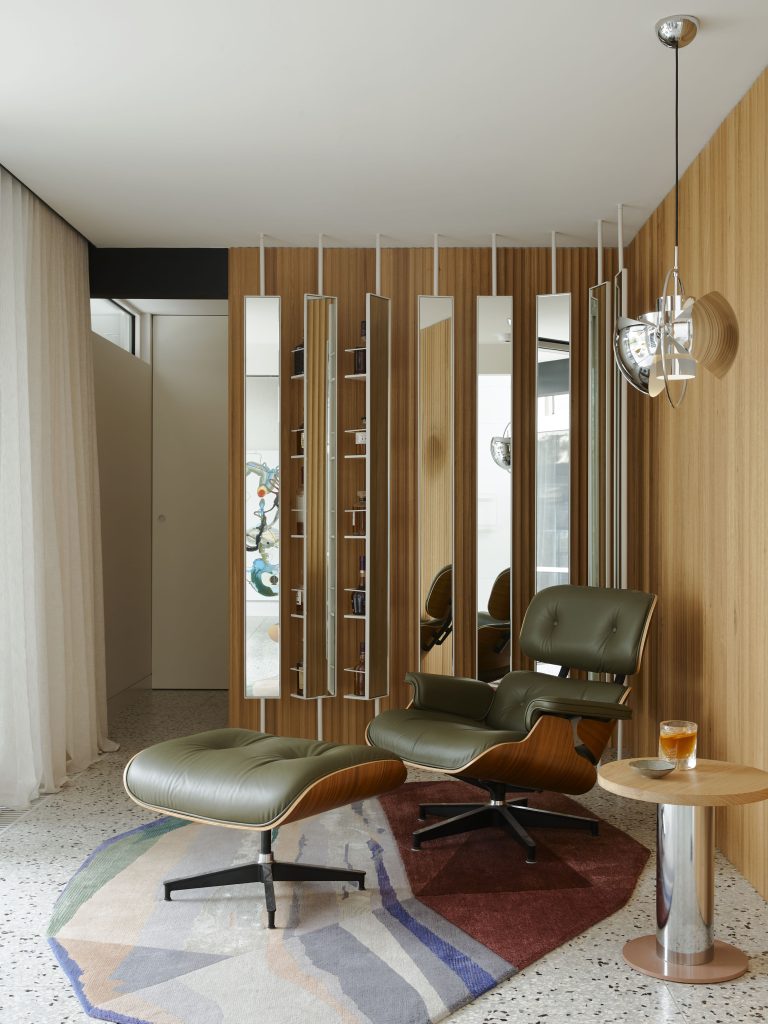 Micheal and Lidija aimed for the design of Gloss House to allow socialising and entertaining. The clients wanted the barbeque area, rather than the kitchen, to act as the heart of the busy and active house.
Doherty says the couple also requested for their terrazzo product – Fibonacci – to be incorporated into the house in surprising and subtle ways to avoid their home receiving the moniker of 'Mr and Mrs Fibonacci's house'.
The studio relished the opportunity to excite and surprise the pair through the thoughtful inclusion of Fibonacci.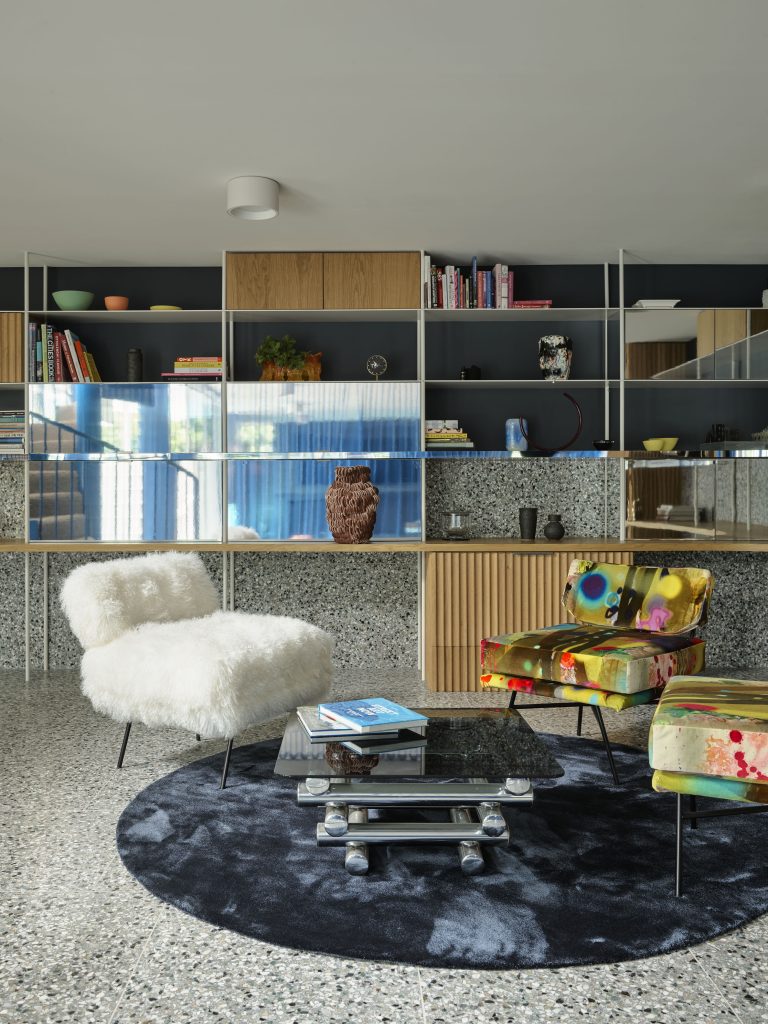 "We decided to introduce the terrazzo into door handles and onto the floors – even wrapping up walls," says Doherty.
Gloss House wholly represents Micheal and Lidija's love for epicurean design and fashion, while still reflecting their easy-going and down-to-earth nature.
Doherty says it was a gratifying passion project where the clients were open to experimentation, productive debate and collaboration with the studio throughout the whole process.
"They were gorgeous clients and they've worked so hard – they really designed the house for them," says Doherty.
The studio represented elements of energising futurism and calming eclecticism in a fluid and cohesive manner through a process Doherty referred to as "balancing the drama".
"We approach all of our projects through finding a balance where we don't over-indulge, yet also have areas that are exciting – moments of calm displayed alongside a theatrical pop of colour," says Doherty.
Micheal and Lidija also wanted their house to act as a relaxing oasis and a platform for moments of solitary self-expression, particularly noted through the studio's thoughtful design of the laundry.
Lidija frequently dyes her hair blue in the laundry tub – an act of self-care intrinsic to her identity – so the studio added a unique and personal touch of yellow de-tiles into the laundry.
The team further achieved this concept of a calming sanctuary by maintaining visual connections with the outdoors and harnessing the power of natural light.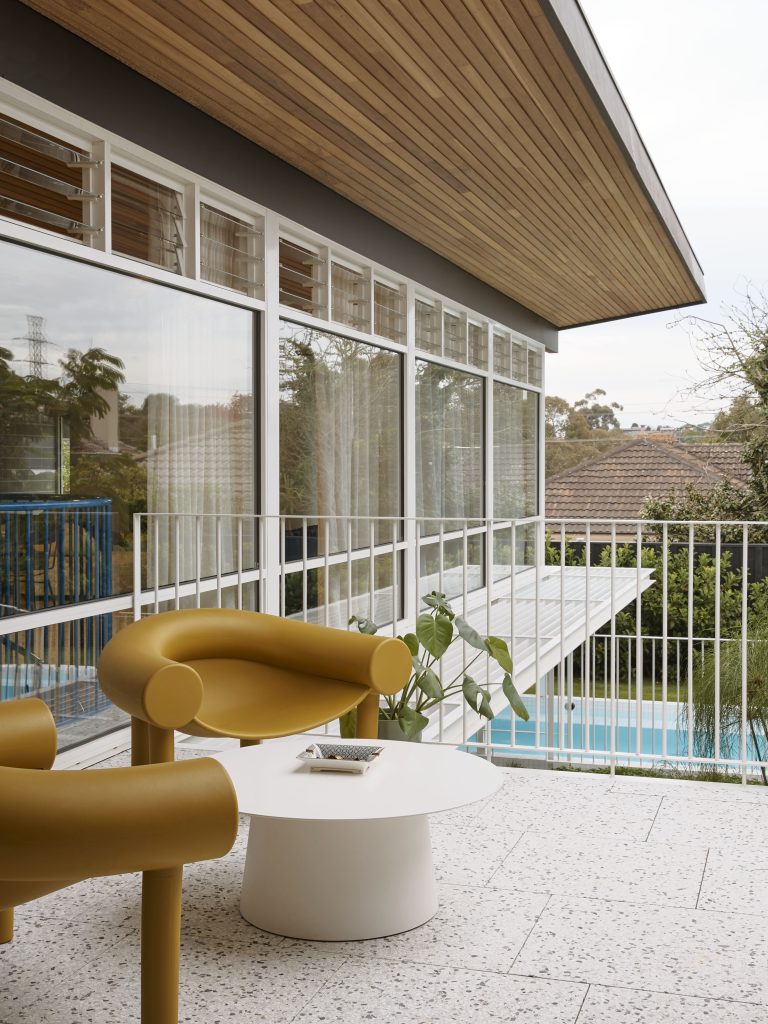 "The ceiling in the kitchen area is quite low and there are no windows, so we used a reflective de-tile that captured the northern light and created a glistening effect on the floor tiles," says Doherty.
Despite the project having an abrupt change in builder due to illness, the studio had a smooth and seamless journey. Doherty described it as one of the most enjoyable projects in her portfolio.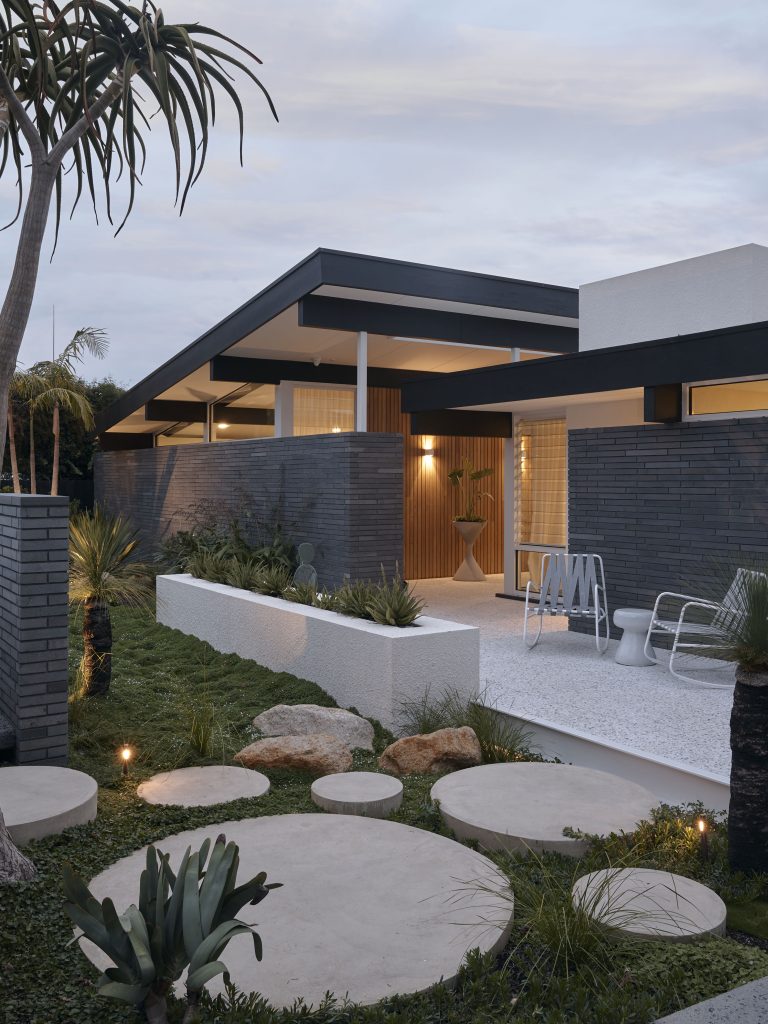 Studio Doherty is keen to sink its teeth into future projects such as designing a significant arts and crafts building in Toorak and redesigning the offices of Lennon Joel Auctions.
Eager to check out more new projects? See McCrae Bush house is an idyllic and chameleon-like home atop a hill
Photographer: Anson Smart.