For today's lookbook, let's start preparing your summer social calendar with an extensive list of excellently-designed hospitality projects in Australia.
This selection is from our IDEA 2022 finalists, which all demonstrated the most sophisticated functionality and personality of the venue to deliver that all-important memorable experience, drawing the clientele back for more.
Winners were announced at the IDEA Gala in Melbourne – Check out the results here!
Bar Alba, Melbourne, Buchan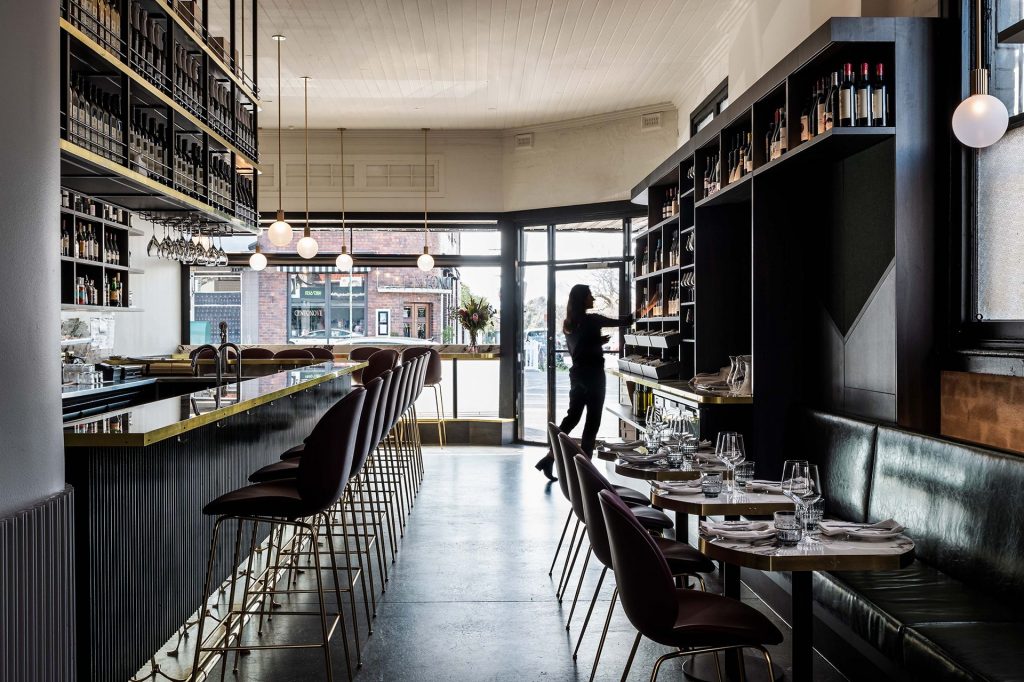 Melbourne's Art Deco meets Mediterranean opulence in Bar Alba.
The intimate, elegant wine bar channels the old-world European charm of Italy's enoteche while respecting the remnants of its Heritage-listed site. Uniting the food, wine and staff through design, the space delivers an all-encompassing sensory experience.
Teahouse, Sydney, Bates Smart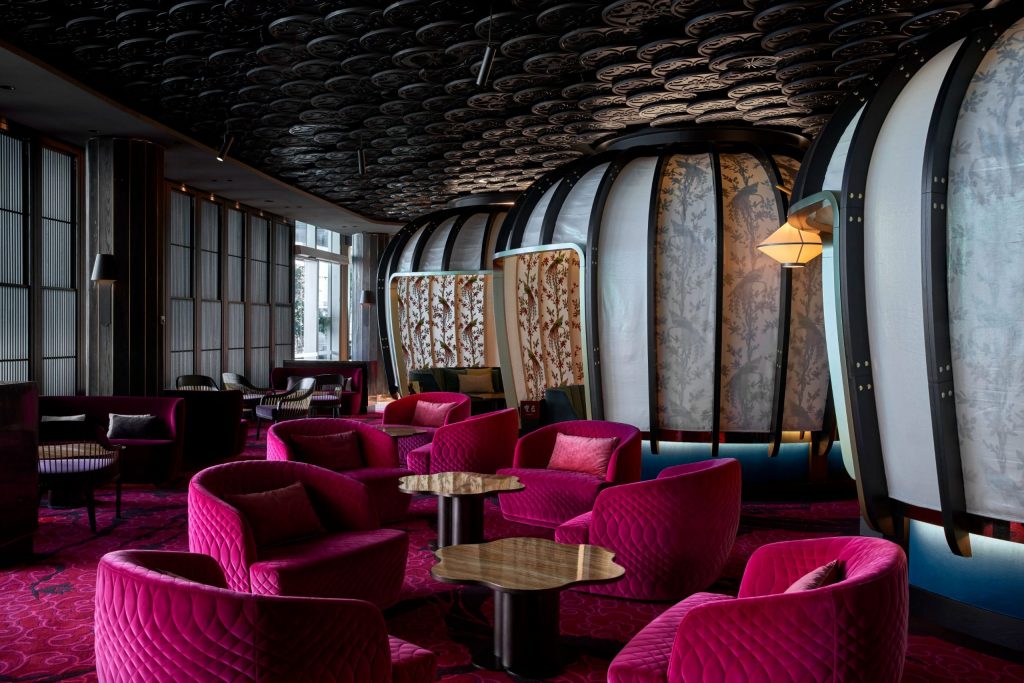 Alluring and seductive interiors set the scene for Teahouse, an exquisitely themed lounge bar serving high tea and cocktails.
Chinese pagodas and lacquered jewellery boxes inspired the intricate detailing of bar cabinets and tented pavilions, creating an elaborate theatrical backdrop to the space.
Lola's Level 1, Sydney, H&E Architects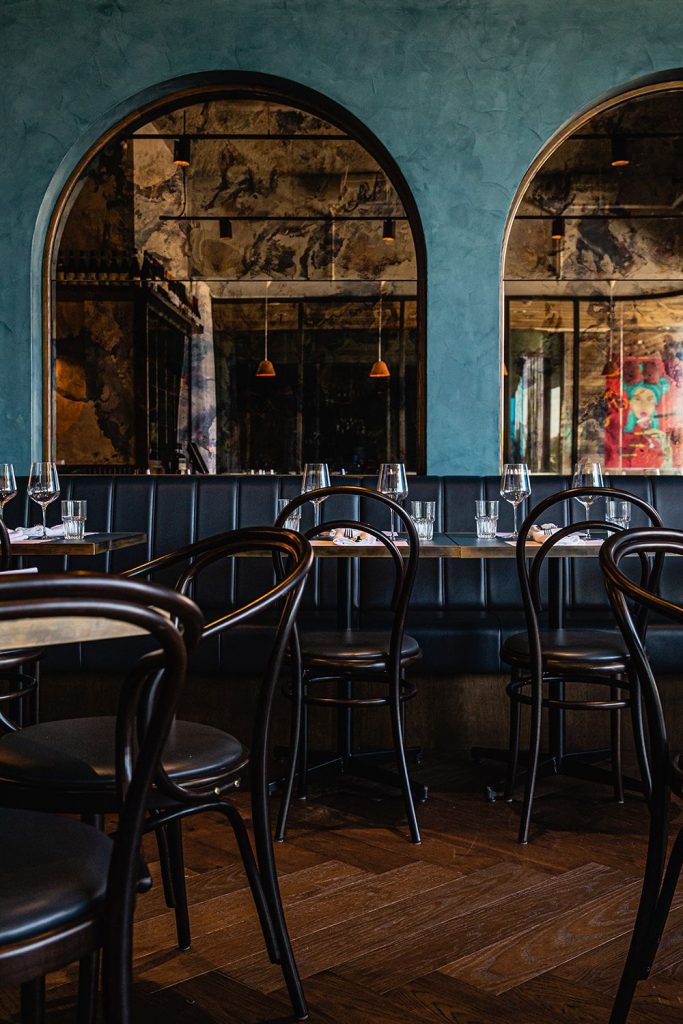 The reimagining of an abandoned Bondi Beach restaurant site, Lola's was initially conceptualised as a 'personality', aligning the local bar/restaurant with creativity and a passion for hospitality.
The design approach saw the delivery of a contemporary Mediterranean style aligned with a wider sense of spirit driven by its characterful creators.
Aru Restuarant, Melbourne, Kerstin Thompson Architects with Figureground Architecture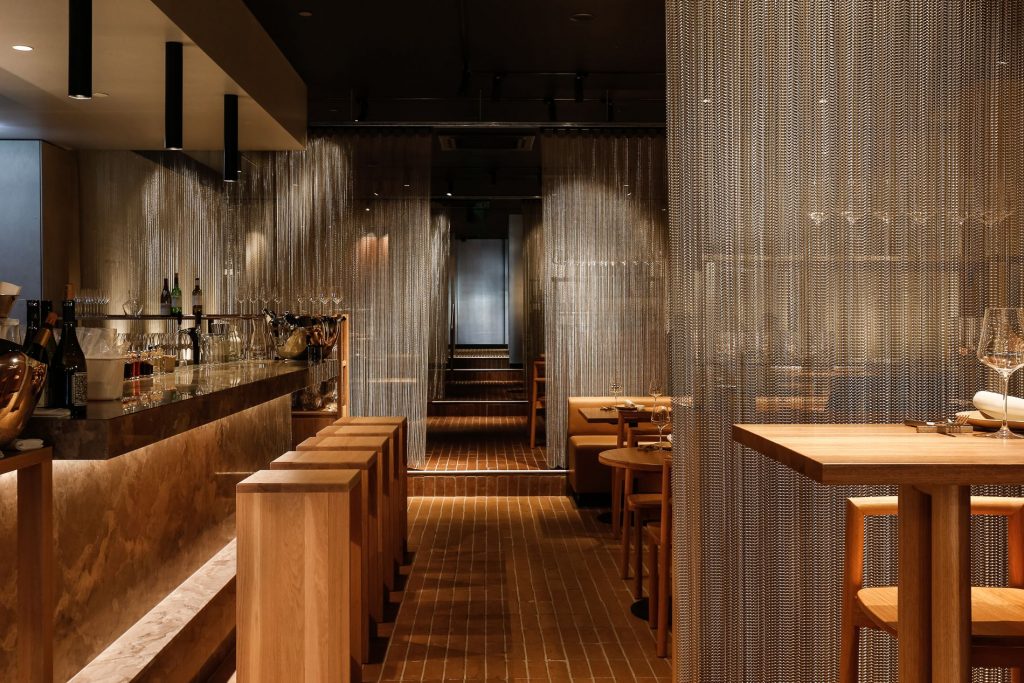 Fire is at the heart of Aru's cuisine – the design celebrates the central hearth. The colours are earthy and warm in line with themes of heat and spice.
A colour gradient combined with level changes defines dining areas and holds these areas together. They are grounded in bespoke bricks, reminiscent of the hearth.
Ace Hotel Sydney, Sydney, Flack Studio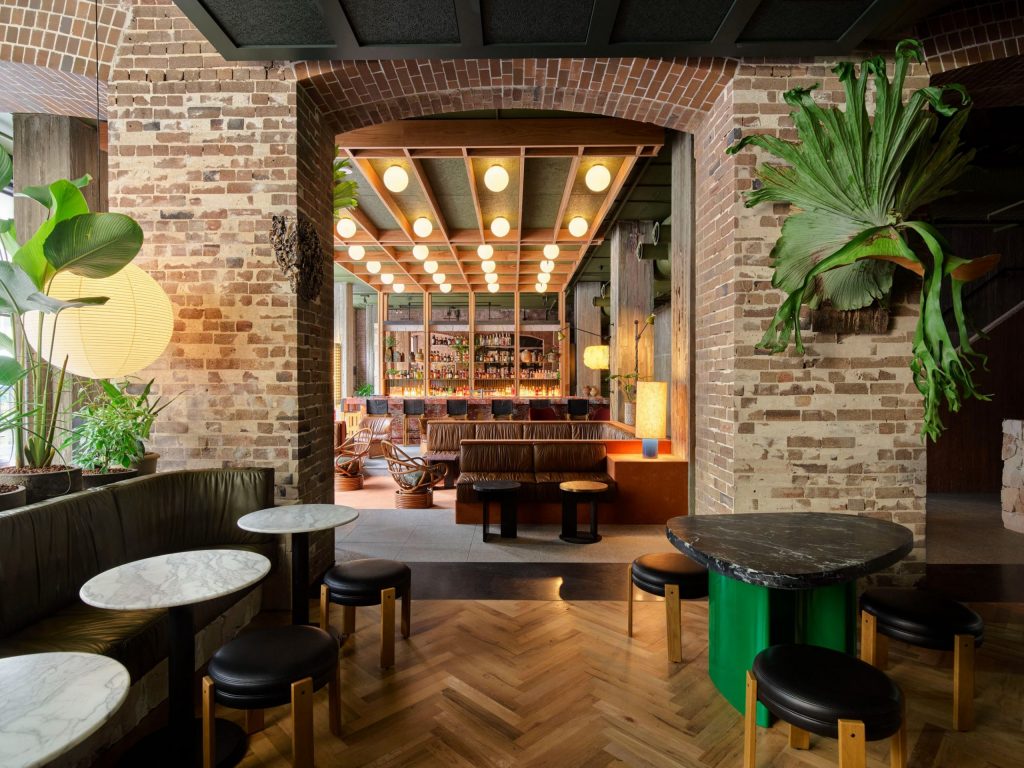 Located on Wentworth Avenue, the 18-storey hotel was built on the site of a former brick factory, Tyne House.
Ace Sydney explores the relationship between private and public in a gritty megalopolis, retaining the distinctively modernist aesthetic of Ace Hotels with a uniquely Australian twist.
Di Stasio Carlton, Melbourne, Hassell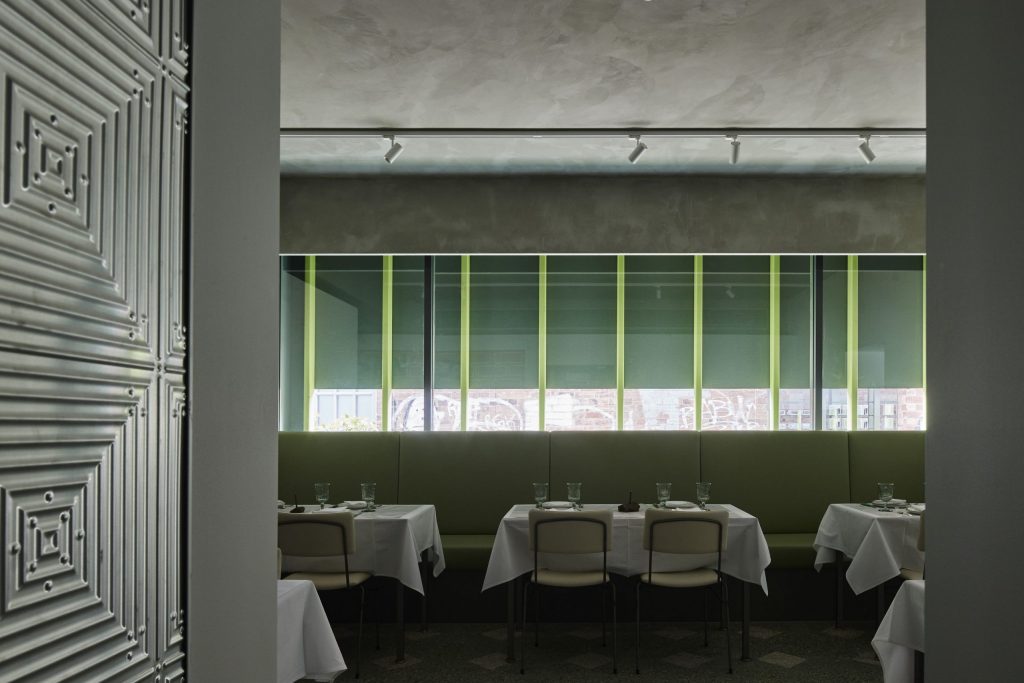 Di Stasio Carlton is an art-filled restaurant that represents the DNA of the Di Stasio team but takes it into a very different shell.
Customised to create a unique restaurant experience, the restaurant's design was driven by instinct, not fashion.
Entrecôte Prahran, Melbourne, Brahman Perera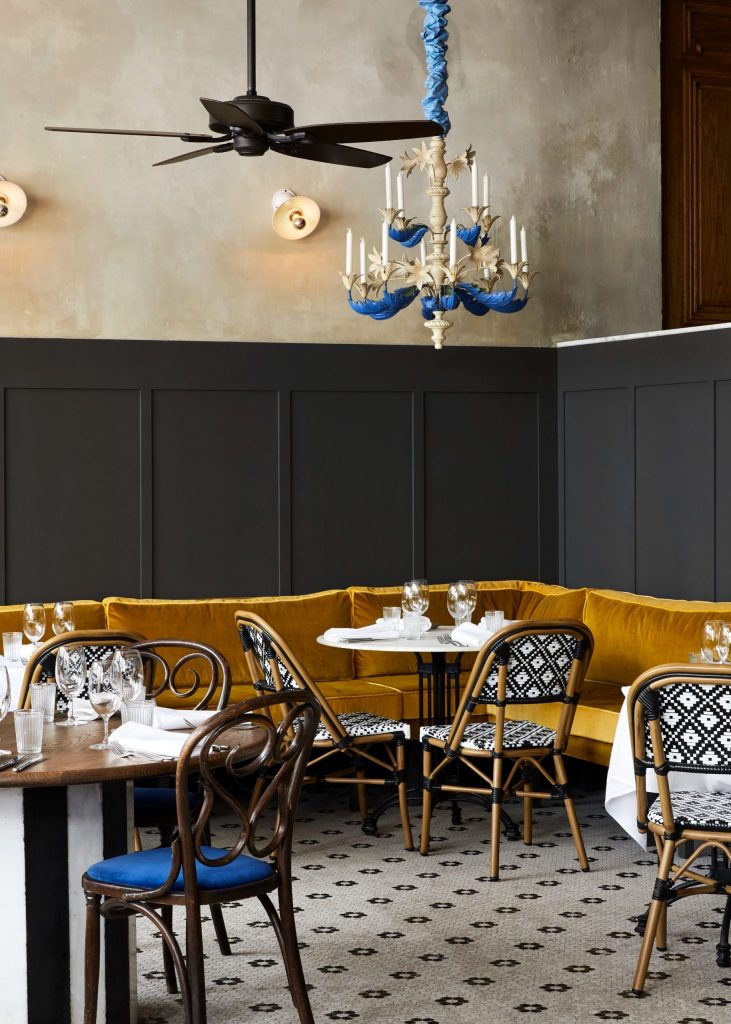 Entrecôte's new Prahran home reflects an evolution of the much-loved venue while celebrating its signature sense of charm and decadence.
Inspired by the treasured hospitality institutions that once graced Greville Street, Entrecôte is driven by a sense of grace, joy and conviviality.
Shell House, Sydney, Woods Bagot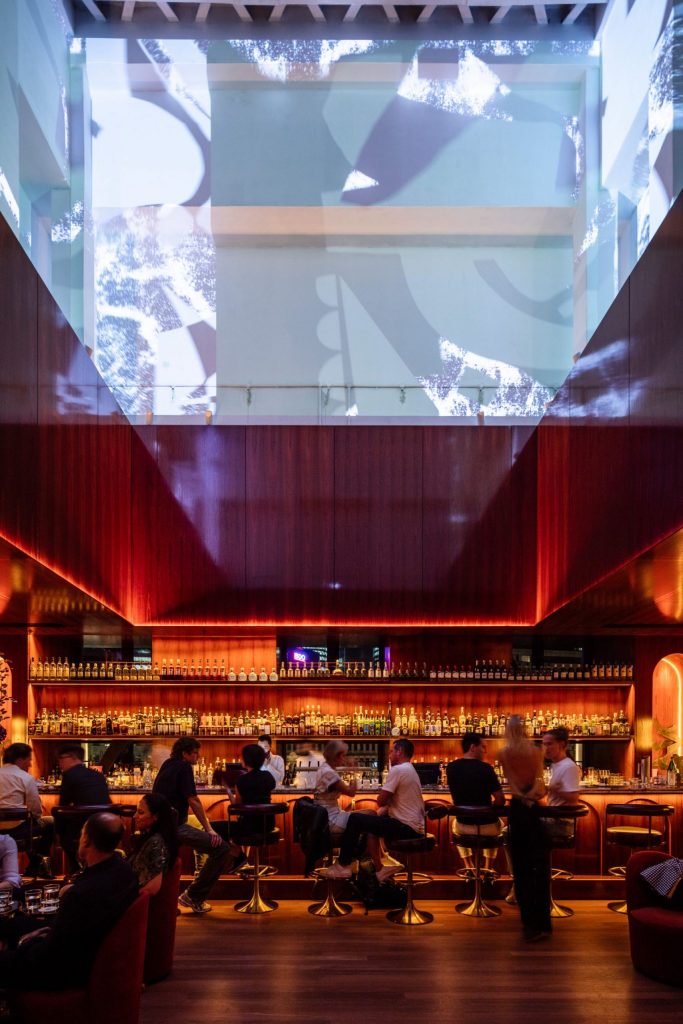 Shell House is a journey through four innovations of Australian hospitality– each melding sophistication and theatricality into new genres of inner-city escapism.
Each space – Menzies Bar, Dining Room & Terrace, Clocktower Bar and Sky Bar – was designed to be enjoyed for its standalone sophistication or indulged in from one to the next.
Archer's, Melbourne, DKO with Marriott International, Peter Rowland and Studio Ongarato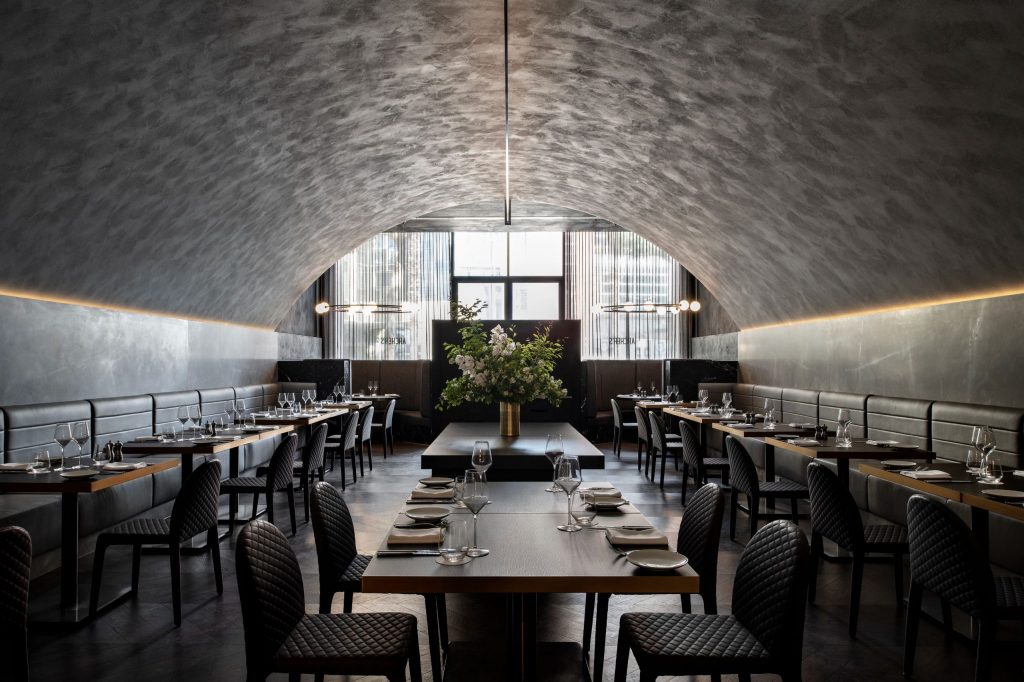 Located at Melbourne Marriott Docklands, Archer's is a contemporary, sophisticated dining space.
DKO drew inspiration from the 1960s New York hotel and restaurant scene where business types dined alongside socialites.
Jane, Sydney, Luchetti Krelle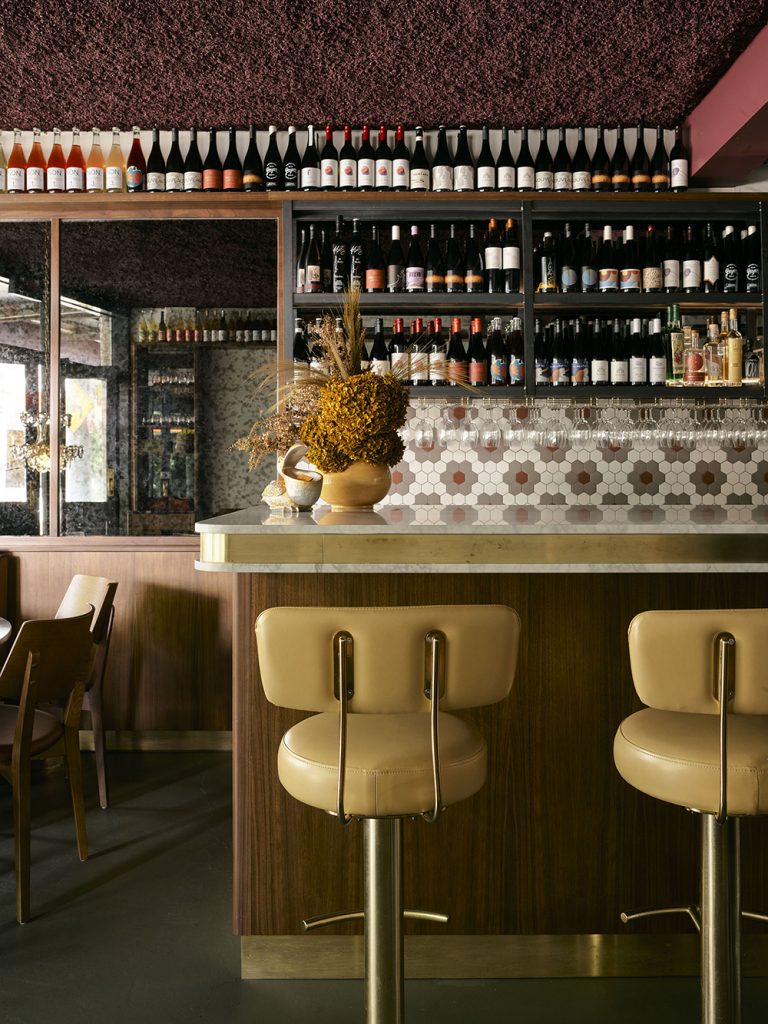 Nestled behind the Heritage façade of a butcher's shop, Jane infuses the gilded appeal of an intimate French bistro via marble selections, darkly stained timber and brass accents with retro Australian influences.
Possessing directional modernity, the hybrid neighbourhood wine bar/restaurant invokes nostalgia through minimalist interpretations of the past.
The Woollahra Hotel, Sydney, Richards Stanisich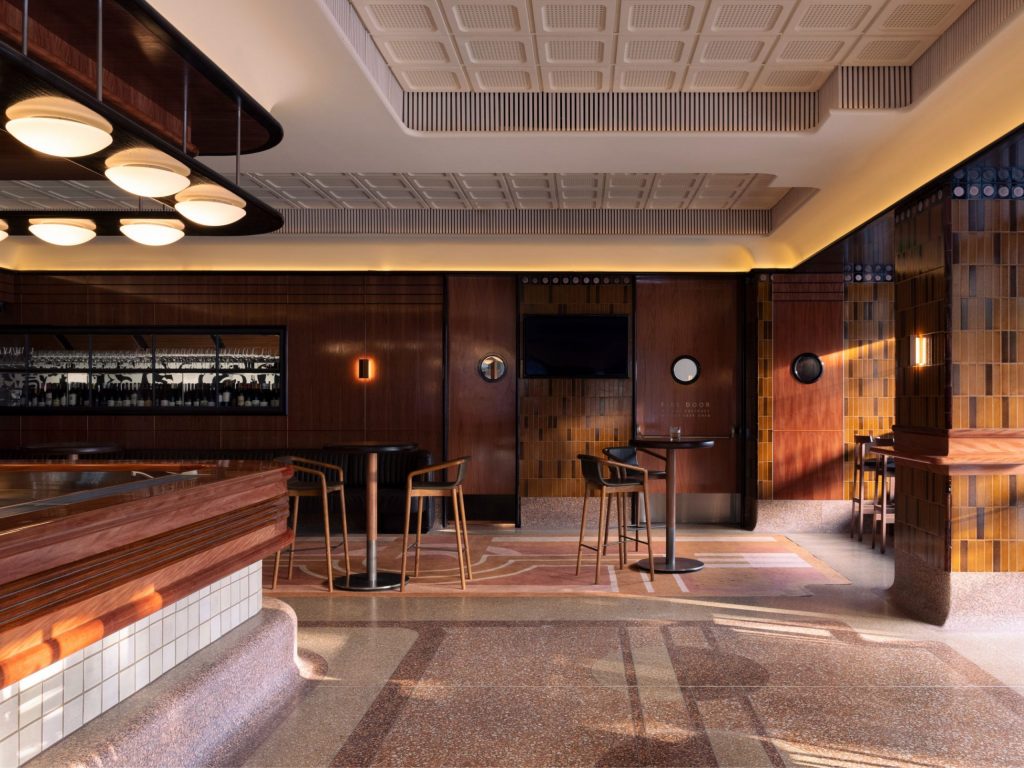 The design responds to many contextual issues – such as the adjoining Bistro Moncur, the Art Deco building and the corner location – yet it still establishes a new identity for the Woollahra Hotel.
Richards Stanisich took the classic Australian tiled pub as a starting point to create an aesthetic with polished timbers, tiled walls and poured terrazzo floors.
Mount Pleasant Wines, Hunter Valley, Luchetti Krelle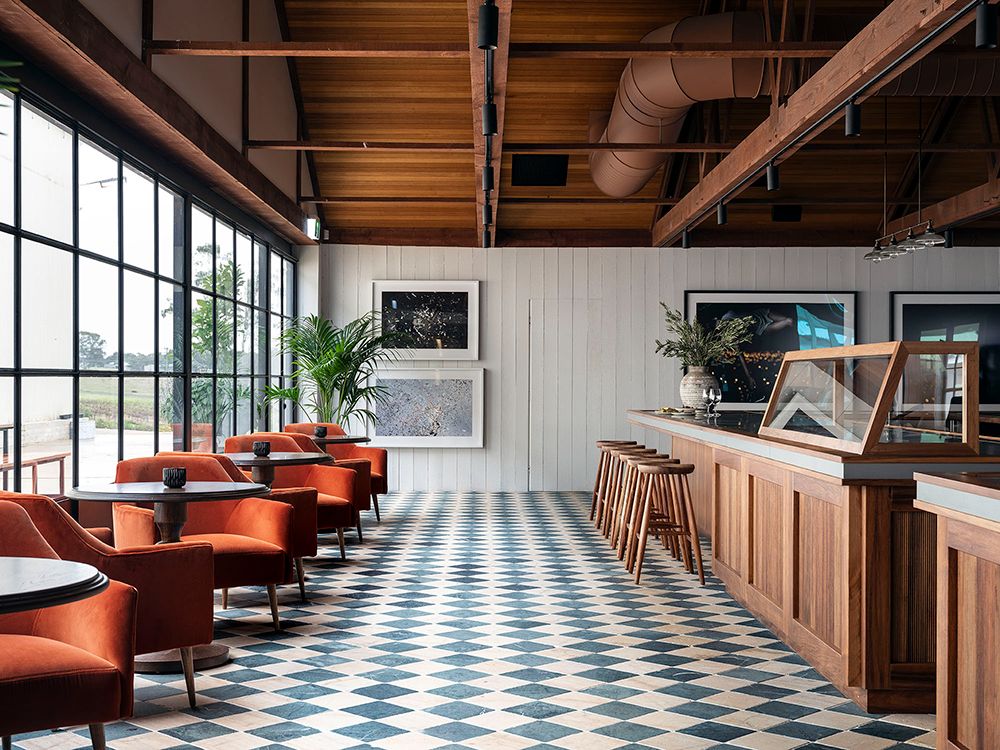 Reviving the essence of traditional Australian homesteads through a contemporary lens, the winery's new white façade belies the full-bodied warmth of its interior.
Rousing sensorial appeal through scent, sight and touch, custom timber elements convey refined colonial splendour among an impressive hang of conceptual Australian photography – enhancing wine-tasting experiences.
St Alma, Sydney, Five Foot One Design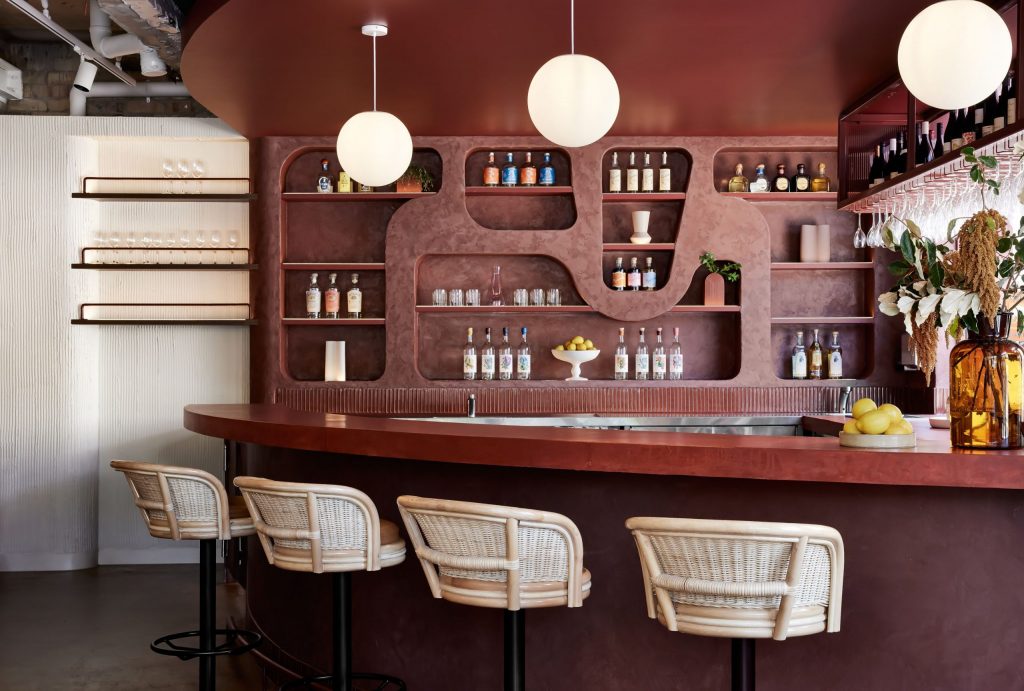 Alma means 'soul' in Spanish, and this is what Five Foot One Design aimed to encapsulate through a bold interior where food is made to be shared with friends.
Its Mexican origins heavily influenced the raw and rich palette where colour, texture and geometry play a huge role in creating an approachable beachside setting.
Platform One, Melbourne, Blackmilk Interior Design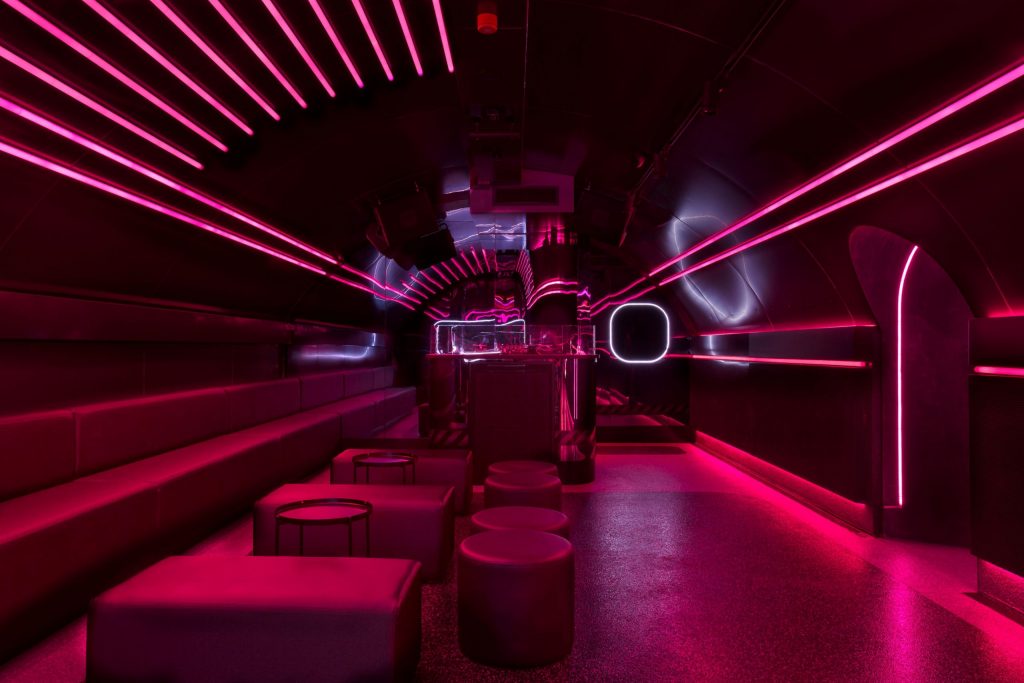 Banana Alley Vaults is home to the renowned Melbourne nightclub, Platform One. They also hold a rich history sitting beneath Flinders Street Station.
Inspired by its surroundings, the design for the nightclub draws inspiration from the underground subway scene in New York while coexisting with the violent, murderous history of Banana Alley.
Tokyo Private, Melbourne, Ewert Leaf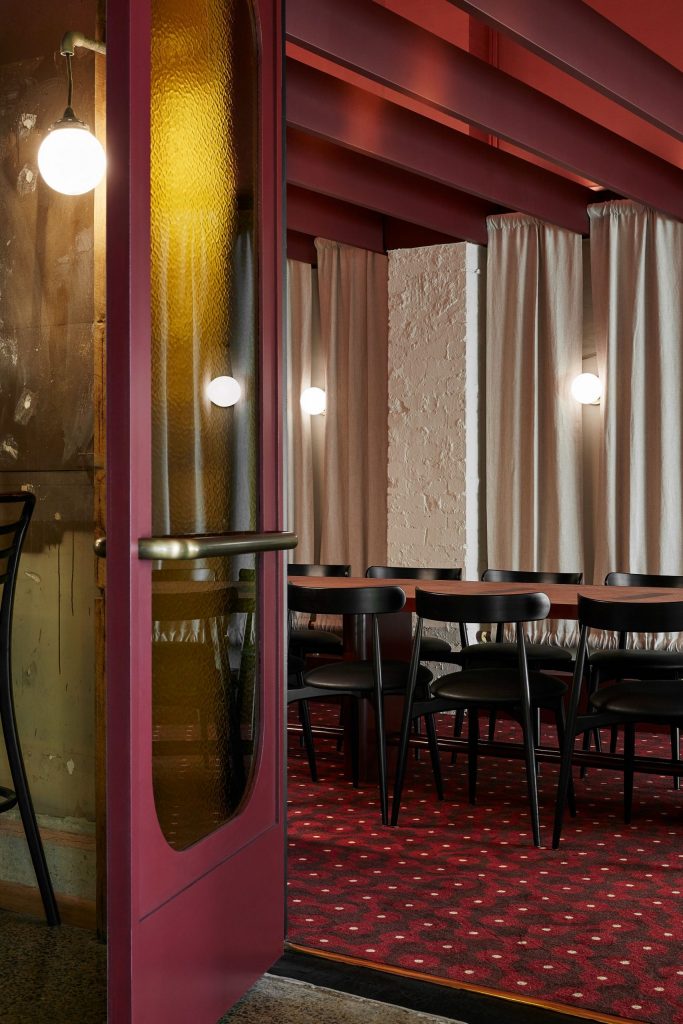 Tokyo Private is an adjoining Private Dining space to Chapel Street restaurant Tokyo Tina.
The space is centred on a large communal dining table handcrafted out of maple burl, which seats 26 patrons for a unique dining experience.
Complimentary karaoke is provided with your booking to sing the night away.
Lead image of Shell House by Woods Bagot with photography by Trevor Mein.
For our previous lookbook, ADR reflected upon the most beautiful and daring bathroom vanities in Australian households.