For today's lookbook, ADR reflects upon the most beautiful and daring bathroom vanities in Australian households.
This selection is from our IDEA 2022 finalists and illustrates the untapped power of bathroom vanities as an adventurous and colourful aspect of interior design.
---
Moor Street residence, Flack Studio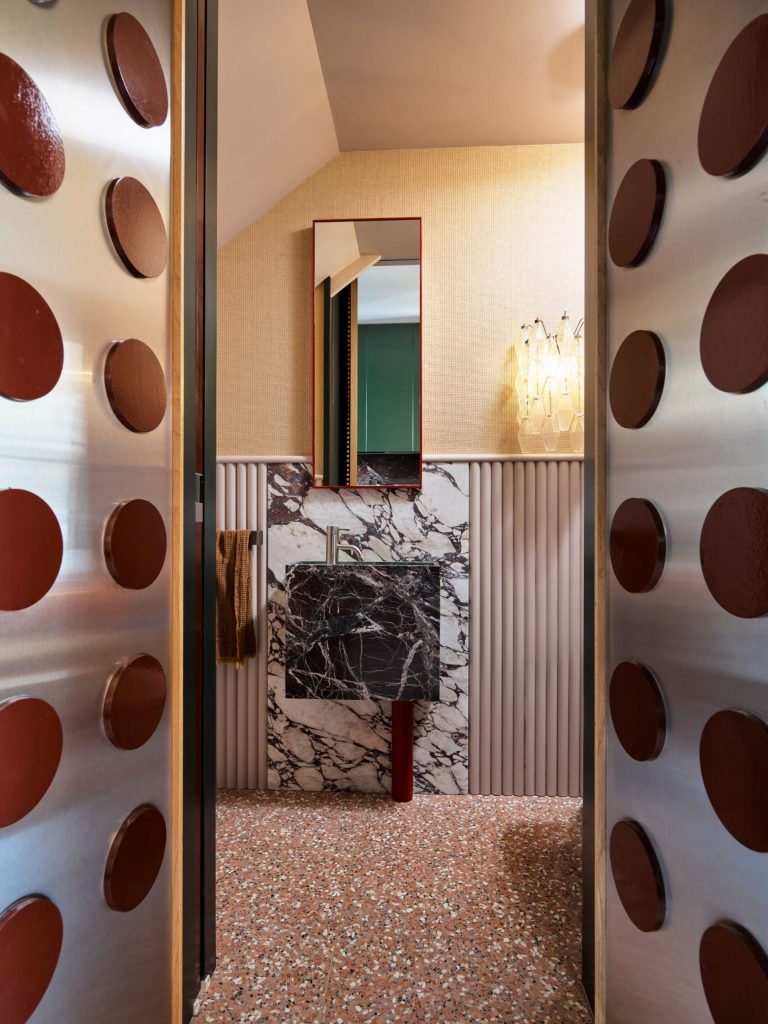 The Moor Street residence is a contemporary reimagining of Memphis design.
The inclusion of pastel colours on 1980s forms presents a modern twist, with the bathroom dripping in pinky tones. Funky and alternative, the vanity epitomises the personality of the rest of the home.
See more images of Moor Street Residence.
---
First Blush, Smac Studio with styling by Claire Delmar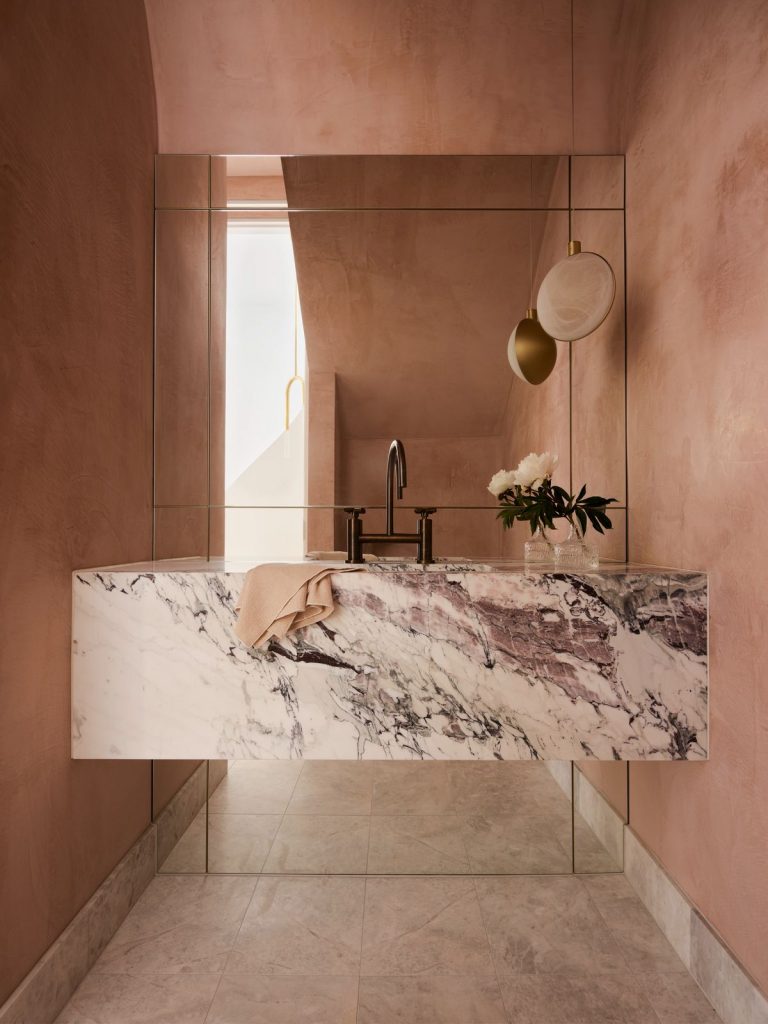 Smac Studio's Shona McElroy is quickly cementing herself as the queen of powder rooms and bathroom vanities.
Sparing no expense, Smac Studio wanted to embrace a feminine and emotional energy into every corner of the home, especially this dusty rose vanity.
See more images of First Blush.
---
Fitzroy Bridge house, Matt Gibson Architecture + Design with structural engineering by Clive Steele Partners, and landscaping consultant Robyn Barlow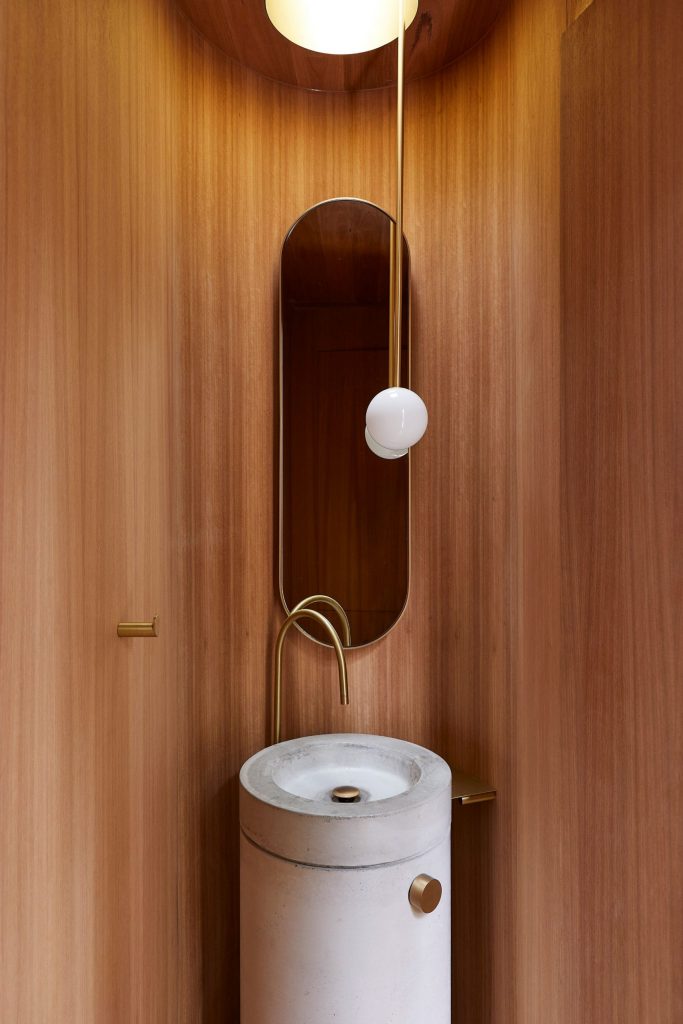 Designed for a family whose vision for the house was strongly tied to the history of the original building, the resulting conversion celebrates the legacy of site and surrounds.
Forgoing marble or tiles, Matt Gibson Architecture instead opted for a lived-in timber look to continue the earthy feel of the home.
See more images Fitzroy Bridge house.
---
Autumn house, Studio Bright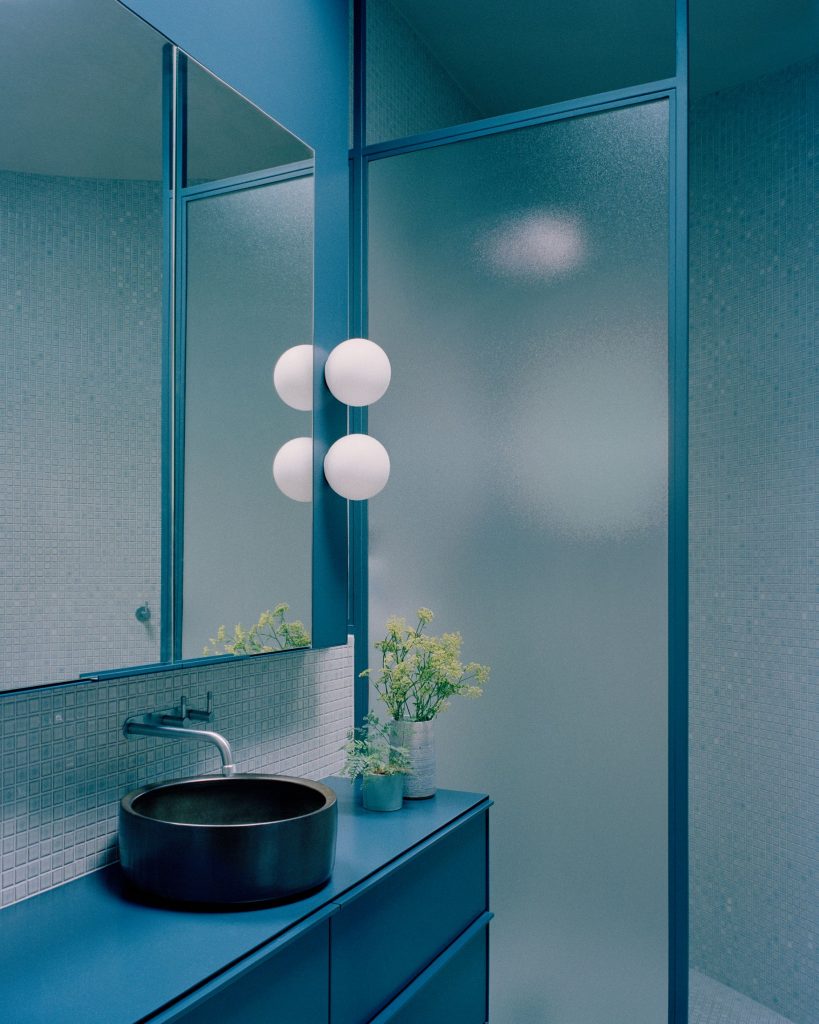 Autumn house negotiates the need for refuge, retreat and privacy, while also engaging with its urban context.
Trendy but also sincere, the moody blue-toned bathroom evokes zen minimalism from the 1990s.
See more images of Autumn house.
---
Pacific house, Alexander &CO. with styling by Claire Delmar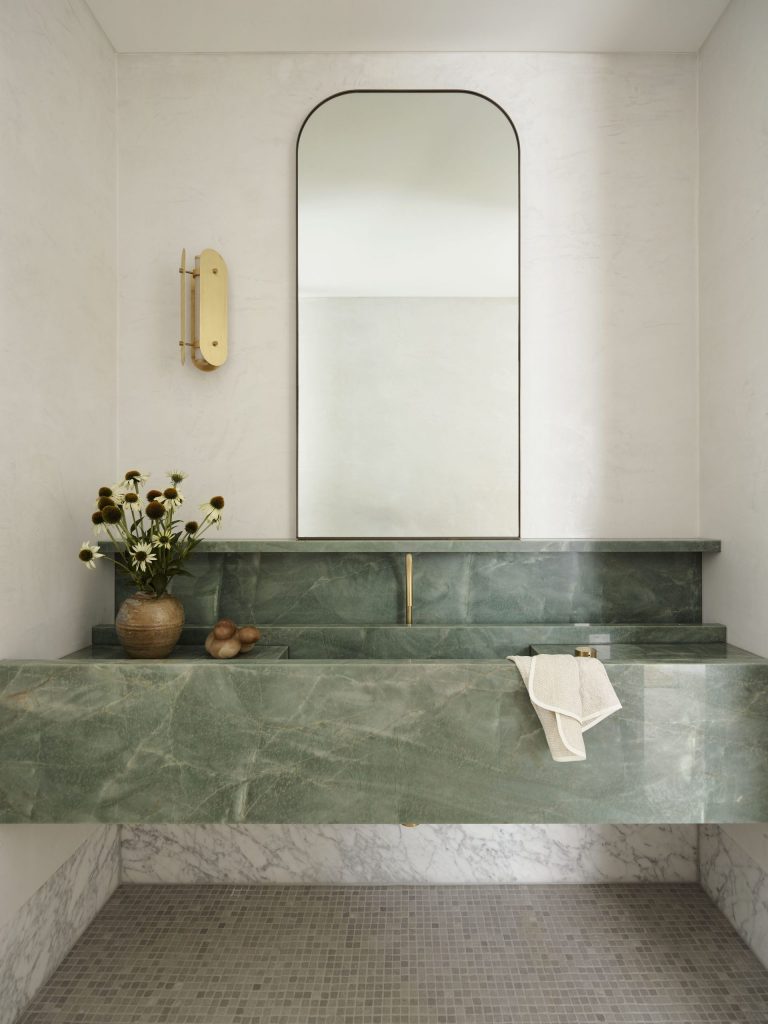 Pacific house is an alteration and addition of an existing 1990s concrete-framed cliffside residence that required considerable planning within site constraints to achieve an ideal resolution.
The new design establishes a home with two personalities. The bathroom encapsulates serenity and the earthy tones of the seaside.
See more images of Pacific house.
---
Iririki house by Madeleine Blanchfield Architects with Anna Hewitt and styling by Atelier Lab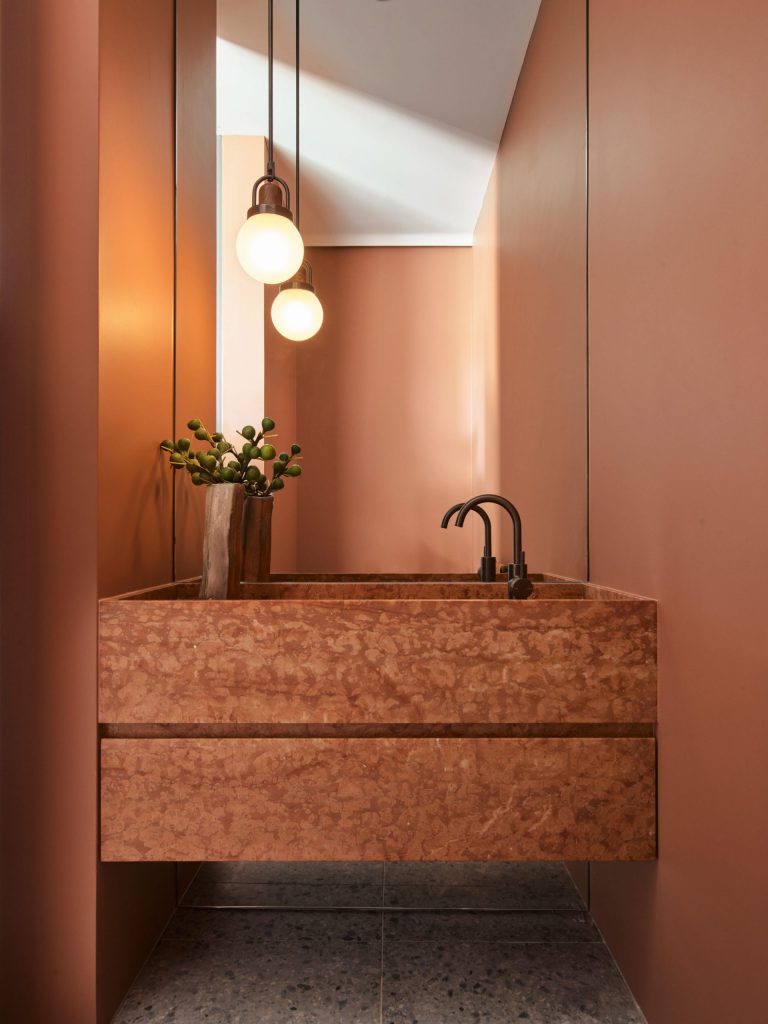 A quirky old local icon, Iririki is an existing 1907 house.
Restoring and retaining most of the existing building was core to the design. Madeleine Blanchfield Architects focused on energy, flow and proportion.
One such tool was the rust-coloured marble used not only in the kitchen, and living spaces, but also in the bathroom.
See more images of Iririki house.
---
Wimbledon Avenue, Taylor Pressly Architects with Penfold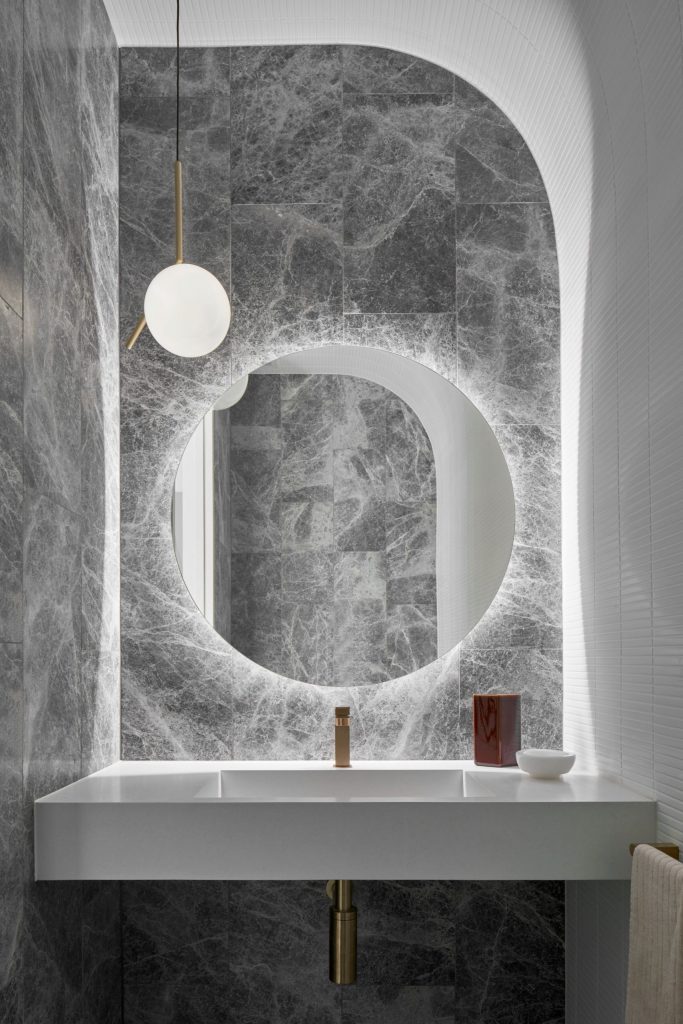 Wimbledon Avenue was designed for contemporary family living as part of a biophilic design that acknowledges Elwood's Art Deco past in a contextual response to the Heritage streetscape.
The home comprises a highly functional spatial layout with premium yet durable finishes and bespoke internal and external detailing in every space, including the bathroom.
See more images of Wimbledon Avenue.
---
Elwood residence, Flack Studio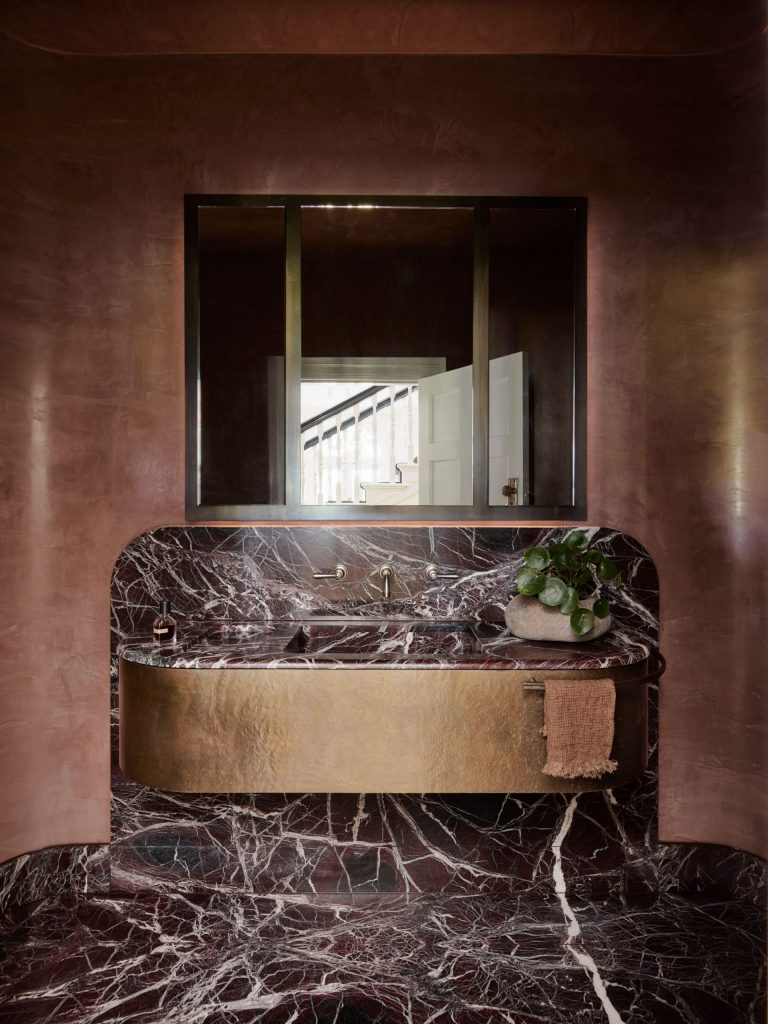 In Spanish Mission style, the Elwood residence contrasts with the beach-facing neighbourhood.
Defined by thresholds, materiality and stately detailing, this bathroom is a dance between grandeur and glamour.
See more images of Elwood residence.
---
The Bridge house, Kister Architects with styling by Jess Kneebone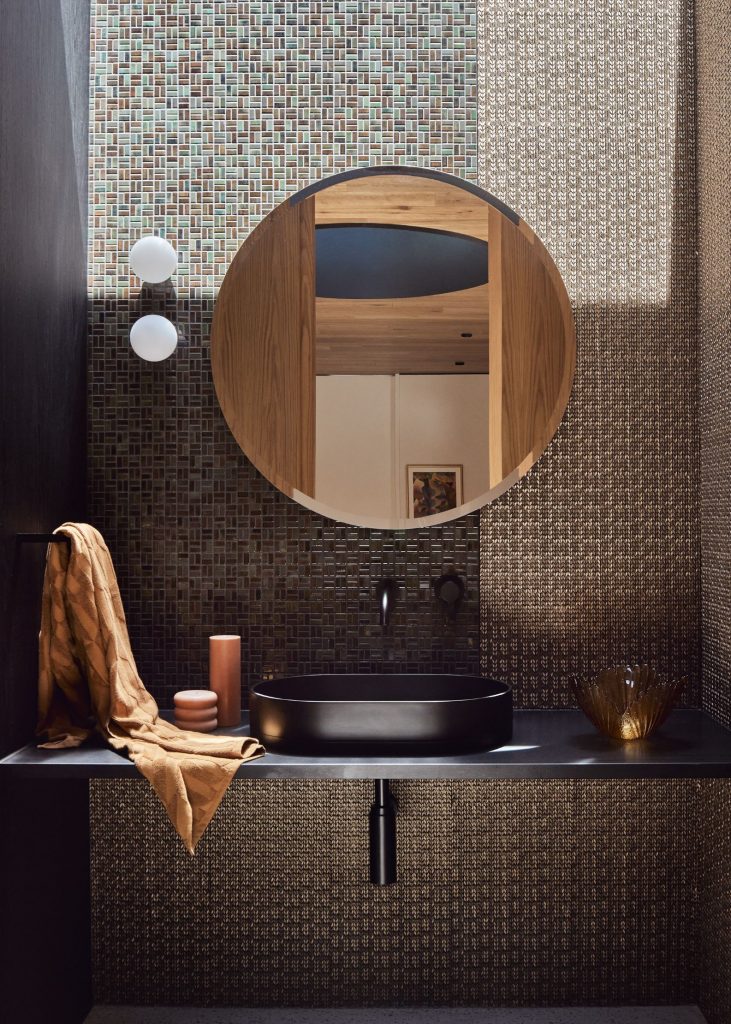 The Bridge house is all about referencing the home's Modernist beginnings in a contemporary context.
Geometric and circular forms feature throughout, creating not only a common theme, but also architectural finesse.
See more images of The Bridge house.
---
House of Zen, Simone Haag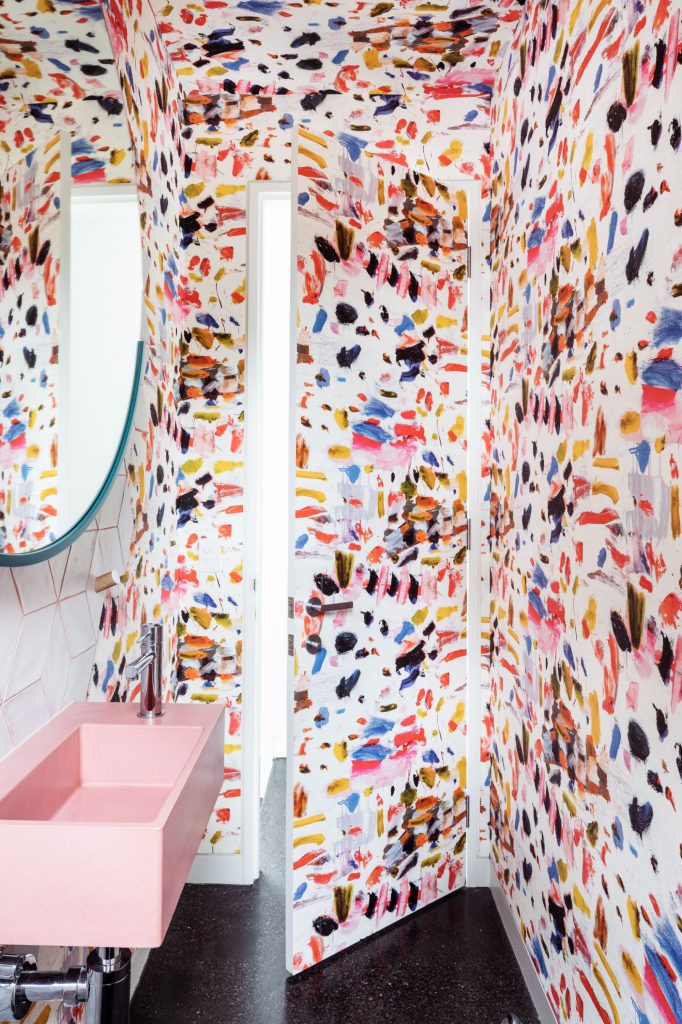 A recently completed Armadale residence was furnished for a fun, yoga-loving client.
Her brief was 'industrial beach' and the home reveals a narrative of her love of colour and travel. With this client, no colour was too bright and no pattern combination too outrageous.
See more images of House of Zen.
---
South Yarra residence, Kestie Lane Studio with Matt Gibson Architecture and Design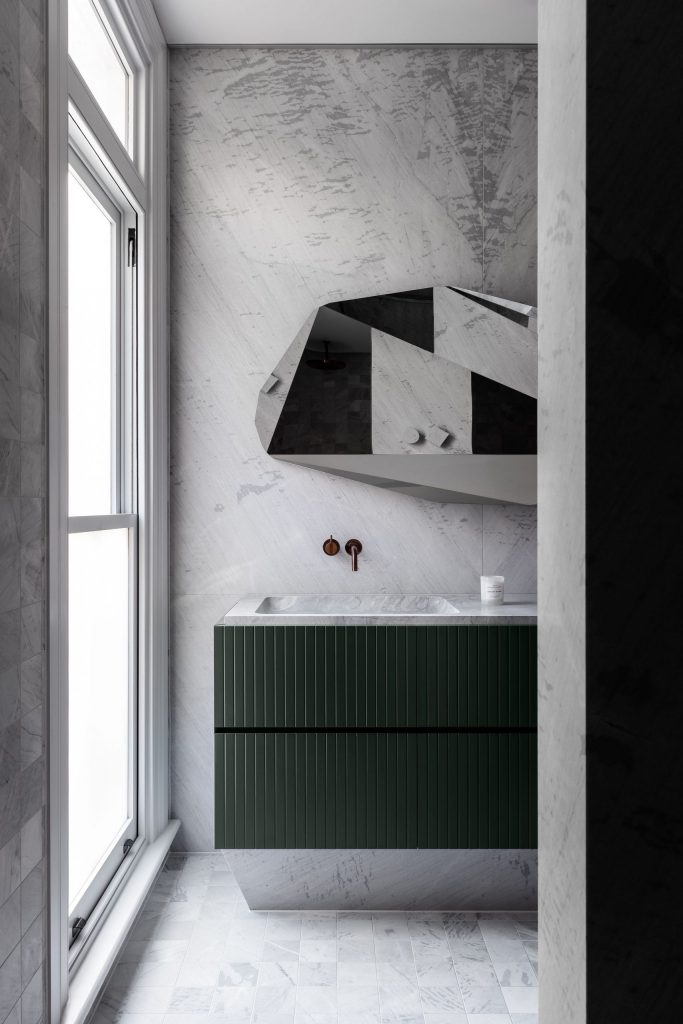 Kestie Lane Studio in collaboration with Matt Gibson Architecture and Design has reimagined this traditional Victorian-era terrace, maximising space and functionality to accommodate a growing family.
The hero of this bathroom is the three-dimensional and asymmetrical mirror, adding an important edge to its simpler surroundings.
See more images of South Yarra residence.
---
Lead image of First Blush with photography by Anson Smart.
Explore ADR's previous lookbook – eight projects that showcase the warmth of timber.