Layering old and new, Anna Carin Design Studio transforms this former Newtown bakery into a family home that's as sensuous and seductive as the song that inspired it.
A building can feel like a poem, or a favourite song, according to Anna-Carin McNamara.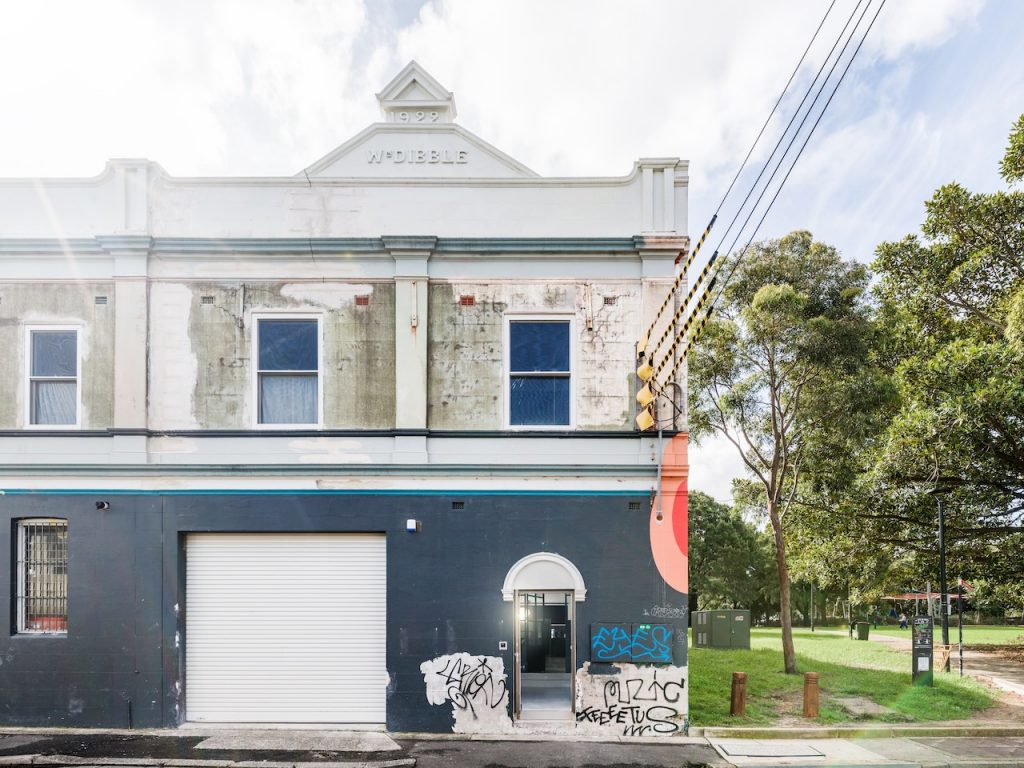 The founder and director of Anna Carin Design Studio details how her team approached their latest project The Bakery, harnessing poetics and aesthetics of space for a complete reconfiguration of an industrial warehouse into a warm and playful home for a Sydney family.
Originally a corner shop and commercial bakery built in the early 20th century, the restored Newtown building brings together an industrial blueprint with delicately curated spaces for everyday living.
"The project has a theme song because music is a very big part of setting the tone of the space," says McNamara. "Our role was to conduct the symphony."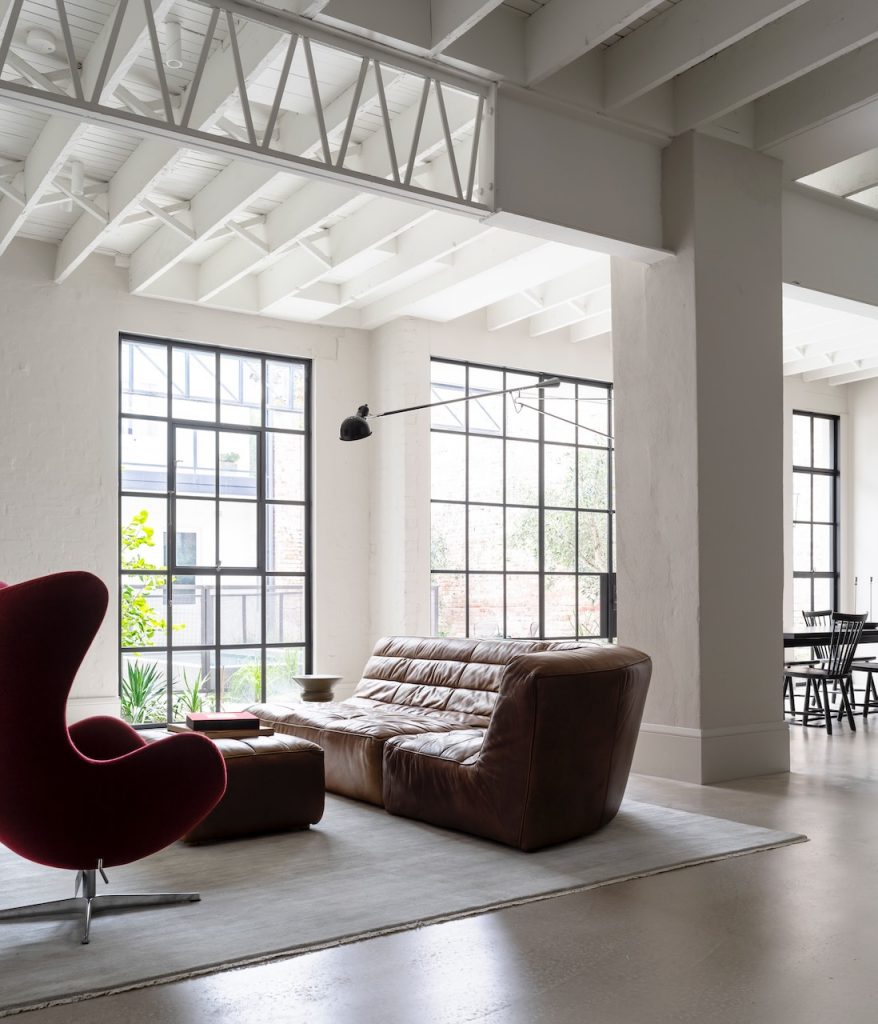 She explains the theme song in question here is the soft jazz classic 'Let's Do It (Let's Fall in Love),' written by Cole Porter in 1928 – the same era this building began operating as a bakery.
Imagining a build via music may seem an unorthodox approach, but McNamara explains it's all a part of understanding client needs, desires and personality.
"When we start on any project, we talk about the music they listen to, the food they eat, the clothes they wear, the books they read – all those things are done because you want to feel a certain way," she says.
"We find a way of interpreting what the client wants, and then find a way of forming that so it fits the space."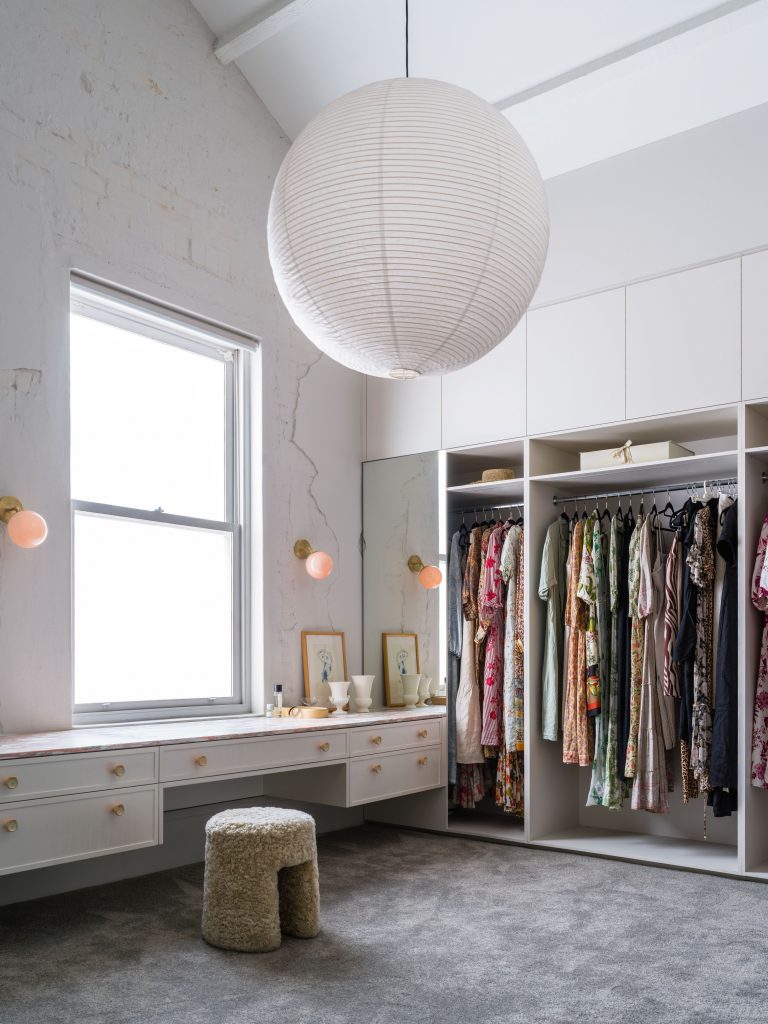 Like a soulmate, this residence is made for its inhabitants – a kiln room for the ceramicist, a library for the couple's extensive book collection and inviting spaces for extended family to gather.
But the building didn't always sing. When purchased by the client it was a warehouse dressed somewhat haphazardly as a family home. Previous owners had built a stage upstairs where they would regularly perform.
The artistic quirk of the space has been retained but made comfortable, and ready for 21st-century living. Custom metal-framed windows flood light and warmth over textured wallpaper and cast shadows over exposed wooden beams – the underside of newly-raised floors for added insulation and soundproofing.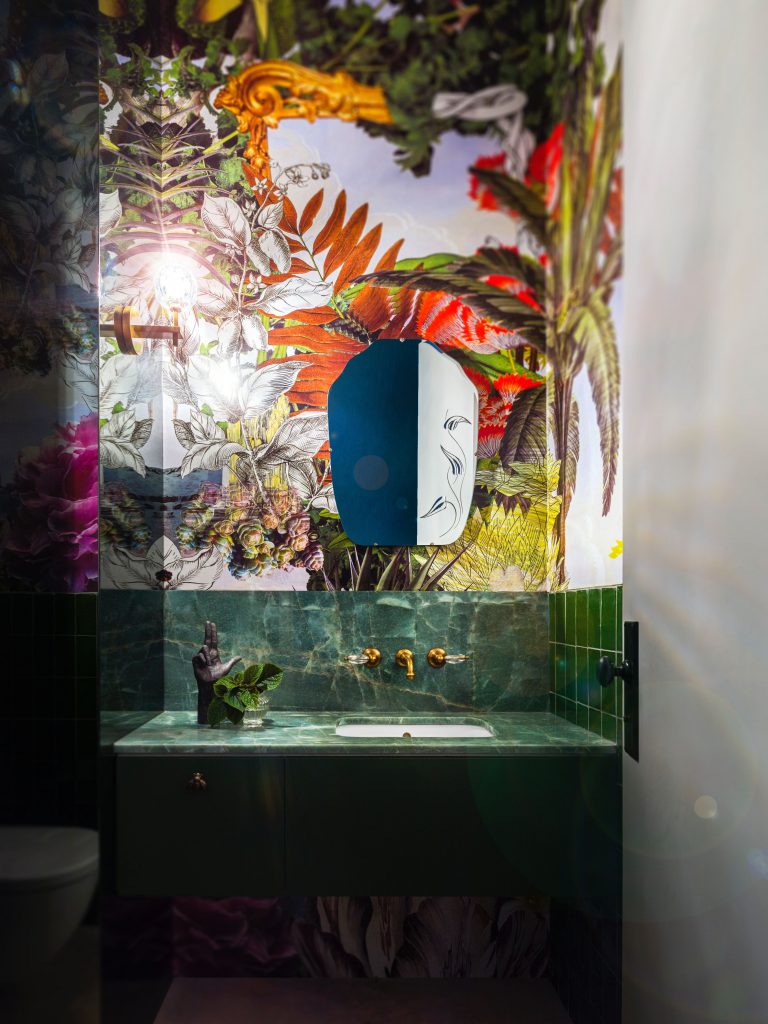 Working hand in hand with Anna Carin Design Studio, builder Pamment Projects took care to craft the new build with precision and respect for its eclectic origins.
Original construction materials were left visible where possible, preserving a connection to the past, while significant structural changes were made where necessary. The stairs were removed and relocated to establish circularity between the two original buildings (store and bakehouse).
Stripping back the building before remodelling, 14 chimneys were discovered, as well as charred beams suggesting the remains of a century-old fire.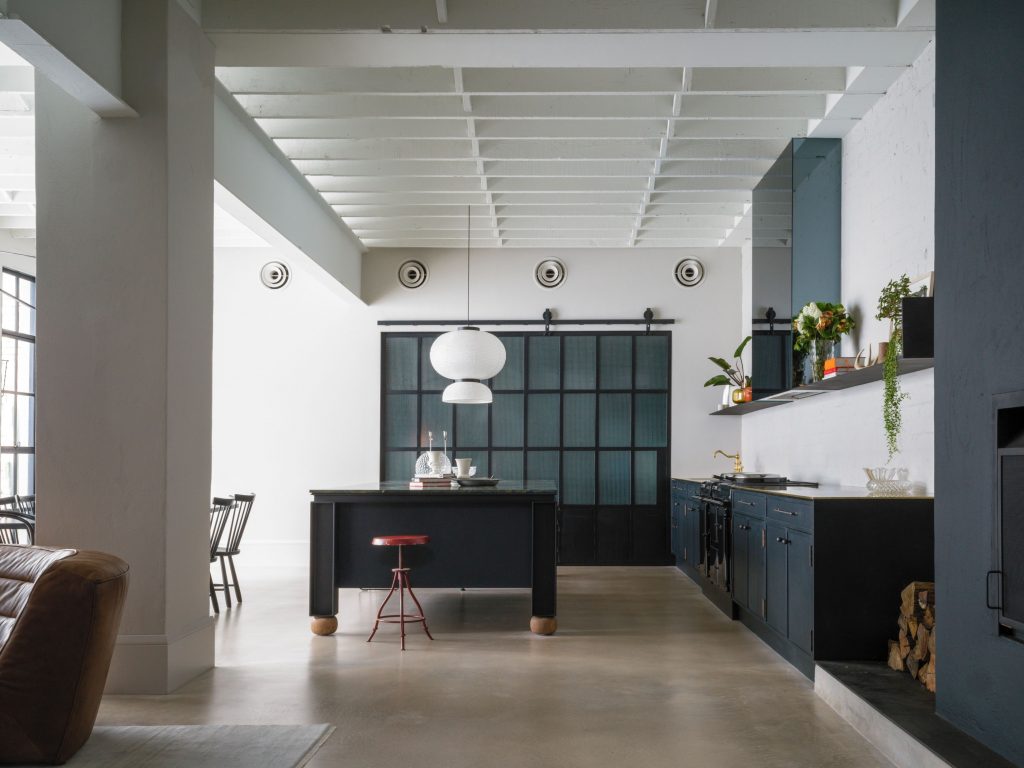 "There is history in the bones of the building," McNamara says. "We stripped it completely back to discover what it was like when it was a bakery and a little corner shop.
"We aim to find the sacredness of a space, the soul of the space when it was first built. That was a very big part of the project to unravel. It helped us to find a way that the two buildings would connect with each other," she adds.
The process of stripping back before the rebuild was also a time to project toward the building's future life as a family home. A building, like a classic song, will stand the test of time and be enjoyed by generations.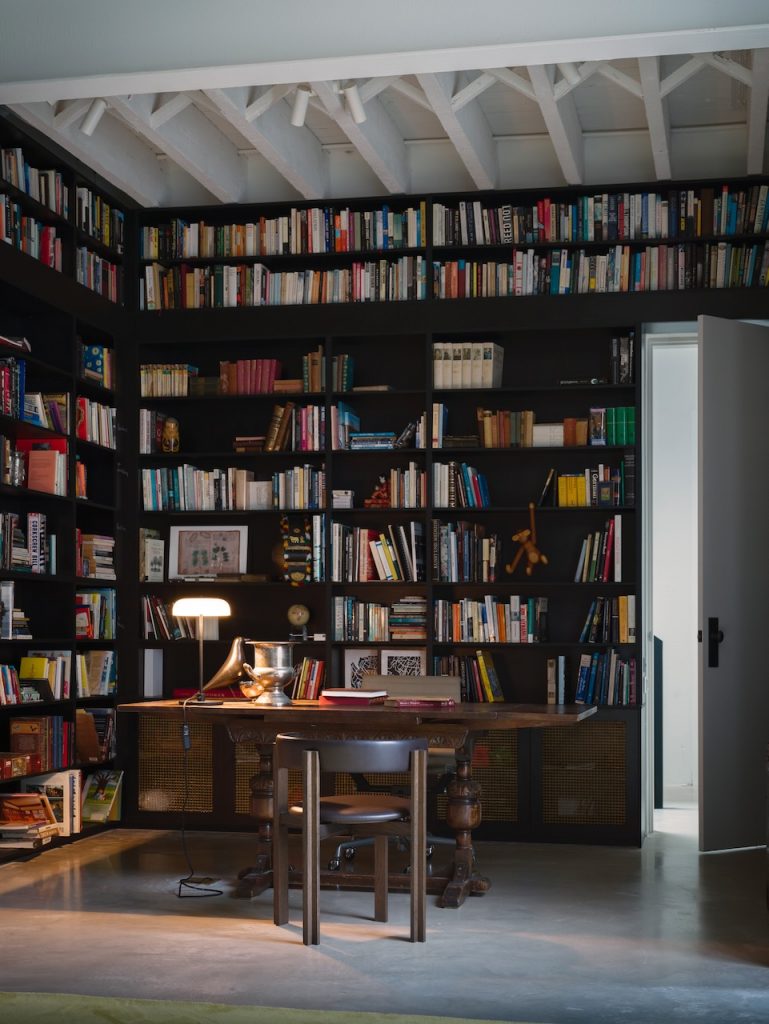 The colour palette – soft pink, deep emerald, and highlights of black and white – was largely found within the original building. Green and pink tiles surrounding an old fireplace inspired the hues of the new bathroom: delicate rose curtains that hush the space and refined emerald marble that is echoed in the kitchen with a magnificent marble-topped island bench.
Green becomes a motif connecting inside and outdoor spaces. The courtyard oasis houses a new garden by The Garden Social, developed to invite birds and bees into the previously concreted space, bringing nature into an urban setting.
The Bakery subverts the expected experiences of warehouse living. Not cold or imposing, the home is cheerful and warm. Extending the building's love affair with the arts, a local artist has been commissioned to create a mural on the façade of the building.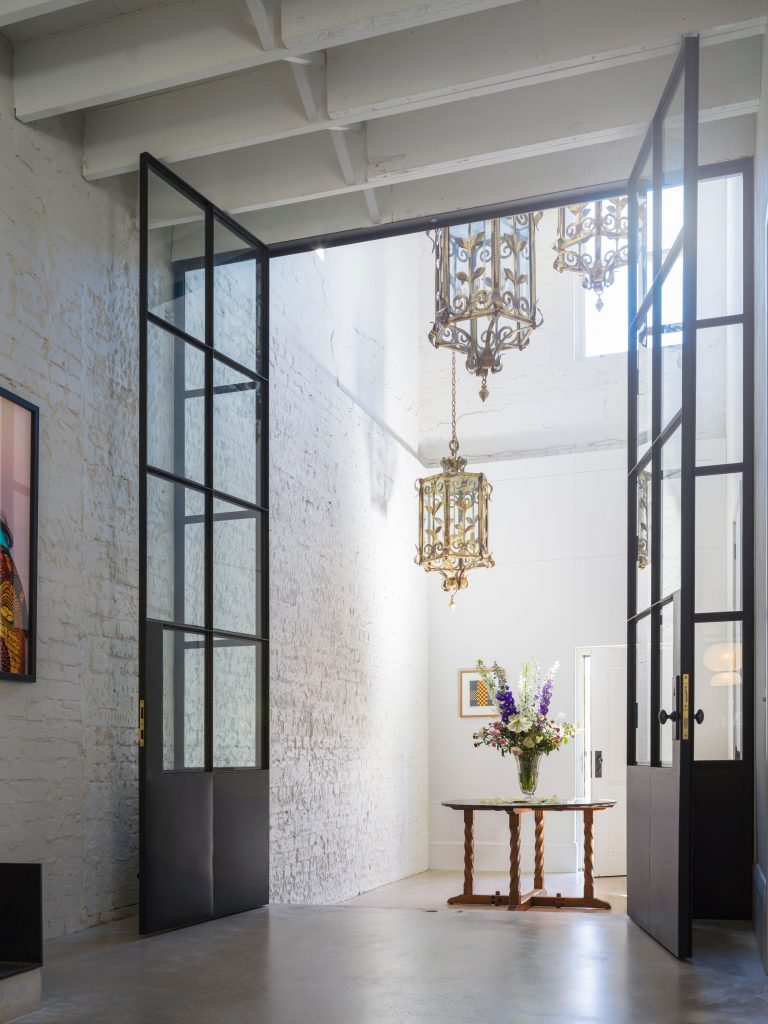 Patterned graphic wallpaper splashes sophisticated lofted rooms with bright prints of insects and flora. There's joy here – a bit of magic.
"There's a psychedelic feel to it, with big mushrooms and birds. You step through the front door and enter a wonderland," McNamara says.
In the kitchen, an AGA oven sits among hand-painted joinery. Custom-made wooden 'bun' feet peek out from under the kitchen island – a cheeky homage to the bread buns that once rose in the ovens and filled the space with sweet, floury aromas.
The Bakery emphasises the materiality of spaces with handcrafted furnishings alongside polished concrete and exposed steel. This is more than a nod to recent buzzwords of 'Scandinavian' and 'sustainable', with all demolished bricks hand-scraped and reused in the new build.
The result is a home at once intimate and expansive. Metalwork and woodwork hark back to industrial production of the early 1900s, while ceramics and graphic prints offer contrast, tempering the vastness of industrial spaces with human elements of the handcrafted and bespoke. Even the cavernous library feels cloistered and comforting.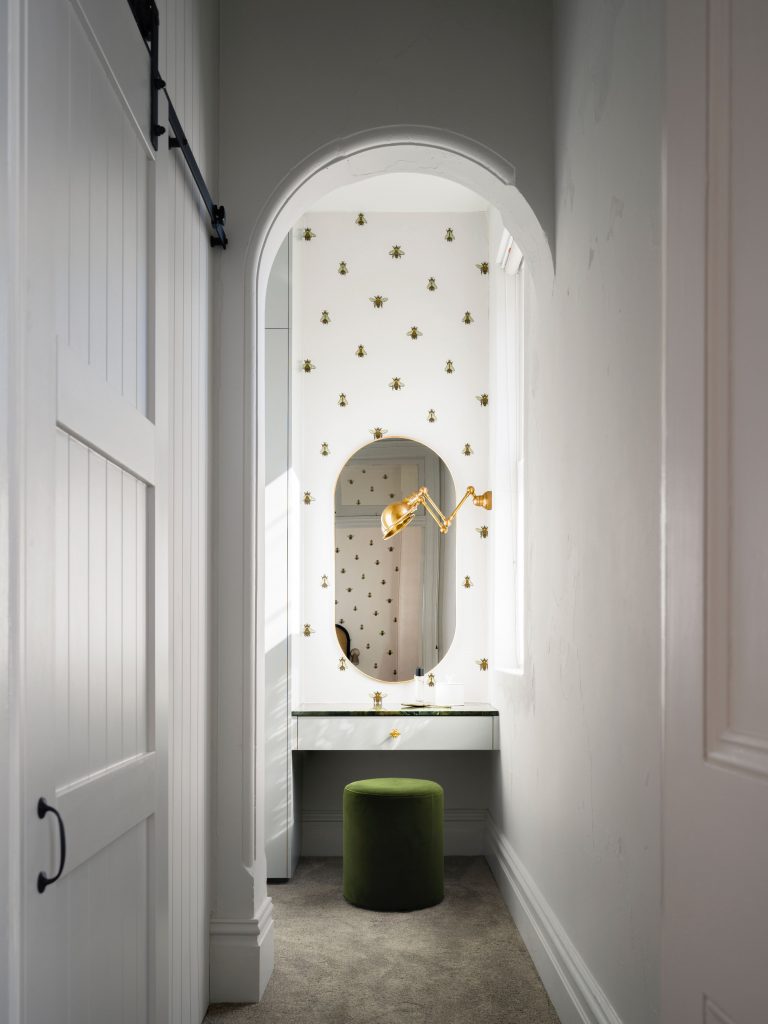 McNamara explains that making a warehouse homely requires linking aesthetics with feeling.
"We wanted a uniform feel throughout, yet we wanted it to be alive and not too precious and pristine," she says.
"We wanted to make this building feel poetic. Poetry isn't scientific or clinical – it's purely from the heart."
See, for instance, the layered, weathered paint retained and carefully sealed in The Bakery's master bedroom. Hear, for instance, Ella Fitzgerald's voice, pure as ever through a crackling record, singing Cole Porter's words "…let's fall in love".
Porter's 'Let's Do It (Let's Fall in Love)' has had many lives. Notable renditions include recordings from Joan Jett, Alanis Morissette and Lady Gaga. Similarly, The Bakery has been reimagined with a new tone and timbre, but its soul remains. A classic preserved and remastered.
Photography by Justin Alexander.
This article originally ran in inside magazine. Grab a copy on newsstands now or online from the ADR store.