Cult Scandinavian brand Acne Studios has worked with local practice H&E Architects to execute its latest retail offering in Sydney. Building on an existing partnership, H&E was the executive architect on the project, working with Acne Studios' in-house design team to bring the brand's minimalist aesthetic to life.
Designed as a site-specific response, the L-shaped space plays into the final design outcome. Customers are greeted with negative space as they enter the 390-square metre store. A blank, stainless steel wall forms the sparse backdrop at the entry, curving its way around to bring the customer on a journey of discovery, deeper into the store itself.
Rounding out the minimalist material palette of milled stainless steel is the poured in-situ terrazzo flooring. Soft pink custom furniture items puncture the sleek interior, appearing as abstract landscapes or art pieces. The pieces, made by British designer Max Lamb, add an unexpected and atypical element to the interior – another aligning reference to Acne Studios' DNA.
Lighting plays an integral part in the austere space. A meticulous, repetitive grid splayed across the ceiling evokes a clinical and futuristic feeling. The design is made up of seven hundred 'illuminated mushroom' lighting fixtures by Beniot Lalloz.
At the heart of the fitout is a space that lets the clothing speak for itself, including a sleek and minimal backdrop that lets the clothing selectively be in focus. Chris Grinham, H&E director and project leader on the fitout, states, "In a way, this store is almost like anti-design or anti-retail. What they are selling is barely visible from the outside world. It makes a real statement about the importance of brand image over product, which is a bold move."
The Sydney CBD project is the fourth time H&E has worked with Acne Studios.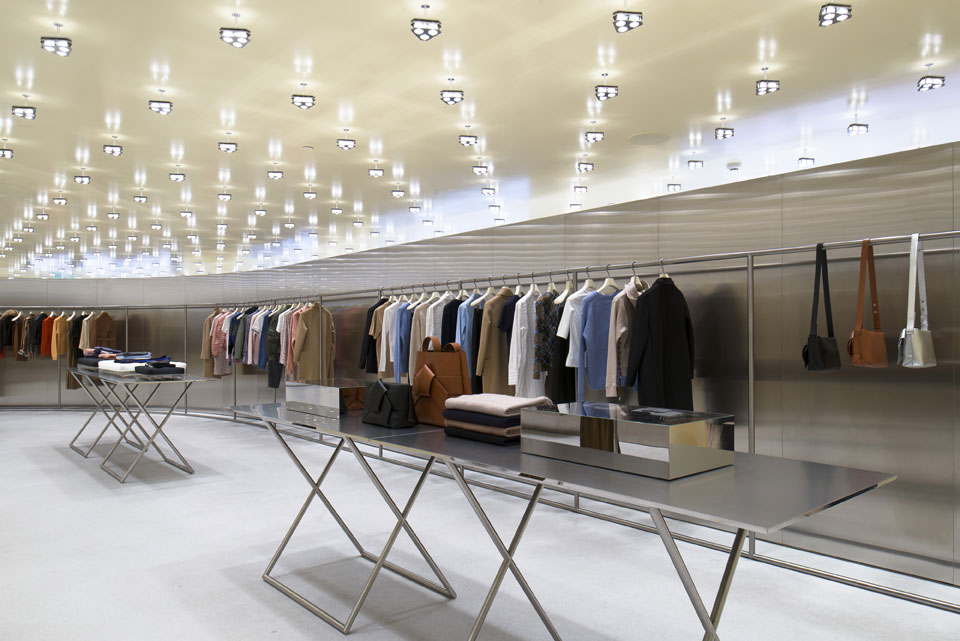 Design: Acne Studios project team – Chris Grinham, director and project leader; Anna Drury, senior designer; Davide Spada, designer
Architect on record: H&E Architects
Builder: Calida
Photography: Richard Glover
–
Read about some of the new retail experiences in the wake of the digital age.